Two months ago, Ken Lian, co-founder and CEO of Cheese, applied for a checking account at a major bank. He was rejected again, despite his sterling 800+ credit score.

Since immigrating from China to the U.S. in 2008 he has been routinely denied from opening bank accounts, had to pay thousands of dollars in fees and been limited to the least desirable no-rewards credit cards.
"This is a common issue," he said.
So, Lian decided to start his own challenger bank aimed at Asian Americans and other recent immigrants. It launches Wednesday with a zero-fee debit card offering cash back rewards, putting a modern twist on what Pasadena-based East West Bank has done since 1973.
"We run it not like a bank but put users first," Lian said. "We really are putting the user at the center."
While traditional banks frown on frequent address and phone number changes, Cheese takes a more holistic approach. It is looking at accepting visas and other forms of identification. The bank will also market in places favored by immigrants – think WeChat rather than Facebook – and is partnering with community leaders to help reach a population that has historically been distrustful of banks.
"Both my parents are immigrants and they have a lot of problems walking into a bank and feeling comfortable with that experience," said actor and advocate Jimmy Wong, Cheese's chief community ambassador.
There are nearly 21 million Asian Americans living in the U.S. and they represent the fastest growing, most affluent and educated of any racial or ethnic group.
A quarter of all households don't have full access banking services and half of foreign-born noncitizens are unbanked or underbanked, according to the FDIC.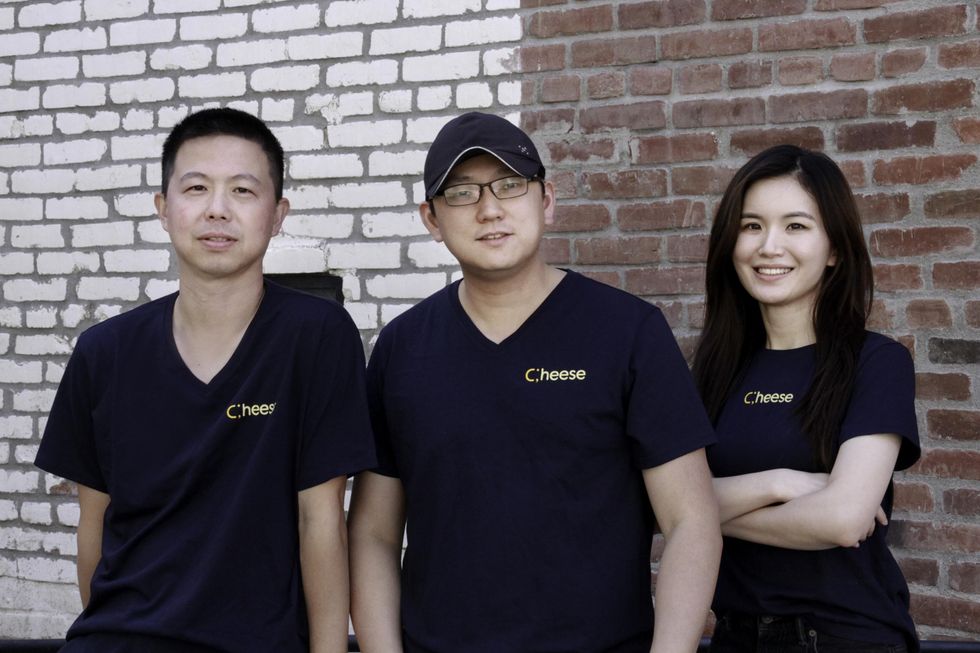 Cheese co-founders from left to right: Zhen Wang, Ken Lian, Qingyi Li.
Based in Pasadena, Cheese, which is named for the popular slang term for money, is national but has a focus on three cities with the largest Asian populations – San Francisco, Los Angeles and New York City.

Though targeted at Asian Americans, anyone can sign up and Cheese said its waiting list is multiracial, with a third of prospective users self-identifying as Black and another third as white.
Lian worked a brief stint in business development in 2016 at Honey, the browser extension that helps consumers find deals and rewards and was acquired by PayPal in 2019. From that, he said he learned the popularity of rewards, which Cheese plans to dole out liberally.
Users can earn up to 10% cash back at popular merchants like Netflix and Starbucks as well as Asian grocers 99 Ranch Market and YamiBuy.
As part of its launch, Cheese has pledged $100,000 to nonprofits and community service programs in support of Asian neighborhoods and businesses hardest hit by hate crimes and economic hardship during the pandemic.
Cheese's backers include Amplify, IdeaLab, and Operate Venture Studio as well as Adam Nash, former CEO of Wealthfront, and Spencer Rascoff, the co-founder of dot.LA and Zillow.
Cheese is the just the latest VC-backed challenger bank to target niche demographics including Black and LGBTQ people and take on the legacy banking industry. OnJuno, which launched last year in San Francisco, also caters to Asian immigrants.
Editor's note: This story has been updated to clarify where the bank's service is offered, as well as accepted id verification.
From Your Site Articles
Related Articles Around the Web