Photo by Monica Wang
For $15 a month plus insurance, your doctor's office could look like the inside of a trendy restaurant in New York City or an office at Bloomberg's headquarters.
Welcome to the well-decorated world of women's health care, as envisioned by Carolyn Witte, a CEO in the booming femtech market buoyed by new VC money. That funding has only picked up since the pandemic began.
Last year, Witte raised $24 million in a Series A round for her women's health care company Tia, which opened its first L.A. location in Silver Lake this week.
Branding itself as the "modern medical home," Tia is a New York-based startup with ambitions to spread along the West Coast. The app lets members book gynecology, primary care, acupuncture and mental health appointments from an app.
"Normally, in L.A., you may go to an acupuncture place in Venice and to a hospital for an ultrasound and somewhere else for a pap smear," said Witte, a former Google product designer. "We're doing that all in one physical space."
It wasn't until recently that women-focused health care startups began drawing investor attention. Last year, funding for digital health startups aimed at women jumped 105% to $418 million, Bloomberg reported this week. In Los Angeles, women-founded health companies like Loom, a wellness startup co-founded by a former doula, have attempted to address reproductive and other health issues in a less clinical environment than a traditional doctor's office.
"There's really only one stat that VCs need to know," Witte said. "Women control more than 80% of U.S. health care dollars. There's a very, very clear financial reason to invest in women's health. It's not niche."
Members pay either the $15 per month fee or $150 annually (plus a first time fee) for a combination of virtual and in-person appointments. Still, 70% of sessions take place online first.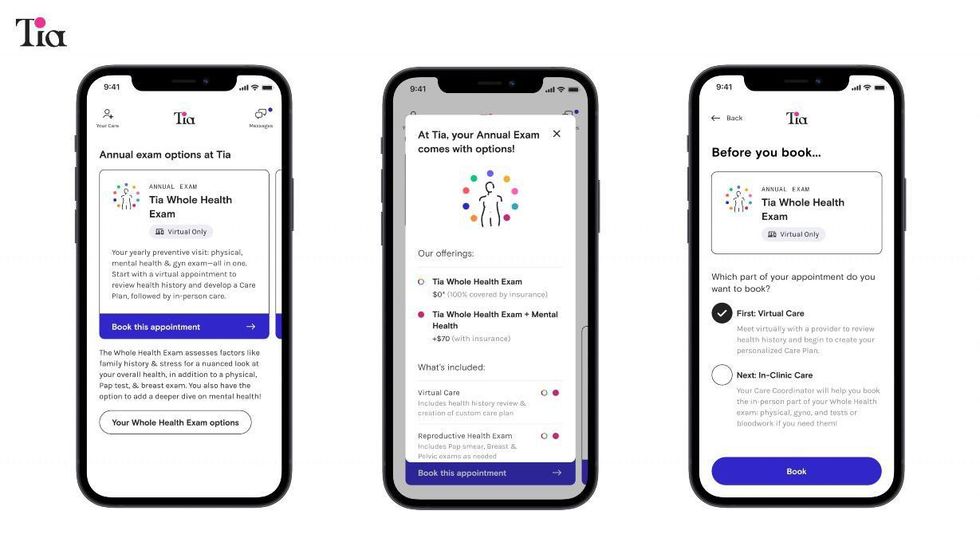 The company expects most patients won't need to drive through L.A. traffic to visit a physician or obstetrician-gynecologist in the office. But for those who do stop by, Witte wanted the experience of seeing a doctor to feel different than what patients may expect.

Bright colors, light hardwood floors, a sleek break room with booth seating for employees: It was designed by the architecture firm behind the upscale coworking chain The Wing and San Francisco's Rent the Runway storefront.
"We want to make the doctor's office a place where women want to engage in preventative health," the executive said. "Where preventative health is a cool thing."
It's Tia's second physical location since launching a clinic in New York City. By the end of 2021, the company plans to open two new spaces, in San Francisco and Phoenix, to grow on its 7,000 members. About 800 of them live in L.A. and joined Tia for chat messaging and telehealth services when the app launched in November.