Millions of California residents woke up Thursday morning with an invitation to join a new digital COVID-19 contact tracing app called CA Notify.
Smartphone users can now opt-in to the service designed by Apple and Google that uses Bluetooth to track when two devices have been near each other for at least 15 minutes.
If a CA Notify user tests positive, they'll be texted a code to plug into the app. Other users who have been within 6 feet of them will then receive a notification about potential exposure.
The platform is available on the iPhones Settings menu under "Exposure Notifications," but Android users will have to download the CA Notify app directly.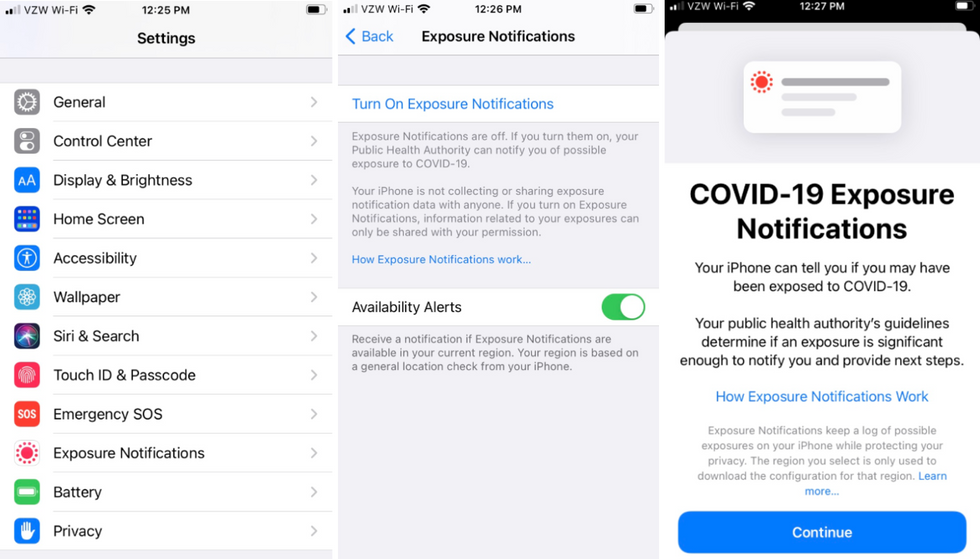 On an iPhone, turning on California's COVID-19 exposure notifications is as easy as going to your settings.
The move to launch a statewide notification tool comes nine months into the pandemic and two days after California set single-day records for COVID-19 fatalities.

"When combined with other actions like wearing masks and physical distancing, CA Notify can help curb the transmission of COVID-19," CA Health and Human Services Secretary Dr. Ghaly said in a statement. "This technology is another way for Californians to take proactive steps to keep themselves, their loved ones and their communities safe."
According to state officials, the tool does not track location or reveal your identity to other users. It is free and voluntary, raising potential questions about whether a substantial portion of Californians will opt-it.
In a press briefing Monday, Governor Gavin Newsom said the state held off on launching the platform over concerns about security privacy protection.
"That's why we've been frankly a little stubborn and kept our eyes wide open in terms of this technology," he said.
The platform was piloted in September at UC San Diego and UC San Francisco, and launched at five additional UC campuses in November. Officials said they do not know how many people enabled the program during that trial run, but campuses estimate around 250,000 users.
In September, L.A. County partnered with the crime-tracking app Citizen to promote SafePass, a contact tracing tool that uses both Bluetooth and GPS location-tracking. It was met with some concern from security experts over how the app was using and storing personal data. The Department of Public Health said the state is still partnering with the app.
From Your Site Articles
Related Articles Around the Web