Five Tech Stories We're Following Ahead of This Weekend's Super Bowl LVII
Lon Harris
Lon Harris is a contributor to dot.LA. His work has also appeared on ScreenJunkies, RottenTomatoes and Inside Streaming.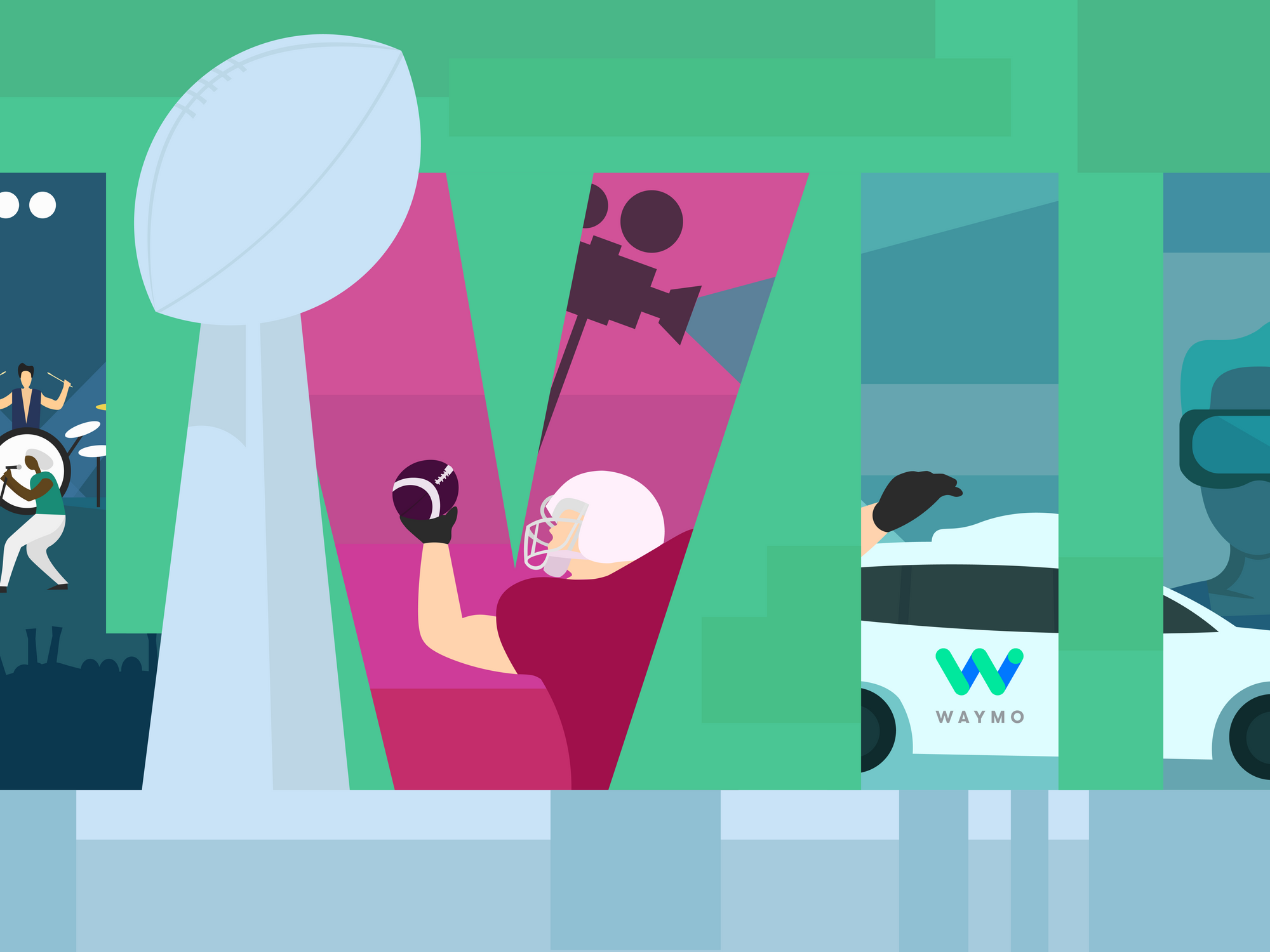 Evan Xie
The Philadelphia Eagles face off against the Kansas City Chiefs in this weekend's Super Bowl LVII [Writer's Note: GO BIRDS!!]. Yet again, the Big Game won't be available to stream on any of the major subscription services. It's airing on the Fox broadcast network starting at 6:30 pm ET this Sunday, and streaming on the Fox app and website, but only if you log in with a cable subscription. Otherwise, you'll need a cord-cutting "skinny bundle" service like Hulu + Live TV or YouTube TV.
Of course, pirating the game via bootleg streams remains a popular option; 7.7 million people searched "Super Bowl Stream" on Sunday last year, according to data from VPNOverview. But even if you don't have a moral issue with stealing access, it's worth bearing in mind that these illegal streams are often hosted on websites that will try to steal your data or install malware on your computer. We're all excited to see Rihanna's halftime show, but safety first!
New Tech Debuting at the Game
A number of cutting-edge new technologies will make their debut during this year's game. 2020's Super Bowl LIV marked the first time the championship game was streamed in 4K and HDR, but the cameras capturing the action remained 1080p. The images were then upscaled for viewers at home. This year, for the first time, 32 of the 94 cameras Fox is using to capture the action will record in HDR at high frame rates, while 12 will have the capacity to record in 4K and even up to 8K. The stabilized camera used to capture overhead shots – known as "Skycam" – will also shoot in 4K for the first time this year.
Waymo – the autonomous taxi company owned by Google's parent company, Alphabet – will also have a few of its driverless cars on hand to shuttle fans around Phoenix. Though the rides will pick you up at the airport and deliver you Downtown, they aren't currently going all the way to State Farm Stadium, where the game itself is being played.
Rapper Saweetie will perform in a metaverse concert throughout the weekend as part of a "music-themed social roleplay experience" within the video game Roblox. (To watch it, you'll have to visit the platform's "Rhythm City" area. Just ask your kid how to get there, they probably know.) The free event is sponsored by Warner Music and the NFL, and is running from Friday through the start of the Super Bowl.
No Crypto Commercials
Last year's Big Game memorably featured an onslaught of ads for cryptocurrency projects and web3 companies. Some of them genuinely went viral and grabbed the nation's attention, though maybe not always in the most positive way.
Coinbase dropped $14 million on a confusing ad that featured a QR code bouncing around the screen. Matt Damon's spot for Crypto.com, in which he cautioned football fans that "fortune favors the brave" and encouraged them to jump into digital assets, was widely mocked, particularly after the value of so many virtual currencies crashed in 2022. (The ad has since disappeared from YouTube.)
FTX – which has since collapsed in financially devastating and extremely public fashion – was also among last year's most visible Super Bowl sponsors. Larry David is actually the subject of a class action lawsuit relating to his appearance in an FTX Super Bowl ad, along with fellow celebrity endorsers Tom Brady, Gisele Bundchen, Shaq, and Steph Curry.
So it's perhaps unsurprising that this year's Fox broadcast will feature not a single ad shouting out the digital asset industry. According to a Fox EVP from the ad sales division, four crypto companies were actually signed on for Super Bowl ad space – or were close to finalizing a deal – prior to FTX declaring bankruptcy, which prompted them to all bow out. Taking their place will be spots from more conventional Super Bowl advertisers like food, alcohol, and cars.
Fox has set aside some of its own in-house promo spots to boost interest in the Fox Nation streaming service. Ads will promote upcoming content from celebrity hosts including Kevin Costner, Kelsey Grammer, Dan Aykroyd, and Roseanne Barr.
Apple Music's First-Ever Halftime Show
The tech industry will also have a strong presence at this year's game thanks to Apple's takeover of the Super Bowl Halftime Show from long-time sponsor Pepsi. The show will revolve around a highly-anticipated performance from Rihanna, who's also Oscar-nominated this year for her song from "Black Panther: Wakanda Forever."
With an estimated net worth of $1.4 billion – due in large part to the runaway success of her cosmetics and skincare company, Fenty Beauty – Rihanna is likely the wealthiest person to ever perform at a Super Bowl Halftime Show, and may be the richest person to walk on to the field on Sunday. At the pre-show press conference this week, she told reporters her setlist has changed 39 times leading up to the show.
In preparation for the event, Apple Music is now offering Rihanna's full catalog featuring Dolby Atmos' new "Spatial Audio" feature. It's also available on the karaoke-themed Apple Music Sing platform, which features beat-by-beat scrolling lyrics. Ahead of the Super Bowl, Apple Music as well added a collection of 32 playlists inspired by locker room and Game Day song selections from each NFL team.
Anheuser-Busch Ate and Left No Crumbs
Crypto may be out, but Super Bowl advertising remains as competitive as ever. A 30-second spot during this year's game comes in at around $7 million, up from $6.5 million last year. This year's top advertiser is likely mega-brewer Anheuser-Busch, which dropped around $20 million for its three minutes of ad time.
But while buying an ad and hiring a celebrity to reprise their classic character may have been the bulk of the work required in years' past, reaching Gen Z viewers with brief commercial spots has proven to be a considerable challenge. A number of brands are starting to add interactive features – particularly involving social media engagement – to their Super Bowl campaigns, to make them more immediate and authentic, and help them stick in the minds of viewers.
Though celebrity-driven campaigns continue to attract the most attention, even after the game on platforms like YouTube, many experts also note that it's important for brands to also work with influencers to drive conversation around promotions online.
"The Last of Us" Gets Out of the Way
HBO Max will stream Episode 5 of "The Last of Us" on Friday night at 9 pm ET, instead of its usual Sunday timeslot, getting out of the way of Sunday's Super Bowl broadcast. This is thoughtful of them, sure, but it's also strategic. The post-apocalyptic drama series has been pulling in major numbers on Sunday nights across both the HBO cable network and streaming services, adding hundreds of thousands or even millions of viewers each week. WB Discovery surely didn't want to interrupt that momentum even for a one-week special event.
The company's also using Super Bowl Sunday to promote its annual "Puppy Bowl" pet adoption drive. The show is produced for the Animal Planet cable network, but this year, WBD will air it across most of its cable networks, as well as the HBO Max and Discovery+ streaming platforms. The pre-game show begins at 1 pm ET.
Lon Harris
Lon Harris is a contributor to dot.LA. His work has also appeared on ScreenJunkies, RottenTomatoes and Inside Streaming.