Hiring
The latest news about hiring in Los Angeles' tech and startup sectors from dot.LA
We live in a golden age for Los Angeles tech companies and startups.

Transformative organizations are emerging and blossoming here. And there's a world-class talent pool in their backyard. From ecommerce to biotech to social media to aerospace and beyond, the future is being built in L.A.
Since our launch in January 2020, our goal at dot.LA has been to empower the L.A. startup ecosystem - by shining a light on great companies through our journalism, convening luminaries at our events (register for the upcoming dot.LA Summit here!) and hosting discussions via our pandemic-born online community wfh.LA.
An ecosystem as unique as ours deserves a dedicated, boutique platform to connect top talent with top startups. Matchmaking people to great companies isn't easy on overly broad platforms like Linkedin that's more akin to a traffic clogged freeway, where the sheer volume makes it tough for top candidates to stand out amid congestion. Our site is tailored to L.A. and its unique ecosystem that boasts some of the top, most diverse technical talent in the country.
We're here to change that; dot.LA is proud to introduce a solution to this gridlock: Interchange.LA.
With the re-launch of Interchange.LA, we are taking over stewardship of a project that has been a long time coming. The original incarnation of Interchange.LA was borne of a desire from stalwarts of the L.A. tech scene - Crosscut Ventures, AnnenbergTech, the Mayor's Office - to help fuel the community's growth. We are beyond thankful for the hard work put in by these organizations and others to help get this platform where it is today, and are excited to take it to the next level.
So what makes Interchange.LA unique?
LA DNA. In the year and a half since launch, dot.LA has established itself as the premier source for news and community for the Los Angeles tech ecosystem. Our journalists tell important stories that move the needle. Our events bring together the community and foster connection. We have boots on the ground in a way that no other recruiting platform does, and we'll use that to hone the product to be as useful as possible.
Equity focus. We also believe that Los Angeles has the potential to become the most inclusive and equitable startup hub in the country and in the world. Because L.A. is blossoming as an innovation hub later than first-generation locales like the Bay Area, we have the opportunity to learn from the mistakes of those places. Rather than a tech and startup community that exists insulated from the rest of the city, we want to promote the growth throughout the city in a way that benefits everyone.
Universal access. Our goal is to lower barriers to entry for tech on all sides, and creating an accessible platform for all is crucial to that mission. Our platform is free to candidates and will always offer a free option for companies.
Bespoke recruiting. For those high-growth companies that need top talent to keep fueling the rocketship, we are thrilled to be able to offer a white-glove option through which our team can build and execute tailored recruiting. If you're responsible for recruiting at a hot startup in L.A., please do yourself a favor and reach out to Interchange.LA's General Manager Sharmineh Lewis at sharmineh@dot.LA.
Interchange.LA is the premier avenue for connecting top talent with top startups in LA. It is an on-ramp for non-traditional candidates to join the vibrant L.A. startup community. It is an engine to help LA become the most diverse, equitable, and inclusive hub for innovation in the world.
It's the best time in the world to found or join a world-changing organization. At dot.LA we want to help you do it all.
Amazon will be adding hundreds of jobs across Southern California as it begins a nationwide hiring spree under newly appointed CEO Andy Jassy.
The Seattle-based company announced Wednesday that it is hiring more than 40,000 corporate and tech jobs across the U.S. — including more than 800 openings in Los Angeles and 1,400 across Southern California, Amazon spokesperson Jordan Deagle said in an email.
Jassy, who was appointed in July CEO after founder Jeff Bezos stepped down, told Reuters that the job push is part of a desire to keep up with demand in the retail, cloud and advertising industries, as well as to build staffing for Project Kuiper, Amazon's satellite project.
The new jobs are concentrated in entertainment, software development and marketing, Deagle said, though the company is hiring across most sectors. Many of Amazon's 40,000 openings will be based out of Amazon's "HQ," its primary Seattle headquarters, and "HQ2," its newly built secondary headquarters in Arlington, Virginia, he added.
The spree comes amid a rise in job openings. A Bureau of Labor Statistics report found that job openings rose to its highest level in June since before the COVID-19 pandemic, though Deagle declined to comment on whether Amazon's hiring was connected to broader trends in the job market.
Amazon has hired more than 450,000 workers since the start of the pandemic, according to the company.
It is also hosting its annual virtual "Career Day" on September 15, aimed at giving candidates more information about Amazon's hiring process.
From Your Site Articles
Related Articles Around the Web
Venture capital dollars are flowing into Southern California startups at a record pace and it's paying off for top Los Angeles investors who are riding the wave.
Valuations jumped in the second quarter for more than half of the investors surveyed in dot.LA's quarterly poll of top Los Angeles venture capitalists — while optimism remained high about the economic recovery.
"It was almost like we ended 2020, we all survived, the vaccine came out, there was a light at the end of the tunnel," said Petra Griffith, founder of Wedbush Ventures, an early-stage venture fund that invests in seed and pre-seed stage companies. "There was a lot of bullishness in the market, it felt like a lot of momentum in the market overall that also spilled in seed stage."
She said while valuations bumped up, she felt the pace slowed down a little bit in the second quarter.
VC investment in the second quarter for the Los Angeles-Long Beach area totaled $8.5 billion, spread across 365 different deals. That's down from Q1's $9.4 billion, but still more than double the investment from the same time period last year ($3.9 billion), according to a National Venture Capital Association and PitchBook report.

And megadeals of $100 million are becoming more common.
Eric Manlunas — another early-stage investor who is also founder and managing partner at Wavemaker — said he's definitely seeing a fair amount of valuation in part because entrepreneurs are seeing inflation happening and the perception is that everybody is more valuable now.
"Some of them are very stubborn about it and they won't budge, and they'll pick and choose term sheets and they'll take their time and they're optimizing for valuation, which I don't blame them for," he said. "Unfortunately, for early-stage investors, we don't like it when things get out of hand, which we think they are, but it is what it is, and you've got to just pick and choose your battle."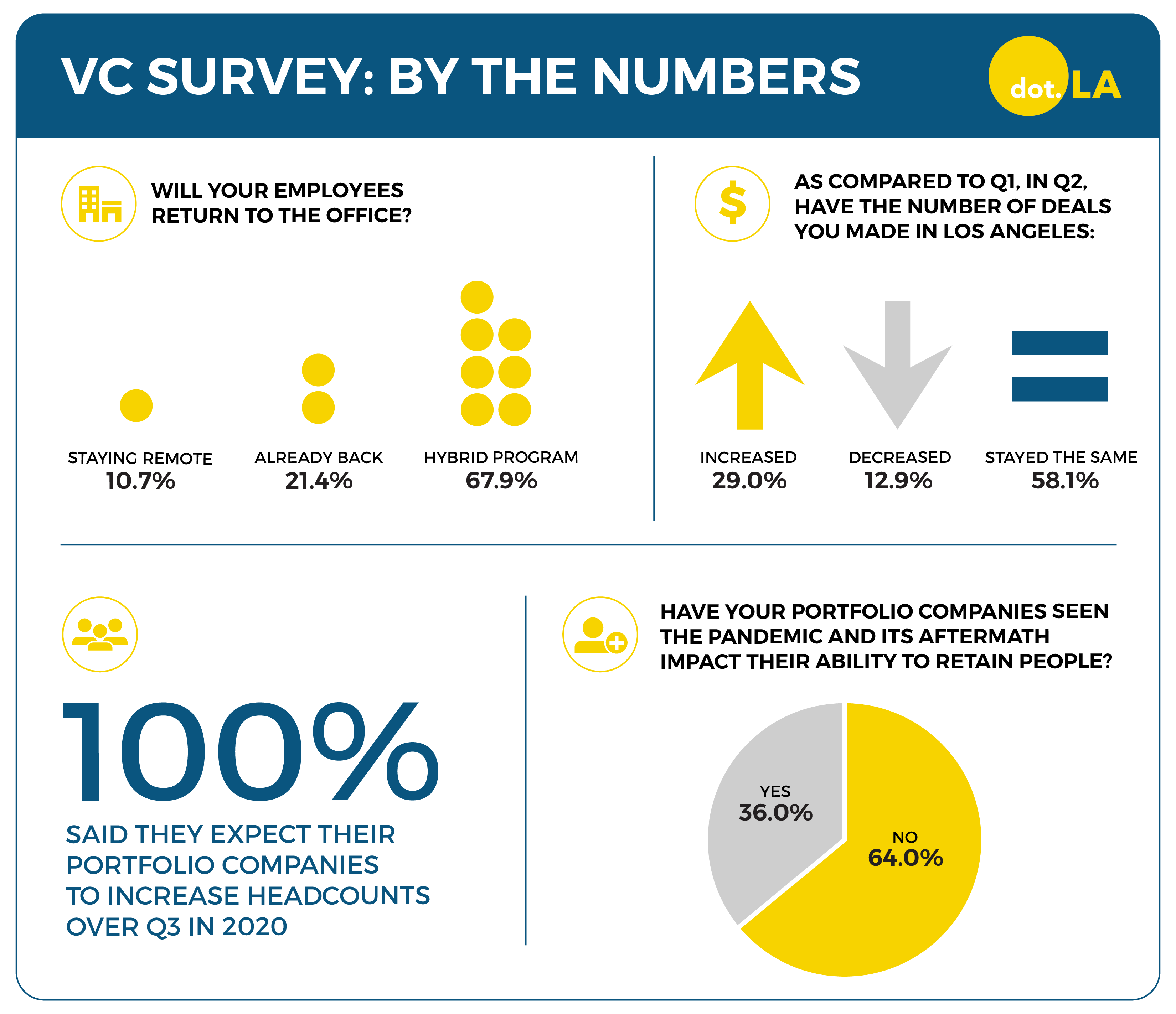 Dustin Rosen, founder and managing partner of Wonder Ventures, said valuations reached new highs in the first quarter for him as the pace of deals continued for him into the second quarter. "I wouldn't say it went any higher or sped up, but it certainly didn't slow down," he said.

All of the 33 investors who took the survey said they saw employee headcounts increase last quarter and more hiring is on the horizon among their portfolio companies, though some said they're having trouble retaining employees.

As more capital flows into tech, companies are expanding their teams resulting in more hiring.

Mark Mullen, co-founder of Bonfire Ventures, said his portfolio companies are having a harder time hiring because of fierce competition among tech companies for talent.
"There are more companies getting funded and therefore those companies need to hire more people, but there's more capital at all these companies so they have the ability to perhaps pay more or offer incentives, there's a lot more people offering more," Mullen said.
While smaller firms were always competing against the Amazons and Netflixes, now the entire ecosystem is competing against each other, he said.
Shamin Rostami Walsh, managing director at BAM Ventures, said she is also seeing more difficulty in hiring.
"There are certain roles that almost all portfolio companies need and lots of optionality for the most talented," she said.
"I find that it's harder to find the right person, but people are doing their homework and weighing the options, so once they do accept a role, they stick around the same way they would have historically."
The second quarter hasn't changed most investors's minds about the speed of economic recovery as the effects of the pandemic wane. Although it is noteworthy that the survey was conducted before L.A. County's public health department reinstated its indoor mask mandate.
Manlunas, who calls himself a pathological optimist, is more hopeful. He believes we are heading into the 21st century version of the "Roaring 20s."
"The pent up demand is driving a lot of unusual behavior," Manlunas said. "On the upside, there's a lot of forced savings that's being unlocked right now, being spent on experiences, being spent on material things, being spent on consumer goods," which could lead into a virtuous cycle.
"What the lockdowns have done and what the pent up demand have done, is it could be a nice kick in the butt, so to speak, to jumpstart a nice economic cycle."
"Let's hope it doesn't end like the 1920s," he added.
Most investors surveyed said they're allowing employees to work both in the office and at home using a hybrid model, while 11% are planning on staying remote and 22% said they've already returned to the office.
About 12.6% of new job postings are remote-friendly in Los Angeles
Many workers are quitting rather than working out of an office and many tech companies like Apple and Google, are taking a hybrid approach rather than a full return to the workplace.
While valuations are high, it's not preventing deals from closing. Only three investors said they made fewer deals in the second quarter.
While there has been a record number of VC investment, Krisztina "Z" Holly said it hasn't changed the way Good Growth Capital, which specializes in early-stage complex science and technology startups, invests.
"We do the same due diligence. We have a huge number of great deals coming in the door, we just add a lot of value, it hasn't changed how much we can invest," Holly said.
Looking ahead, Griffith said she is excited to see what the third quarter brings given the creativity she is seeing coming out of Los Angeles.
"It feels like there are a lot of really interesting companies in L.A. that took the last six to nine to 12 months to do research and validate the target market and I've seen a lot of interesting companies in the last six weeks to two months," she said.
"I hope that this is not an aberration, but a larger trend and I'll be curious to see how the next quarter or so plays out."
From Your Site Articles
Related Articles Around the Web