Amazon Unveils Spherical Echo Speakers, Flying Indoor Security Camera, and Cloud Gaming Service
Todd Bishop, GeekWire
Todd Bishop is GeekWire's co-founder and editor, a longtime technology journalist who covers subjects including cloud tech, e-commerce, virtual reality, devices, apps and tech giants such as Amazon.com, Apple, Microsoft and Google. Follow him @toddbishop, email todd@geekwire.com, or call (206) 294-6255.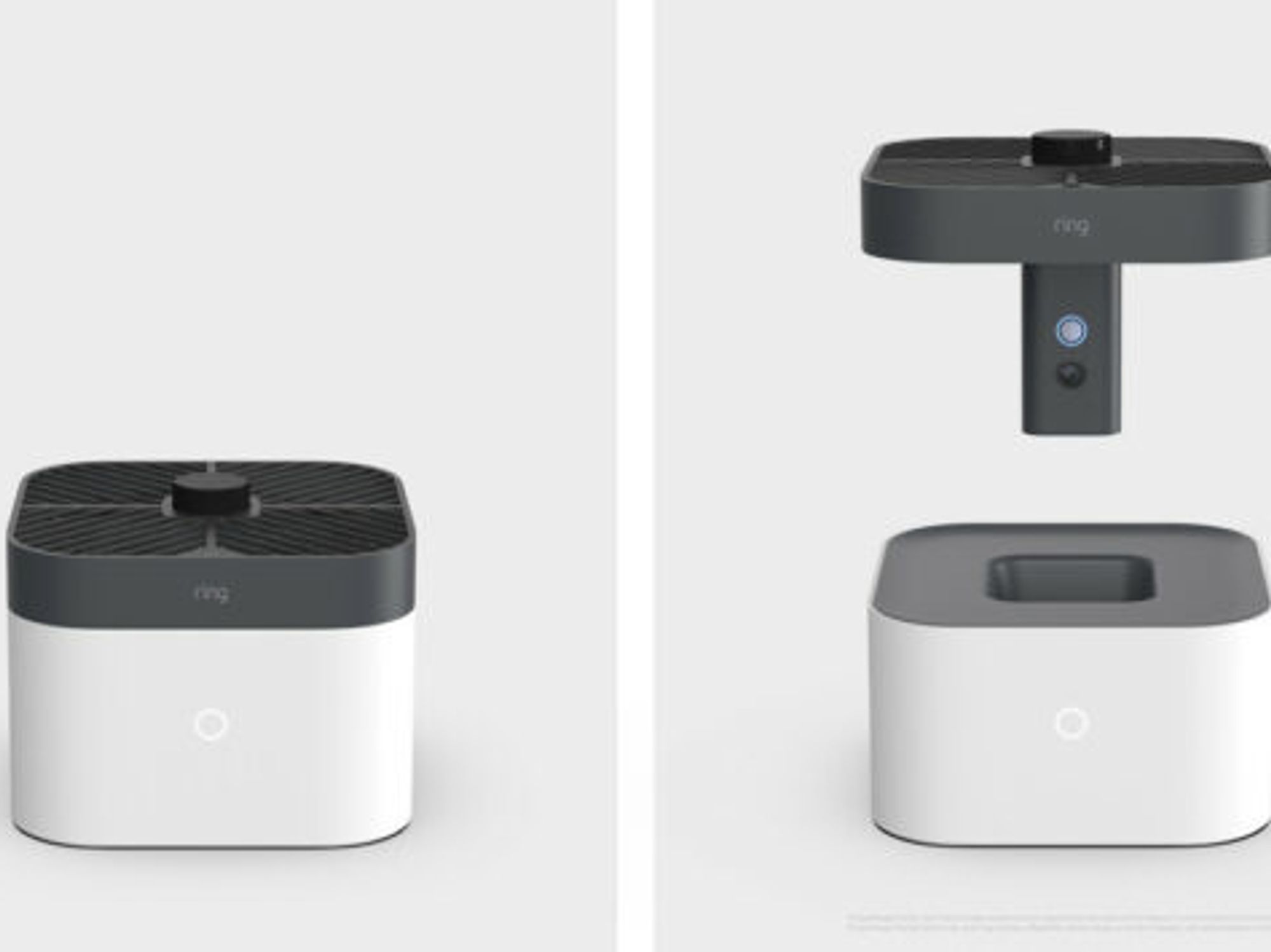 Amazon unveiled a new lineup of spherical Echo devices, an autonomous flying indoor Ring security camera, a new cloud gaming service, and new features to help Alexa converse and interact more naturally with users.
The flurry of news came Thursday morning during the company's annual Devices & Services event, a virtual version of a fall tradition in which the company typically shows its newest Echo speakers and other Alexa-enabled devices.
---
Luna, the cloud gaming service, will cost $5.99/month during an early access period. It will be available on Fire TV, Mac, Windows PCs, iOS and later Android, going head-to-head with similar offerings from Microsoft and Google. Amazon will offer a dedicated game controller for the service, available for $49.99, which connects directly to the cloud to let gamers switch quickly between devices. Games can also be played with a keyboard and mouse or a Bluetooth game controller. Luna integrates with the Amazon-owned Twitch streaming service.
The new spherical Echo offers upgraded sound and a built-in smart home hub, something that was previously available on higher-end Echo devices. It will sell for $99.99, and a spherical Echo Dot will sell for $49.99. A version of the Echo Dot with a visible clock will sell for $59.99.
The company also showed new Alexa features including the ability to learn different modes for reading or vacation unique to each user. With a new "natural turn-taking" feature, users will also be able to ask Alexa to join a conversation taking place in the kitchen, for example, chiming in as two people order a pizza and pick a movie for the evening.
The company says Alexa uses "multi-sensory artificial intelligence," including audio and visual cues to determine whether the request or comment is directed at Alexa or another person in the room.
Dave Limp, Amazon's senior vice president of Devices & Services, said the company is moving toward a more "ambient home," with fewer explicit verbal interactions with Alexa. "That's not to say you won't speak to your home, but it's going to understand you more. It's going to anticipate your needs and be more contextual," he said.
"This is our long term vision. But trust me there is a lot of work to be done to make this a reality," he said.
New security features will include the ability to ask Alexa to "delete everything I've said," to remove all saved voice recordings associated with the customer's Amazon account. Amazon says customers will also be able to opt out of voice recordings.
Limp also outlined new environmental sustainability initiatives, including a new energy dashboard, a rollout of low power mode for Echo devices, and carbon offsets.
The company's Ring subsidiary, which was hit with a series of security issues last year, announced new end-to-end encryption for video, as well as a new Ring Car Alarm and Car Cam for auto security, along with an API dubbed Ring Car Connect for implementation by auto manufacturers, starting with Tesla.
But the biggest surprise was the Ring "Always Home Cam," an indoor camera that can fly autonomously around the home for checking in remotely.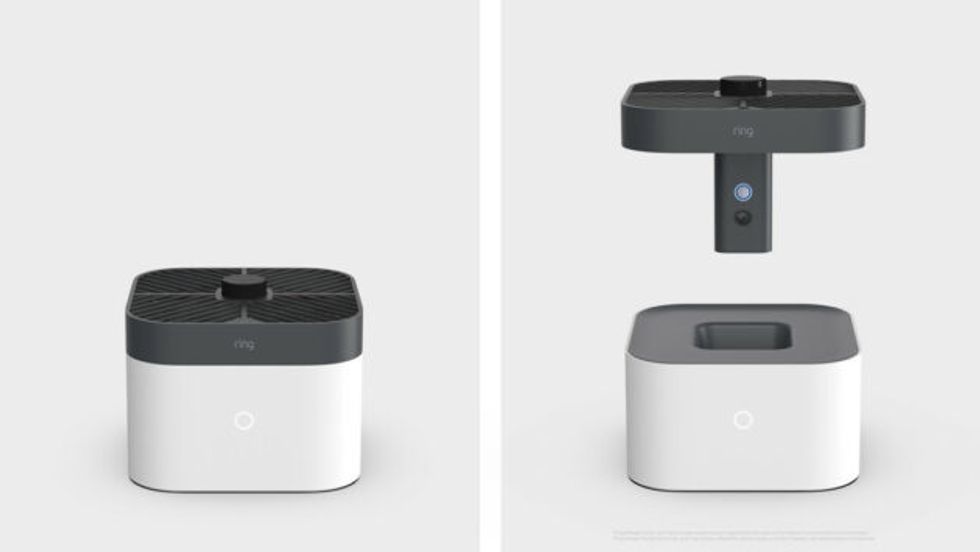 Ring's "Always Home Cam."
"This autonomous indoor security camera flies your chosen, personalized paths so that you can easily check in on your home for peace of mind—like whether someone left a window open or forgot to turn the stove off," says Jamie Siminoff, the Ring founder, in a blog post about the new product. It will cost $249.

Amazon's new Echo Show 10, priced at $249.99, will come with a built-in shutter cover for privacy, with support for Netflix streaming, and Zoom and Amazon Chime video calls. It's currently listed as "coming soon" on Amazon's site.A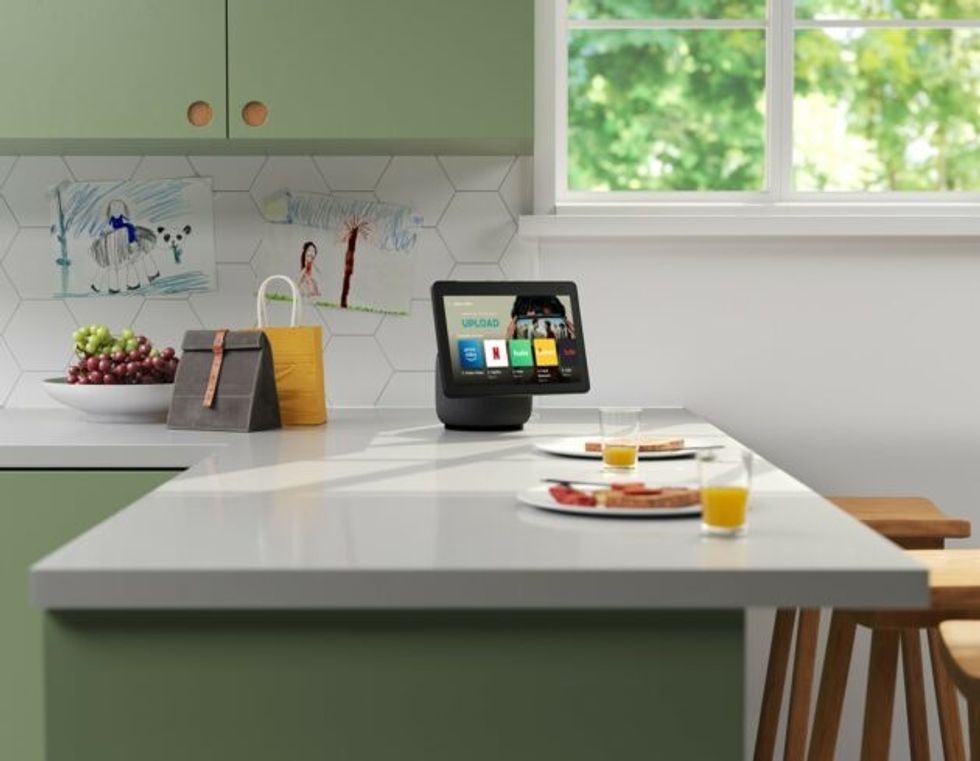 Amazon's Echo Show 10
Alexa-enabled devices introduced at this event last year included a smart ring, eyeglasses and wireless earbuds.
In advance of the event, an FCC filing surfaced for the Amazon game controller, as spotted by Dave Zatz, fueling speculation that the company was preparing to unveil a rumored cloud gaming service at the event, as reported by The Verge. The company shielded its identity by using the fake name "Zippy Hippie Twister Limited Liability Company," but a logo on one the labels in the filing revealed that it was Amazon's controller.
New gaming controller just cleared the FCC. Current tally: * 4 new devices hit today (so far, it's early!) * 2 e… https://t.co/0LnqIhlhEy

— Dave Zatz (@Dave Zatz) 1600956628
But the Amazon Sidewalk neighborhood wireless network may be a better indication of the company's broader ambitions for its Devices & Services business. Sidewalk, introduced at the same event last year, is an intermediate-range shared network that leverages low-bandwidth, wireless spectrum to provide connectivity to small Internet of Things (IoT) devices, such as smart lights, weather stations, trackers and sensors in places such as mailboxes and gardens.

"There are a lot of things where Bluetooth is way too short-range, WiFi is way too high-power, and so to have something that's still low-power, but that has much longer range is really a gap in the marketplace," Amazon CEO Jeff Bezos said in off-the-cuff remarks to reporters after the event last year. "People don't even realize yet how important that intermediate range is going to be."
Sidewalk is slated to launch later this year. Amazon announced Tile as the first third-party Sidewalk device earlier this week, along with new technical details about the network.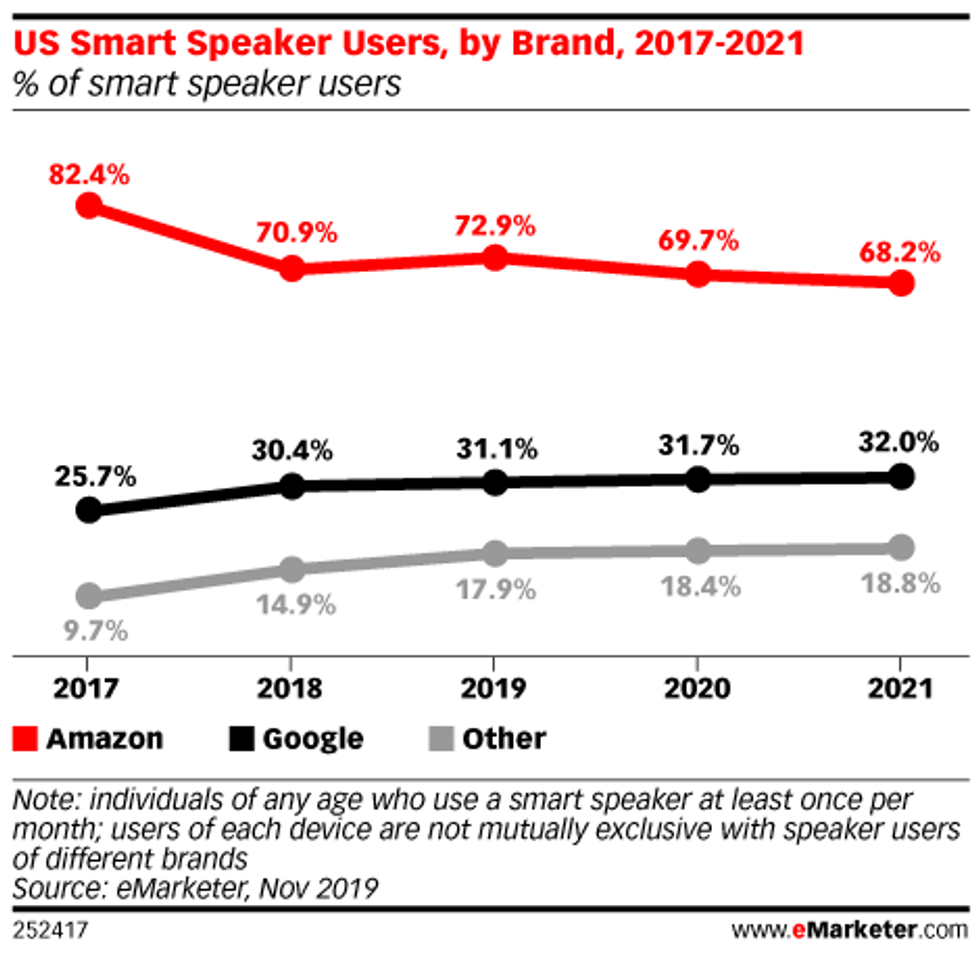 Amazon has been able to maintain a sizeable lead over Google and other companies in the smart speaker market, with about 70% market share, according to research released in February by eMarketer.

"Over time, we'll see slowing growth in the number of smart speakers as people turn to voice assistants built into other things within homes, vehicles and on-the-go," said Victoria Petrock, a principal analyst at eMarketer, in a statement at the time. "Amazon's next challenge will be to maintain its dominance in these other environments as well."
This story originally appeared on GeekWire.
Todd Bishop, GeekWire
Todd Bishop is GeekWire's co-founder and editor, a longtime technology journalist who covers subjects including cloud tech, e-commerce, virtual reality, devices, apps and tech giants such as Amazon.com, Apple, Microsoft and Google. Follow him @toddbishop, email todd@geekwire.com, or call (206) 294-6255.