Despite the runaway growth of ecommerce, selling products online isn't easy. Figuring out how to land customers in a crowded space and keep them coming back for more has spawned a slew of upstarts that promise online retailers an edge.

Los Angeles-based Upscribe, which is coming out of stealth after nearly two years, thinks the subscription model is the future of ecommerce. This week, the company secured a $4 million seed round led by Uncork Capital.
"The first wave [of ecommerce] was going from offline or retail to online," said founder and CEO Dileepan Siva. "The next wave of ecommerce is brands selling things on a recurring basis through subscriptions. This is how you win."
Before Upscribe, Siva's background in consumer goods occurred as the market was shifting away from brick-and-mortar and towards ecommerce, during which he paid close attention to that transition. Once the brands were up and running online, attracting repeat customers appeared to be of paramount importance for these brands to thrive.
Siva said that Upscribe's clientele consists of several dozen brands, such as coffee company Four Sigmatic and skincare brand True Botanicals. But he said the young company has deliberately avoided marketing their company until now to focus on developing the product.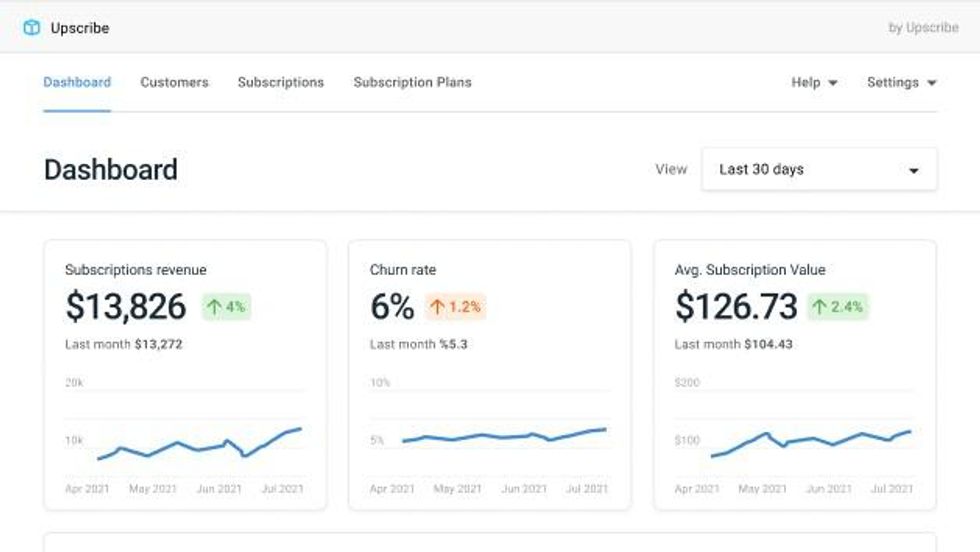 A screenshot of Upscribe's user dashboard.
Siva said unlike competitors such as Santa Monica-based SaaS unicorn ReCharge, Upscribe focuses on subscriber acquisition and retention in addition to creating a subscription management system because, in his view, offering a subscription service is the bare minimum.

"That's like, a car should have an engine," Siva said.
To help clients grow their subscriber bases, Upscribe analyzes data to identify the repeat customers who are not subscribed and carry out campaigns to get them subscribed. A testimonial on Upscribe's website claims clients see a 50% increase in subscribers once they switch to Upscribe.
Similar companies, such as Venice-based Repeat, have caught wind of a unique problem with monthly subscriptions for consumer goods -- a fixed monthly replenishment is likely to result in too much or too little product for the customer. Upscribe tackles the issue by allowing customers to personalize their subscriptions.
While much of Upscribe's client base work is in consumer packaged goods, Siva said he foresees the model popping up in fashion, where companies like Stitch Fix and thredUP have already used this mode. Siva thinks the "next wave" of ecommerce brands will take a "subscription first" approach because it ensures companies build a relationship with customers who will come back.
"[It's] 'buy my coffee on a recurring basis' versus 'I'm just going to run an ad and hope you buy from me one time and hope you come back to buy again,'" he said. "That game is done."