homelessness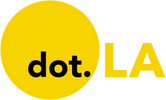 Get in the KNOW
on LA Startups & Tech
X
homelessness
Days after Doug Weber signed up for the Samaritan app at the suggestion of his case worker, he received his first donations — about $80 in total.
Weber found himself homeless in L.A. for six years after he says he was jilted by a business partner who ran away with his savings. He then found himself at the mercy of several persistent health problems. He was able to find temporary housing through a local nonprofit and get set up to receive food stamps, but for anything else, he relied on the kindness of strangers.
"I bought simple things. Socks, underwear. I went and bought a good leather belt — instead of a cheap one that you buy in a discount store. That was $25 alone — you know, something that's gonna hold up for a couple years and not fall apart."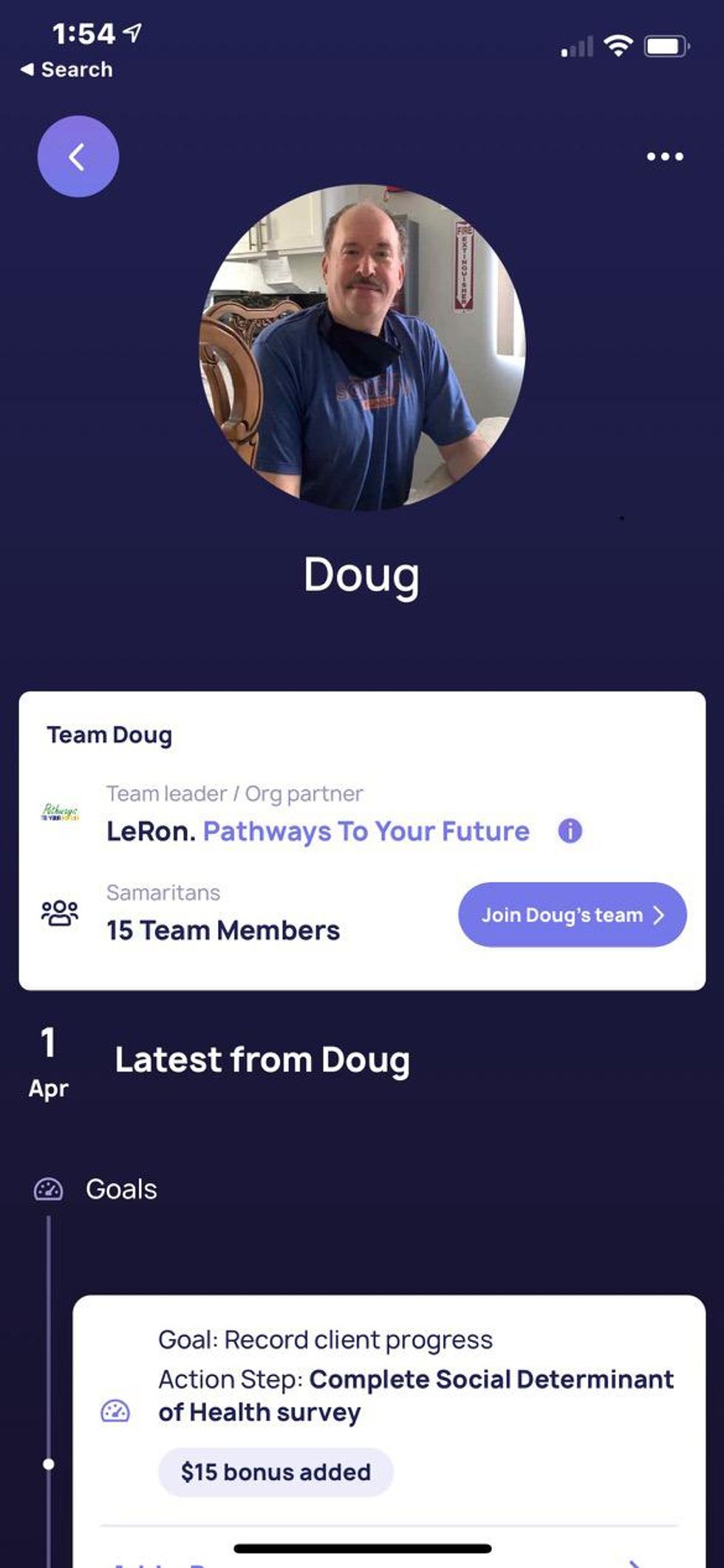 The money came courtesy of users on the Samaritan app, a kind of Patreon for people experiencing homeless, or a social app introducing communities to their unhoused neighbors.
After a couple years honing its approach in Seattle, the startup is moving into Southern California, where L.A.'s sizeable homeless population and the tech world overlap, from the boardwalks of Silicon Beach to Downtown's arts district, among other places. The app hopes to grow the relationship between passersby and homeless people, beyond the quick exchange of a few crumpled dollars and a grave nod. It also hopes to give homeless users more agency in telling their story.

Samaritan, a for-profit benefit "B-corp" corporation, is partnering with L.A.-based nonprofit Pathways To Your Future to upload profiles of their homeless clients, including a little bit about their life story, the items they're saving for and their goals. Homeless users can also choose to be anonymous.
Users download the app, enter their city and see profiles of Pathways' clients and those of its other nonprofit partners. From there, they can scroll through profiles and donate money toward items users' need or goals they're trying to hit — everything from groceries to making regular AA meetings. The funds are administered by the partner organization — in this case, Pathways — which Samaritan hopes can help ensure the money (which is delivered through a prepaid PEX debit card) goes toward its intended purpose. One hundred percent of the funds go to the homeless users.

Born in Seattle
Samaritan was created in Seattle in 2015 by entrepreneur and filmmaker Jonathan Kumar. It graduated from Techstars' UnitedHealthcare startup accelerator in 2020, and raised $150,000 in seed funding from Jumpstart Health Investors and Right Side Capital Management. It has also received some grant funding from nonprofits, according to Samaritan spokesman Eric Hunter.
Initially, he said, the app relied heavily on beacon technology that would notify users that they were near someone who was looking for a donation.
"When you walk by a person it will notify you that you've walked by them, and allow you to donate to them, which was a big part of our Seattle pilot," said Hunter.
It was essentially virtual panhandling, which also allowed you to offer some encouragement or a kind word.
"We've since phased it out a little bit," he said.
The company still uses the beacons — a kind of keyfob —to allow homeless users to access their funds, but the app is now more focused on giving users the ability to afford "needs" (such as clothing) or give them a congratulatory boost for "action steps" (such as meeting regularly with a case worker) that the users set themselves.
Bill Greco, who oversees Samaritan's program with Pathways, said the idea isn't really about the immediate cash.
"The goal is to get them self-sufficient," he said. "Mentally, financially, spiritually — if you will — to become independent and circle back into society."
Another goal: Building empathy among the app's users.
"When we tell one story of one person's life struggle, it really changes the perceptions that people have about homelessness," Greco said. "This obviously is not going to solve [homelessness], but I think it's going to change, hopefully, people's perception about what the issue represents — with these individualized struggles."
Greco said Pathways clients have established real relationships through the messaging feature on the app. In some cases, users have gone far beyond cash donations, bringing bikes or art supplies directly to homeless people on the app who list the items among their needs.
A series of screenshots from Samaritan's app.
A Boost for Nonprofits
Samaritan hopes to license its technology to more nonprofits like Pathways, which pays a fee for access to the app. Hunter said it's been a fairly successful business model so far.
The partnership helps Pathways attract funding and gives its homeless clients a reason to check in regularly.
"It helps differentiate the organization from the hundreds of others that are out there," said Greco.
"What really intrigues me is that the platform gives these people a voice," he said. "You know, these people are somewhat invisible, but the platform allows them to tell their story, to talk about the positive outcomes they want to achieve and to engage with potential donors."
Doug Weber still has medical bills to pay and worries whether he'll be able to afford his rent -- and he's not counting on the app to help him reach those goals.
"It's not life changing money," he said. "But for somebody who's just trying to get back on their feet... where they're living day-to-day and they're trying to save some money — it's a good thing."
Before there were gas stations, roadways or traffic lights, people really couldn't drive their cars very much, or far. It took a while for momentum to build and create the pull for new services. During that time there were people who were just trying to get others to not use their horse.
Even with the technological advances we've seen in the last century, the pathway to recovery still involves jumping on your horse and going a quarter mile down the road.
I tell people all the time, as a psychologist and the founder of a tech company creating solutions to help people find treatment: There is a moment when someone decides they want help. When we come to it, we are filled with the simultaneous feeling of relief and dread. Relief that the person finally wants help, and dread about where to start and how to find them the right place in the brief window of time that desire to get help exists.
That is the window I've been dedicated to decreasing.
Photo by Nick Fewings on Unsplash
Mental Health Nonprofits and Their Struggles
When someone gets or makes that call for help in the mental health industry, there are countless directories, resource guides, websites and other attempts to capture both real-time information and basic essential information on resources.
The federal Substance Abuse and Mental Health Services Administration (SAMHSA), estimates that since COVID began, calls to their 800 number hotline have increased 1,000%. Yes, that's one thousand percent.
What do the people answering those calls depend on for their information? A postcard that is mailed out to facilities once a year and (hopefully) mailed back to SAMHSA. That's what they use to update their database. Many great organizations are often not listed or are out of date, duplicated or out of business when they are. Many of the providers I talk to don't remember ever getting that postcard.
They aren't the only government system that attempts to catalog this information. There are so many disparate, disjointed systems, it's impossible to properly inventory all of them. For example, the state of California has invested significantly in a system called the Service and Bed Availability Tool (SBAT). Any substance use disorder program receiving state or federal funding is required to update the system each day at a certain time of day. They need to do this manually, by either calling or by logging in to a portal and updating the information. Each SBAT system is managed separately by each county in the state. The data is not shared. Not with us, not with SAMHSA, and not with any other of the countless systems, databases or hotlines trying to get people help.
Meanwhile, Los Angeles County's homeless authority has their own "real-time bed availability system." The city of Los Angeles, too, dedicates some of their funding (both government and philanthropic) to creating a paper resource directory of available beds.
Non-government funded homeless shelters such as the Union Rescue Mission and recovery houses such as Awakening Recovery that also provide beds, can't be found in any of these systems because they do not receive government funding.
None of these systems are integrated with one another, all require a manual process of counting beds and updating a system, and none of it is anything a clinician in the public can easily or readily access.
How is a person making that midnight call to find someone help supposed to navigate all this? They can't.
It's not just a problem for those trying to solve homelessness. This happens amongst many programs and services across the county — and that same inefficiency, lack of coordination and miscommunication is replicated across the state and country.
Solving the Same Problem Again and Again
Even within this single space within a much larger industry there are nonprofit organizations competing with private enterprises for funding and resources, none of which are truly cooperating with one another. The for-profit, philanthropic and public businesses rarely cooperate. In fact, there are barriers to interact.
A hodgepodge of investors find themselves investing in an industry that desperately needs disruption. Alongside them are philanthropists who donate to nonprofits because they don't want to "make money" off helping the homeless or people with mental illness. Both end up investing deeply in disconnected or uncoordinated ideas.
Many, if not most, recovery residences are still operating using pen-and-paper methods to intake patients, track bed inventory and communicate with one another. At best, some programs use Excel or Google Sheets to communicate, or they pay for overly sophisticated electronic medical record (EMR) systems that are designed for clinical programs tailored for government or insurance billing practices.
Their marketing practices are often word-of-mouth, since programs such as these cannot advertise, even if they could afford to do so, on platforms such as Google, which requires facilities advertising any type of addiction treatment to be certified (which is often too lengthy and costly for non-clinical programs to undergo).
The industry must, by necessity, be more concerned with their daily operations and keeping their organization operating — making sure investors and donors are happy (i.e., beds are filled and patients moving through the program) than on attention to standards and outcomes. Even this is done in a vacuum, with each program focusing on their own goals and protocols, without effectively or efficiently communicating with one another.
What gets lost in all of this is the patient needing services.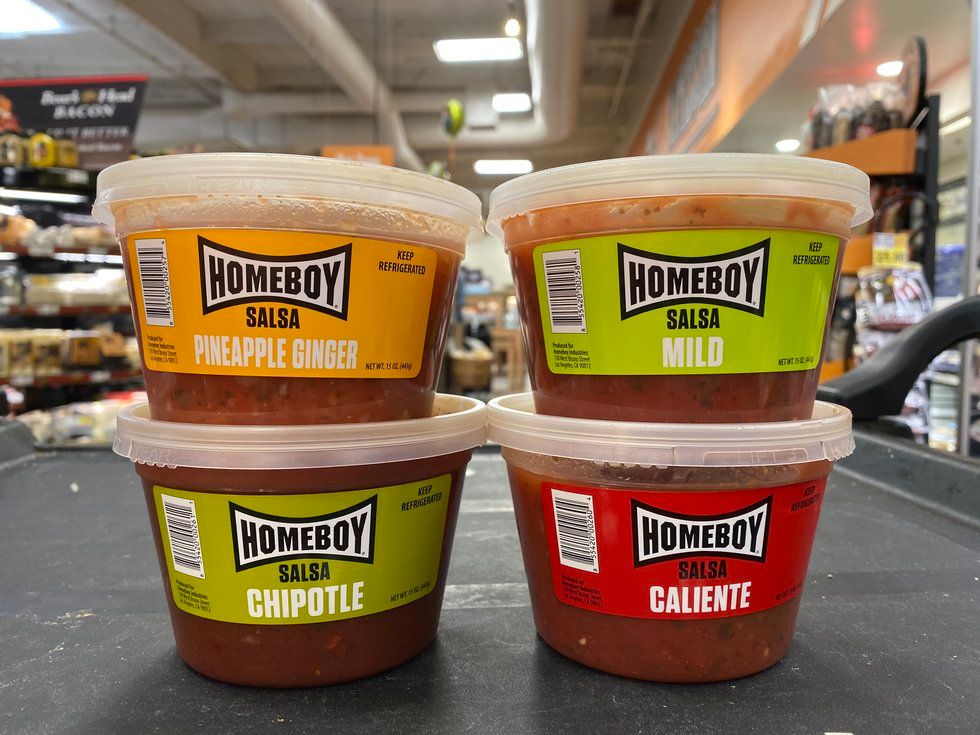 File:Homeboy Grocery Salsas.jpg - Wikimedia Commons File:Homeboy Grocery Salsas.jpg - Wikimedia Commons
The New Models
We see innovation happening on a small scale, at the individual program or regional association levels.
There are nonprofits creating positive cash flow with their donation monies, building a food kitchen, incentivizing and employing people who go through their programs who need employment, coming from vulnerable backgrounds.
Look at Homeboy Industries in Los Angeles, which calls itself "the largest gang rehabilitation and re-entry program in the world." Through their efforts they have created a bakery. Yes, rehabilitating gang members through bread making has turned into an industry of food chains, catering services and partnerships across the country. If you've been through LAX recently you've probably seen one of their restaurants.
These nonprofits are enterprising, opening and expanding business. They're organized as nonprofit hybrids that are breaking down the wall between nonprofit missions and private investment operations. They are partnering with other social enterprises and creating networks across the country and world.
The missing piece: connecting these organizations to one another, and giving professionals such as myself, and the public, access to find out more about them. We need these enterprises and programs connected in a platform that everyone can access.
A Post Pandemic World
What we are creating now is a new formula for success. In a post-pandemic era the need is greater than it's ever been.
The California Consortium of Addiction Programs and Professionals (CCAPP) refers to this phenomenon as the "parallel pandemic," where we will see an increase in addiction overdose deaths and homelessness. "Saving lives endangered by addiction in the era of COVID-19 will take concerted leadership and a cross-systems approach," the consortium wrote in a report to the governor and Legislature.
Prior to the pandemic, Feeding America estimated that 1 in 7 Americans depended on a food pantry for weekly food. That number is only going to rise following the joblessness and homelessness resulting from the pandemic, while the means to locate and provide such services is just as difficult and disconnected as ever from other services and providers. Various nonprofits — again, all functioning and operating independently — and organizations such as Foodpantries.org are providing those services but are disconnected technologically from other search tools and engines.
A social worker would need to know where and how to access these services and provide that information to the individuals receiving services.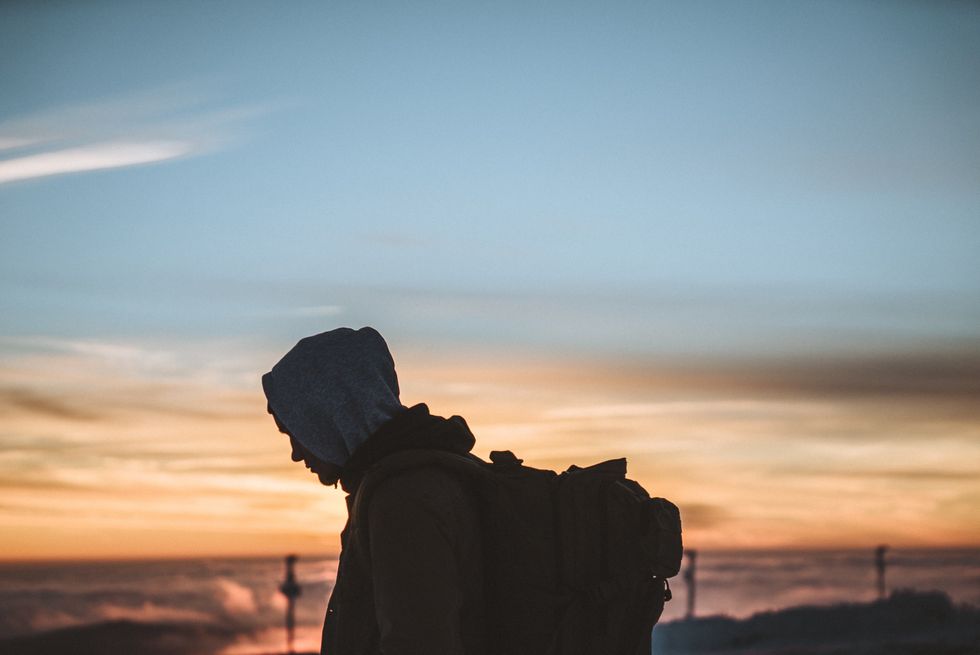 Photo by Dimi Katsavaris on Unsplash
Where Do We Go From Here?
We are seeing groups of people and organizations coming together now in new and unique ways. We are working with nonprofit organizations providing services, seeing those services get subsidized by philanthropic dollars, for technology that is backed by private investment dollars. All in the effort to get people off an oval track just going in circles, and onto a road, ultimately preparing them to drive down a superhighway that hasn't been built yet.
There is a nonprofit we are working with (can't mention the name yet), that received significant funding to create a digital resource directory. Rather than using that money to outsource technology developers to create a proprietary tool, we are partnering together, pooling our resources and sharing our technology to create something greater than the sum of our parts. Together, we are doing more than either of us could have done individually. This saves the nonprofit hundreds of thousands (if not millions) of dollars paying for the creation and maintenance of the tools we'll need to work together.
It also allows us to combine our collective intelligence and expertise, and create an even better tool, maintain that tool, and benefit from the collective wisdom of other partners across the country, in other segments, serving different communities.
To realize this vision, we'll need to build new onramps for public, private, and philanthropic partnerships. We need money to pave that way for the impact we want to see. That is exactly what we are working on at GET HELP, with our partners and affiliates.
What we're planning and creating together is a new infrastructure. One that is built by visionary customers, entrepreneurs and the next generation of social impact investors. Amongst these are the next Rockefellers and Carnagies. They didn't build or invent the automobile, but they supplied and fueled the infrastructure that surrounded, supported and sustained it.
We are creating partnerships and affiliate programs with national and statewide associations such as CCAPP and the National Alliance for Recovery Residences (NARR); with "feet on the street" organizations such as Hope through Soap in Atlanta, GA,; and with social-model recovery residence programs such as Awakening Recovery; and large homeless shelters and service providers such as House of Hope and the Weingart Center.
In addition, we are in collaborative conversations with seeming "competitors" in the private sector, where we are focused on the same vision: to raise the industry standards and improve the processes for collecting and sharing data.
It's better for everyone involved, including the ultimate beneficiary who may never know the work we are doing together to get help for them: The person suffering from mental health, addiction or homelessness.
What we — as the entrepreneurs and investors in the healthcare technology industry — are defining is a whole new infrastructure for a much longer journey to empowered recovery.
The question that we face on a daily basis is this: Who are the innovators both within the industry and without who are willing to invest time, effort and money into creating a new system?
Today, we see private automobiles driving on public roads --- those were built by public sector funds, and the public sector provides licensing and regulation. Using those models, we have to think broadly about sources of capital and how philanthropic, public and private companies can contribute to the journey.
Dr. Tony Greco is CEO and Founder of Get Help and a licensed clinical psychologist and author with over 20 years of experience working with addiction and severe mental illness.
Los Angeles invests hundreds of millions each year to alleviate homelessness, but the networks that underlie those efforts are often held together by legal pads and spreadsheets.
It took a person who's suffered through the system to try to update it, so that the homeless and their advocates can get what they need, when they need it.
Anthony Greco is one of the few people who can say he's been on most sides of the issue. He's lived on the streets, dealt with homeless family members and friends, he's worked in the shelters and counseled people dealing with substance abuse.
"I've literally been on every side of this problem in one way or another," Greco says. "I've been trying to get people into treatment in some way or another since I was seven years old."
The Get Help platform is a result of his lifetime of experience with substance abuse and homelessness. And it's been so effective that Los Angeles took it from beta to a basic tool in the city's plan to deal with one of its largest emergencies: Getting homeless people off the street during the COVID-19 pandemic.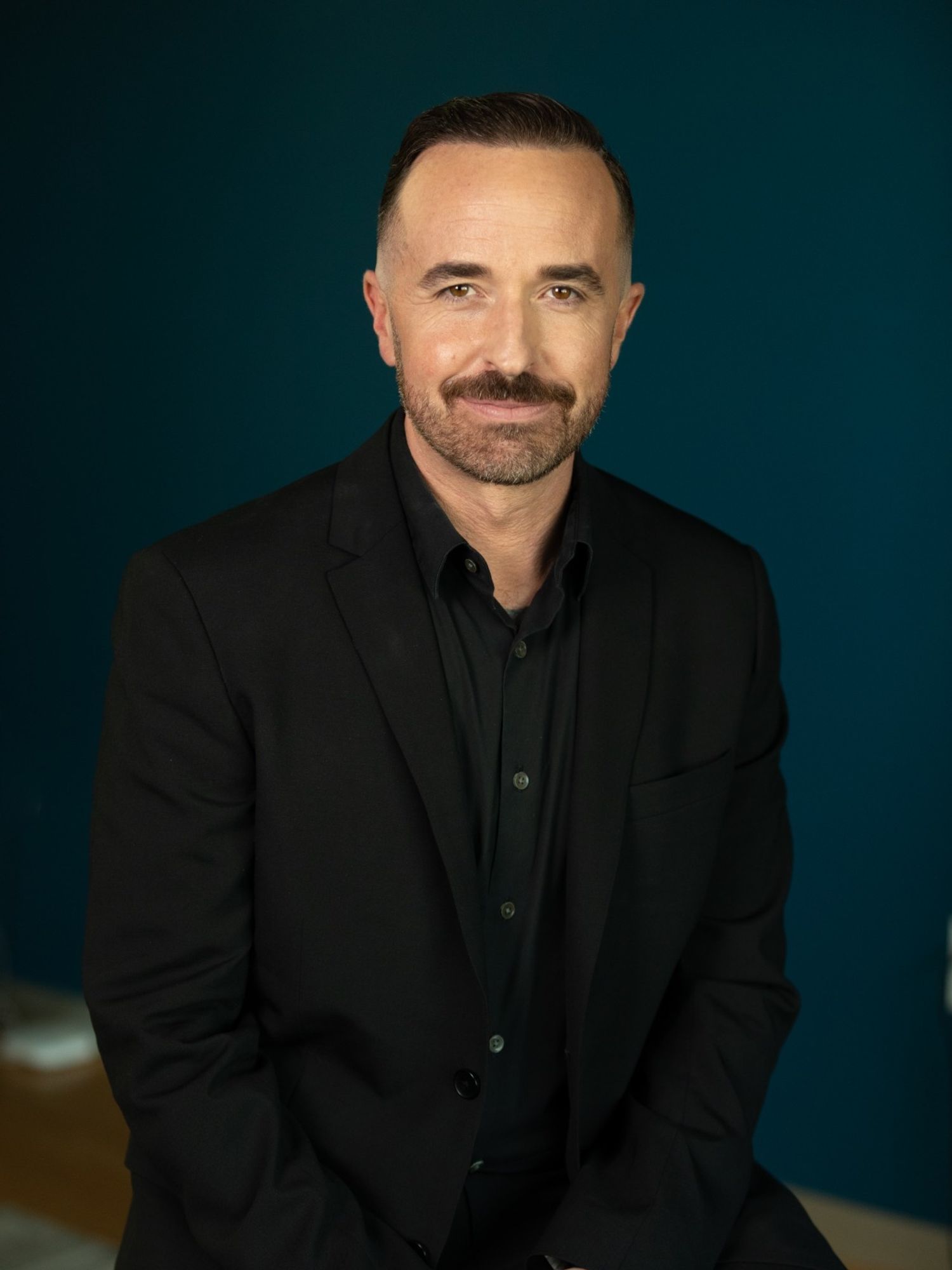 Anthony Greco is the founder of the Get Help app.
A Lifetime Getting People Help 
Greco grew up bouncing from house to house while his mother sought help at substance abuse clinics.
"When I was 15 years old, one day I came home from school and my mom and her boyfriend and that family had moved away out of town," Greco says, "and the house was empty except for all the stuff in my room."
That led him into his own struggle first with homelessness, then with substance abuse and finally into recovery and toward helping people in the same circumstances he'd once found himself in. Ultimately, he got his PhD in clinical psychology and worked with patients with substance abuse issues.
But at every step in his career, Greco found himself trying to solve the same problem: How do you match a person to the services they need at the moment they're willing to ask for help? Having real-time information is key, he says.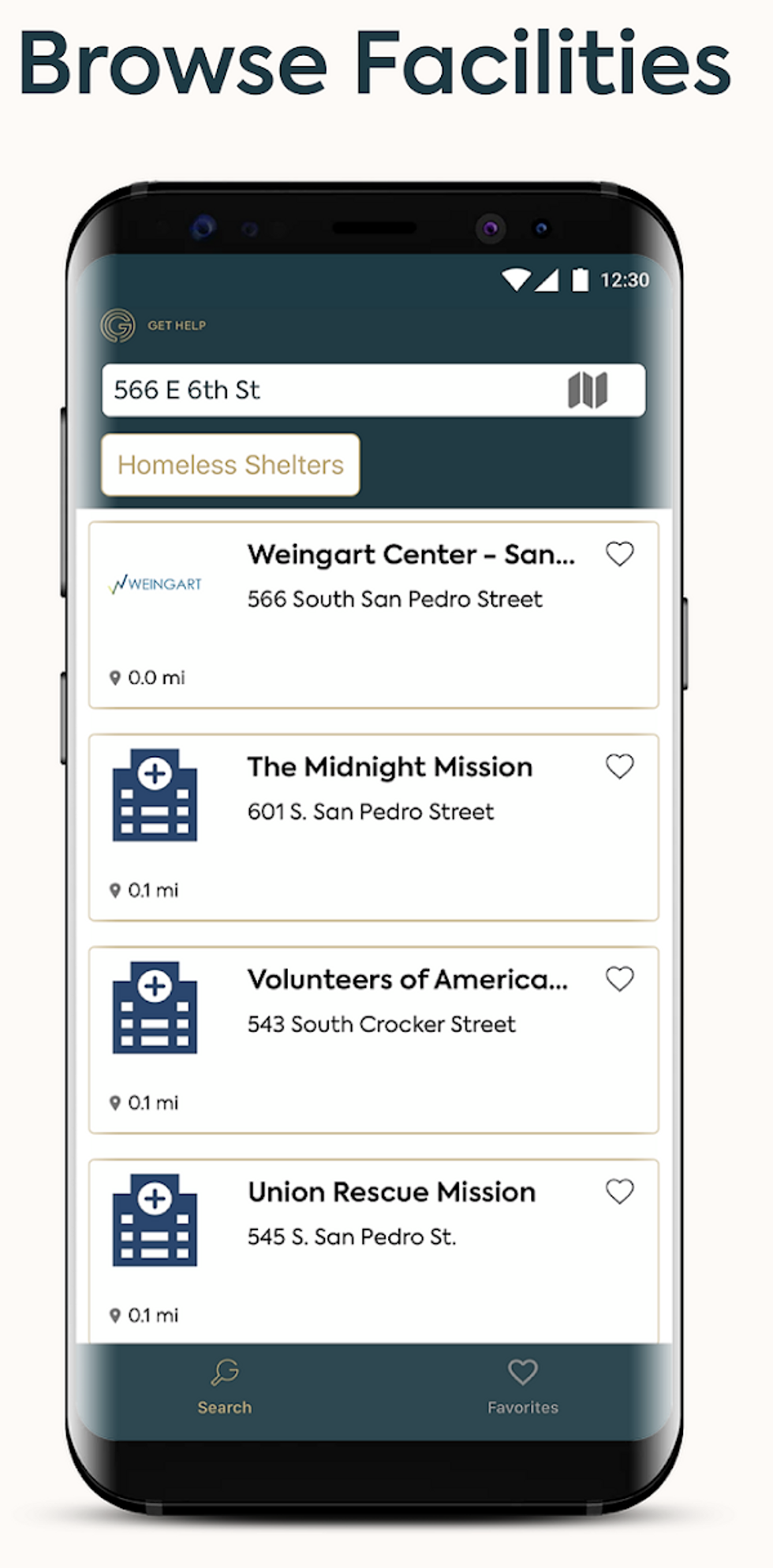 "There's a point when someone says that they want to get help," he says. "It's a simultaneous feeling of excitement and absolute dread at the same time, because on one hand, you're so excited that they want to get help and they want to go somewhere and then on the other hand the next thought is where am I going to go? Where am I going to call with how am I going to find an available bed? And it's a nightmare."
Once someone is willing to get help, the next question is where, and how? Greco describes calling rehab and shelter facilities as a child, as a homeless man and as a clinical psychologist to find a client or friend a bed, only to find that facilities were full or not accepting new residents, or that no one at the center seemed to have an idea of whether they had a place to stay.
Later, he encountered the same problem from the other end of the phone line when he was working at those same facilities.
"I remember getting calls, late at night," Greco says. "It was a mom on the other end of the phone wanting to know whether I have space for their son or daughter. And I didn't even know what our census was."
Had he known the headcount, he would have known how many available beds there were.
If Getting Shelter Were As Easy As Ordering an Uber
The idea for the app came when Greco, now a psychologist, found himself unable to get the same basic information he was seeking as a kid.
"I realized that it was just as difficult for a licensed clinical psychologist to get someone into treatment as it was for a seven year old."
Greco had pictured a simple app that would match the world of homeless needs to the world of resources available to them.
"I said, you know, there has to be an app for that," he says. "You can order a pizza at four o'clock in the morning, or a cheeseburger from Sonic and have it delivered from Pomona, but there's no tool to be able to find a bed for my friend."
Greco quickly realized that if he wanted to be able to offer immediate help, he needed more than a list of numbers; he needed accurate real-time data. Who had open beds right now, tailored to specific needs of individuals — with substance abuse problems, with mental health problems, with kids, with domestic abuse trauma, with medical needs?
He had a vision for the app, but he didn't have a background in tech or business. Luckily, as he searched for funding for the idea, he came across Michael Root, one of the early engineering pioneers at Riot Games, who quickly volunteered to be Get Help's CTO. The company registered as a public benefit corporation in 2019.
"I had no idea what I was getting into," Greco says.
Solving Problems for Homeless People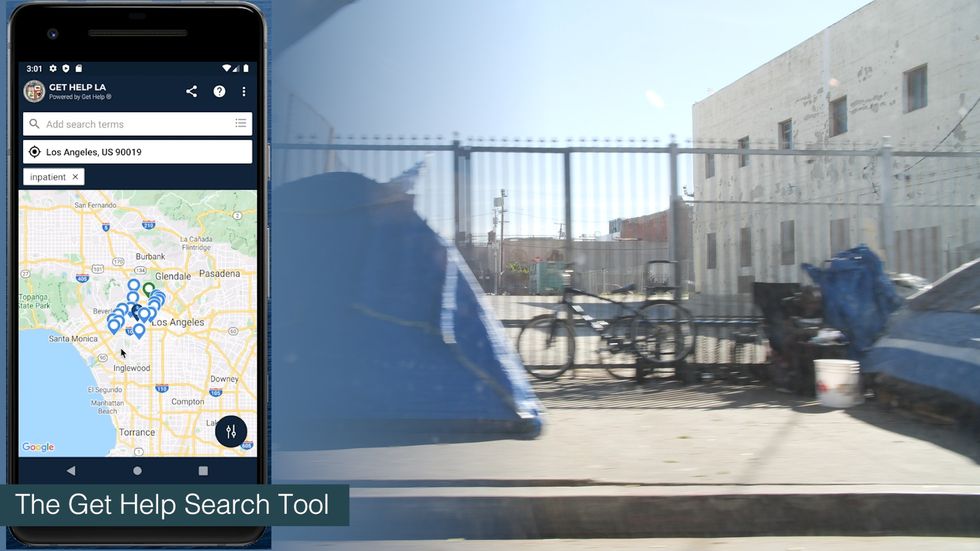 Greco says it usually takes between 6 and 7 approaches (sometimes more) before someone who's experiencing homelessness will accept help — and often the kind of help people on the street are looking for isn't what street teams have to offer.
"The first service that they often will accept isn't a bed," says Greco, "but they'll accept a place where they can go get a meal."
Greco says it's critical to seize those moments, where a person is willing to ask for some kind of help, if only to build trust.
"It's about meeting the person where they're at," Greco says. "And that's what I do as a therapist."
In other words, he says focus on building trust, and provide people what they need, rather than what you think they need. Not everyone is looking for a shelter bed.
"That's where I operate from and where Get Help operates from," he says.
The app tries to reflect this by listing a range of services both big and small from shelter and sober living beds to food pantries, showers, laundry, storage facilities and health care services. All those services are what social workers call a continuum of care that will eventually lead to stability, he says.
Solving the Problem for Shelters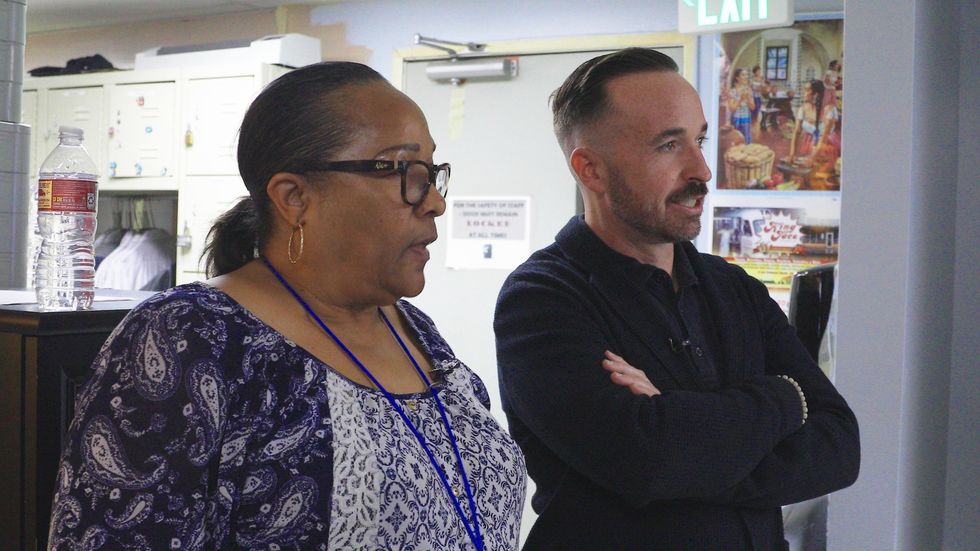 Greco at the Weingart Center in Los Angeles' Skid Row.
On the other end of the spectrum, Greco realized that if he wanted to be able to solve family members' 4 a.m. emergencies, he'd have to work with the shelters to get the data that would be crucial to getting their loved ones fast help.
What he quickly found was that many of these shelters and sober living facilities were using outdated tools to keep track of who was in their facility.
"They were still managing their inventory — and still are — is literally using yellow pads, sometimes whiteboards, Excel documents and email exchanges."
They reached out to the Weingart Center, one of the first shelters in Skid Row that specializes in providing emergency housing for people with mental illness. By the estimate of its current CEO, the company houses about 600 people nightly, and provides counseling, employment and other other services to thousands more. All of that requires an incredible amount of record keeping.
"In order to really run an operation," says Weingart's CEO, Kevin Murray, "you've got to do intake, you've got to assign room, you've got to assign food cards."
In addition, you have to make sure you're collecting the information that health insurers and the federal government require, as well as making sure you're tracking the basic needs — linen and toothbrushes, for example — of the people you're serving.
"Almost every provider is inputting this practice information in, you know, at least two, maybe multiple systems."
Greco's team met with Weingart to develop a data management system that could help them track that information.
"They actually sat down with our people at all levels to find out what they needed, and what would be helpful to them," Murray says. "We both sort of opened up to each other about what we wanted to do. And so we were participants in developing the system."
The result, Greco says, saved Weingart time and money by cutting down the number of steps that shelter staff had to take to do intake and reducing the number of data entry mistakes they made.
"Those errors result in billing errors," and those billing errors and mistakes can result in a place like The Weingart Center losing millions a year in funding opportunities.
It also made the information on how many beds the center had at any given time easily accessible, so that Get Help's app could make them available to service providers on the streets looking to get people housed.
"it's certainly, you know, added a lot of simplicity in our lives," Murray says.

From Pilot Test to a Citywide Crisis
An estimated 82,955 people fell into homelessness during 2019 in L.A County, and an estimated 52,689 people found the way out of homelessness in that time, according to the county's most recent data.Photo courtesy of Get Help
In late 2019, Get Help worked out a pilot program with a small faction of LAPD officers who patrol Skid Row and other areas to assist with routine clean ups of homeless encampments.
The officers in LAPD's Homeless Outreach and Proactive Engagement (HOPE) team downloaded the Get Help app and used it to direct the homeless folks they encountered to services in the area.
"The response was overwhelmingly positive," Greco says, adding that some officers reported it had changed the dynamic between some of their patrol and homeless in the area. Officers had real-time information they could offer to homeless folks, and their role went beyond enforcement to being able to offer assistance.
After six months, the plan was to expand the app's use in the city, when an even larger crisis hit.
"We had just got through a successful pilot with L.A. (city) and we're talking about expanding it, we were doing work on expanding to a different additional shelters, (and) we were starting conversations with L.A. County," Greco says, "And COVID-19 hit."
The city settled on an emergency plan to house vulnerable homeless people in recreation centers and other city facilities that had closed due to the pandemic.
Jimmy Kim oversees emergency operations for Los Angeles's recreation and parks department. He was tasked with creating the shelters, developing a system for keeping track of its inhabitants, and keeping them safe.
"The systems that we're using are so archaic," Kim says. "You know that saying, 'time is money', right?"
At first the city relied on regular manual headcounts, pen and paper and Google docs to keep a tally of those staying at its sites. It quickly found that process was inefficient.
"And so we came across (the app) in the mayor's office," says Kim. "They actually introduced us to the folks over at Get Help as part of a pilot program."
The app allowed them to streamline the process, and provided the mayor's office with real time information on the number and location of beds occupied.
"The quicker we could get them (registered), the quicker we could get people in," Kim says. "And then the less time they have to spend on doing registration, the more time they could spend on doing more important things."
The system proved a success, allowing Kim to keep track of registrations and discharges at the 24 shelters the agency oversaw, and allowing his staff of around 94 employees access to real-time data on who was where.
"I actually want to take that and use it for our normal shelters as well because it'll help us streamline that process and get real time usable data," Kim says. "You know, literally at the tip of your fingertips."
The department is now thinking about configuring the app to do contract tracing for shelter residents who come down with COVID-19, and it's thinking about expanding beyond the homeless emergency function, to other emergencies that require rapid sheltering — such as wildfires and earthquakes.
"Now, we're having those conversations," says Kim, "because I think it will help us streamline and get data a lot quicker… And if you have real-time data, you can make better decisions that way."
Meanwhile, Get Help is available to individuals, organizations and outreach workers in Apple's App Store and Google Play. His team is working with several large local shelters and sober living facilities and the county to expand the data available in Get Help's app that can be used by families, street teams and concerned residents looking for immediate help.