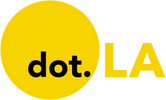 Get in the KNOW
on LA Startups & Tech
X
Eric Zassenhaus
Eric Zassenhaus
Eric Zassenhaus is dot.LA's managing editor for platforms and audience. He works to put dot.LA stories in front of the broadest audience in the best possible way. Prior to joining dot.LA, he served as an editorial and product lead at Pacific Standard magazine and at NPR affiliate KPCC in Los Angeles. He has also worked as a news producer, editor and art director. Follow him on Twitter for random thoughts on publishing and L.A. culture.
Photo courtesy of Gene Nubla
These days, there are scores of artists, startups and entertainment companies—as well as ordinary NFT holders—who are parlaying non-fungible tokens into commercialized intellectual property.
Case in point: the Bored Ape Yacht Club NFT collection.
Santa Monica-based Universal Music Group, one of the world's largest record labels, has created a "metaverse group" consisting of four Bored Apes, while crypto exchange Coinbase is using the simian blockchain darlings as characters for an upcoming film trilogy. Talent agencies like WME and United Talent Agency, meanwhile, have added Bored Apes and other NFT characters to their client rosters.

These creative works are possible because blockchain firms have attached broad commercialization rights to NFTs, which are unique digital assets verified using blockchain technology. Granting those rights could boost the value of NFT collections by making them more culturally relevant, according to experts, though it remains to be seen whether such projects can appeal to audiences beyond NFT adopters.

A lot of legal questions remain, too, as "Austin Powers" actor and producer Seth Green just learned the hard way. Green is developing a hybrid live-action/animated comedy called "White Horse Tavern," in which the creator's own Bored Ape comes to life as a friendly neighborhood bartender. The project was almost sabotaged last month when a scammer duped Green in an online phishing scheme—stealing four of his NFTs. Since Bored Ape NFTs come with a license to commercialize the art, Green may have momentarily lost the rights to produce the show (Fred has since returned home safely). The drama turned Green into a poster child for how sketchy the world of NFTs can still be—the "Wild West" of digital assets, as some observers have put it.
This week, dot.LA reporter Christian Hetrick looked into the phenomenon, and the coming slate of NFT entertainment experiments.
Shutterstock
Apple forever changed the game when it updated its privacy rules in April 2021, requiring that companies get permission before collecting user data online. Since then, digital brands have been scrambling to find new avenues to amass information about shoppers. Prodege is betting that the answer to retailers' data woes lies in online surveys—and a new contract with consumers.
Here's what else we're reading in the news: