Sonos — a company known for their speakers — is quietly becoming a player in the world of audio content. The company launched Sonos Radio earlier this year and last week investing in the studio that produced Demi Moore's series "Dirty Diana."
The Santa Barbara-based manufacturer led a $6.4 million Series A round into QCODE, the Los Angeles podcast startup run by a former Creative Artists Agency talent agent. C Ventures also joined the round. Sonos is taking a page from other tech giants that have been acquiring and investing heavily in small podcast studios.
The podcast rush is in full force as Hollywood mines podcasts for movies and music streamers compete for content.
Last year, Spotify bought Gimlet Media and Anchor. At the same time, radio veteran Entercom bought independent studio Pineapple Street Media and Cadence 13. Spotify is now eyeing TV and film production, further breaking down the lines between the mediums. Wondery, the studio behind "Dr. Death" and "Dirty John" is looking for its own buyer.
As for Sonos, spokesperson Nora Hickey said the investment was an effort to improve user experience across "every audio touchpoint."
Los Angeles-based QCODE has produced eight shows since 2019, several of which have been auctioned for film and television, including "Dirty Diana." Amazon picked up the 6-part erotic drama for a TV series.
CAA agent Rob Herting, who for 10 years represented mostly writers and filmmakers, founded the podcast studio with an eye toward narrative stories.
"I listened to podcasts in my spare time when my eyes were sore at the end of the day," Herting said. "I really got into it and started to think more and more about it more as a new avenue for original storytelling."
But, when he left CAA to start QCODE last year, companies often told him the scripted fiction he wanted to produce wouldn't catch on. He often heard it was "really hard to do" and didn't make money.
"It's radically different right now," he said. "Everyone seems to be making these shows now. Obviously, the space in general is evolving."
He said that while a handful of companies are making fiction podcasts and scripted shows, there's still room for more. These types of podcasts could eventually overlap with audiobooks, an industry that's taken off. Last year audio book sales hit $1.2 billion, according to a study from Edison Research.
Herting could not yet say whether his studio would begin producing exclusive content for Sonos Radio, which launched earlier this year to feature Sonos products. The add-free station streams original programming and music from partners like iHeartRadio.
That prospect, coupled with QCODE's talent pipeline, might explain where the money is in this investment round, James Cridland from the news site Podnews said.
"Sonos perhaps sees it as helpful to own more exclusive content for their speaker systems," he said. "It seems clear to me that the value of many podcast studios and networks has been, in part, driven by the value of their IP rather than solely their podcast properties."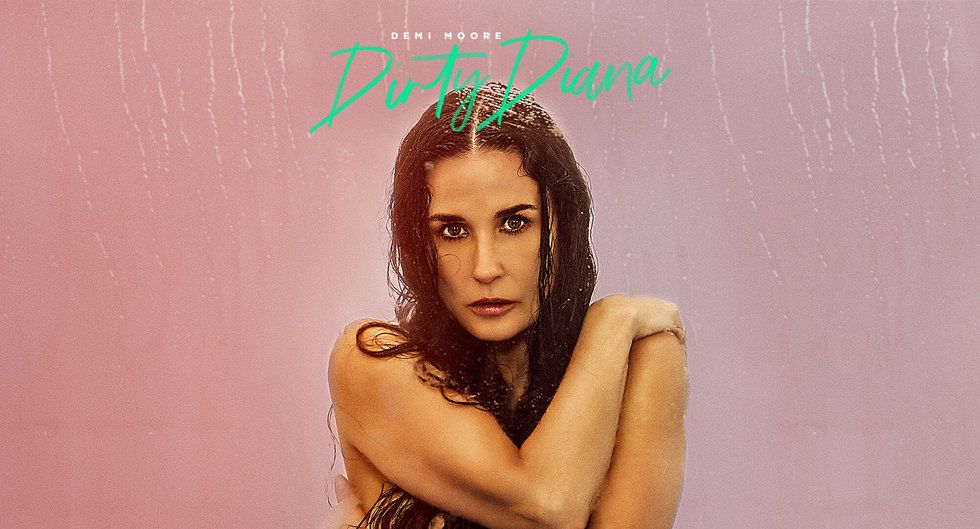 L.A.-based QCODE produced Demi Moore's series "Dirty Diana."
The Podcast Rush
Individual podcasts are also getting gobbled up by big names in the industry. Gridland said "The Joe Rogan Experience," a talk show Rogan has hosted since 2009, will become exclusive to Spotify on December 1 as the company looks to distinguish itself in the increasingly crowded space.
"These startups are nimble and very quickly navigating an ever-changing landscape, and thus are positioning themselves to be ripe for acquisition by many of the major media companies entering the space," said Adam Friedman, a global client strategy executive at CAA and investor at Connect Ventures.
Herting said that his studio looks for writers and producers with ideas that could grow into other mediums. But auctioning them for the screen isn't the primary goal.
"It's definitely part of the calculation," Herting said. "They don't get picked up for TV or film if they don't work well for audio first. What's exciting for us is creating a show in audio that can grow into other mediums but still live in audio."
A number of smaller and independent producers are churning out scripted fiction podcasts, he said, and now bigger names like iHeartRadio are following suit. It could be where the industry is headed.
"With everything that's going on in the world and in the country, I do think there's this element of escapism to it," Herting said. "We've all been cooped up in our homes scrolling through Netflix. This is another avenue of storytelling where you can really sink into things and you don't have to be planted on your couch to do so."
**This story has been updated to clarify Adam Friedman's investment position and include C Ventures as an investor.