dronebase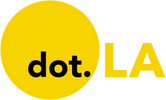 Get in the KNOW
on LA Startups & Tech
X
dronebase
I am not a drone pilot or any kind of pilot. I don't even own a drone. But I was intrigued by the prospect of flying one without leaving the house.
I recently gave one a whirl from some 60 miles and a county away — easily maintaining my social distance from the relative comfort of my Los Angeles living room couch.
The flight was a small sampling of the universal remote technology that Los Angeles-based vRotors has created for robotic devices. Their technology has inspired the Israel Aerospace Industries North America to work with the company to automate the landing process for their next Moon mission.
It's also been used by drone racers from around the globe who use it to compete. The company's gaming-reminiscent flight platform allows for both fine-tuned and large pan movements using a mouse, touchpad or keyboard.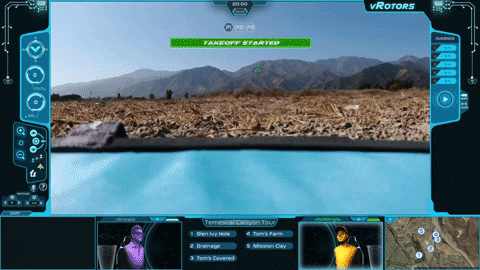 Courtesy of vRotors
Before takeoff, I saw through my cockpit "window" some blue and what looked like large, very dry-looking pieces of yellow plant life. As I rose up higher, I realized I had seen the takeoff pad and dusty, dry grass, a natural California vegetation this time of year.

I wasn't sure what to expect, and it took a moment or two to get the hang of things. One of the controls lets you move up and down, while another rapidly shifts you left and right. The learning curve isn't steep, even on the fly, and the experience was more fun than I have had nearly all year, in a giddy gaming-meets-real-life-during-a-pandemic sort of way.
The platform provides nearly zero perceivable lag on the user's end. The system froze up multiple times for me as I tried to get it going, but that could have been due to my MacBook's lack of processing power. In fairness, I did have about at least 60 tabs open across two browsers.
To minimize lag time for drone pilots — an issue that has been problematic for similar services — the company overlays the virtual experience on top of the real-time one. When I pushed up on my mouse pad, I immediately felt as if the drone was beginning to take off as I approached a couple golfers out in the morning sun.
For roughly 20 minutes I flew the DJI Mavic 2 Zoom drone over a 5-acre area around the not-particularly-scenic dried brush of Temescal Canyon in Corona, Calif., including the nearby Glen Ivy golf course hole No. 4 and a drainage culvert. I also gazed down over the day-tripping family spot and farmer's market, Tom's Farm, and Mission Clay Products, a pipe manufacturer where dozens of clay pipes baked outside. Oh, and I also flew by vRotors co-founder and CEO Neil Malhotra's white Honda. The last one was probably the highlight of my trip.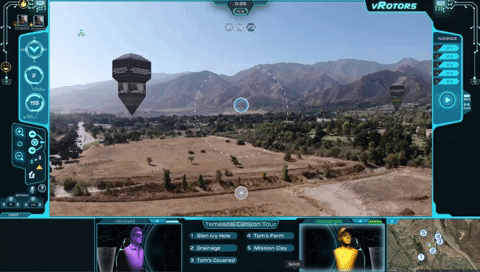 Courtesy of vRotors
I soared above these sights at a top speed of 32 mph, from about 300 feet down to a very stalker-y feeling 50 feet to say hello to Malhotra, who waved out of the backseat of his window while wearing a VR headset to provide me this demo.

Outside of his car door was the small blue takeoff and landing pad, where the drone had started its day. Nearby were Malhotra's shoes, which he took off to keep his car clean from the nearby brush. vRotors puts virtual boundaries in place to prevent amateur pilots from smacking into the ground.
Of course, flying a drone isn't a big deal these days. I mean, anyone with a few thousand bucks can give one a whirl. In 2019, there were 1.1 million units of small hobbyists drones registered in the U.S., according to the Federal Aviation Administration. There were about 412,000 commercial drone registrations during that same time. Companies like DroneBase have found success in providing commercial pilots with jobs doing safety or insurance inspections at a time when inspectors may not want (or be able) to go out and do inspections themselves.
Drone companies, including DroneBase, have reported a surge of increased interest in their technology to conduct remote work during the pandemic. And businesses as well as cities have examined how to use remote technologies like robots and drones to minimize risk to workers over the long term.
The vRotors remote platform is available for anyone to test out right now during the company's free open "beta" period, before it moves to a paid subscription structure, Malhotra told me. He noted that "any drone operator can provide access to any user anywhere in the world" and friends can come along for the ride.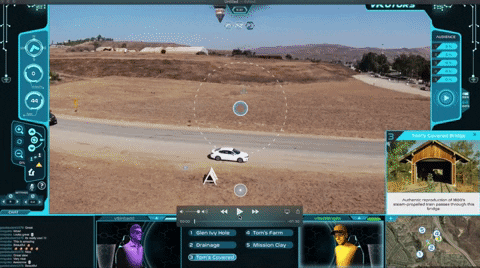 Courtesy of vRotors
I'm not sure I'll personally fly again, but that's mostly because I don't own a drone or know someone with a drone who will let me borrow it for a joy flight. Still, it's unique in that the platform truly makes it feel like you're a pilot sitting inside a tiny drone. I couldn't help smiling — a rare enough experience these days — at the thrill.

Though you're not exactly zipping about hundreds feet up in the air. Much like in an airplane, at higher altitudes I felt like I was moving far slower than when moving at the same speed at lower altitudes. But, for me at home, time passed in a flash. At the end of 20 minutes, I passed the controls over to my co-pilot, Malhotra, for landing, and hopped out of the drone's command center — returning back to my couch in both body and mind once more.
___
Do you have a story that needs to be told? My DMs are open on Twitter @latams. You can also email me at tami(at)dot.la, or ask for my contact on Signal, for more secure and private communications.
From Your Site Articles
Related Articles Around the Web
Courtesy DroneBase
DroneBase, a professional drone services and data analytics company, announced Wednesday that it has raised $7.5 million in Series C funding and is officially expanding into renewable energy markets with a new enterprise software platform.

The Santa Monica-based company also announced its founding of a new DroneBase Europe office, which will be based in Germany and hire locally there to serve its expanded customer base.
The round included new investors Valor Equity Partners and Razi Ventures who joined Union Square Ventures, Upfront Ventures, Hearst Ventures, Pritzker Group Venture Capital and DJI, bringing total funding for DroneBase to $32 million.
"As we have worked more and more renewable energy in North America, often those companies have a European headquarters too," said DroneBase founder and CEO Dan Burton, who noted the company has been active in the vertical for over a year.
DroneBase has seen months of record-setting revenue amid an economic recession due to the novel coronavirus pandemic, which forced business around the world to shut down for months.
Revenue has been up 20% on a month-over-month basis beginning in March and the company has seen 99.8% operational uptime for its drones across 10 different countries, with more drone-licensed pilots joining the network and their drones able to do inspection work, for example, in a contact-free manner, Burton said.
"This is a moment for both the technology and the way our company was built," Burton said. "This coronavirus has ultimately been an accelerator of trends and we think it's really accelerated this process, automation, digitization that drones can bring and how DroneBase is uniquely able to operate."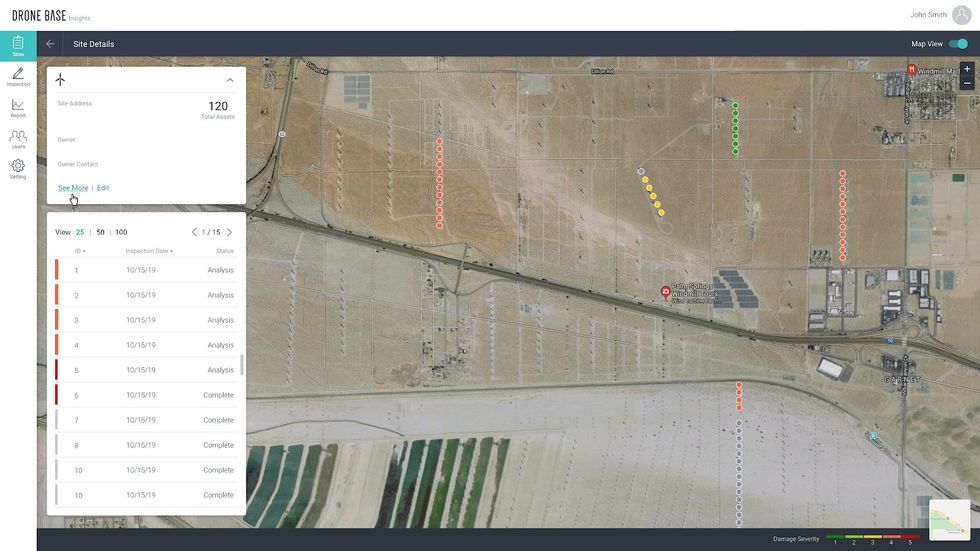 Courtesy DroneBase
Drone Inspection for Renewable Energy
DroneBase Inc. was founded in 2014 and incubated by Y Combinator. The drone-for-hire company works with businesses in industries that include insurance, construction, real estate, telecommunications and media, also boasts the largest drone-licensed pilot network in the world. Its pilots have completed over 100,000 commercial missions in over 70 countries and all 50 states. The company's board is also entirely white and male, though Burton said in a statement that "diversity at all levels are being considered" and that the company is looking to expand diversity both internally and at the board level.
The company began this new financing round in March with a focus on ensuring sustainability, strong revenue growth and an increased path to profitability, but given the widespread consolidation and acceleration in the industry, Burton said he's been "taking some incoming calls about going into a growth round as early as this year."
Due to COVID-19, many companies that utilized more traditional in-person methods for insurance-related or safety inspections have either had to pause or now cease to exist. That's also been the case for some of niche drone companies which recently closed.
Their newly unveiled enterprise software platform is called "DroneBase Insights for Wind and Solar." It enables customers to use drones to inspect a wind turbine's components through an autonomous flight system and offers data, actionable insights and lifecycle management. The software was trained on DroneBase's large database of turbine imagery, leveraging machine learning.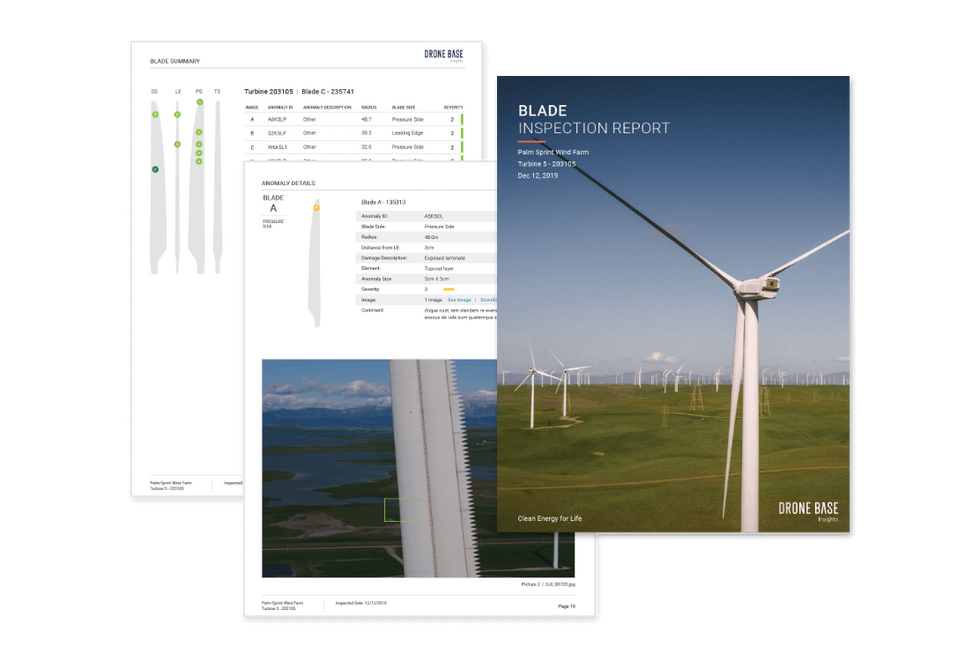 An image of DroneBase's software to remotely monitor renewable energy facilities.Courtesy DroneBase
"It's just a faster, more reliable, more affordable way to inspect physical stuff," Burton said, noting that wind turbines are among the most dangerous assets to physically inspect in the world.

DroneBase also has its own thermal pilot network that was trained by FLIR Infrared Training Center. FLIR Systems, Inc. is a DroneBase investor that develops, manufactures and resells thermal imaging technology. Though the company is based in Arlington, Virginia, much of its innovation occurs at its tech hub in Santa Barbara.
The trained network is able to provide accurate data under the platform's solar insights, for anomalies that are otherwise invisible to the naked eye, DroneBase said.

"DroneBase has been instrumental in helping us scale solar asset inspection and analysis across North America," said Jamie Mordarski, director of operations and maintenance, Americas at SMA, in a statement. The solar energy company is headquartered in Germany.
Sam Teller, a partner at Valor Equity Partners, who joined this round said in a statement that DroneBase's new work in renewables "will have a lasting impact on the future of energy by keeping infrastructure operational for generations."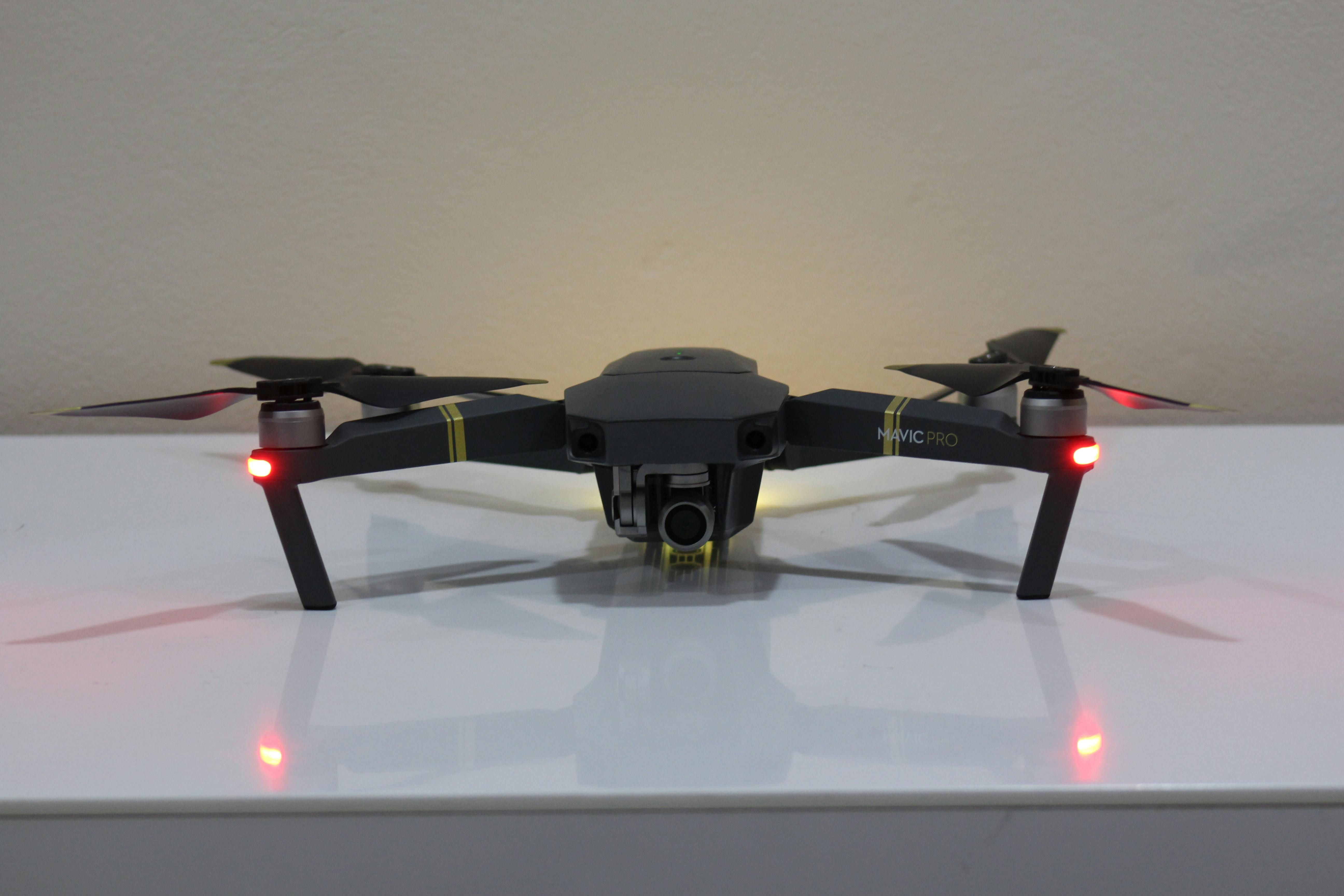 Ties to China Drone-Maker
The company's official expansion into energy-related work and its close ties to Shenzhen, China-based DJI, the largest manufacturer of consumer drones worldwide, could pose some potential problems. DJI has attracted considerable concern over the years from U.S. government officials and lawmakers over its data security and potential cyber vulnerabilities because of its Chinese supply chain. The energy sector is one of 16 critical infrastructure sectors in the United States, which means its assets, systems and networks physically and virtually are crucial to national security, safety or public health.
"As we expand into energy, the data security, the chain of custody of the data, operational security, are all increasingly important factors," Burton said.
Burton said DroneBase has seen companies in the energy sector that do not allow the use of DJI drones per company policy. For such cases, DroneBase will need to have non-DJI alternatives, though the "vast majority" of drones its pilots now fly are DJI drones.
The global market for drone technologies is expected to reach $43.1 billion by 2024, up from $14.1 billion in 2018, according to a June 2019 study by the Computing Technology Industry Association that did not take into account the novel coronavirus outbreak.
As the pandemic continues, the majority of the business operation has transferred successfully to remote work, Burton said, and there is discussion as to whether in-person interactions will return and in what manner.
The company had just moved into a new Santa Monica headquarters in February, weeks before the pandemic's spread forced all non-essential businesses in California to close and DroneBase went fully work-from-home. Now, Burton said the company is trying to determine whether its staff will ever return to the office or whether in-person get-togethers will be less frequent and more intentional.
__
Do you have a story that needs to be told? My DMs are open on Twitter @latams. You can also email me at tami(at)dot.la, or ask for my Signal.
From Your Site Articles
Related Articles Around the Web
In the midst of the current global health crisis, the commercial drone industry is helping businesses keep essential projects on track. Drones are a significant player across a full spectrum of industries, allowing companies in insurance, construction, infrastructure, energy and others to maintain critical operations by safe, contactless solutions. In fact, Barclays estimates the use of drones will result in cost savings of $100 billion across industries.
With the foundation of the industry now maturing and in the midst of a global pandemic, I believe this is a make or break moment for drones to prove their versatility through their utility, safety, and value. Whether through integral data or taking on risky inspections, this is the moment that the commercial drone industry will fulfill its potential.
Utility: As Use Cases Grow, the Commercial Drone Industry Grows
Dan Burton is the Founder and CEO of DroneBase, the largest global drone operations company.
At DroneBase, we have seen how drones have impacted businesses across insurance, construction, real estate, energy, and media. In times of disaster and even this global pandemic, we have been fortunate to enable insurers to get claims to those in need five to six days faster, provide contractors a better, safer way to monitor their sites, and help realtors virtualize their properties to continue to conduct sales. As a result, drones have become a key part of the day-to-day operations across these industries, and continue to do so even during COVID-19.
Our customers are continuing to incorporate drones into their processes and budgets as well as find additional use cases to leverage more technology, and industry analysts are seeing the same trends. According to Tractica, the commercial drone market is experiencing steady, sustained growth and consolidation, with global revenue expected to reach $13.7 billion by 2025.
There are endless possibilities as every industry needs to maintain its assets, whether a solar farm, wind turbines, buildings, or parking lots. This is where I see sustained growth for the drone industry since enterprises should use this time to develop new use cases to efficiently and safely gather the necessary data.

Safety: Putting Humans Out of Peril
When I was just starting DroneBase, the concept of sending a flying machine to inspect anything was unheard of. Instead, humans often put themselves at risk in order to examine construction sites, roofs, or wind turbines. Not to mention, drone pilots can conduct contactless inspections since the time required on a property is minimal and nothing is physically touched by the pilot or drone.
With two feet on the ground and a bird's eye view, over 171,000 professional drone pilots are able to prevent dangerous human inspections of industrial assets. Thanks to Federal Aviation Administration (FAA) regulations such as the Part 107 program and Low Altitude Authorization and Notification Capability (LAANC), the commercial drone industry has been able to grow and flourish.
The industry standard has been to send a human and risk their lives, which no human life is worth the chance. Drones are also providing a second safety layer during this pandemic by maintaining a safe social distance. Continuing the course of strong, helpful guidelines will push the drone industry forward and truly save lives.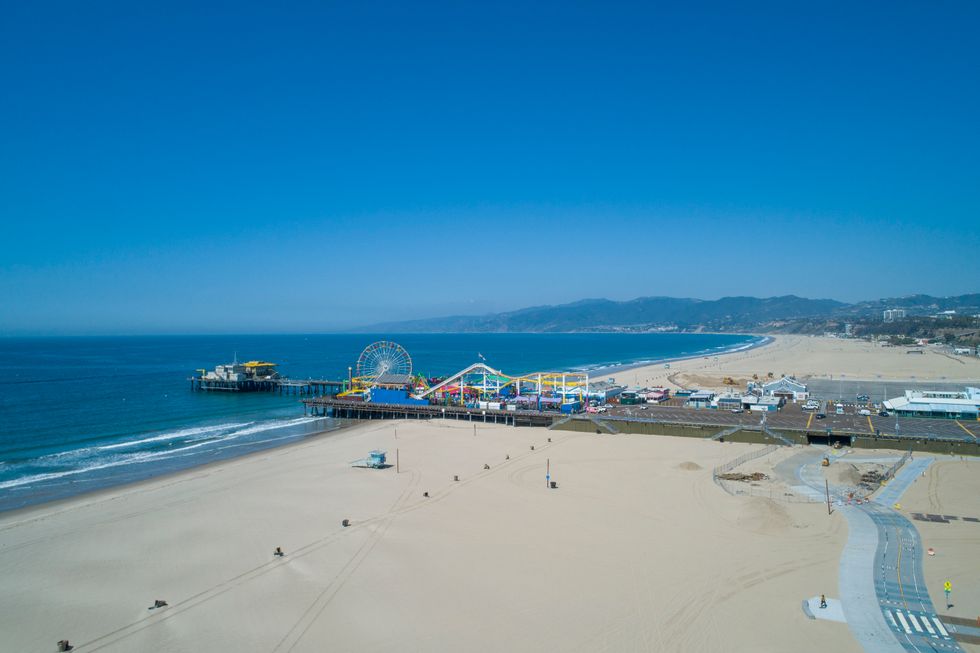 A nearly empty Santa Monica, Calif. pier as seen from above during COVID-19 stay-home orders, taken by a DroneBase drone. Courtesy of DroneBase
Value: Enabling Teams to Make Decisions Through Drone Data
As with most B2B and SaaS companies, you're providing the client with a solution. They need to quickly and easily reach a decision from the service you're providing, whatever that may be. To get companies to adopt a new technology like drones, you need to be orders of magnitude faster, safer, and more affordable - especially as companies look to cut costs and survive the pandemic.
We see two critical layers of value in the drone industry: data capture and data analysis. Enterprise customers increasingly only want to deal with one drone provider who has scalable systems across data capture and data analysis. Scaling drone capture to national, or international reach, is both a software infrastructure and a network problem. If drone operations were being viewed as a commodity before COVID-19, in the current pandemic environment, the ability to safely, quickly, and reliably operate at scale has quickly become a scarce resource. After the industry's growth and hundreds of thousands of missions flown here at DroneBase, we're more confident than ever that the drone industry can be the reliable resource we promised.
Drone data analysis is the second key layer that gets the customer to a fast, accurate decision that pulls the signal from all the noise in the captured data. Drone technology is great at capturing anomalies through imagery - a perfect fit for industrial inspections of similar assets like solar panels or wind turbines. It will be important for the drone industry to prove itself to be a valuable, accurate resource now and after we return to a more normal time.
Thanks to industry efforts, drone technology has the opportunity to make a real impact in this difficult time. Drones already provide a safer way to capture aerial data, and the contact-free inspection drones can provide is more relevant than ever to keep critical infrastructure and essential services running safely during this crisis. It's time for the commercial drone industry to prove itself.

Dan Burton is the Founder and CEO of DroneBase, the largest global drone operations company, which provides businesses with aerial information to make better, real-time decisions about their most critical assets.
From Your Site Articles
Related Articles Around the Web