Audrey Wisch was teaching English to a member of Stanford's custodial staff who didn't speak English when the seeds for her edtech company were planted.
A Stanford freshman majoring in history at the time, she had never taught before, but quickly realized it came easily. When the pandemic hit she wanted to continue teaching, so she tutored a high school student online.
She soon realized the student was simply regurgitating information she learned in a textbook, rather than forming an opinion about what she was learning.
"That was kind of my lightbulb moment," Wisch said. "It was so exciting to see how when I was teaching her something I was so passionate about, it kind of ignited a flame within her and sparked this new curiosity."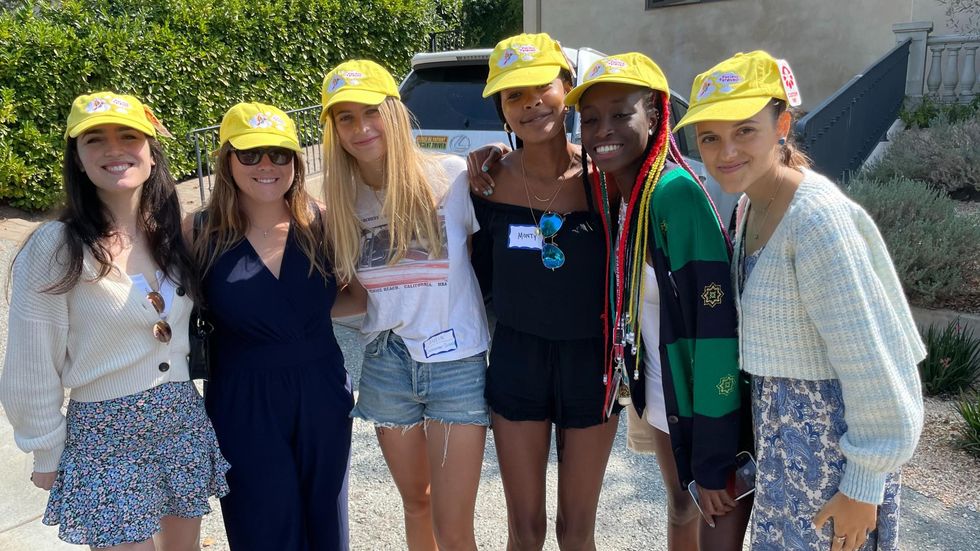 When the student needed help in math, not Wisch's strong suit, she recruited her friend from Stanford, Alec Katz, who was studying aerospace engineering and the idea for Curious Cardinals came together. The name was inspired by a play on words. The athletic teams of their prestigious Silicon Valley-based alma mater are called the Cardinal.
Curious Cardinals bills itself as more than a tutoring company, connecting thousands of middle and high schoolers with college students who teach them specialized topics ranging from the origins of mass incarceration and entrepreneurship to the art and science of fantasy football.
Started amid the pandemic in June 2020, it recently raised $4.25 million in a seed round and has grown from a two-person operation to seven employees with $600,000 in revenue during the first year.
Last year, employees worked and lived in a house in West Hollywood they dubbed "Cardinal Crib" that had Post-It notes all over the walls and now they have opened an office in Menlo Park. And they've taken time off at Stanford to focus on their company full-time.
The theory is that anyone can be a teacher if they're teaching a topic that they're passionate about and that college students are the ideal mentors for younger students.
"We were losing summer internships and summer jobs [because of the pandemic] and college kids are arguably the most underutilized, overqualified and underpaid demographic, and also the most passionate demographic," Wisch said.
Since they launched, they've hired 220 college mentors, with just under half from Stanford with plans to grow their presence at Stanford before they make a concerted effort at expansion to other universities, although any student from any college can apply. Mentors are paid anywhere from $30 to $60/hour.
More than 3,000 middle and high schoolers have used their services, which in addition to workshops include mentoring and project-focused courses.
Curious Cardinals is among several edtech startups that launched during the pandemic or raised capital as edtech companies became an attraction for investors, spurred by the pandemic. Venture capital investment has totaled $6.4 billion so far this year or more than double the total amount raised in 2020.
When Curious Cardinals started, Katz and Wisch would get ideas for courses from the college students themselves about topics they were passionate about. Now, some of the ideas are coming from students.
Current offerings for high schoolers include "Bitcoin and the Future of the Internet," "Cosmetic Chemistry: The World of Skincare," and "Neurodiversions, Mental Health and Their Intersections."
Katz, a graduate of L.A. private school Harvard-Westlake School, said the key to their success was experiencing the problem themselves – being college students who needed to work and wanted an outlet to share their passion and meeting middle and high schoolers who were dispassionate about their studies.
"I encourage all founders to really get in the weeds and really try to understand the problem before building a product up," he said. "We haven't built much technology up to now, but we validated that there is a huge need and a huge problem."
They plan for the new seed funding to change that. The round was led by Anthos Capital, founded by Bryan Kelly with Emily White, former chief operating officer for Snapchat, as its president.
When Curious Cardinals started, they used no-code or low-code to operate and now it plans to hire more software engineers to build mobile and web applications. It plans to automate how students and mentors can be matched as well as make connections between students.
Katz and Wisch also want the app to be a place where students from all over the country can share the things they've made during a project course from a short film to a board game, so that other students can discover what their passions may be.
"You look at many social media platforms and they're not additive," Katz said. "We want this to be the place where students really can receive inspiration."
Katz and Wisch have big hopes for their students and mentors.
Wisch said the team was talking about headlines they'd like to see about Curious Cardinals alums one day.
"Curious Cardinal Student and Mentor Cures Cancer," was one.
"Curious Cardinal Student and Mentor Create Alternative Energy Solutions," was another.
"Success for us looks like creating a platform that genuinely inspires students to pursue their passions and find people they can identify with and we create a platform that unleashes the best versions of themselves," she said.
This story was updated to clarify the company made $600,000 in revenue in its first 12 months.