'Light This Candle!' SpaceX Sends NASA Astronauts on Historic Trip to Space Station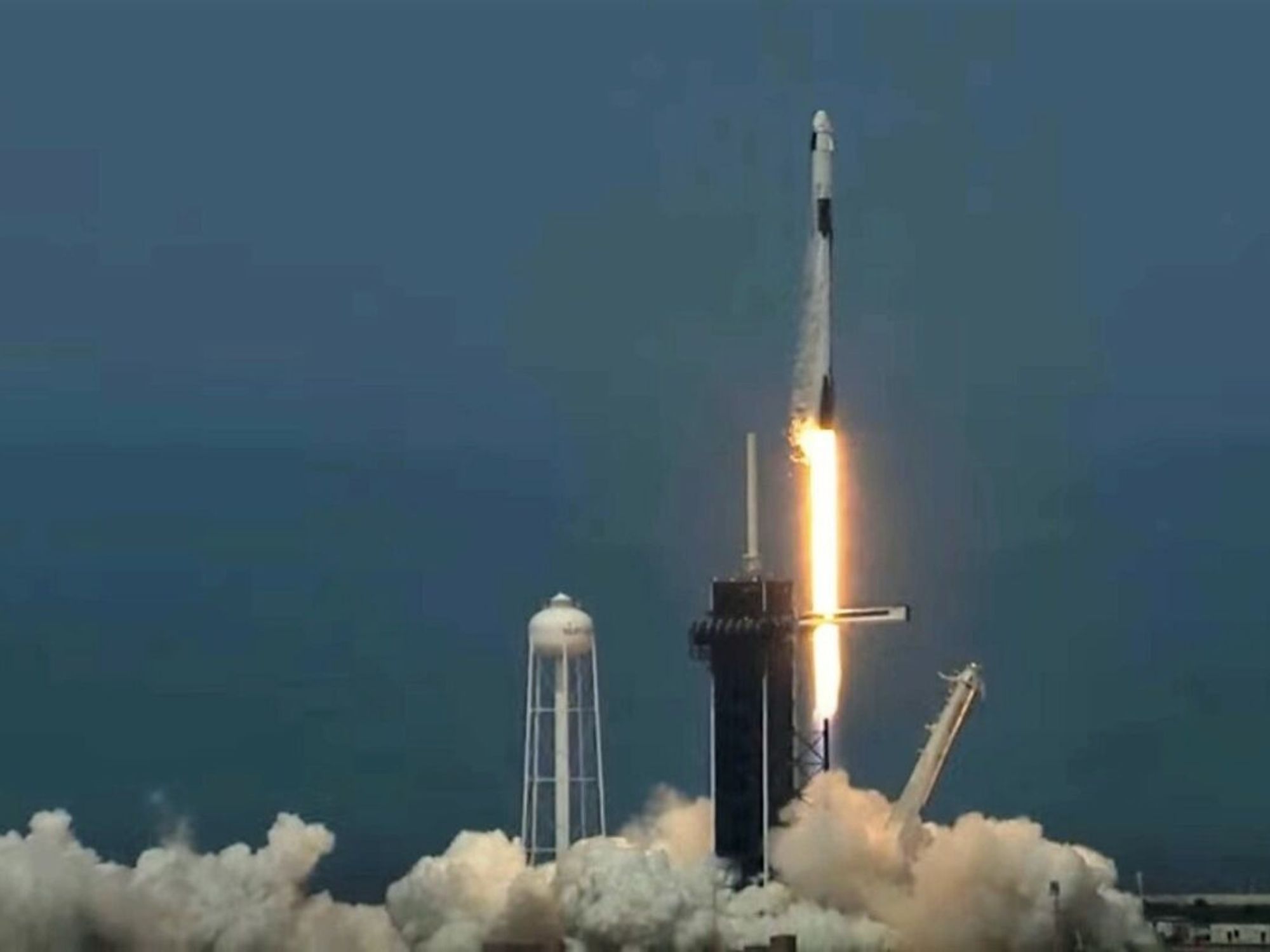 SpaceX launched two NASA astronauts to the International Space Station today, becoming the first company to send humans to orbit on a commercial spaceship.
The Falcon 9 rocket's liftoff from NASA's Kennedy Space Center in Florida at 3:22 p.m. ET (12:22 p.m. PT) marked a feat that America hadn't been able to perform since NASA retired its space shuttles in 2011: launching American astronauts on an American rocket from American soil.
---
"It is absolutely our honor to be part of this huge effort to get the United States back in the launch business," NASA astronaut Doug Hurley told SpaceX Mission Control just before liftoff. "We'll talk to you from orbit."
No technical issues arose during today's countdown, but the weather made it a nail-biter, just as it did during Wednesday's initial launch attempt.
On that day, dark clouds and the accompanying risk of lightning forced a postponement. This morning, the weather forecast was 50-50, but the skies cleared enough for Hurley and his crewmate, Bob Behnken, to ride SpaceX's Crew Dragon capsule eastward into orbit.
Ships were strategically placed in the Atlantic Ocean just in case an emergency abort and splashdown was required. Other ships were standing by to recover the Falcon 9's first-stage booster after liftoff.
You can watch the mission unfold on NASA's YouTube channel or SpaceX's channel.
Pandemic or no pandemic, thousands of spectators flocked to roadside viewing areas surrounding the launch site. Tickets to watch the liftoff from the newly reopened Kennedy Space Center Visitor Complex were sold out, and all visitors have to wear masks and undergo temperature checks.
NASA asked people to stay home and watch the webcasts instead. More than 3 million people took the advice.
The launch-day routine began with Hurley and Behnken having breakfast and suiting up. A small contingent, including the astronauts' families, cheered as they walked out from NASA's Armstrong Operations & Checkout Building for their ride to the launch pad.
In accordance with the social distancing requirements for spaceflight as well as the coronavirus pandemic, Behnken arced his arms in a "virtual hug" for his wife, astronaut Megan McArthur, and their son. "Are you going to be on good behavior?" Behnken could be heard asking his son. "Are you going to listen to Mommy and make her life easy?"
"Let's light this candle!" his son replied, echoing a phrase used by astronaut Alan Shepard just before America's first spaceflight in 1961.
Then he and Hurley headed to the pad in a Tesla Model X SUV, an update on the traditional "Astrovan" that's also a nod to SpaceX CEO Elon Musk's other company. SpaceX's team of launch pad ninjas — so named because of their black uniforms, caps and masks — strapped the astronauts into their seats and closed the hatch for launch.
Perhaps not so coincidentally, the last words that were heard from Hurley before liftoff were, "Light this candle!"
Hurley and Behnken, who are both experienced shuttle astronauts, are scheduled to rendezvous with the space station on Sunday and move in alongside its current occupants, NASA's Chris Cassidy and Russia's Anatoly Ivanishin. NASA hasn't yet decided how long the Dragon riders will spend in orbit. Their stay could be as short as six weeks, or as long as 16 weeks, depending on how the test mission proceeds.
For the return trip, Hurley and Behnken will strap themselves back inside the Dragon and descend to an Atlantic splashdown.
This whole flight serves as an initial demonstration of the Crew Dragon's capabilities with an actual crew aboard. If the mission is successful, yet another Crew Dragon will carry four different astronauts to the space station weeks after Hurley and Behnken return.
Having the Crew Dragon would free NASA from having to pay the Russians upwards of $80 million a seat for rides to and from the space station, which is the whole point of the commercial crew program.
Back in 2014, NASA pledged $4.2 billion to Boeing and $2.6 billion to SpaceX to develop spacecraft that would essentially provide taxi rides to orbit. SpaceX built an upgraded version of its robotic cargo-carrying Dragon, which has been used for space station resupply since 2012. Boeing built a whole new spaceship called the CST-100 Starliner.
The Crew Dragon flew a successful uncrewed test mission in March 2019, but the Starliner suffered glitches during its uncrewed test flight to orbit last December. Now Boeing will have to redo Starliner's robotic test, while SpaceX is on the brink of making space history (and winning a capture-the-flag contest in the process).
It's important to note that SpaceX, not NASA, owns the hardware passenger flights — just as a terrestrial taxi company owns the car. NASA has put in orders to ferry up to four astronauts at a time, but SpaceX can fly other riders as well.
In partnership with Space Adventures, the company is already offering free-flying orbital trips that would go higher than the space station. There's even talk of having Tom Cruise ride the Dragon to the space station to film a movie. That would require NASA's go-ahead, but on Wednesday, Bridenstine said he's "all for that."
"I really think, when we look into the future, we're going to see these models of doing business with public-private partnerships apply not just to low Earth orbit … but we're taking this model to the moon and even on to Mars," he said.
Amazon CEO Jeff Bezos' space venture, Blue Origin, is already heading one of the teams aiming to develop lunar landers for NASA's use. So is SpaceX, which is offering its next-generation Starship super-rocket. The next space race to watch may not be the U.S. vs. China so much as it is Bezos vs. SpaceX CEO Elon Musk.
Love space and science? Sign up for our GeekWire Space & Science email newsletter for top headlines from Alan Boyle, GeekWire's aerospace and science editor.