Image from Shutterstock
Last year, I joked that the problem Microsoft presents for video game analysts is that it could, at any time, suddenly disrupt the entire industry by deciding to buy the moon.
Microsoft's pending $68.7 billion purchase of Activision Blizzard, announced Tuesday morning, doesn't have that kind of impact, but it's not that far off.
By buying Activision Blizzard, Microsoft has once again grabbed some of the highest-profile franchises in video game history, including "Call of Duty," "Candy Crush," "Warcraft," "Diablo," and "Starcraft." There's little if any precedent for this kind of thing in video games' short history.
Gobbling up talent
The biggest name on Activision Blizzard's list is indisputably "Call of Duty," a series of military-themed first-person shooters. By alternating production between several studios, Activision has been able to release a new "Call of Duty" every year since 2005, and since 2007, each new version of "Call of Duty" has become a reliable success.
Xbox's various game developers it now owns: Activision, Blizzard and King.
Despite middling reviews, "Call of Duty: Vanguard,"the 18th installment in the series, was the No. 1 best-selling game last year, with the previous installment, 2020's "Black Ops – Cold War," coming in at No. 2.
"Call of Duty"'s popularity has traditionally come from its best-in-class multiplayer modes, including the famous "Zombies" cooperative campaigns. Its solo content, on the other hand, is often treated as an afterthought.
In order to maintain that annual release schedule for "Call of Duty," Activision has gradually assembled an internal network of development studios that includes some of the best talent in modern action gaming. This includes Infinity Ward, which began the "Call of Duty" series in 2003; Raven Software ("Heretic," "Singularity"); and Sledgehammer Games.
When added to the lineup that Microsoft acquired by purchasing Bethesda in 2020, that puts most of the best brand names and developers in modern first-person shooters under the Xbox roof. A single company now owns "Halo," "Doom," "Overwatch," and "Call of Duty," with the possibility for a shared, cross-pollinated pool of talent.
Impact on the ground
For customers, this initially looks like it could be a good deal. Microsoft has already announced that it plans to add multiple Activision Blizzard releases to its Game Pass subscription service, which recently surpassed 25 million subscribers. Activision alone has a 40-year backlog of hits that it could throw onto Game Pass, even before it cracked into "Call of Duty." (Bring back "Singularity," you cowards.)
As with Microsoft's last major video game acquisition, however, this raises some troubling issues over consolidation. By buying Activision Blizzard, Microsoft has grabbed up one of the biggest independent developers in the world, again, and made it a first-party Xbox studio.
While it's fun to think of the possibilities this offers, such as an Xbox answer to "Super Smash Brothers" where the Master Chief could fight the heroes from "Overwatch" (yes, I am still going on about this), it's also Microsoft bringing another massive chunk of the modern games industry under its direct control. This isn't a monopoly quite yet, but it's worth asking the question: is it really the best thing for video games and the people who play them when a single company controls this much of the space at once?
Blizzard's fall from grace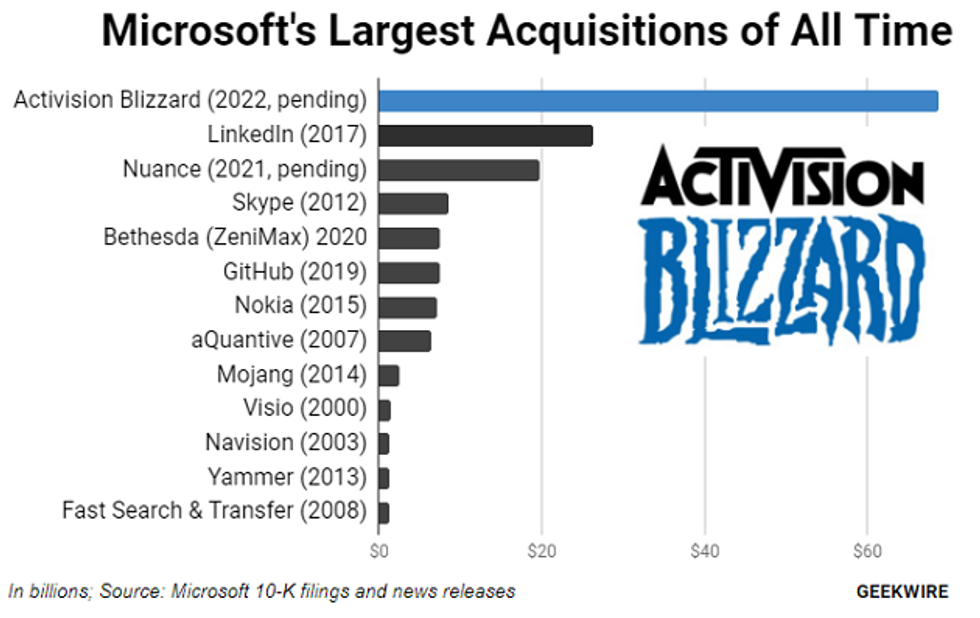 Microsoft's largest acquisitions of all time.Geekwire
Activision Blizzard is a holding company that was established in 2008 as a merger between the independent developer Activision, operating out of Santa Monica, Calif., and Vivendi Games, the parent company of Blizzard Entertainment, based in Irvine, Calif.
The two halves of Activision Blizzard, as far as the typical consumer is concerned, operate independently. Activision has been publishing video games for every platform it can reach since 1980, including a stint as Bungie's publishing partner for "Destiny," while Blizzard built its name by making some of the most notoriously addictive games in the world.
Compared to Activision, however, Blizzard has seen much better days. While its tentpole franchises, including "Overwatch," "Warcraft" and "Starcraft," are still relevant in 2022, Blizzard has suffered a notorious "brain drain" in the last few years. Most of its founders and key developers have left the company, many of whom appeared to be leaving one step ahead of potentially career-ending scandals.
The internal culture at Blizzard had reportedly become so toxic that the state of California filed a suit against it in mid-2021, alleging that it fostered a "a pervasive 'frat boy' workplace culture" where female employees were subjected to "constant sexual harassment."
Against that backdrop, it's hard not to see Blizzard as the weaker link here. It's still got potential if Microsoft cares enough to develop it, but it's in dire need of a top-to-bottom realignment before anything else can get done.
That, however, may actually be a possibility. The current CEO of Activision Blizzard, Bobby Kotick, is widely perceived as a significant driver of Blizzard's many and varied workplace issues, which he allegedly ignored or expedited in order to maximize the company's profits. Kotick has recently been the subject of multiple reports in The Wall Street Journal, one coming as recently as Monday morning, that accuse him of covering up allegations of workplace abuse.
Under the terms of Microsoft's acquisition, Xbox head Phil Spencer is now the CEO of the newly founded Microsoft Gaming division. Spencer sent an email to Xbox staff on Tuesday morning that said, among other things, "We also believe that creative success and autonomy go hand-in-hand with treating every person with dignity and respect. We hold all teams, and all leaders, to this commitment. We're looking forward to extending our culture of proactive inclusion to the great teams across Activision Blizzard."
If the acquisition goes through as planned, Spencer would effectively be the head of Activision Blizzard. While it's not entirely clear at time of writing whether that means Kotick is out, it is suggestive that he wouldn't have quite as firm a grip on Activision Blizzard's steering wheel.