David Shultz
David Shultz
David Shultz is a freelance writer who lives in Santa Barbara, California. His writing has appeared in The Atlantic, Outside and Nautilus, among other publications.
Image courtesy of Parallel Systems
Parallel Systems has big dreams for the future of railway freight operations, and it seems that the venture capital world has taken notice.

The Los Angeles-based transportation startup announced a $49.55 million Series A funding round as it emerged from stealth mode on Wednesday. The round was led by Anthos Capital, with additional investments from the likes of Congruent Ventures, Riot Ventures and Embark Ventures.
Comprised of former SpaceX, Google and Tesla engineers, Parallel Systems is aiming to develop autonomous and electric freight train cars that would make the American shipping industry greener and more efficient.
"We've been pretty quiet about what we've been doing," Parallel Systems CEO Matt Soule, formerly the principal avionics engineer at SpaceX, told dot.LA. "Our website has been pretty barren." Soule co-founded the company two years ago with fellow former SpaceX engineers John Howard and Ben Stabler. Including $3.6 million in seed funding, the startup has now raised more than $53 million to date.
Parallel Systems' technology relies on replacing traditional diesel-powered locomotives with battery-powered freight cars. In its model, each train car is self-powered, and can break apart from or join together with other cars as needed. In theory, this ability to autonomously break apart and reassemble as needed would reduce the need for switching stations, where trains are reorganized and rerouted manually.
It could also drastically reduce the significant physical footprint of trains, converting them from two-mile-long behemoths into "platoons" of 20-to-50 cars that wouldn't require massive terminals for loading and unloading. Smaller trains would be able to travel closer to their final destinations before being unloaded—reducing trucking emissions, which account for roughly 7% of all greenhouse gas emissions in the U.S., in the process.
"The opportunity we've been after is kind of decarbonizing freight from a new angle," Soule said.
All of these ideas would be beneficial toward alleviating America's clogged supply chains and reaching its ambitious carbon emission goals—if they were able to be integrated into America's existing rail infrastructure. On that front, some experts are skeptical.
"My first instinct was that this looks like SpaceX engineers getting bored and working on something that they know nothing about," Chris Caplice, executive director of the Massachusetts Institute of Technology's Center for Transportation & Logistics, told dot.LA. "They didn't think about the larger system—whether it's regulatory, the network itself, the rail operations or the labor involved. I think they just found a technological solution to a problem they wanted to solve."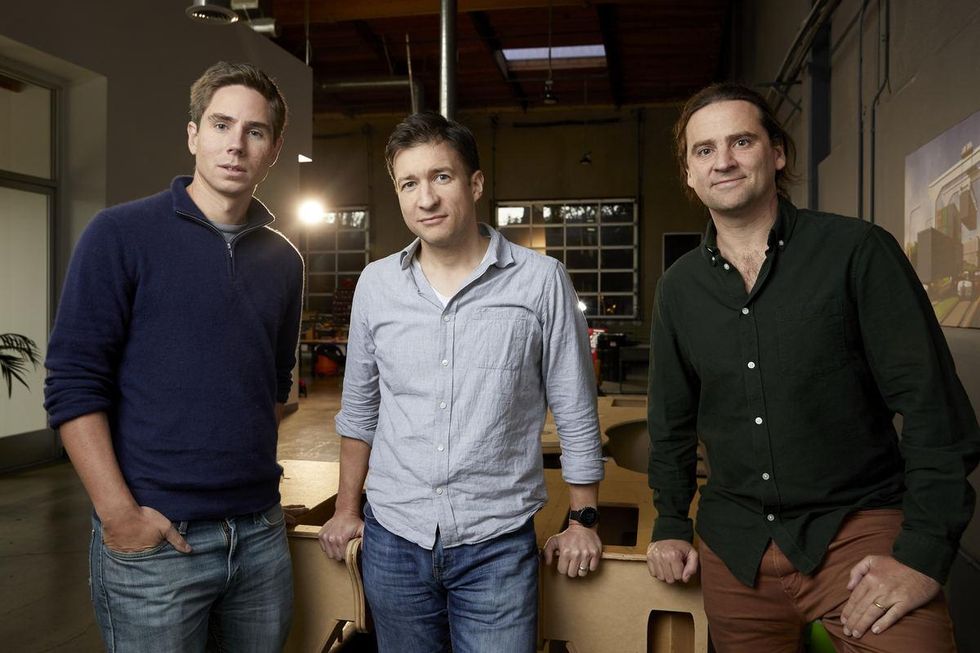 From left: Parallel Systems co-founders Ben Stabler, Matt Soule and John Howard.Courtesy of Parallel Systems
Caplice worries that Parallel Systems' technology fails to consider the realities of America's existing rail network. Today, rail lines are divided into signal blocks, which can range from less than a mile to 15 miles long; these blocks are in fixed geographic positions, and only one train at a time is permitted into any signal block. For the new autonomous, single-car system to work, "you would have to put in thousands more control points in different places to get the network chopped down small enough to do this," according to Dale Lewis, the former director of strategic analysis for CSX Transportation.
Even then, it likely still wouldn't look like what Parallel Systems is imagining, with cars continuously breaking in and out of platoons. To realize what the company is pitching, Lewis says you'd need a complete revamp of the entire rail system.
"If [Parallel Systems] can bring in a couple people who have deep experience in operations planning…and sit with them for a day to go through how this would fit in the system, they'd probably come to some different conclusions about what they've got," he said.
While the startup doesn't employ any full-time railway operations specialists, Soule says Parallel Systems has brought in "veterans from the industry" who have helped them "understand the business." He says safety is a top priority for the company; indeed, their vehicles would feature AI that would allow them to come to a stop quicker than traditional trains. No one is going to argue against safer trains—though most modern trains already come equipped with a system known as Positive Train Control, which autonomously prevents train-to-train collisions and other human errors.
Still, the 24-person firm is planning to hire heavily on the software side as it tries to figure out how to integrate its ambitious designs into the existing infrastructure. On the hardware side, Parallel Systems is working toward the second iteration of its prototype battery-electric rail vehicle, and testing it on a closed track in California.
"We're going as fast as we can in terms of building the tech," Soule said.
Parallel Systems Explainer Video Video via www.youtube.com
From Your Site Articles
Related Articles Around the Web
LA's EVgo Will Work with GM on Its Nationwide Electric Vehicle Charging Network
For better or worse (probably worse), Los Angeles is a car city, so it's perhaps not surprising that most of the innovation in cleantech from the region comes out of the electric vehicle space. But there's more going on in L.A. beyond EVs. Companies are innovating in everything from construction, to upcycling, to the consumer energy grid to cut carbon and make the future more sustainable. Here's a quick list of some of the companies we thought made the biggest moves in 2021.
Eve Energy Ventures Inc (Xeal)
Eve Energy Ventures is an electric vehicle charging company. Also known as "Xeal," the Venice-based corporation provides charging stations for apartments and workplaces. In October this year, the company announced that it raised $14 million to install upwards of 10,000 new charging stations across the United States. What sets Xeal apart from other charging tech is that their chargers do not require Wi-Fi connectivity between the vehicle and the charger. Instead, the company relies on another emerging technology: blockchain. Users download the app and receive a cryptographic token that shows the location of all Xeal chargers, and then the chargers themselves can authenticate the token without the need for Wi-Fi, which can be hard to come by in concrete parking structures.
Enervee
Enervee is a company that rates appliances and products based on their energy efficiency. Retailers can then sell products in Enervee's store where scores appear next to products to try to help consumers make more efficient purchases. The Venice-based software company allows retailers to sell products at discounted rates that are made possible by applying Energy Saving Instant Rebates at the time of purchase. The ultimate idea is to help consumers find the most energy efficient products and buy them at the lowest cost possible, from washing machines to automobiles. This year, Enervee announced a financing partnership with San Francisco-based fintech company One that allows consumers expanded financing options for their energy efficient purchases, mostly focused on lowering monthly payments. The State of California and Southern California Gas Company (SoCalGas) are also participating in the financing program.
EVgo
Another EV charging company, EVgo made headlines over and over this year for building strategic partnerships with giants like General Motors, Uber, Tesla, and BMW. The company also won grants and funding from various state governments, including California, to expand their charging station offerings. The Los Angeles-based company boasts that 80% of all Californians live within 10 miles of one of their fast chargers, and the company has more than 800 stations nationally across 34 states. Last week, the company announced that their PlugShare app surpassed 1 million downloads in 2021. With electric vehicles forecasted to make up half of all vehicles by the end of the decade, EVgo's could wind up on this list several more times in coming years.
Heliogen
Heliogen Inc. makes a concentrated solar energy system that uses a series of mirrors to concentrate sunlight into a small area and produce steam. In addition to heat and power, this year the Pasadena-based company announced a partnership with Bloom Energy Corporation to use their technology to produce green hydrogen energy as well. If that wasn't enough, Heliogen also unveiled an autonomous robot that helps install and maintain concentrated solar energy plants. With backing from Bill Gates, the company is reportedly planning to go public via a 2-billion-dollar SPAC deal with Athena Technology Acquisition Corp.
Connect Homes
Connect Homes specializes in prefabricated home building. Unlike traditional construction practices, prefabs offer easier installation and drastically reduce the carbon needed to complete a build. dotLA has previously covered Plant Prefab, but Connect Homes takes the spot on this list for its grand aspirations to actually replace traditional construction techniques. With a former Apple exec, Greg Leung CEO, the Los Angeles-based prefab company is growing at record levels and can now complete an entire house in less than a month. Combined with a focus on cutting edge insulation and energy efficiency, Connect Homes is building houses that cost less carbon up front and save energy after installation as well.
Real estate, like seemingly everything else in the COVID era, had a weird year. 2021 saw a continued shift to a sellers' market and an ever-increasing demand for short-term rentals. For proptech companies, there has been a lot of opportunity—and money—in high-value homes and assets.
In the Los Angeles area, several proptech companies had an impressive year amidst the turmoil. Here's our end-of-year look at some of the big moves in the sector.
AvantStay
AvantStay offers short term rental options for luxury properties. Similar to Airbnb or Vrbo (but more upscale), the company enters into long-term leasing agreements with property owners in sought-after areas and then converts the properties into vacation rentals. In 2021, Avantstay expanded into new markets in Colorado, South Carolina, and Hawaii; in total, they have agreements in over 600 properties across 60 different U.S. cities. In addition to rental help, AvantStay also offers other premium services for homeowners, like filling a property's refrigerator with food before a guest arrives, or offering an in-house design team to ensure the property is as chic and luxurious as possible. AvantStay has grown by over 1,000% in the last three years with no signs of slowing down in 2022: The company is aiming to have 2,500 properties listed by the time 2023 rolls around.
Crexi
Crexi has been one of the powerhouses of the Los Angeles proptech scene since it was founded in 2014, and 2022 was no different. The company allows users to buy, sell, and lease commercial real estate via their online portal. Led by CEO Mike Degiorgio, Crexi currently boasts over a half a million listings, and the Marina Del Rey-based company is hiring for a variety of positions as it continues to grow. 2021 saw the site close it's largest ever deal when it sold a Las Vegas business park at auction for $205 million, setting a record for the largest single asset sale in an online transaction.
Endpoint
Founded in 2018, the El Segundo-based title and escrow company raised $150 million in October of 2022. As the name suggests, Endpoint offers tools for brokers, agents, and buyers to monitor the final stages of homebuying. The massive round of funding this fall was provided by First American Financial Corp. and brings Endpoint's total funding to date northwards of $220 million. The company says its software has been used to close more than $2.5 billion of real estate transactions. The new funding will be used in part to hire 80 new jobs, bringing the company's employee count close to 300.
RealtyMogul

RealtyMogul has been around since 2012, but the Los Angeles-based company has been picking up steam recently. RealtyMogul offers a crowdfunding real estate platform that lets ordinary people pool money and buy equity in properties across the United States. RealtyMogul has facilitated the investment of $3.5 billion on its platform, and in September, the company saw its users invest $10 million in less than 24 hours to fund the construction of a luxury high rise in Nashville, Tennessee. As the user count continues to grow beyond 200,000 investors, RealtyMogul is providing a way for individuals to pool their money and compete in markets that were once reserved for private equity giants.
Ylopo
Ylopo is a tool for real estate agents to win business with property owners looking to sell. The Santa Monica-based company helps agents generate, nurture and convert seller leads with a series of digital tools. Essentially a digital marketing assistant, the technology has thrived in the sellers market brought about by COVID. Ylopo–taken from the suffix of "monopoly" spelled backwards–has even attracted the attention of Facebook: In April of 2021, the social media giant named the digital marketing company part of its Top Providers Initiative, which essentially means that real estate agents using Ylopo will be given access to Facebook's best marketing and ad partners.
From Your Site Articles
Related Articles Around the Web