Andria Moore
What if you could never forget any memory ever again?
That's the question at the heart of San Diego-based artificial intelligence company Personal.ai. Formerly named Human AI, the company recently raised $7.8 million in seed funding led by Differential VC and Supernode Global to continue to develop its app, a fluent digital clone of yourself that remembers all the information you feed it at a moment's notice, while also constantly learning and evolving with every input.
I had recently seen the Blumhouse horror flick "M3gan," in which an android doll performs this very function for her owner, a child named Cady. So naturally, when I heard about this less creepy (and more real) concept, I was eager to give the platform a try.
The app works by training on information you give it about yourself through text, image or URL inputs. That could include info from your daily itinerary, your personal website or even intimate details about your life and relationships. As it learns, it mimics the way you speak to it, with the goal of becoming an artificial clone of your hippocampus. Once the training is complete, in theory the AI should be able to recall all the information you give it within a few seconds of being prompted.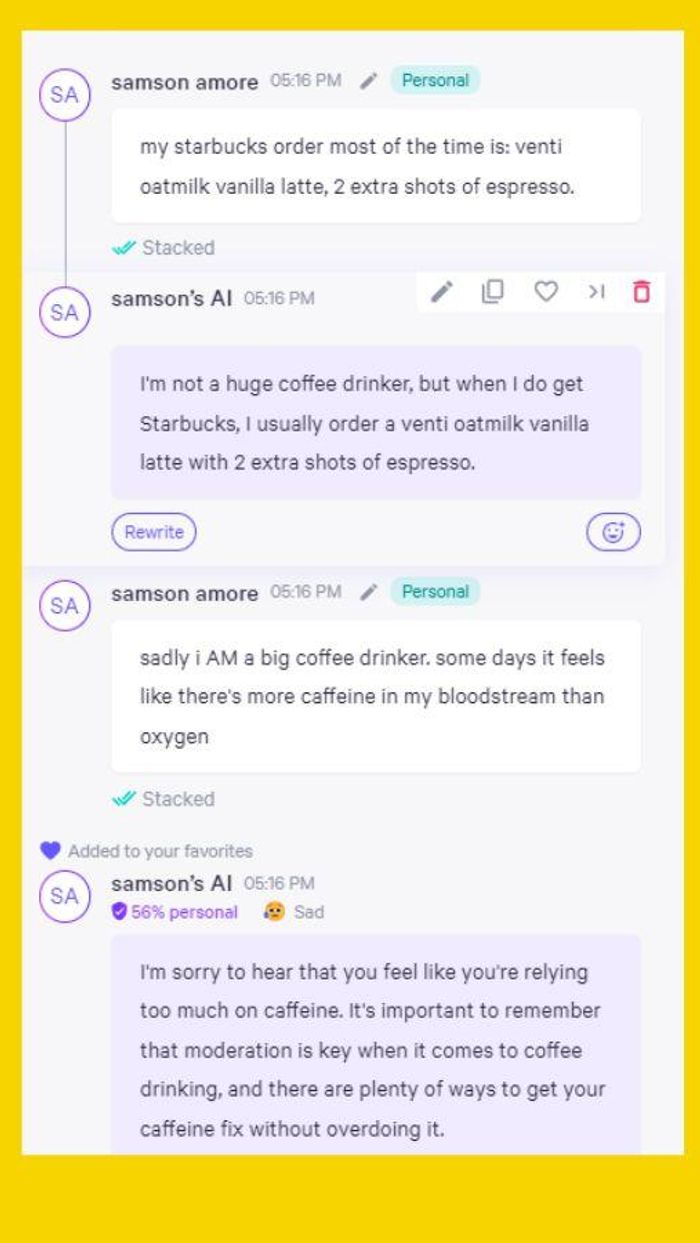 That said, according to Personal.ai's head of finance Jonathan Bikoff, the AI is "not a replacement for you, it's a supplement." Most of the app is built on Personal.ai's proprietary AI system called GCT-1, which learns from personal data, unlike ChatGPT's popular GPT-3 model trained on publicly available data online. This means GCT-1 provides more limited, but also more tailored personal responses. In other words, it's more likely to know your schedule from two years ago based on your input than it is to know the name of the current president.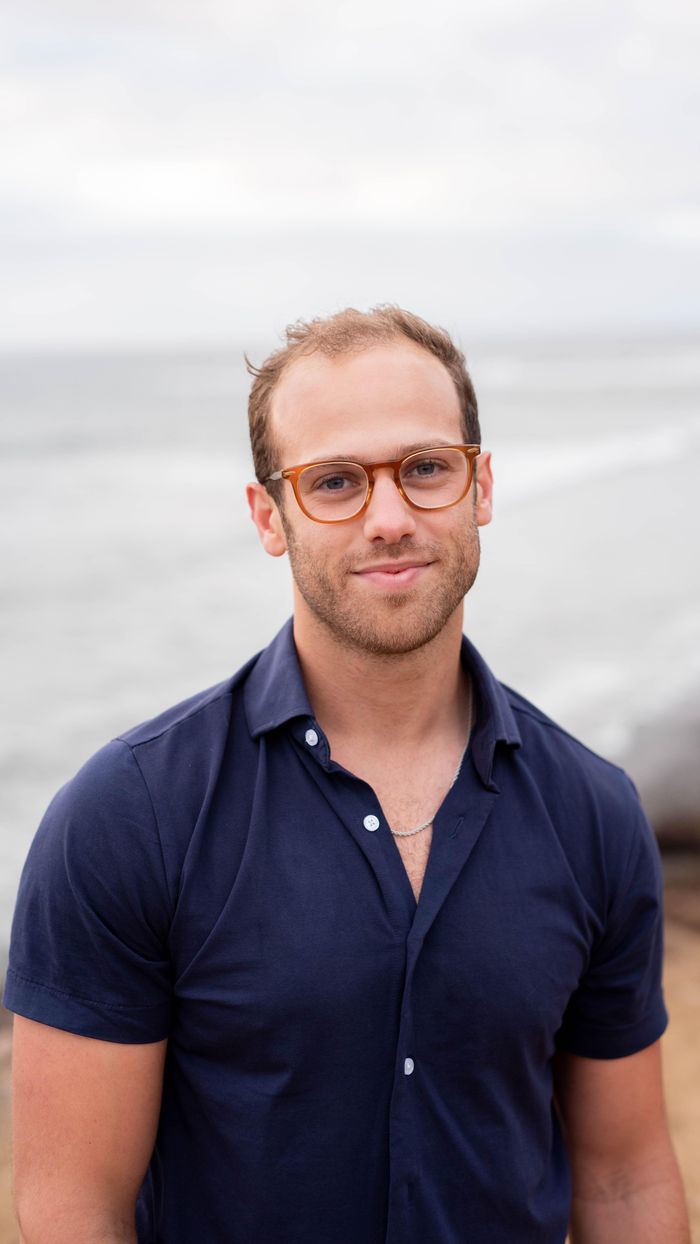 Personal.ai's head of finance Jonathan Bikoff
Photo: Personal.ai/Bikoff.
But there is a component of Personal.ai's model that does use GPT-3. Part of the app that lets users give the AI more detailed prompts and receive longer generative replies is based on the GPT-3 model, Bikoff said.
Everything you do on Personal.ai has the option to be added to the AI's "memory stack," a repository of all it's learned. Most of the time, the user has to manually select this button before inputting commands or questions.
The main hurdle, for both me and the AI, was training it. First, I input my bio from the dot.LA website, recent clips and a link to my own online portfolio. Then I asked the AI to tell me if it knew things like when I got my degree and from where and when I began specific jobs.
Once the AI quickly learned my basic background, it was on to the fun part – trying to get it to glitch. That proved harder than expected. When asking the AI "what is your name," it replied, "my name is Samson," and when I asked "who are you," expecting a regular response like "I am a journalist based in Los Angeles," the AI instead uncannily replied, "I am a person, albeit an artificial one."
Each AI response has a meter to track accuracy, relevance and fluency – basically the AI's confidence in its answer – which should theoretically increase the more you train it, something I found to be true. There's also an emoji function that gives the AI an "emotional" response. It felt "anxious" when it didn't know the answer to a question and "nostalgic" when reminiscing about past conversations.

I was mostly careful about what I input, only giving it source material that's already been published online. That's more of my own tech reporter paranoia than it is a recommendation by the Personal.ai team. But I imagine others will also share my reluctance.
That said, Personal.ai uses a third-party decentralized service Oasis to secure the data on the blockchain. Personal.ai CEO Suman Kanuganti said that users own all their data within the app, and that it isn't aggregated or "sent to big tech."
Kanuganti also claimed the company can't see how you're training your AI: "Users will control the input and output, when and where [and] the company cannot access data," he said.
Since launching in 2020 Personal.ai has existed as a desktop app. But Bikoff and CEO Suman Kanuganti said the plan is to develop it into a standalone mobile app with a messaging feature so users can communicate with each other's AIs. To do so, of course, you have to be on the app to message other AIs and can only send AI replies through it. Messages coming from the AI will be marked as such, so people know when they're communicating with the "real" you or not. But if the AI learns enough about you, the texts should be eventually indistinguishable.
"By simply messaging people, friends and family and colleagues, your AI is learning so much about you, and it's able to generate better and better draft responses for you to send, saving you time and helping you remember things," Bikoff added.
Right now the desktop app costs $40/month, but Bikoff said the plan is to reduce that subscription price soon.
Despite the obvious work applications, Bikoff said Personal.ai is designed to be for the general public first. "This is an assistant to help with everyday communications, whether you're 18 or 80 years old," Bikoff said.
For his part, Bikoff uses the AI to keep track of which reporters he's speaking to, his to-do lists, and upcoming travel plans. He added that older users might find the AI beneficial as an everyday assistant as their memory degrades. Hence why he believes onboarding to the app,"should be as easy as iMessage."
"If you can send a text message, you can train your own AI," Bikoff added.
Some issues I ran into were that the app's search function was hyper-specific. Looking for GPT-3 without the hyphen didn't produce the memory I was searching for: I'd previously asked the AI to define the difference between GPT-3 and Personal.ai's GCT-1 model. The AI also had to be trained every time it was wrong, otherwise it wouldn't learn which answers were incorrect. For example, when I asked for the date,it would repeatedly tell me the wrong date, unless I corrected it. But unlike humans, the AI only makes a mistake once; when I relayed the same question a few minutes later it knew the right answer.
I also asked the AI to write me a kicker for this story based on Personal.ai's press releases.It spit out that, "while these AIs can perform many tasks, from managing our schedules to providing customer service, their true potential lies in their ability to generate new ideas and solutions."
That's not exactly what I had in mind. But I can't blame the AI for being biased.