An L.A.-based mobile platform that allows users short on cash to borrow and loan funds of under $1,000 has attracted a $10 million Series A investment.

SoLo Fund's target market has always been Americans living paycheck-to-paycheck. The peer-to-peer lending app sees itself as an alternative to high-interest payday lenders.
The stay-home economy that has shuttered restaurants, closed down hotels and emptied shops has accelerated its use, as retail and service workers find themselves in a financial pinch, many unable to make payments on their car or electricity bill.
"We were doing this before we realized how big this would be, and it was magnified by the global pandemic," said SoLo co-founder and CEO Travis Holoway. "It was an opportunity for many businesses."
The fintech startup's rapid growth helped it land the investment. The latest round was led by ACME Capital, and includes Impact America Fund, Techstars, Endeavor Catalyst, CEAS Investments and others.
SoLo borrowers are not charged interest but instead participate in an auction-style process to get up to $1,000 deposited into their checking account by a lender on the company's platform. Anyone can borrow or lend via the SoLo app.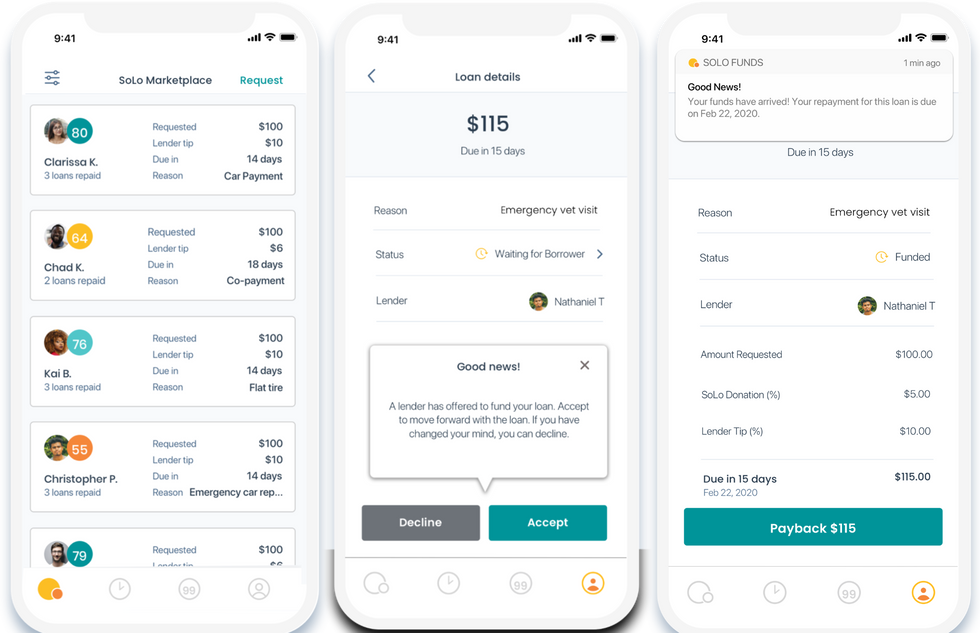 The borrower agrees to terms with the lender to repay in no more than 30 days the loan principal plus a so-called tip, a premium on top of the loan amount. SoLo can also get a cut of the payback in loaned money if the borrower OKs an additional payment – called a donation – to the company. The tips and donations are voluntary. Tips made by borrowers to the lenders average about 10% of the loans, with roughly 3-4% of the loan amounts donated to the company, Holoway said.

The average loan size is $200 with a payback term of 15 days.
SoLo is one of several fintech startups in the peer-to-peer loan space.
Other platforms include Santa Monica-based Tala (where SoLo tapped co-founder Jon Blackwell to join its team as chief product officer about two years ago); Irvine-based microinvestor Acorns Grow Inc.; billionaire Mark Cuban-backed Dave Inc., located in the Miracle Mile; San Francisco-based nonprofit lender Kiva Microfunds; and Burbank-based Zest AI, formerly known as ZestFinance Inc.
A key feature that has helped fuel SoLo's growth in the past year has been the addition of a "lender protection service" that safeguards the loan in case the borrower is delinquent, which in turn eliminates the risk of significant loss for the lender.
When a lender selects a loan to fund, they are given the option to protect the loan against default by paying a minimal fee – roughly 5% of the loan, according to Holoway.
In the event a borrower is unable to fulfill the terms of the agreement, the lender is credited the full principal of the loan, which they can then use toward a subsequent loan on SoLo.
"This is fueling our growth," Holoway said.
Though the platform has been slow out of the gate, it has completed about 100,000 loans to more than 300,000 users as of this month, Holoway said.
The nearly three-year-old company projects a revenue run rate of $30 million by the end of 2021, and expects its lending and borrower base to grow substantially in urban areas hit hard by the financial fallout from the coronavirus pandemic.
SoLo was initially founded in April 2018 in Cincinnati, but its founders moved to L.A. within a year. Plans are on the drawing board to possibly move from its downtown digs by the end of the year to Culver City or the Arts District in downtown L.A. The latest round of funding will also help double the size of the company to about 50 personnel – including the hiring of backend engineers and data science professionals to expand its reach.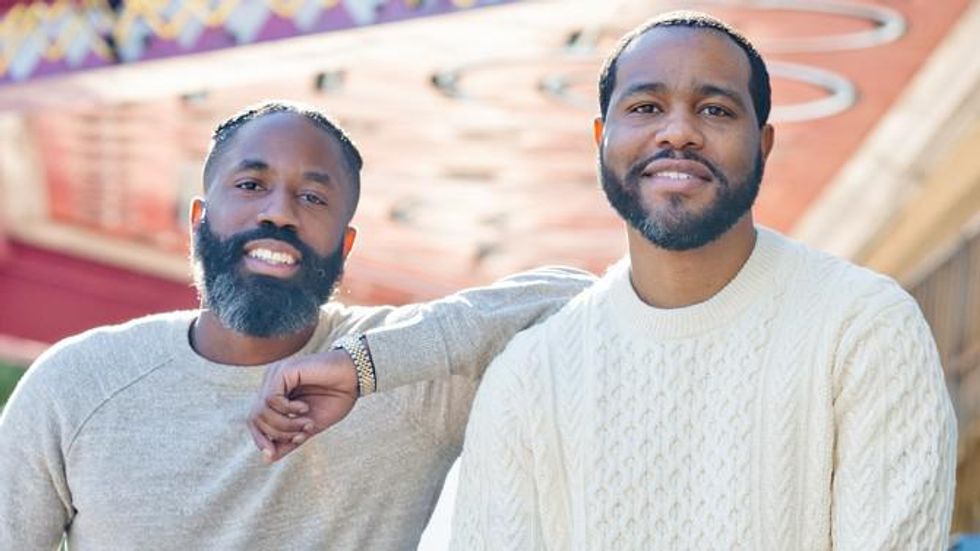 Rodney Williams (L) and Travis Holoway are the co-founders of SoLo.
Holoway and his partner in the startup, Rodney Williams, raised $2 million in seed funding when the platform was initially launched. Its biggest investor in that round was Liberian-American beauty mogul Richelieu Dennis of Essence Ventures, who sold his Sundial Brands beauty products company to Unilever in 2017.

Besides Dennis, past support ($2 million) has come from investors West Ventures, Taavet Hinrikus of Transferwise, Jewel Burks Solomon of Google Startups, and Zachary Bookman of OpenGov.
The latest round is led by ACME Capital and includes Impact America Fund, Techstars, Endeavor Catalyst, CEAS Investments and others. ACME Capital is the same venture capital firm that has been an early stage backer of stock trading platform RobinHood, business communications platform Slack Technologies, sports betting company DraftKings and vacation rental online marketplace Airbnb.
A Series B round could come within the year, with plans to possibly take the company public or sell the business down the road, Holoway noted.
"We have the ability to become a unicorn," said Holoway, referring to venture capital-parlance for a company that one-day becomes valued at $1 billion. "We will evaluate what makes sense."