After California voted to legalize recreational cannabis in late 2016, companies rushed in to be the first big mover in the multi-billion-dollar market. L.A.-based Genius Fund, run by two inexperienced twenty-somethings from well-to-do families and backed by a billionaire Russian oligarch, had the means and positioning to feed growing demand across the state, but things played out differently.
In a rural town just across the California border from Reno, Nevada, in the northernmost portion of the Sierra Nevada mountain range, Genius Fund set up an outpost in early 2019 called Nature's Holiday. There, the company planned to grow 1,000 acres of hemp — which executives wanted to be the largest such farm in the state — for use in CBD products, according to former employees, corporate documents and the company's website.
The effort started off without a hitch. The company joined up with two local ranching families and leased a property formerly used by another cannabis company for operations. But months into 2019, the Plumas County Sheriff's Office started getting reports of men with rifles and handguns driving black SUVs, menacing people and running them off roads. Then-Sheriff Greg Hagwood later gave an account to the county's board of supervisors during a public hearing last year. He also shared details of the incidents in an interview with dot.LA.
The county's own agricultural commissioner, Tim Gibson, on his way to do an inspection, found himself waylaid and questioned by Genius' security, Hagwood said. Gibson declined to comment. Crew members for the Plumas County Road Maintenance Department doing work also reported a confrontation with Nature's Holiday's security team, who drove up and questioned what they were doing.
The incidents were just a few of the many problems that plagued Genius Fund, an ambitious cannabis startup with roughly $164 million in funds and a sprawling operation that spanned dozens of corporate entities, corporate documents in the U.S. and Canada show.
Nature's Holiday was supposed to supply industrial hemp for the company's research lab, manufacturing processes, CBD product lines and outside customers, according to former employees and a Genius Fund entity's website.
The operation began attracting negative attention from county authorities not only because of the reported run-ins with Nature's Holiday's security toting high-powered weapons, but also because local officials fielded complaints of the company hauling in heavy equipment and shipping containers, and doing major grading and graveling — all without permits, Hagwood said.
He added that Plumas County officials decided to pay the Genius Fund's farming operation a visit. They were joined by sheriff's detectives and building, agricultural, planning and environmental health authorities, who went to tour the area.
"We discovered some really troubling set of circumstances," Hagwood told dot.LA.
Armed security out front falsely identified themselves as being affiliated with a Southern California law enforcement agency, Hagwood told the county's Board of Supervisors during a packed June 4, 2019 meeting.
The sheriff said his deputies were told that the company had a research-related license to grow hemp as part of an agreement with Loyola Marymount University, and later, University of Nebraska-Lincoln.
But, Hagwood told the County's Board of Supervisors, when they followed up with Loyola Marymount, the university said there was no such agreement. The dean of the University of Nebraska-Lincoln told county officials he was unfamiliar with the arrangement and had not authorized his signature to be put on the paperwork.
The universities did not respond to repeated emailed requests from dot.LA for comment.
As county officials toured the premises, Hagwood said, they saw work underway to install a septic system, underground wiring, and plumbing — all done without a permit. Raw sewage from trailers on the property was being dumped directly onto the ground.
"What it does is it demonstrates a flagrant disregard for accounting for rules or regulations or building codes," Hagwood told the board during the PowerPoint presentation. "Something this flagrant speaks to a frame of mind, and I find it very disturbing and I find it unacceptable."
Nature's Holiday brought hundreds of seeds for hemp plants across the border from Oregon, which required inspection and release by the county agricultural commissioner, Hagwood said. He added that the commissioner was never contacted by the company and the plants never quarantined.
When county authorities touring the premises asked where the hemp plants were, employees told them the company had burned the young-growth plants because they were infested by mites, Hagwood said.
Sheriff Hagwood was so disturbed by the incident that he put forward to the county's Board of Supervisors a motion for a moratorium on industrial hemp production.
"We're a large county in terms of geographical size, but we're a very small county in terms of resources, and I told the board, 'if you allow this to take root, we're going to be overrun'," Hagwood recalled. "We're already clearly seeing this measure of fraud, dishonesty and outrageous behavior of this group."
An outside attorney hired by Genius Fund argued the two armed security staff members were protecting $1 million in seeds on the property and had a constitutional and a legal right under county law to be on private property.
Genius Fund attorney Ben Kingston attended the hearing on behalf of Nature's Holiday and told county supervisors that the company had owned up to its mistakes and immediately changed the contract security guards they had been using to "put in our own people."
The moratorium motion failed, but within a couple months, Nature's Holiday would pack up and leave, having spent $7 million on the failed effort to grow hemp in Plumas County, two former employees said.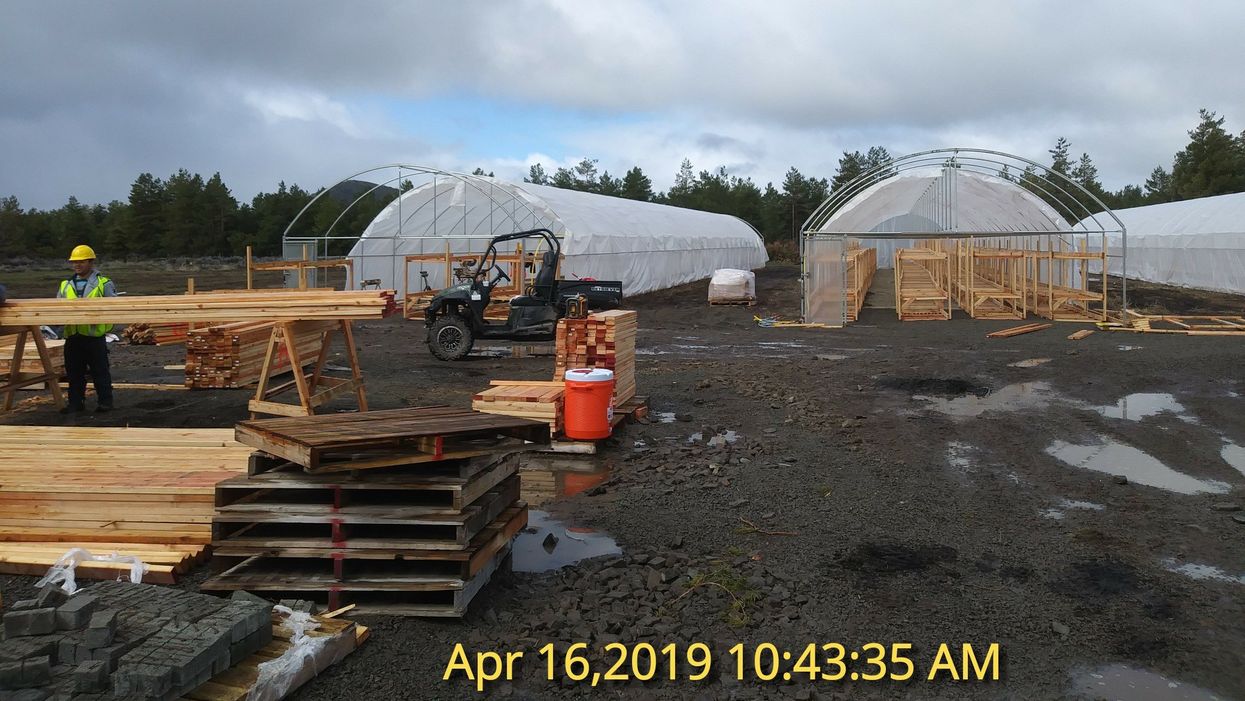 As Plumas County officials toured the premises, they saw work underway to install a septic system, underground wiring, and plumbing — all done without a permit.Image from the Plumas County Sheriff's Dept.
1,000 Football Fields of Hemp
After the debacle, Genius had more than a million sprouted marijuana plants and no place to put them.
In May 2019, company officials desperate for a grow location approached Stuart Woolf. The president and CEO of Woolf Farming & Processing said his land had never before grown hemp among its almond and tomato crops.
"They showed up and said, 'We've got to find some land; we've got a short timeline,'" Woolf said. "It just so happened that we had land that was already bedded up," usually used for tomatoes. Nature's Holiday leased 1,000 acres and planted immediately.
Genius Fund executives Ari Stiegler and Gabe Borden had also made "two young city kids" with zero agricultural experience the heads of Nature's Holiday, said three former employees.
The heads of Nature's Holiday "spent a shit ton of money (because) they were like, 'We just need to make harvest happen'," one former employee said.
That included buying a truck that ran on diesel. When employees filled it with gasoline, the truck stopped working and Genius had to rebuild the entire fuel system, according to a former employee who dealt with the matter.
Nature's Holiday would end up growing roughly 1,000 acres of hemp — about the size of 1,000 football fields including their end zones, Woolf said — on land belonging to the Woolf family in Huron, a small city in California's Central Valley.
At one point, Woolf said Genius Fund's leadership considered building an extractor near Huron. That would allow it to process the crop near the farm and avoid having to pay for all the freight costs and extra handling to ship it to their processing plant and lab, both in Southern California.
"These guys originally wanted to be first to market and wanted to do this in a big way," Woolf said, especially given their strong financial backing. "They did a very good job of farming this crop. I mean, you know, the whole thing turned out to be kind of a train wreck (but) they hired real agronomists, real farmers. They knew what they were doing."
Before the planting could begin, Woolf said he insisted that proper permits be in place. This time, a former employee said, the Nature's Holiday operation was backed by research-related licenses to grow hemp, as part of agreements with the University of Nebraska-Lincoln and the University of Connecticut. Neither university responded to repeated efforts to confirm their involvement. Woolf said he never saw the paperwork.
In all, Nature's Holiday planted 1.5 million hemp plants. Genius Fund referred to the farm on its corporate documentation, including a company website, as the "largest hemp farm in the state," former employees said.
The hemp plants, which at full growth look a little like Christmas trees, appeared to be consistent and healthy and at a full yield, Woolf said.
It was an impressive sight, and while Nature's Holiday leaders didn't know anything about growing cannabis, they worked long hours to make sure the crop came in.
Genius leadership bussed in potential buyers to view their hemp, hosting them at the Harris Ranch Inn & Restaurant.
As people disembarked, Woolf said one person exclaimed, "Holy shit!" "Oh my God, look at that." Another said, "I can't believe I'm looking at 1,000 acres of hemp."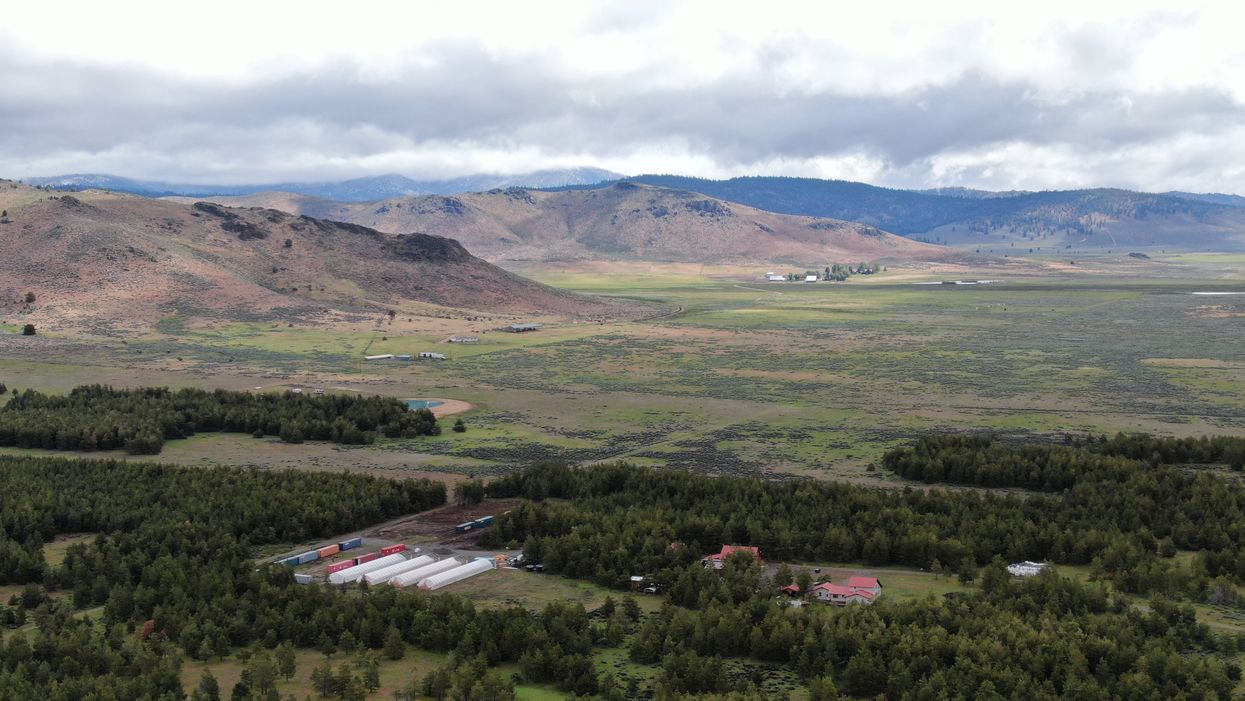 An image of Genius Fund subsidiary Nature's Holiday's marijuana grow in Plumas CountyImage from Plumas County Sheriff's Dept.
The Green Bust
At the time, the financial return on hemp was high and people were anticipating FDA approval for its use in CBD products and all sorts of purposes. The so-called "green rush," as it was called, led the planting of many thousands of acres of hemp across California. All that yield at the end of summer 2019 drove down the price of hemp.
Genius Fund had forecast that the harvest would provide $28 million in revenue per month starting in October. But they didn't account for the costs, including replanting for the following season, according to former employees and corporate documents.
Then came a glut in the market.
The premium product they hoped to sell had been priced too high and they couldn't get anyone to buy.
"The market just totally crashed, and so all of the economics went from being too good to be true, to the worst you can imagine," Woolf said.
The plan had been to grow 5,000 acres in September, then another 2,500 acres to harvest in 2020. But the market dropped, Woolf and former Genius Fund employees said.
"They ended up with all this hemp they couldn't sell or give away," a former employee said.
Still, Genius Fund told its farmers, who were staying in hotel rooms for the 2019 harvest, that the operation was full-steam ahead, former employees said. Farmers were told to rent a house and move their families over on the company's dime, because it would be cheaper than paying for a hotel room.
The farmers had been pulled in from Massachusetts, Pennsylvania and Nevada and given huge salaries. They were told "wild stories" and presented with big plans for a future farming hemp that never came through, former employees said.
"I thought it was going to be something that would be a lifelong project for me, to grow and farm, but we got moved up here for nothing," said one former Nature's Holiday employee. "It was almost too good to be true, in a sense. But it is what it is now."
Woolf said he also set aside land for the next year's grow and took "a bit of a hit" when the plan fell through.
"They did tell us the market had really collapsed… and so we could read the tea leaves," he said. "We were aware there were people in the area that just lost their shirt growing hemp, so it couldn't have been a good thing for them at the end of the day."
Employees spent much of the remainder of 2019 searching Plumas County for some equipment that had been stored by an employee who was no longer at the company. The disorganization was, in many ways, a metaphor of what was to come.
"They had a lot of people that didn't know what they were doing; they were probably going a little bit too big," said a person who sold equipment to the company. "They had all the equipment in the world, they could've done a lot of stuff with this."
Genius Fund eventually let go of about a half dozen workers at Nature's Holiday in early 2020, including the farmers they'd encouraged to move into houses.
The company placed the 1.7 million pounds of hemp flower and biomass in storage, multiple former employees said. It's currently listed as a frozen asset in the ongoing court proceedings that are part of former Genius Fund CEO Francis Racioppi's more than $3.5 million whistleblower retaliation lawsuit filed in April in Los Angeles federal court. None of the Nature's Holiday-grown hemp was ever used in Genius products, Stiegler said.
In his sworn declaration, Racioppi alleged that Genius Fund failed to pay the last two installments of $1.5 million owed to Woolf Farming as part of a settlement agreement for defaulting on its October 2019 lease agreement.
Woolf said the deal included growing at least 2,500 acres of hemp, but told dot.LA he was unable to provide details regarding the settlement agreement.
Woolf said Nature's Holiday "exploded like fireworks. Boom!" and disappeared nearly as quickly.
--
This is the second in dot.LA's "Green Rush" series looking at the rise and fall of cannabis-related startup Genius Fund. Read part one, part three, part four and part five, and sign up for dot.LA's newsletter to be notified about new stories.
Do you have a story that needs to be told? My DMs are open on Twitter @latams. You can also email me at tami(at)dot.la, or ask for my contact on Signal, for more secure and private communications.

Lead art by Candice Navi