If you've ever watched Shark Tank and wished that you could hop in the waters and invest alongside Mark Cuban and Mr. Wonderful, Going Public may be just the show for you.
The new series will showcase five companies preparing to go public on the NASDAQ stock exchange. Over the course of 10 episodes, viewers will follow the company founders as they promote their offering and receive feedback and advice from mentors, professional investors and other executives. Those watching at home who think they've spotted a winner will have a chance to get in on the action at the initial public offering (IPO) price for the companies that end up going public.
"We think we have what may be the most innovative strategy to acquire retail investors at scale in what may be the lowest cost of customer acquisition in the financial services industry," says Darren Marble, co-CEO of Crush Capital, the L.A.-based fintech firm that created Going Public.
Casting is now open for participating companies, who can apply at GoingPublic.com. Marble told dot.LA that the series will be targeting companies with revenues between $25 million to $100 million; about two years of operating history; and a business-to-consumer, retail-oriented business model that is relatively easy to understand – no complex industries like biotech, and no cannabis companies.

Marble adds that the show will be seeking a diverse pool of entrepreneurs, and that founder charisma is a plus.
Participating companies will pay Crush Capital an upfront cash payment and stock compensation. Marble says this means his firm will want companies that are strong candidates for success.
Production is planned for Q4 of this year, with the series expected to debut in spring of 2021. Plans are in place to allow for filming should the pandemic preclude in-person production, Marble said. Either way, 90% of the show will be shot before it airs, with the ultimate NASDAQ listing aired in or near real-time.

The show will be produced in partnership with Studio City-based INE Entertainment and will stream exclusively on Entrepreneur.com, operated by Irvine-based Entrepreneur Media, which claims 14 million monthly unique users. The Emmy-nominated INE Entertainment has previously produced reality shows including The Biggest Loser and MasterChef.
Roth Capital Partners, an investment bank focused on small market-cap companies, is slated to diligence, price and underwrite the IPOs in accordance with Regulation A+, a 2015 amendment to the bipartisan 2012 JOBS Act. Together, these regulations effectively make it easier for companies to raise money from the public, and for more people to have access to IPO investment opportunities. They also eliminate the need for a "quiet period" wherein a firm must refrain from disclosing information for a time leading up to the offering.
Marble notes that the last five years of Reg A+ offerings have largely missed the mark because they did not attract enough institutional investors, often considered "smart money."
"What's (been) missing is that the deals aren't attractive to hedge funds, pension funds, mutual funds, family investors," he says. Now, however, in what he calls an "industry first," Roth is guaranteeing the Reg A+ offerings. "Ultimately what that means is there's going to be strong institutional demand for these deals."

In a statement, Byron Roth, Chairman and CEO of Roth Capital, said "we believe that institutional pricing, firm commitment underwriting, and aftermarket support will help advance the Regulation A+ offering process as envisioned by the JOBS Act."
To invest, viewers will be able to enter an investment portal via the streaming website. Marble says investments will be accepted once episode 1 airs and will remain available for six to eight weeks.
Two companies will debut in the first episode, followed by the other three shortly thereafter. The company narratives will unfold on a staggered basis, and they will not be competing with each other.
Marble says Computershare's Investor Center technology will provide the backend infrastructure to clear, settle and execute the trades. Once the companies go public, the shares will be liquid, meaning that investors can either hold their shares in the portal, sell them, or transfer them to a different account.
"We're creating a retail investor renaissance by allowing viewers from around the world to invest in any featured company while they're watching," said Todd Goldberg, Crush Capital's other co-CEO, in a statement.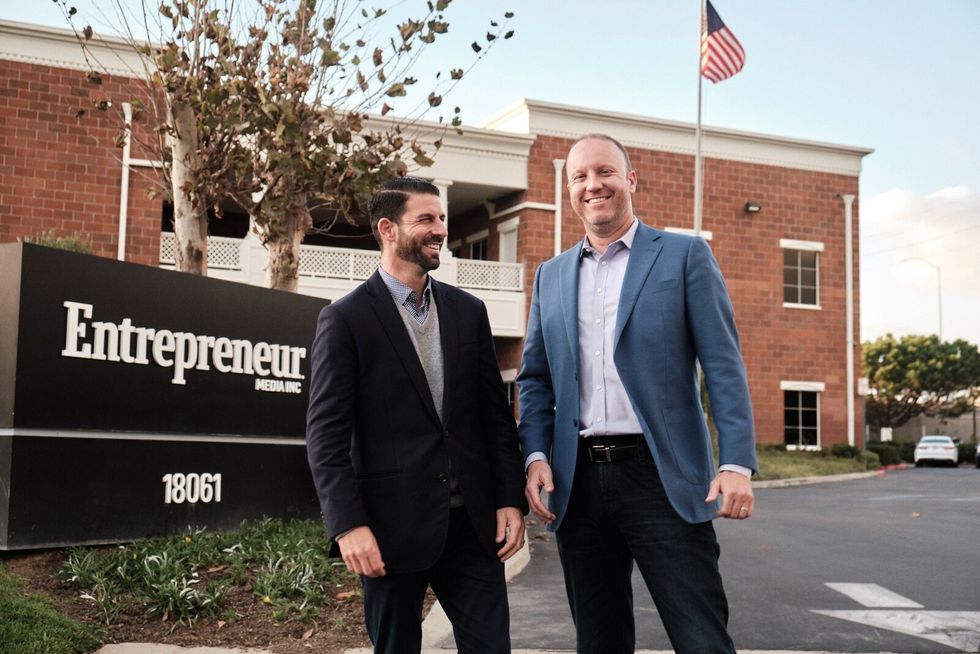 Todd Goldberg (L) and Darren Marble (R) co-founded fintech firm Crush CapitalImage courtesy of Crush Capital
Risky Business

IPOs can be exciting extravaganzas that result in big payouts for investors, but plenty of analyses have found that more often than not they lead to exuberance-fueled losses. And with some dark stories of late showing the downsides of democratizing investments, Going Public offers no guarantees.
To mitigate risk, however, Marble says the host of the show, which is still in the casting process, will serve as a disinterested "investment sherpa" to help audiences make investment judgements. The lead candidate for the role is female and a former trader on the New York Stock Exchange, he says.
The website that hosts the investment platform will also include a section to educate potential investors on risk versus reward and the IPO process. Viewers will also have access to the disclosure that the companies will have to file to the U.S. Securities and Exchange Commission before participating.
Marble says there may also be individual investment caps, and that the presence of the "smart money" should limit, though of course not eliminate, the risk of swimming alongside the sharks.
---
Sam Blake primarily writes about entertainment and media for dot.LA. Find him on Twitter @hisamblake and email him at samblake@dot.LA