election tech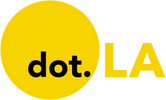 Get in the KNOW
on LA Startups & Tech
X
election tech
After $300-million and 11 years, the nation's largest county rolled out the first publicly-owned voting system earlier this year, promising "transparency, accessibility, usability, and security."
Los Angeles County's new voting system — dubbed "Voting Solutions for All People," or VSAP — has raised concerns from election security experts. Dozens of advocacy groups have warned California's top election official that the electronic touchscreen system used for in-person voting relies on QR codes to tabulate votes. QR codes are vulnerable to hackers and system malfunctions and cannot be easily verified by most voters, U.S. government and outside experts have found.
A coalition of 36 election-security experts and advocacy groups wrote in a letter last month to Secretary of State Alex Padilla that they were "gravely concerned that [L.A. County's recently certified system] uses QR codes for tabulation" and urged him to stop relying on QR codes to tally votes at least by the 2022 primary election.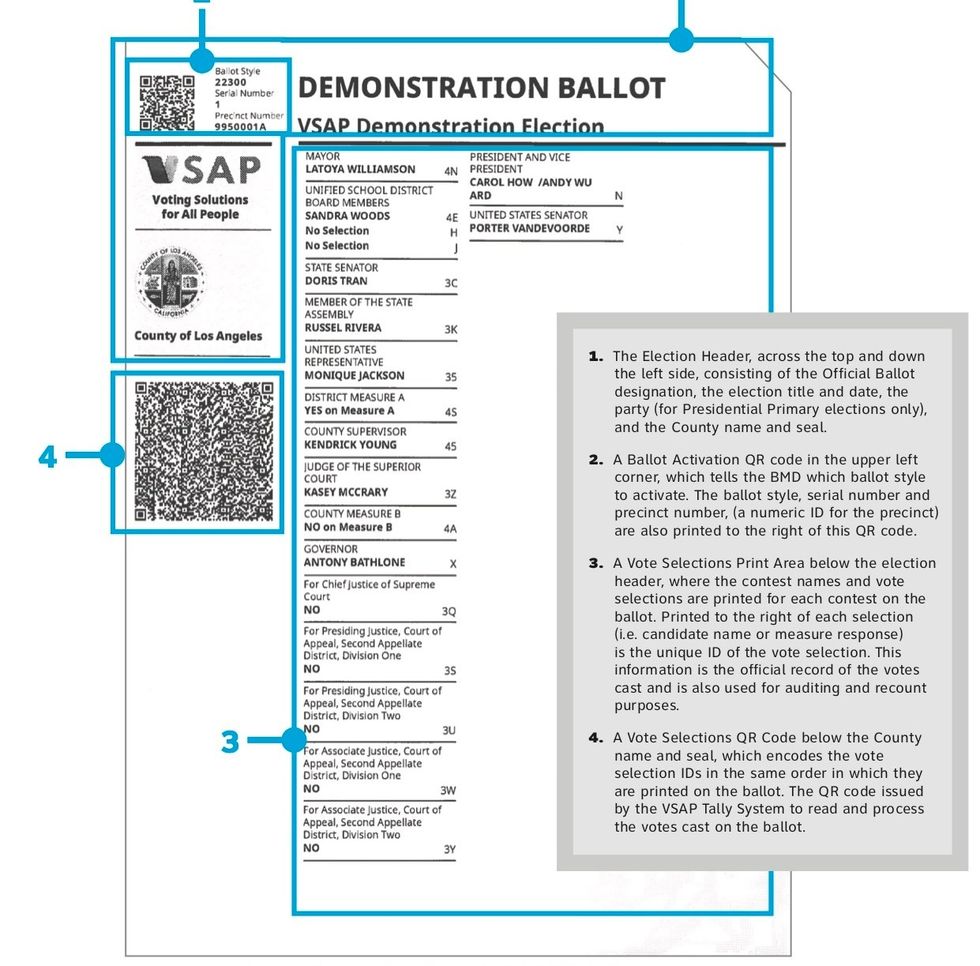 After voters make their ballot selections on their screens, the machine spits out a printed-out ballot-like receipt to review, along with a QR code.
"Although voters can easily verify the selections that the [voting system] prints on their ballot in their own language, they cannot easily verify the QR codes that [it] will actually use to tally votes," the letter said.
After voters make their ballot selections on their screens, the machine spits out a printed-out ballot-like receipt to review, along with a QR code. Officials have said this gives voters an easy way to verify their selections. But what a voter sees in plain text on the receipt, is not what the tallying machine counts. The county's new system scans the QR code to unpack and count what a voter has selected. If the system is hacked or wrongly records a voter's selections while electronically encoding it into the QR, there's no quick and easy way to tell.
Election administrators expect record turnout for the November 3 presidential election, which has already seen high levels of mail-in ballot participation. Intelligence officials warned lawmakers earlier this year that Russia is again trying to meddle in the U.S. election process, as it did in 2016. On Thursday, U.S. officials announced that Russian hackers targeted dozens of state, local and tribal networks, successfully stealing data from at least two unnamed victim servers; as a result, "there may be some risk to elections information housed on" those government networks. But there is no evidence that the integrity of elections data has been compromised, the government alert said.
L.A. County's new voting system, manufactured by Smartmatic Corp., a voting technology company that has been scrutinized for ties to the Venezuelan government, was first used for the presidential primary in March. The voting process was mired with technical problems that led to lengthy wait times and multiple after-incident reviews. L.A. County has since said the issues with its roughly 30,000 voting-machine system have been addressed and the new system was officially certified, as long as county officials abide by certain security conditions, by Secretary of State Alex Padilla earlier this month.
But even for those who understand how to scan a QR code, trying to verify the accuracy of their vote can be confusing and time-consuming.
Here's an example of what shows up when you scan your QR code, according to a document buried on the Los Angeles County Registrar-Recorder/County Clerk's website:
VER:A.SEL:4N/4E/H/J/3C/3K/35/4S/45/3Z/4A/X/3Q/3S/3U/3W/3Y/N/Y. BMD:0000046.SIG:4R57D5C44QKEJRS3OBF33PL0Z6U9THBR74NTA1VVH K09E6NFDH4DWXPY8Q9ZF6VD0LAQ1E6IY6AGQC1S4TG095N8NEN3AFOET12."
The first line represents the selections a voter made, with each letter and number combination corresponding to a particular candidate or measure. For example, a vote for the Joe Biden ticket is coded as 3G8 while Donald Trump is 3G9. It is up to voters to decode and match each of alphanumeric values to the actual plain-language choices they made on their ballots.
Michael Sanchez, a spokesman for the registrar's office, said that voters can go online to find a document for decoding their ballot. Sanchez later supplied the crucial direct link via email, which is otherwise difficult to find online.
For voters who are older, disabled, simply not tech-savvy, or just unwilling to take the time, verifying your ballot selections in L.A. County is an incredibly "burdensome process," said Susan Greenhalgh, senior advisor on election security for Free Speech For People, a nonpartisan public interest group. "The person can't look at it and know what it says, they have to jump through all these hoops."
Kim Alexander, president of the nonprofit, nonpartisan California Voter Foundation noted that the difficulty with verifying the older punch-card ballot system is why post-election audits were done in the first place.
"We were using these ballots where people couldn't verify their choices," Alexander said. "Now we've come full circle. We have these QR codes that some tiny population of L.A. County has the wherewithal and ability and smarts to decode and verify (their) ballot. Even if you're able to do that, you're not done decoding the code. You have to then do another round of decoding."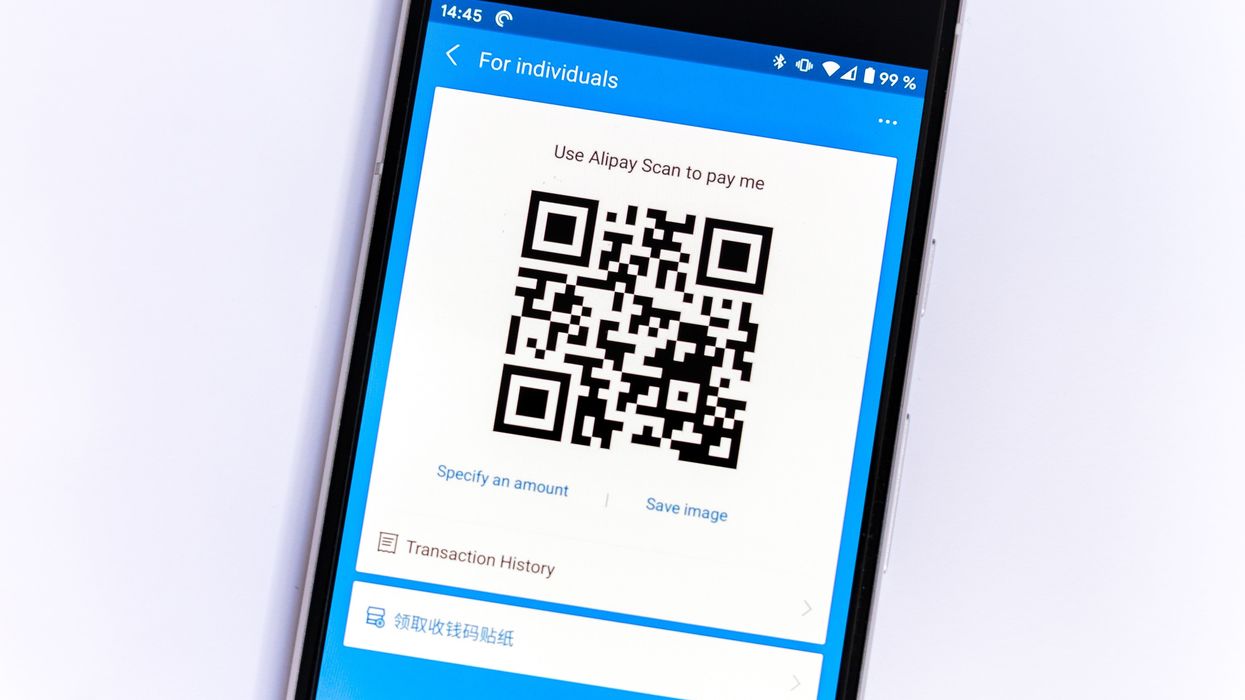 In the world of election security, the use of barcodes and QR codes is generally viewed as problematic by experts Photo by Markus Winkler on Unsplash
QR Codes Stir Debate
The QR code has made a bit of a comeback to daily life during the pandemic, especially in place of restaurant menus.
But in the world of election security, the use of barcodes and QR codes is generally viewed as problematic by experts who say it inserts a machine — and its own code that's indecipherable to humans — between a voter and their vote. Because the QR code on the ballot cannot be easily verified for its accuracy, computer scientists say it makes them an easier target for hackers.
The county's YouTube video illustrating how to use the new voting machines skips over any explanation of how to check the QR code for accuracy. Instead, the county shows a voter quickly scanning their finger over the lines of plain text reflecting their votes. In reality, the QR code, not the text, is what is actually counted.
"It's really ugly, it is not usable at all," said Eddie Perez, an election administration and technology expert with the nonpartisan, nonprofit OSET Institute, about L.A.'s system. "If you're placing a very high value on accessibility and the idea that every single voter, regardless of their condition or disability, should be able to verify their ballot — if you really believe that, and are going to put $282 million behind those goals, then it's fair to ask: 'Is the process you're leaning on to check your QR code accessible?' I literally don't know [what happens] if someone is blind."
Sanchez, the registrar's office spokesman, said the county's ballot-marking device lets voters who are blind listen to a read-back of their on-screen selections. But that doesn't account for the encoded QR.
QR codes, which are a type of barcode, also have the potential to become legally thorny ground.
"There's an inherent problem with the use of barcodes or QR codes in voting systems because the ballot contains two records of voter intent, and one needs to be established as the legal record of voter intent," Greenhalgh said. "If the human-readable text is the legal vote of record, that means that something other than the legal vote of record is counted. If the QR code is the legal voter of record, that dissolves any pretense (that) this is a voter-verifiable ballot."
How to vote on the NEW Ballot Marking Device www.youtube.com
National Debate Leads to First Ban
Such barcode-based devices also "raise security and verifiability concerns," according to an election-security report released by the National Academies of Sciences, Engineering, and Medicine last year. And the U.S.'s National Institute of Standards and Technology noted that barcodes could result in a voter being presented with different ballot selections than what the machine reads.
"If barcodes are used for tabulation of cast ballots, any modification of a voter's ballot selections may go undetected and impact the election results," NIST wrote.
All of this is especially problematic, experts say, because a recent University of Michigan study on voter behavior found that few voters check or detect errors on their ballots.
The debate over barcodes has figured heavily in battleground states like Georgia, South Carolina, North Carolina and Pennsylvania where they are used by some jurisdictions, but it's received much less scrutiny in California. In September 2019, Colorado became the first state to ban the use of barcodes or QR codes on ballots due to security concerns after using a system similar to California's.
Colorado's Secretary of State Jena Griswold said in a news release at the time that "although voters can see their vote choices, they cannot verify that the QR code is correct" and the QR codes "could be among the next target of an attack and are potentially subject to manipulation."
Griswold said Colorado will stop using machines that use barcodes or QR codes to count votes after 2021. The state has been a national leader in adopting election security best practices, including practices like risk-limiting audits to verify election results.
Auditing to Ensure Voter Confidence
California's Secretary of State Padilla gave L.A. County's voting system conditional certification earlier this month. Among the additional security requirements is that the county must conduct one of two types of audits to ensure the QR codes match the human-readable section of the ballot.
L.A. County has elected to conduct a traditional manual tally of 1% of its votes, which election security experts say is a less comprehensive method for ensuring ballots have been tabulated correctly.
In recent years, so-called risk-limiting audits have been deemed best practice for providing confidence in an election result. California has an ongoing risk-limiting audit pilot program. Such audits rely on statistically-based techniques such as auditing more ballots if the margin in a race is narrow. Looking at a fixed percentage regardless of the margin of victory, however, can lead to missed problems.
Perez called L.A. County's decision to do a 1% fixed audit "cutting a corner, given the fact that L.A. County has claimed to set such a high bar on the voting experience."
Sanchez, the registrar's office spokesman, said he didn't immediately know the reasoning behind the decision to not conduct a risk-limiting audit on the presidential election. The California Secretary of State's Office did not respond to a request for comment.
In a news release touting the certified system this month, Padilla called the VSAP system a "historic milestone in election administration" and said that for in-person voters it will "provide an accessible, secure voting experience."
*This story was updated Thursday afternoon to reflect U.S. officials announcement that Russian hackers targeted dozens of state, local and tribal networks, successfully stealing data from at least two unnamed victim servers.
___
Hit me up if you have any other election and voting-related questions. My DMs are open on Twitter @latams You can also email me at tami(at)dot.la, or ask for my contact on Signal, for more secure and private communications.
Minutes into filling out my absentee ballot last week, I was momentarily distracted by my dog Seamus. A moment later, I realized in horror that I was filling in the wrong bubble — accidentally voting "no" on a ballot measure that I meant to vote "yes" on.

It was only a few ink marks, but it was noticeable enough. Trying to fix my mistake, I darkly and fully filled in the correct circle and then, as if testifying to an error on a check, put my initials next to the one I wanted.
Then I worried. As a reporter who has previously covered election security for years, I went on a mini-quest trying to understand how a small mistake can have larger repercussions.
As Los Angeles County's 5.6 million registered voters all receive ballots at home for the first time, I knew my experience could not be unique. But I wondered, would my vote count? Or would my entire ballot now be discarded?
There are reasons enough to worry about mail-in-ballots counting, even without the appearance of fake ballot boxes and the unfounded rhetoric that has filled the nation's airwaves over the last months. After all, much of the information I found online told me to notify a poll worker if I made an error. Alas, no poll worker at home.
"I don't think your experience is unique, and it's exacerbated by how big L.A. is," said Eddie Perez, election administration and technology expert with the nonpartisan, nonprofit OSET Institute. "These experiences are happening across the country [as] many voters are voting by mail the first time and they don't know what to do. It's a microcosm of all of this change."
Part of the problem was that I didn't receive my sample ballot beforehand and so didn't engage in the practice round I typically do. Worse though, the instructions that came with my ballot said nothing about what to do if you accidentally make the wrong choice. The only advice is to call a phone number or go online and request a new ballot. Does that mean the whole thing won't count? But it was such a small mistake.
"That's a failing right there, the fact that they didn't include it on the instruction sheet," said Perez, who previously worked for Hart Intercivic, voting technology company, and has made thousands of ballots in his career. He noted that in Colorado, the instructions for how to correct a mistake are on the ballot instructions.
I called the phone number, but couldn't get through to a person. I then sent an email to a recommended public address asking if my ballot was "spoilt" and if I needed a new one.
Then, for hours into the night and through early the next morning I searched the vastness of the internet for an answer.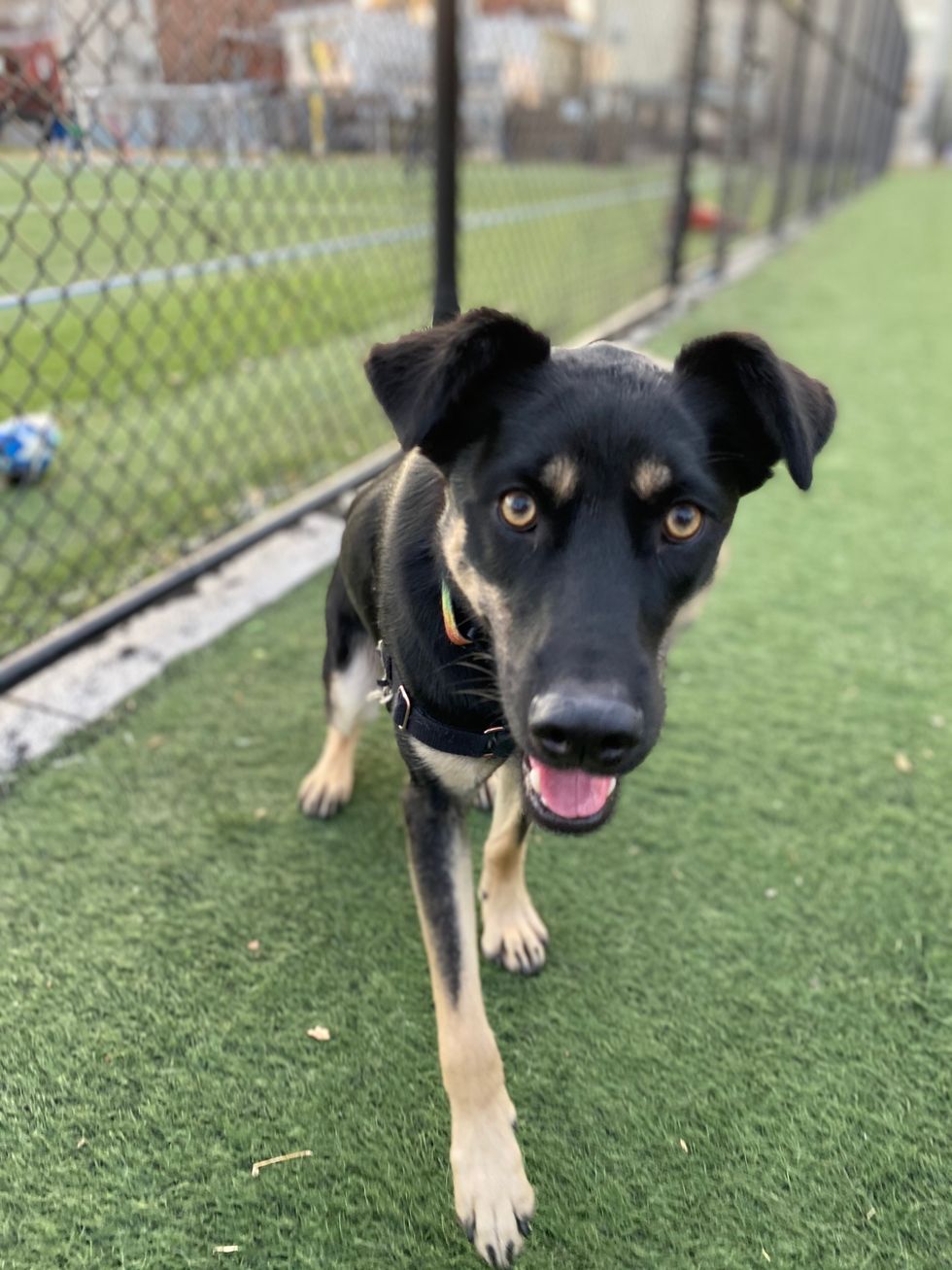 My distractingly sweet dog, Seamus.
Photo by Tami Abdollah
Someone asked about whether you could use whiteout to blot out the mistaken choice. The consensus online seemed to be "no" that the ballot could seem tampered with. One Washington Post opinion article from 2018 argued that any efforts to rectify a ballot should invalidate it entirely. Another recent article by KQED said that you should put a line or X through the wrong choice and that would be fine. Sadly, I'd already made a different mark by the proper choice. I read stray marks can also be a problem and invalidate the ballot. Are initials considered stray marks?
Kim Alexander, president of the nonprofit, nonpartisan California Voter Foundation, empathized, noting that "vote by mail shifts the responsibility of getting it right from poll worker to a voter, and that's a big change. It's not insignificant" or easy, and the rules usually differ between counties.

The next morning I called the L.A. County Registrar-Recorder/County Clerk's helpline and was connected to a worker whose garbled voice seemed to match my emotions. I presented my dilemma.
"Hmmm it doesn't say anything about that here," the worker told me. "I'll have to put you on hold."

After several more minutes of terrible hold music, she told me her connection was bad because she was working from home, and she would call me back. It didn't happen.
When I called the registrar's office back, I was told there was a 35 minute wait for a human being.
The worker who called me back told me that the specific measure I improperly filled out would not get counted, but the remainder of my votes should. I asked if my initials would present as stray marks and invalidate my ballot, and she said it shouldn't.
Over the course of those two days, I wondered if it was best to get the ballot sent in early even if one measure didn't count, or if I should just go vote early in-person.
Because Los Angeles County ballots go through an optical scanner, I wondered whether a human being would review the ballot or if any discrepancy is tossed. There is little reporting about how the county handles mail-in ballots, especially at scale. Is there a human being who reviews the process? A bipartisan team? How technically savvy is the scanner and what exactly can it differentiate?
The registrar's office never replied to repeated official calls and emails for answers to those questions.
Perez, the elections expert, told me that in his experience a mistake should not invalidate the entire ballot and that most modern digital scanning technology "should flag contests with questionable marks and present them to human reviewers" who can discern the voter's intent and make sure it's properly recorded.
Both Perez and Alexander also introduced another potential wrinkle I had not even thought about: In some states having personally identifiable information on a ballot — possibly like my initials — could invalidate the ballot because state laws could see that personal information as a violation of the secrecy of the ballot. Ack!
Perez said part of the problem with mail-in ballots is that unlike the traditional Election Day infrastructure, unless election officials make proactive efforts to provide more details, there is less knowledge about how votes are processed and counted when they are mailed in.
"It places a really big burden on the election officials [to] have resources to answer all these questions," Perez said. "How are you ensuring you have good factual information and you're passing it to all the worker bees you just hired?"
Neither Perez nor Alexander could say for sure what would happen with my initials on the ballot. Both thought it should probably be fine, but perhaps it would violate vote secrecy.
"You stumped the band," said Alexander, who added she was considering updating their own FAQ for voters.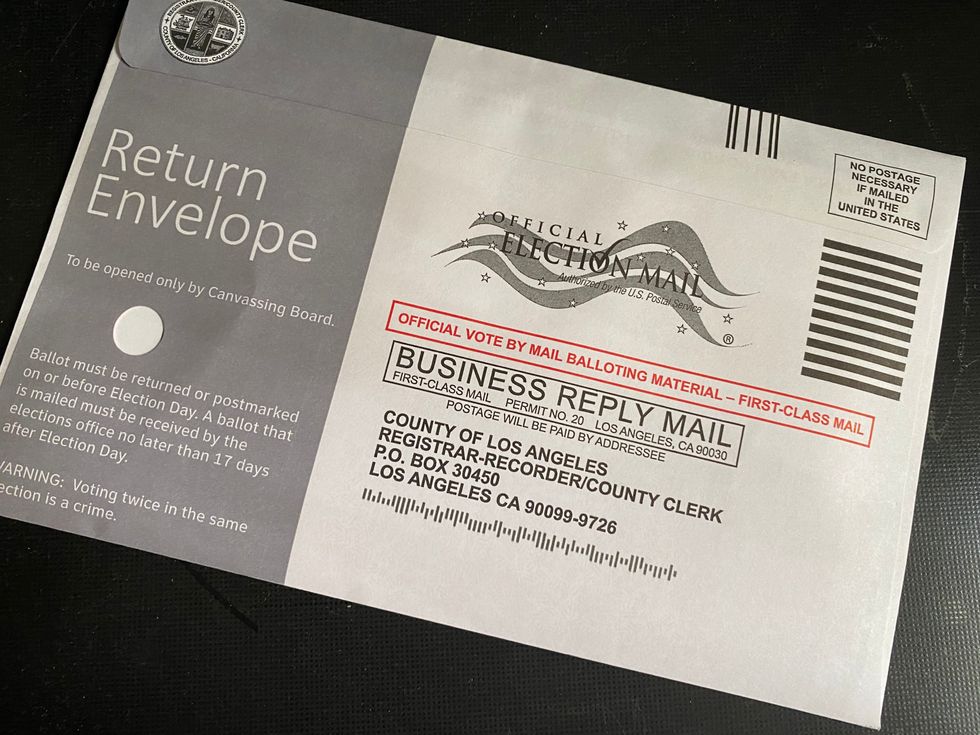 My sadly imperfect ballot.Photo by Tami Abdollah
There are many more ways to make a mistake when mailing in your ballot, in one fashion or another. The Associated Press reported this summer that "more than 100,000 mail-in ballots were rejected by California election officials during the March presidential primary." Among those were 27,525 which didn't have a signature or didn't have a signature match the one on record. A friend of mine was one of those, and she trekked out to vote early and in-person because she couldn't recall what her on-file signature looked like.

I had no issues with my signature, it's been the same for decades, but I felt a little bereft over my supremely non high-tech problem. I continued to cull through the interwebs.
It was only much later, after searching diligently online by various keywords, that I stumbled upon a seemingly definitive answer in the latest version of California's Uniform Vote Counting Standards. It turns out, whiteout, check marks, X marks and even writing "no" or "yes" can help confirm the vote you meant to cast. It's unclear what the optical scanner can do or whether the county has a human involved in the process though. And there was, sadly, nothing about whether initialing a choice would invalidate the secrecy of my ballot or be considered an invalid "random marking."
My angst was alleviated when the decision was taken out of my hands. The registrar's office emailed me back, and without answering my question about if the ballot would have been counted, they told me a new one would arrive in five days.
The reply did open up a whole new line of unanswered questions. I mean, is the existence of a second ballot invalidating? I emailed back: "What happens to my old ballot? How do I get rid of it?"
(The first ballot is automatically suspended to issue a second one, I later learned. And you can tear it up or put it through a paper shredder.)
And still, the question remains — what if I had mailed in that ballot.
Alexander also went down the rabbit hole with me, emailing me on a Saturday morning that she "woke up annoyed by our collective inability to answer" the question. She dug around and found that a 2011 California law known as the "Doodle Law" would have likely been applied in my case. It states that rather than reject a ballot that is marked in a way to identify a voter, that election workers separate and duplicate the ballot (without the problematic identifier) like for other defective ballots, before running it through the scanner.
So there it is, my vote would have probably counted if I had mailed in my ballot. But now I'll be sending a brand new on instead. In the end, it's clear that the state and local authorities have tried and are trying their best to ensure that all mail-in ballots count regardless of very normal human mistakes (see this sidebar on how to up those chances).
But my takeaway lesson from all this is that it's probably best not to make a mistake in the first place when voting by mail, oh, and maybe put your dog in a separate room while you vote.
___
Hit me up if you have any other election and voting-related questions. My DMs are open on Twitter @latams You can also email me at tami(at)dot.la, or ask for my contact on Signal, for more secure and private communications.
Related Articles Around the Web
Snap's voter registration efforts seem to be paying off.
Over 1 million Snapchatters have registered to vote using Snap as of Thursday morning, the Santa Monica-based social media and advanced camera company announced.
According to data from New York-based nonprofit TurboVote, Snap's partner on its in-app voter registration initiative, 56% of these registrants are first-time voters. 64.5% are aged 18-24.
Many are coming from Sun Belt states. The company reported high registration volumes from users in Texas, Florida, Georgia and North Carolina. Donald Trump won all four of those states in the 2016 presidential election.
The new figures come about two months after Snap announced several features and partnerships to help its young user base vote. These include two simplified third-party mini-apps that live within Snapchat, which in addition to helping users register to vote, also provide resources for them to learn about their voting options and make a plan to cast their ballots.
In 2018, Snap registered about 450,000 voters, of whom approximately 57% ultimately voted, the company said.
The company will continue focusing on helping users study their sample ballot, find polling locations and request a mail-in ballot if they wish through its Before You Vote mini-app, developed in partnership with Chicago-based nonprofit BallotReady, according to a Snap spokesperson.
Research from Tufts University earlier this year found that 24% of 18-29 year olds report having voted by mail before. Over a quarter of 18-21 year olds say they don't know where to find information about mail-in-voting.
Snap users will also have a checklist feature leading up to the election showing what they need to do to vote, and they will receive reminders from the app about early voting deadlines.
Snap says it fact-checks political advertisements "using human review" and that its content platform, Discover, is curated in collaboration with "trusted media partners." Users can send messages to friends, but there is no broadcast news feed, in contrast to many social media platforms.
From Your Site Articles
Related Articles Around the Web