Image by Decerry Donato
Sign up for dot.LA's daily newsletter for the latest news on Southern California's tech, startup and venture capital scene.
Following the U.S. women's national soccer team's recent $24 million equal pay settlement, Los Angeles' own women's soccer club, Angel City FC, teamed up with Swedish fintech startup Klarna to host a panel on Tuesday evening spotlighting the obstacles women still face in the worlds of tech and sports alike.
Held at the Banc of California Stadium in Exposition Park (where Angel City FC plays its home games), the panel featured businesswomen like FounderForward CEO Robyn Ward and Klarna executive Raji Behal, as well as women athletes like former U.S. women's national team player Shannon MacMillan and current Angel City players Cari Roccaro and Sarah Gorden.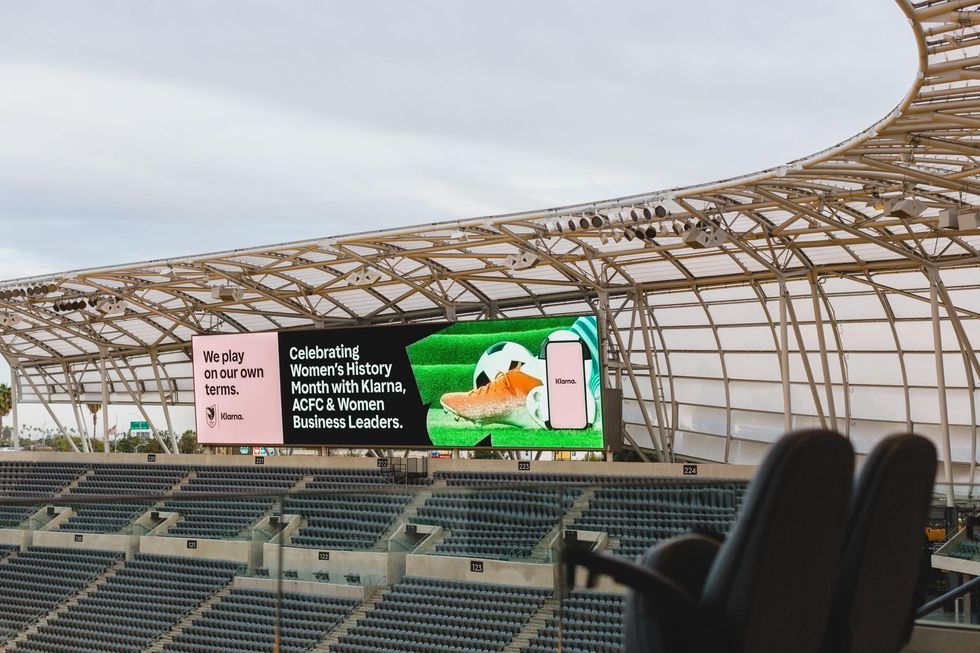 An ad for Women's History Month from ACFC and Klarna at the Banc of California Stadium.Courtesy of Klarna
Angel City has close ties with L.A.'s tech community, having been founded in 2020 with backing from investors like Upfront Ventures' Kara Nortman, gaming entrepreneur Julie Uhrman and Reddit co-founder Alexis Ohanian. Tennis legend (and Ohanian's wife) Serena Williams is also an investor, as are celebrities like Natalie Portman, America Ferrera, Eva Longoria and Jennifer Garner.
Though the worlds of tech and sports may, at first glance, seem to have little in common—existing at nearly opposite ends of the vocational (and high school popularity) spectrum—the evening's speakers found common ground on the challenges that women encounter in both male-dominated industries.
"I was almost always the only woman in the room," said Ward. Prior to founding Santa Monica-based leadership consulting business FounderFoward, Ward (who's also an Angel City investor) ran United Talent Agency's strategic investment arm and served as an executive at startups like Docstoc and Betterworks. "I've been a proud activist for a long time for changing the ratio of [women] founders and funders in the tech ecosystem," she noted. "We are starting to see some change."
Speaking on the sports end of the matter, Gorden told the audience that while the National Women's Soccer League (in which Angel City competes) has not achieved the same pay equity that the U.S. women's national team has, the settlement "is still important to all female athletes, because they're setting the standard for what we will eventually follow."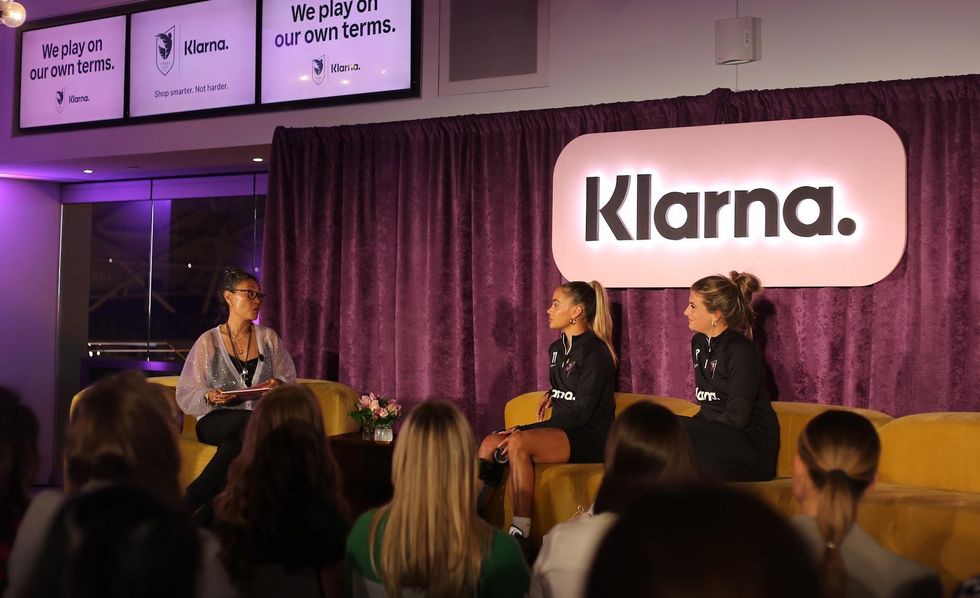 The team up between ACFC and Klarna brought Angel City players to the stage.Decerry Donato
Upon winning the FIFA Women's World Cup in 2015, the U.S. women's national team took home $2 million in prize money; meanwhile, the U.S. men's team won $9 million for its 11th-place finish in the 2014 World Cup. A similar discrepancy is at play in the business world, where women executives continue to face a sizable pay gap and women startup founders receive only a sliver of overall venture capital funding.
The role that women usually play as the primary caretakers in their families often forces compromises in their careers. Though a challenge, Gorden noted how she's been able to balance motherhood with a pro soccer career. "I had my son in college and it realigned my focus," she said. "Being pregnant made me realize I love the game and I want to be able to follow a dream of mine."
Angel City is set to play its first-ever competitive game on Saturday against San Diego Wave FC in the NWSL Challenge Cup. While that game will be played in Fullerton, the team will open the NWSL regular season at Banc of California Stadium on April 29. It is the first time since 2010 that Los Angeles has a professional women's soccer team of its own.
"We're not just building a company," said MacMillan, also an investor in the team. "We're building this movement and the community has been so solid in this."
From Your Site Articles
Related Articles Around the Web