Los Angeles Tech Culture
The latest news about Los Angeles' tech scene and culture in from dot.LA
Activision Blizzard addressed ongoing employee concerns over workplace culture in a letter to staff Tuesday, and said it disciplined 40 employees for inappropriate workplace behavior.

The letter was written by Blizzard's Executive Vice President for Corporate Affairs (and former U.S. Homeland Security adviser) Frances Townsend, who joined the company in March and sent it to employees via email the afternoon of Oct. 19.
Recently 20 Activision Blizzard employees were fired and 20 more were reprimanded following widespread accusations of sexual harassment and discrimination based on gender.
In a copy of the letter viewed by dot.LA, Townsend said Activision did find misconduct had taken place after conducting its own investigation, and claimed it disciplined the offenders accordingly.
Townsend also said the company has seen an increase in harassment and workplace culture-related reports in recent months, both new and from years ago, as people began to talk more openly about the issue. She promised increased investment in training resources and more transparency about the investigation process and its results.
Activision wouldn't disclose which employees were reprimanded or let go but Townsend said in the letter that Activision Blizzard management is encouraged to "not hesitate to terminate or discipline those who violate our policies and fail to contribute to a positive culture that treats all members of our team with respect."
In July, Activision employees walked out to protest the game publisher's misogynistic and allegedly harmful company culture.
The walkout happened a week after the state of California filed a lawsuit against Activision for discriminating against female employees and having a "frat bro" culture where sexual misconduct and outright harassment were accepted. The lawsuit noted that women accounted for only 20% of the game publisher's staff.
Last month the Securities and Exchange Commission launched its own investigation into Activision. The Wall Street Journal reported the investigation is looking into how the company handled allegations of discrimination and sexual harassment in the workplace.
Take a look at the letter in its entirety below.
Today, Activision Blizzard's Executive Vice President for Corporate Affairs Fran Townsend shared the following email update with our employees:
Everyone,
As one of the world's largest and most influential companies, our future depends on fostering a company culture where all feel safe and heard. That comes with the responsibility of earning our employees' confidence that, when they speak up, we'll do the right thing. We must earn our team's confidence that, when they speak up, they will be heard. I have been quietly listening over the last few months to your comments, concerns, and observations. I am grateful to everyone who shared their points of view – especially those who challenged us to do better. It's important to me that you know how seriously I take this, and how committed I am to the next steps we will take together. We are working tirelessly to ensure that, moving forward, this is a place where people are not only heard, but empowered.
We have a committed team dedicated to this work. However, in listening to feedback over the past several months it is clear to me that we need to do more, and with a renewed urgency. We have expanded our compliance team and have even greater initiatives already underway to enable meaningful improvements to our company's culture.
Working with Jen Brewer and the team, we have thoroughly evaluated our broader compliance, employee relations, and investigative procedures, including how we handle claims and communicate with the members of our team who are involved. And today, I would like to highlight our progress on all these goals, along with some changes to build a more accountable workplace and culture.
Among the input we have received, there have been several clear and actionable recommendations, from many of you and from our Ethics & Compliance team. Among them, three key themes emerged:
First, do not hesitate to terminate or discipline those who violate our policies and fail to contribute to a positive culture that treats all members of our team with respect.
Second, be transparent, not only about our investigations processes, but also about the actions we take.
Third, invest resources and people into ethics, culture, and training.
First, I wanted to give you a sense of the work we've been doing to investigate all claims and concerns raised by members of our team:
- Ongoing Investigations: Nothing is more important to me - and the entirety of Activision Blizzard leadership - than making sure everyone feels safe and equal in this workplace. There is no place for harassment, discrimination, or retaliation in this company.
In recent months, we have received an increase in reports through various reporting channels. People are bringing to light concerns, ranging from years ago to the present. We welcome these reports, and our team has been working to investigate them, using a combination of internal and external resources. Based on the information received in the initial report, they are assigned into different categories, and resources are allocated to prioritize the most serious reports first. In connection with various resolved reports, more than 20 individuals have exited Activision Blizzard and more than 20 individuals faced other types of disciplinary action.
We continue to look into any issues or reports raised through the many channels that are available. But it bears repeating: Reports can be submitted anonymously, and there is zero tolerance for retaliation of any kind.
Second, we have begun work to improve how we address complaints, including the restructuring of two teams, Ethics & Compliance and Employee Relations, to more efficiently and effectively handle the investigation of complaints.
- Ethics & Compliance Team Leadership: I am very happy to announce the promotion of Jen Brewer to Senior Vice President, Ethics and Compliance. Jen has already been skillfully guiding the compliance function for many years. More importantly, she has been instrumental in helping me to reimagine how our investigative, training, and employee relations functions can work better together, along with the resources those teams will need to make our company better.
- Way To Play Heroes: These are the Ethics & Compliance program's unsung heroes. They volunteer their time to build bridges – by helping fellow members of our team navigate their reporting options, championing speaking up, and advising us on how we can strengthen the Ethics & Compliance program. The Heroes are crucial to our success. We are expanding the program by adding more Heroes and investing resources to better support the work they do. I am pleased to announce that effective immediately, Heroes will receive one additional vacation day a quarter to recognize their contributions to this very important work.
- Investigation Team Resources: Ensuring we have the capability to properly look into reports is critical. In the past couple months, we have already added three full-time positions to address the workload. Moving forward, we plan to scale this significantly, adding 19 full-time roles to our overall Ethics & Compliance Team, which include team members dedicated to investigations, including the ability to take live calls, as well as data analytics and communications, to help us understand how we're doing and help us better convey results of our work. Two of those roles will be specifically dedicated to overseeing investigations related to the EMEA and APAC regions.
- Investigation Team Structure: We are combining our investigations groups into one centralized unit within a central ABK Ethics & Compliance Department, which will be separate from business units and other groups like Human Resources or Employee Relations. This will allow investigators to be more efficient and coordinated, aligned on approach, and enable consistent decision making. It also allows us to scale resources more appropriately versus considering how to allocate team members across disparate units.
- Employee Relations Team: Alongside improving how we investigate concerns or claims, we need to consider how best to communicate with members of our team affected by these issues. Working with Chief People Officer Julie Hodges, this will be a key focus for the Employee Relations team. This will allow us to better bridge our improved investigative process to a recommended action, whether it's discipline, additional training, or other next steps. Our goal is to broaden our team of individuals with considerable human resources experience, ensuring we handle complaints and concerns with the care and attention they deserve.
- Transparency: We are working on additional materials that document our investigative procedures and outline what members of our team who report misconduct can expect during the investigative process. We are also working to ensure communications are transparent and time sensitive for any members of our team involved in investigations. Even more, we want to provide data reporting so we remain accountable, even if we can't always share what is happening behind the scenes. We know there's a desire to know about the outcome when misconduct is reported. Sometimes, there are privacy reasons we can't share. But where we can, we will be sharing more information with you. We will also be providing you regular aggregate data about investigative outcomes.
- Improving Training: We are preparing to triple our investment in training resources. Our intent is to deliver meaningful, real-life, scenario-based live and online training required for all members of our team, including executives - covering bystander training, speaking up, and training managers to recognize concerns and understand their obligations to escalate situations urgently and appropriately.
We are committed to making meaningful and positive change, and this is just the start. We will be sharing additional updates in the coming weeks and months. We know there is always more work to do. We are committed to continuing that work. Please continue to share your ideas and suggestions, in whatever ways you want to send them. We will work hard every day to earn your trust and confidence. Together, let's ensure that we always have a safe, inclusive, and ethical workplace that makes us all proud.
Best,
Fran
From Your Site Articles
Related Articles Around the Web
Cornerstone OnDemand, the Santa Monica–based learning and talent management software company, is shaking things up. Shareholders approved on Tuesday a $5.2 billion deal to take the company private.
In an all-cash transaction, Clearlake Capital Group (also based in Santa Monica) takes ownership of the company through a combination of equity and debt, buying the outstanding shares at $57.50 per share.
Adam Miller, founder & co-chairman at Cornerstone, says the move is designed to give the company more flexibility to pursue avenues of growth that might be unpalatable to shareholders that expect growth on a quarterly basis.
"We saw both organic and inorganic opportunities to grow in ways that would be difficult to do as a public company," he said. "It's difficult to do both of those things at the same time as a public company. But as a private company you can do those things in sequence and get the benefit of a longer-term strategy."
Cornerstone, which was founded in 1999, had been publicly traded for over a decade. Their products are used by many universities and corporations such as Dell, Hyatt, Walgreens and Cannon. The company had been thriving during COVID, posting earnings above expectations in Q2 2021, and exceeding their growth from the same time period last year by 16%, which likely contributed to the 31% premium that Clearlake paid for the stock buyout.
Cornerstone, which employs roughly 2,700 people, is no stranger to acquisitions. In February 2020, the company acquired their largest competitor, Saba Software for $1.295 billion. The move left Cornerstone fairly leveraged, Miller says, so the transition to go private appears to come as a means to help the company to continue expanding aggressively. In the COVID world, where so much of education has transitioned into online formats, the company is hoping increased flexibility will allow it to fully take advantage of the expanding market.
Cornerstone currently boasts 75 million users spread across 6,000 different customers. For those users, Miller says, the experience should change very little. "The end user experience will only improve as we have more resources we can deploy for our engineering team, and as we have the ability to think—again—longer term," he said.
With shareholder approval sealed, Cornerstone's deal to go private should close on Friday.
From Your Site Articles
Related Articles Around the Web
Even as the Latino middle class grows, the wealth gap persists. A typical white family has five times more wealth than Latinos. Suma was founded nine months ago by CEO Beatriz Acevedo with the goal of bridging the Latinos wealth gap.

A seasoned tech entrepreneur who founded Latino-focused entertainment company Mitú, which was acquired last year by GoDigital Media Group owner of Latido Networks for an undisclosed amount. Mitú had raised $52 million, but struggled especially during the pandemic. She also runs her family's California charity, the Acevedo Foundation.
Acevedo, who was born in Tijuana and has called herself "a proud border girl," wanted to build an app that helped a new generation plan their financial future.
Suma combines several tools in its "dinero toolkit" to help Latinos manage their money including savings goal trackers and tips and calculators to help people rent or buy a home and pay off credit card debt.
Acevedo said Latinos from many countries have struggled to maintain wealth or learn about money because of unpredictable governments – and older generations still recall hardship accessing their money during changing regimes.
"The problem that we have is that there's so much distrust in our community, in financial institutions, and even FinTech companies," Acevedo said. "Our parents and our grandparents come from countries of origin where they had tremendous financial hardship – whether you were in Mexico in a crazy devaluation, or Venezuela or Argentina, where you could never pull out your money from your bank one day and everything you've built is gone."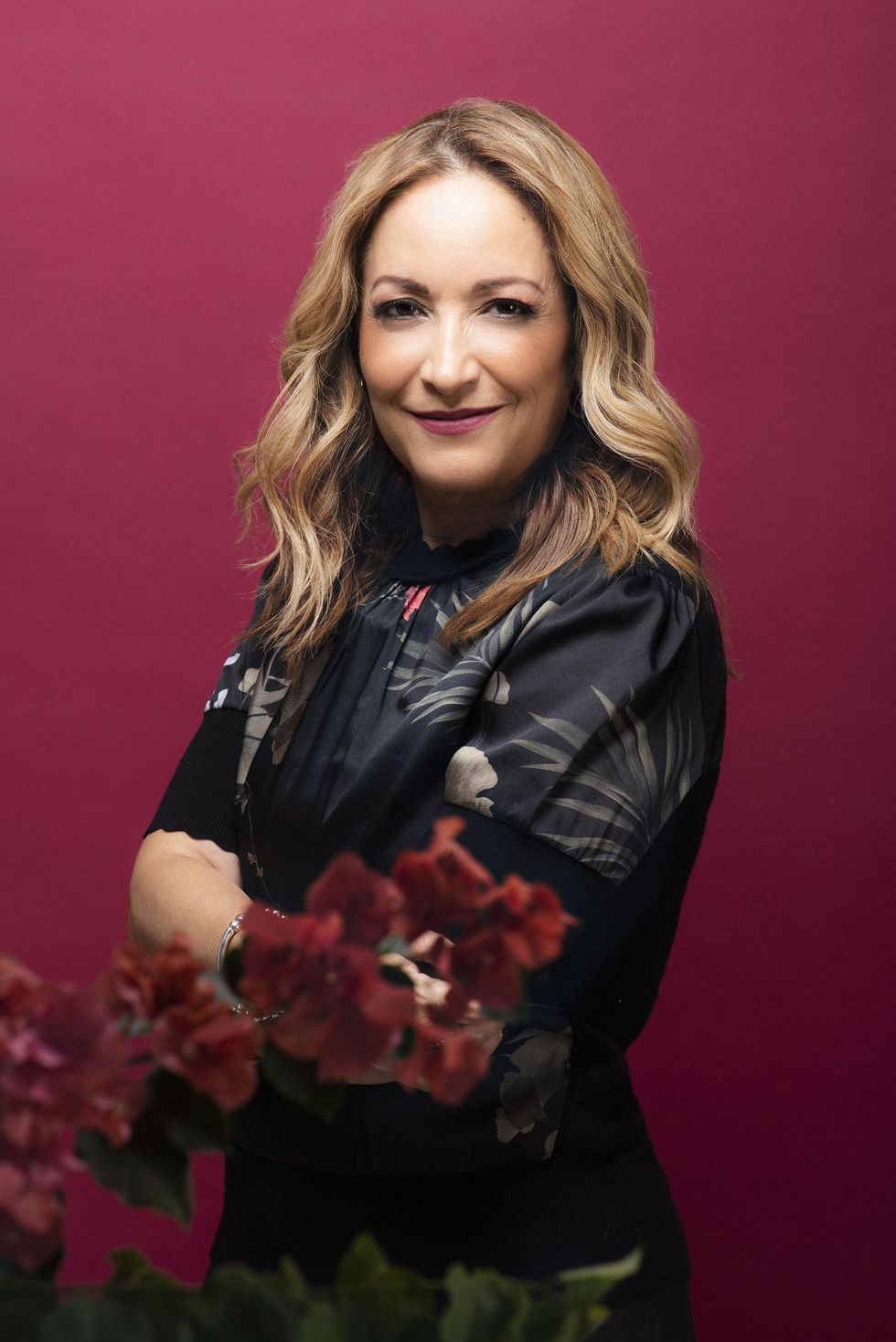 Suma CEO Beatriz Acevedo
This distrust coupled with a lack of personalized messaging and often shoddy translation means that many Latinos feel isolated and have difficulty navigating their finances using traditional banks and are looking elsewhere, Acevedo said.
Roughly 22,000 people are on the waitlist to use Suma, and it has built an online community of nearly 340,000, Acevedo said. While most Suma users are in California, it also has users in Chicago, New York and Texas. But it is looking to expand and just got a lifeline with a fresh round of funding.
This week, it announced that it raised $2 million to expand its operations and launch mobile apps next month.
The round was led by Chingona Ventures partner Samara Hernandez. Unlike most fintech companies, Suma board and investors are incredibly diverse – Acevedo said its cap table is 77% female and 72% Latino.
Hernandez is on Suma's board and told the Wall Street Journal during its seed raise she was inspired by Acevedo's pitch. "Before she had a name, I was in… I was sold immediately," Hernandez told the Journal.
Suma has raised $3.3 million since its 2020 launch following this round. It will use the new funding to hire more staff and launch its upcoming mobile apps. It generates revenue through subscriptions, but the web platform is now free.
Acevedo said the company is prioritizing digital expansion because its main audience is Millennials and Generation Z – young Latinos ages 28 to 35. As an added bonus, Acevedo said many of those younger users can also encourage their older family members to also get on the app.

Suma's investors also include Los Angeles-based Vamos Ventures' founder Marcos Gonzalez, Ulu Ventures, OVO Fund, Vitalize VC, Supercharged Initiative, The Fund and Gaingels.
Bridging the Gap
The Latino-White wealth gap is staggering, and the pandemic only exacerbated the problem. Acevedo noted the average Latino man makes $.55 for every dollar earned by a white man.
According to the Federal Reserve's most recent survey of consumer finances, the average white family's wealth is roughly five times that of a Hispanic family.
Latinos are gaining ground – the Urban Institute reported this year a young and growing Latino population is expected to make up most new homeowners through 2040 – an estimated 4.8 million more homeowners.
Young Latinos, Acevedo said, "are the ones entering the workforce at the fastest rate and it's a group that has the least wealth."
Acevedo wants to target these potential new homeowners and teach them valuable financial literacy skills to help protect their investments.
One feature launched this week is a financial checkup tool that analyzes a handful of features that impact a person's overall wealth including net worth, debt to income ratio, budgeting and emergency savings to calculate its version of a credit score.
In August, Suma ran Dinero Bootcamp, a youth-focused financial literacy workshop that helped 125 Latinos learn about their money. Wells Fargo granted an undisclosed sum to help Suma target local neighborhoods like Huntington Park, South Central, Downtown and Boyle Heights.
"We're excited to see that (Suma) works, that our community is excited to learn and to do better, and that they trust us, so we need to continue to arm them with all the tools and information and resources," Acevedo said.