Los Angeles Tech Culture
The latest news about Los Angeles' tech scene and culture in from dot.LA
This is the first installment of Moves—a weekly feature highlighting job and career changes around the Los Angeles and Southern California tech ecosystem.
Moves is presented by Interchange.LA, dot.LA's recruiting and career platform connecting Southern California's most exciting companies with top tech talent. Create a free Interchange.LA profile here. And if you're looking for ways to supercharge your recruiting efforts, find out more about Interchange.LA's white-glove recruiting service by emailing sharmineh@dot.LA.
Anne Devine and Rose Rogers have joined electric vehicle battery manufacturer Romeo Power as chief operating officer and chief people officer, respectively. Devine arrives from auto parts maker UGN, while Rogers previously worked at aerospace components manufacturer Ducommun.

Rob Leff has joined content technology platform Nativo as chief financial officer. Leff previously held the same role at media measurement startup VideoAmp.
Alex Morrison has joined Pearpop, which helps creators collaborate with social media platforms, as chief marketing officer. Morrison joins the startup from advertising agency Grey West, where he served as global partner and president.
Soo Hong has joined fintech startup Sunbit as chief people officer. Hong previously led people and talent operations at National Veterinary Associates, WeWork and Tinder.
Evelyn Krasnow has joined furniture rental startup Fernish as its new chief marketing officer; she has previously held positions at Bird, Seedling and Berkin. The company has also hired Jorge Montoya as vice president of operations; John Praino as the vice president of partnerships; Sydni Gethner as head of sales; and Tessa Peshke as head of multifamily.
Evan Fitzpatrick and Rajiv Makhijani have been appointed to new roles at audit, risk and compliance platform AuditBoard. Fitzpatrick joins as senior vice president of AuditBoard's CrossComply product from Bain Capital, while Makhijani was promoted from within and will serve as AuditBoard's senior vice president of emerging products.
Marketing firm Gimbal | true[X] has appointed Lauri Baker as its senior vice president of partnership strategy. Baker joins from Pause Commercials, where she served as partner and chief operating officer.
Marina del Rey-based venture capital firm Fifth Wall has hired Virginia Drennen, Clay McFarlane and Gaby Yo to vice president positions in value creation, real estate technology and the investment team, respectively. Fifth Wall has also promoted Sarah Liu to partner of real estate technology, Cedric Char as senior associate of climate technology, and Mike Foell as the senior finance manager. Oliver Harrison will serve as the company's new senior associate of Europe, MIchael New will serve as the principle of capital formation and G.M. Nicholas Vik will become a partner and head of strategy.
Stefanie Schwartz has joined creator-focused video distributor Jellysmack as global head of platform partnerships. Schwartz was most recently executive vice president and general manager of Viacom Digital Studios.
Jeff Holland has joined electric vehicle manufacturer VinFast as director of communications. He previously served as director of global communications for Karma Automotive.
Ryan Pollreisz has joined video game developer Imagendary Studios as studio manager. He arrives from Sony Pictures Imageworks, where he served as vice president of artist management.
Ready, Set, Food!, a startup that helps prevent children from developing food allergies, has hired Laura Michelson as senior director of brand marketing and Emily Peltzer as vice president of manufacturing and operations. Michelson joins from cannabis company PLUS while Peltzer arrives from flower retailer The Bouqs Company.
Image from Grid110
Before pitching to investors and venture capital firms, some founders will scrape together capital from people they know—a category of early-stage funding known as the "friends and family" round.
But most founders—especially those from communities that are underrepresented in tech—don't have access to such a moneyed personal network. For those without backing from friends and family, getting that initial investment can be a grueling, sometimes impossible, task.
Grid110, a Los Angeles-based nonprofit, wants to help level the playing field.
The incubator launched its first national "Friends & Family" cohort this month for 20 early-stage startups through a partnership with Slauson & Co., an early-stage venture capital firm based in L.A. and focused on economic inclusion.
"We felt that there was an opportunity to kind of reframe this concept of 'friends and family,' and not just from a capital standpoint," Grid110 CEO Miki Reynolds told dot.LA. "The capital is very much needed, but there's also this access to networks and resources and education."
Neither Slauson nor Grid110 will take equity in the 20 startups. Instead, they're giving each founder a $20,000 non-dilutive cash grant, with the chance to earn more throughout the 12-week virtual program. The accelerator will provide the cohort's entrepreneurs with mentorship and coaching from executives including Sequoia Capital partner Jim Goetz, former TaskRabbit CEO Stacy Brown-Philpot and Jonah Peretti, Buzzfeed's co-founder and CEO.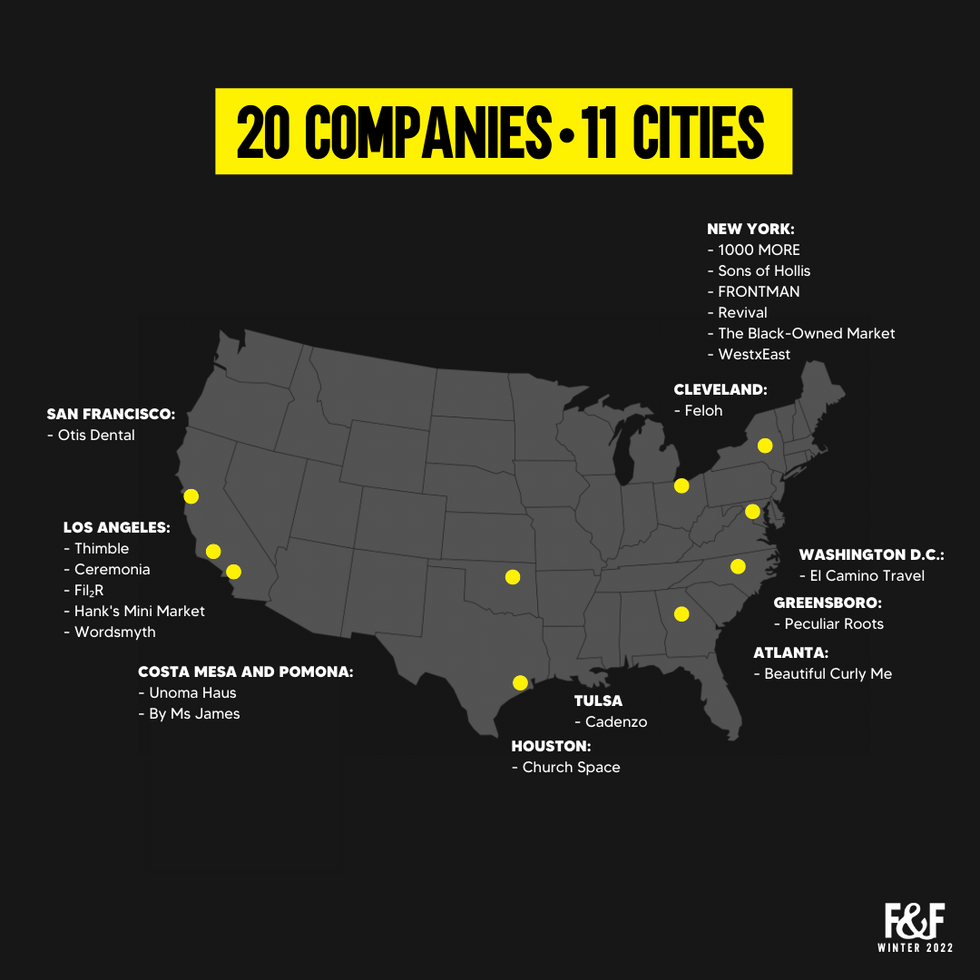 A map of the startup companies in Grid110 and Slauson & Co.'s 'Friends & Family' program.
Geotz, Ron Conway of San Francisco-basd seed fund SV Angel, the Annenberg Foundation and the Schultz Family Foundation all donated capital to finance the cohort. The program received nearly 600 applications from 38 states, making it Grid110's first national cohort. It is also an exceptionally diverse cohort; each company has a founder who identifies as Black, Latinx, Asian or Pacific Islander, while 75% have a woman founder.
"There's so much under-accessed value in some of these communities that, if given the right investment and guidance, you can really see the return a lot of VCs are looking for," said Kibi Anderson, whose startup Wordsmyth—which helps media, film and advertising firms hire writers of color—is one of five L.A.-based companies in the program.
Not every member of Grid110's cohort is necessarily tech-focused. Other L.A. companies include the South L.A. grocery market Hank's Mini Mart and Thimble, a brand of numbing patches designed to reduce patients' pain and anxiety during procedures involving needles.
"There's a lot of pressure to raise from VCs," said Thimble CEO Manju Dawkins, whose company raised pre-seed funding late last year. "That's good for a lot of companies, that may be good for us, but it's difficult."
A look at the statups in Grid110's 2022 cohort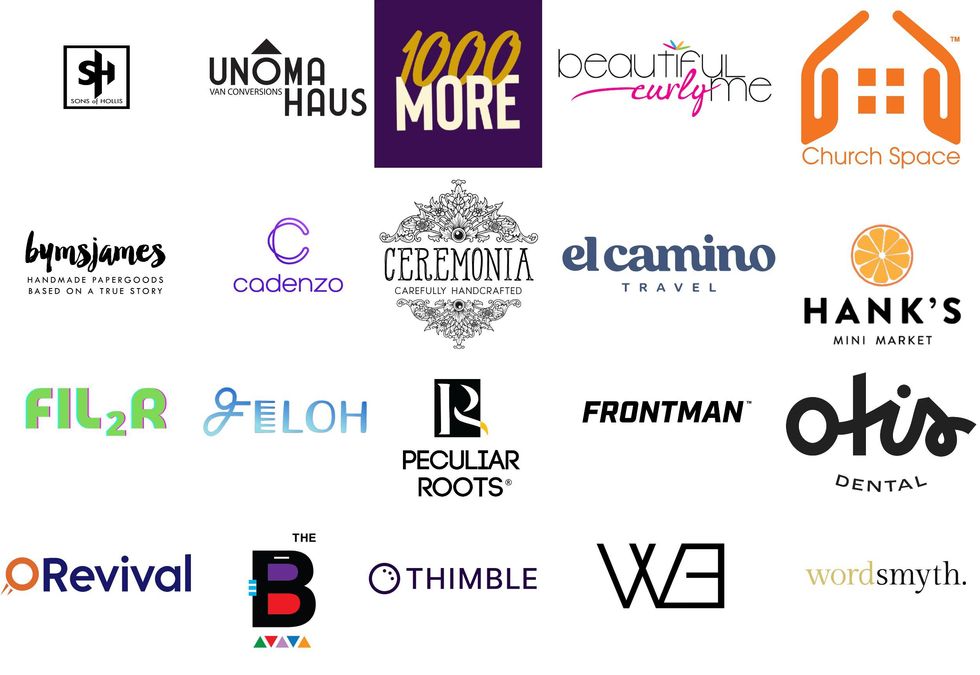 Here are the startups in the Friends & Family Winter 2022 cohort:
From Your Site Articles
Related Articles Around the Web
After hitting the jackpot with hometown bets like shopping app Honey, Los Angeles venture capital firm Wonder Ventures is doubling down with a new early-stage fund focused exclusively on L.A. startups.
Santa Monica-based Wonder has raised $31 million for its new venture fund, founder and managing partner Dustin Rosen told dot.LA. The new fund is double the size of the $15 million pre-seed fund that Wonder raised in 2018, and like that one it will target fledgling L.A.-based startups that Rosen believes are too easily overlooked by larger VCs.
"The L.A. ecosystem is really mature as far as a place to build technology companies, and more capital than ever is coming into L.A. to fund our companies as they grow and scale toward an IPO," Rosen said, noting that Wonder already deploys more than 90% of its capital in Southern California-based ventures. "We still believe that the earliest stage is underfunded—pre-traction and pre-seed. That stage is the hardest time to raise and get elite investors, and that explicitly is what Wonder does."
Rosen pointed to an eclectic group of more than 60 L.A.-based founders and tech executives who have invested in its latest fund, including those from current and former Wonder portfolio companies like Clutter, Tala, and Honey. Other investors from local startup success stories like Snap, GoodRx, and Dollar Shave Club also pitched in.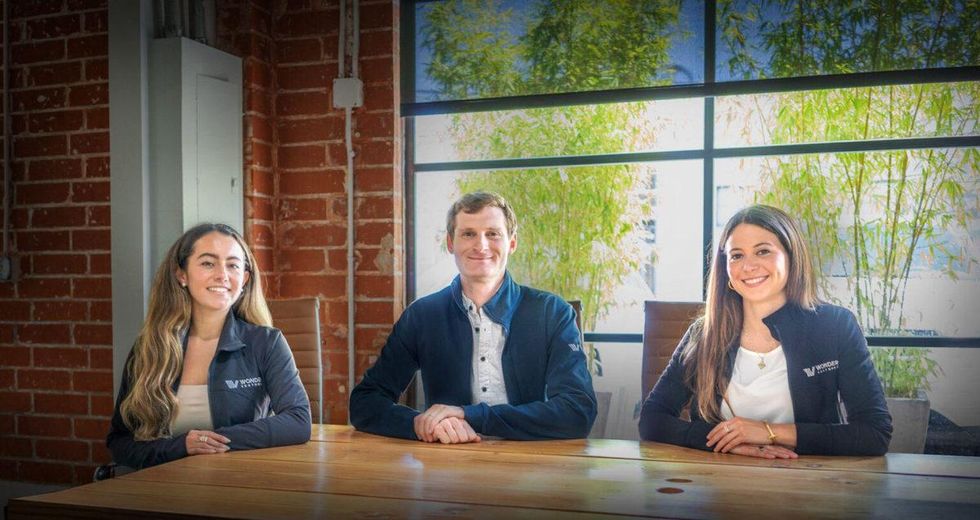 Fom left to right: Valentina Rodriguez, senior investor; Dustin Rosen, managing partner; and Taylor Bolhack, head of platform and community for Wonder Ventures. Courtesy of Wonder Ventures
Among the first companies to be funded by the new vehicle is RealAppeal, a Santa Monica-based startup that finds savings in homeowners' property tax assessment bills through an appeals process. Rosen said he filed his own appeal on the company's website as its founders made their pitch to him on the phone. "I hope to save thousands of dollars," he noted.
Among Wonder's most successful investments to date has been Honey, the ecommerce rewards app that PayPal acquired for $4 billion in 2019. The VC's initial early-stage investment in the Arts District-based startup returned an exit worth more than Wonder's entire $5 million first fund, according to Rosen.
The firm's largest portfolio holding today is WhatNot, the Marina del Rey-based livestream auction marketplace that raised more than $220 million in venture capital last year on the way to reaching a unicorn valuation of $1.5 billion. That investment has proven even more lucrative than its bet on Honey; Rosen noted that the current value of Wonder's stake in WhatNot is "worth more than the entire [$15 million] second fund."
In addition to launching the new fund, Wonder has made two new hires to help oversee its portfolio of nearly 80 companies. Valentina Rodriguez, formerly an analyst and trader with Morgan Stanley, has joined the venture firm as a senior investor, while Taylor Bolhack, previously with Santa Monica-based micromobility operator Bird, has been named head of platform and community.
Wonder Ventures isn't the only L.A-based VC firm targeting local seed and pre-seed startups. After five years with San Francisco-based Crosslink Capital, investor Joe Guzel has launched a fintech-focused early-stage fund with McLain Southworth called Haven Ventures, Guzel told the LA Venture podcast this week.
From Your Site Articles
Related Articles Around the Web