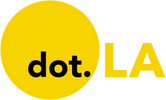 Get in the KNOW  
  on LA Startups & Tech  
X
Los Angeles Tech Culture
The latest news about Los Angeles' tech scene and culture in from dot.LA
Photo by James Opas | Modified by Joshua Letona
"Moves," our roundup of job changes in L.A. tech, is presented by Interchange.LA, dot.LA's recruiting and career platform connecting Southern California's most exciting companies with top tech talent. Create a free Interchange.LA profile here—and if you're looking for ways to supercharge your recruiting efforts, find out more about Interchange.LA's white-glove recruiting service by emailing Sharmineh O'Farrill Lewis (sharmineh@dot.la). Please send job changes and personnel moves to moves@dot.la.
***
Calaxy, a Web3 social media app co-founded by NBA player Spencer Dinwiddie, promoted former chief operating officer Solo Ceesay to chief executive officer. Former CEO Dinwiddie is now executive chair of the company.
Brand marketing platform Nativo appointed former Modern Luxury Media chief marketing officer Raquel Cadourcy as its first CMO.
AI platform Ferret hired fraud prevention industry veteran Greg Loos as chief operating officer, and former Fullsteam marketing executive Melissa Yearta as director of marketing.
Nonagen Bioscience, a cancer diagnostics company, appointed Wayne Hogrefe, as chief operating officer.
Health care startup Greater Good Health named Matthew Gagalis as chief commercial officer. Gagalis previously led business development at Eleanor Health.
ChangeUp, a financial software company, named Raj Kamachee as co-founder and chief technology officer. Kamachee previously served as CTO and chief information officer at Team Rubicon.
Arcules, a cloud video-surveillance-as-a-service (VSaaS) provider, hired Steve Prodger as chief revenue officer. Prodger previously served as executive vice president of sales at Turing Labs.
Spanish language media company Estrella Media promoted René Santaella to chief digital and streaming officer. He was previously the company's executive vice president of digital and streaming media.
Bluemercury founder and former CEO Marla Beck joined beauty brand BeautyHealth's board of directors.
Clean energy veteran Tom Werner joined H2U Technologies, a developer of green hydrogen technologies, as chairman of the board.
Holoportation company Proto named comedian and "America's Got Talent" judge Howie Mandel as an advisor.
Related Articles Around the Web
Photo by Decerry Donato
In the wake of the pandemic, remote work forced many people to convert their living and dining rooms into home offices, something that could be problematic in more cramped living situations. Enter Azure Printed Homes—a 3D-printing construction company that says it can build a backyard studio or accessory dwelling unit (ADU) out of recycled polymer plastic in under 24 hours, with the goal of alleviating dwellers' space constraints.
On Wednesday, the Culver City-based startup will publicly launch a $5 million campaign on the crowdfunding platform Republic, with the goal of raising new funds to increase its supply inventory and grow its 12-person staff. Co-founder Gene Eidelman told dot.LA that Azure was bootstrapped until last week, when it received an undisclosed amount of funding from two angel investors.
"As unfortunate as the pandemic is, trying to serve customers during a pandemic is what led us to this idea," Eidelman said.
Azure is the brainchild of Eidelman and his fellow co-founder and company CEO Ross Maguire. The construction industry vets (Eidelman previously worked for local home construction firm Houck Construction, while Maguire served as a construction manager for British giant Carillion) bonded over a passion for advancing sustainability in their chosen trade. The construction sector is one of the most energy-intensive industries in the world and responsible for 38% of global carbon emissions, according to a report last year by the World Business Council for Sustainable Development.
The pair launched Azure Construction in 2019, initially with the aim of building backyard additions and ADUs in a timely manner and with transparent pricing. But their interest in sustainability led them to the realm of 3D printing, which can be a significantly less resource-intensive method of construction. Maguire said they initially devoted their time to consulting with different 3D printing companies and figuring out which materials and printers they should use, as well as what the designs of their 3D-printed structures should look like. Azure Printed Homes was subsequently, officially born this April.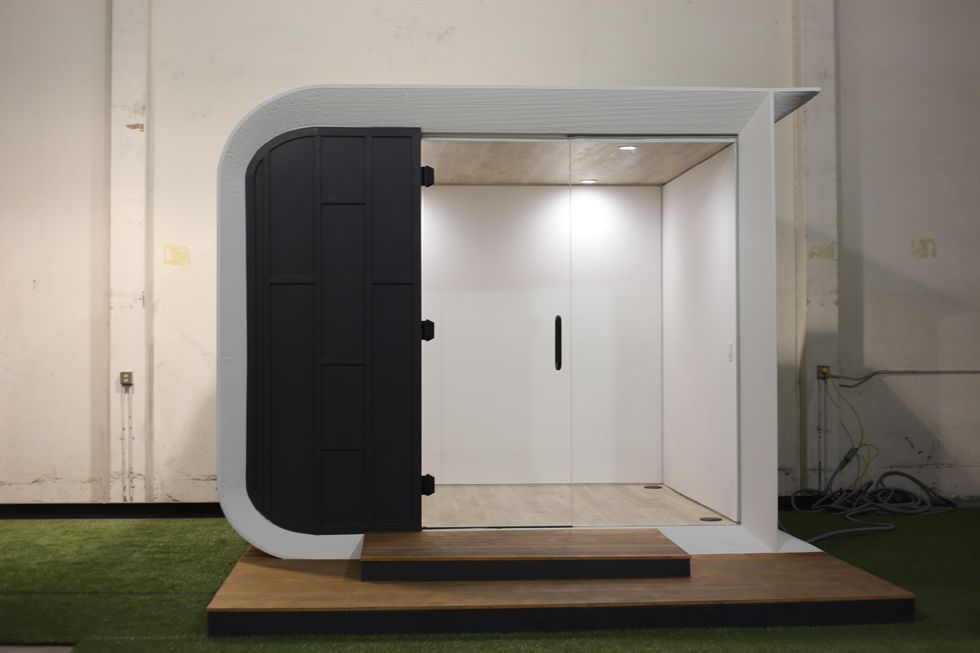 Azure's 3D printed ADU. Photo by Decerry Donato
The startup boasts that the materials used to 3D-print its structures are made of 60% recycled plastic, fiberglass, and an ultraviolet (UV) stabilizer that offers protection from the sun. A 120-square-foot studio starts at $24,000 (with the cost increasing with additional square footage), not including delivery fees and add-ons (such as solar panels and air conditioning) that can cost thousands of dollars more. Azure says that customers can expect the entire process—from their initial order to the final delivery and installation of the product—to take less than one week. The company is also using the crowdfunding campaign to unveil a new 180-square-foot ADU with a kitchenette for less than $40,000.
Most of the $5 million in crowdfunding that Azure is seeking will be allocated toward buying two more robotic printers to help boost its production capacity. Currently, the startup has one robot stationed at its factory that can print the walls of a 120-square-foot unit in less than 24 hours. By purchasing two more robots, the company will be able to produce three structures per day—a heightened pace that will help alleviate Azure's current 40-order backlog and the roughly 70 inquiries, on average, that it receives from potential customers each day, according to Maguire.
"The beauty of it seems to be that some people just love the way it looks," Maguire told dot.LA. "But then there's enthusiasts about the environmental aspect, and then people that love the technology of 3D printing."
Image courtesy of Shutterstock
In the wake of a historic, successful unionization drive at Activision Blizzard subsidiary Raven Software, Activision employees in Los Angeles are now ramping up pressure on the video game developer—sending a lengthy memo to management on Tuesday laying out demands on workplace issues ranging from the company's handling of sexual harassment cases to trans workers' rights.
The four-page letter, obtained by dot.LA, was sent by members of ABetterABK, a coalition of Activision Blizzard workers that began mobilizing last year amid the high-profile workplace misconduct controversies that have arisen at the Santa Monica-based company. ABetterABK sent the memo one day after employees at Activision's Wisconsin-based Raven Software studio voted in favor of certifying their Game Workers Alliance union—the first labor union at a major video game publisher in the U.S.
Following that labor victory, ABetterABK, which is not a union, has now taken the initiative and laid out a series of demands to Activision via a newly formed Worker Committee Against Sex & Gender Discrimination. Those demands include ending the practice of mandatory arbitration for discrimination and sexual harassment cases at Activision—which would let accusers take their alleged abusers, as well as the company itself, to court—and requiring that an outside, independent third-party investigate all such claims.
The memo also requests 12 weeks of paid parental leave for all new parents, during which they would receive 100% of their normal compensation and cannot lose their position. It also notes Activision's "history of discrimination towards employees who lactate," and calls for workplace practices and facilities that protect and support breastfeeding parents, such as private feeding rooms and breastmilk storage equipment.
There is also a section addressing Activision's treatment of transgender employees. The memo demands support for trans workers "pre, during and post-transition," as well as the creation of a "trans network" supporting trans employees at Activision and an "advisory committee of support for [human resources], recruiting and employees at large" regarding trans issues in the workplace.
ABetterABK is also demanding that Activision institute stricter enforcement of its anti-harassment policy for gamers and content creators, who would be subject to bans for violating the policy.
"We believe it is imperative that workers have a voice in Activision Blizzard's anti-discrimination policies—without that, the company's culture of harassment and abuse will continue to go unchecked," ABetterABK member Emily Knief, who works as a senior motion graphic designer at Activision, said in a statement. "We hope to have a productive conversation with leadership where they acknowledge these growing concerns and enact the demands brought forth by the committee."
Sources told dot.LA that ABetterABK sent its letter Tuesday to Activision CEO Bobby Kotick, chief people officer Julie Hodges and chief diversity, equity and inclusion officer Kristen Hines, who recently joined the company in April.
"We appreciate that these employees want to join with us to further build a better Activision Blizzard and continue the progress we have already made," an Activision spokesperson said in a statement Tuesday. "We have, for example, already upgraded our lactation facilities, waived arbitration, hired new DEI and EEO leaders, and collaborated with employees to make our policies and processes more Trans inclusive, just to name a few issues the letter raises. We thank these employees, and will continue to work with all of our employees on our journey to be a better Company."
Heightened tensions between management and employees at Activision come as the game developer looks to finalize its $69 billion sale to Microsoft. While the Seattle tech giant has said that it won't stand in the way of union efforts at Activision, the gaming company refused to voluntarily recognize the Raven Software union, which set the table for Monday's vote.
"We respect and believe in the right of all employees to decide whether or not to support or vote for a union," Activision spokesperson Talia Ron told dot.LA on Monday, in the wake of the Game Workers Alliance's successful union certification vote. "We believe that an important decision that will impact the entire Raven Software studio of roughly 350 people should not be made by 19 Raven employees."
Labor organizers working with the Raven employees told dot.LA earlier this year that they hope to expand unionization efforts across the entire company—though there's no clear indication yet that organizers at ABetterABK or other Activision worker groups are seeking to unionize.
Read the ABetterABK letter to Activision management in its entirety below: