HBO Max
Last night, House of the Dragon took home the award for best TV drama at the Golden Globes. With a budget of around $20 million per episode, the widely popular HBO series was a huge accomplishment on the part of the cast, crew, and of course…the VFX team tasked with bringing the dragons to life.
To do so, requires modeling the dragons after already existing animals. For example, in episode two of the HBO series, the audience is first introduced to Daemon's (Matt Smith) maroon dragon Caraxes. The beast appears on screen with piercing eyes and snake-like movements that immediately establish its cunning character.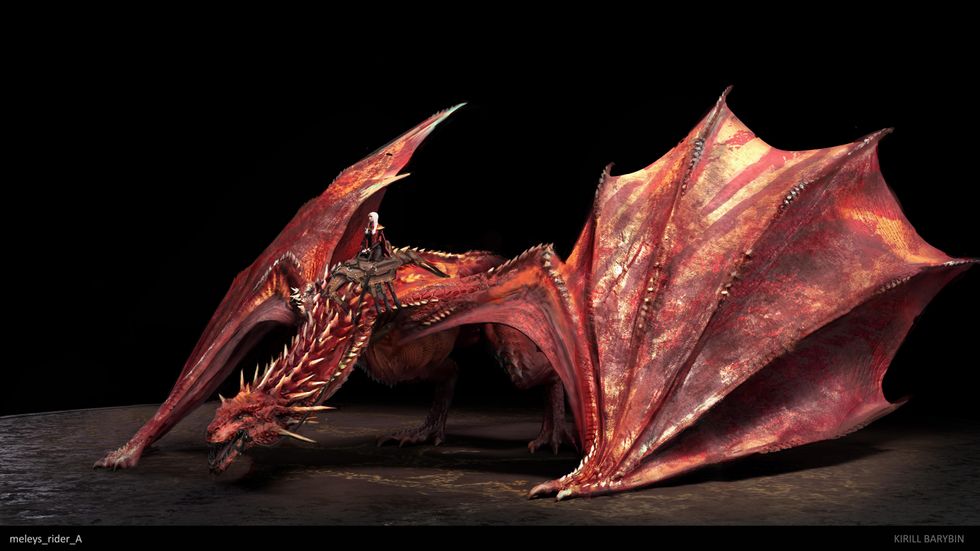 HBO Max
According to Mike Bell, visual effects supervisor at Moving Picture Company (MPC) Caraxes was largely based on the awkwardness of "a greyhound [dog] laying down or sitting."
The thinking there, according to Bell, was that Caraxes isn't meant to be lying down. "Caraxes is supposed to be flying," said Bell. "Which is why he has that kind of almost snake-like animation."
But for visual effects artists, the process of taking the dragon from conception to the screen is easier said than done. Unlike its predecessor which only had three, House of the Dragon had 10 dragons shown on screen just in Season 1. The construction of each alone can take three to four months, according to lead VFX Supervisor Angus Bickerton.
"For the first couple of months, we were just designing the dragons basically," he said. "So we were collating lots of real world references, and Miguel [Sapochnik] and Ryan [Condal] were very keen to follow George R.R. Martin's belief that the dragons should all be quite distinctive, and more colorful than they were before, and have quite definitive characters."
One of the most complicated sequences for the VFX team was also one of the most visually stunning for viewers: Vhagar and Arrax's fight scene at the end of the season finale. Bickerton said before any production or filming takes place, the team spends a few days on set just scoping out and marking the scene.
"We had to kind of work out the flight path," Bickerton explained. "We knew that they were arriving and leaving Storms End. And we found a location in Iceland…so we used that as our design, and then we plotted out what the chase would be."
The VFX team then used virtual production software, Cyclops, created by visualization studio Third Floor, to map out a rough draft of what the scene would look like. Cyclops uses augmented reality and game engine tech to overlay CGI assets over live video in real time. Basically, Cyclops displays a quick rendering of what a dragon or building would look like in a scene, so the cast and crew know their marks and can visualize the layout.
"That allows [Director] Greg [Yaitanes] and his DOP, Pepe Avila del Pino, to come in and use the iPad to explore and find shots rather than, you know, an animator sitting at a desk."
Lux Machina, a visual technology studio headquartered in Los Angeles, worked to stage many of the sequences on set before and during filming.
"[Engine operators] are doing a lot of things like recording and capturing the data that we're shooting on set," explained Julia Lou, engine technical director and virtual production supervisor for Lux Machina. "So recording things like where the camera was, and any lens metadata, and taking snapshots of what the settings were and stuff like that."
After staging is complete, Lou works in real time with the VFX team to operate the visual effect assets that take place in real time during filming.
Once the scenes are staged and mapped out, on-set visual effects supervisor Ed Hawkins is responsible for ensuring that filming aligns with the VFX team's request. Lighting cues and camera angles have to be "pretty meticulously planned out," according to Hawkins, so that it matches what the VFX team will create in post-production. And two dragons with two riders for a fight scene like the finale means two separate shoots.
"That was one of the more complicated sequences," Hawkins said. To create it, all the actions of the dragons and the camera movements were pre-planned using a revolutionary form of VFX technology that offers a major upgrade to the traditional green screen. Rather than placing the actors in front of a green screen and building out the special effects in post-production, the team uses huge LED panels that surround a physical set that display whatever background image is required. The "volume," as the technology is referred to, can also respond to camera movements.
"Also in that particular setup (the finale), it was quite challenging because we had a lot of rain and wind and smoke, which you wouldn't normally put into a volume, because it's a big, expensive computer screen," Hawkins explained.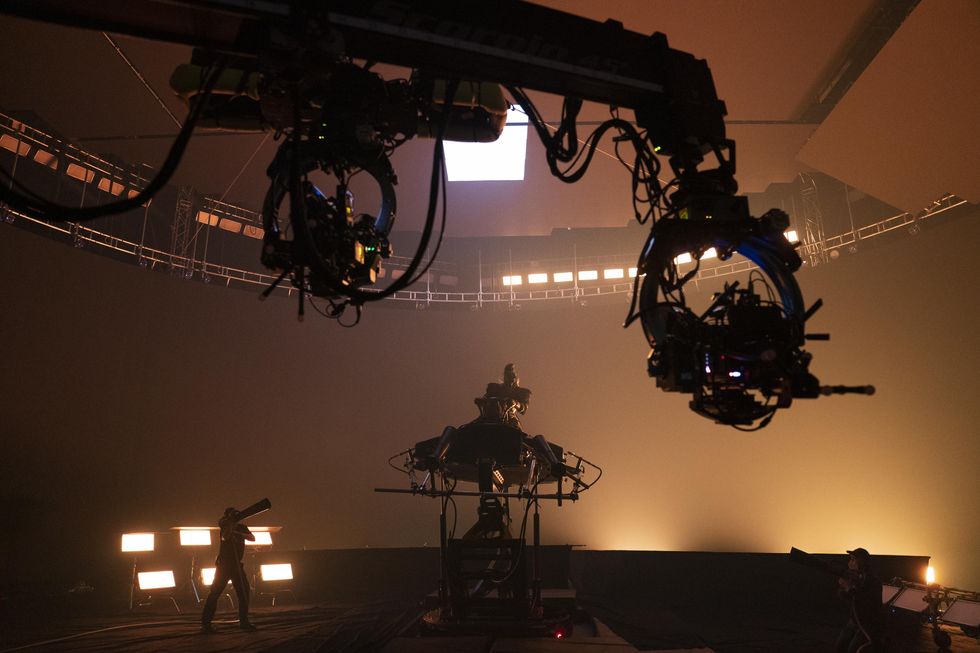 That said, even with all this state of the art technology, creating 10 dragons with distinct features and unique personalities is no easy task. In fact, Bickerton confesses that the team did reuse one dragon from the old series: Drogon, Queen Daenerys's most famous dragon in Game of Thrones.
"When I joined, I was handed an old fashioned, big hard drive with about eight terabytes of accumulated assets and data from 'Game of Thrones,'" says Bickerton. "We tried to glean as much as we could from those assets. And one of the key assets, of course, was Drogon himself."
One thing Bell said he'd like to work on if he comes back for Season 2, is continuing to build the dragons in more detail and hone in more on their personalities and corresponding movements.
"I'd like to see how Caraxes's character develops because he's such an incredibly unique dragon, different from everyone else," he said.
With the rapid improvement in VFX technology, it's possible fans will see even more of the dragons in future seasons. Having worked as the lead on the first and last two Harry Potter movies, Hawkins said those films are an excellent example of the evolution of visual effect technology.
"If you look at those sequences of films, you can almost see the whole arc of the way the industry has changed," Hawkins explained. "Because, you know, the first film was shot on film, there was a lot of models and practical effects. But as it went through the sequence of builds, Hogwarts became a digital asset. It's literally the whole arc of going from the beginnings of digital effects to where we are now."