Daring Foods wants to do for plant-based chicken what Beyond Meat and the Impossible Burger did for faux meat: Take it mainstream and, in the process, convert a few carnivores.
The Los Angeles-based company just raised $8 million and is about to launch its newest product: Plant-based protein "chicken" tenders.
Originally conceived in the United Kingdom in 2018, the founders moved to New York after U.S. investors showed interest at the end of last year.
Soon after, co-founders Ross Mackay (CEO ) and Eliott Kessas (COO) decided to move full time to Los Angeles, joining El Segundo-based Beyond Meat and other plant-based startups that have found a receptive market in the region's health-conscious residents.
"L.A. is really the capital of health and wellness. And I was very inspired by a lot of CPG (consumer packaged goods) brands here," said Mackay, who moved in March.
Los Angeles has long been a hub of food experimentation, as restaurants and bars embraced vegan options long before chain restaurants like Burger King and Starbucks added faux meat to the menu.
It was here that Mackay and Kessas found a natural fit for their lifestyle.
"We've been friends for more than 10 years and really shared a passion for health, nutrition, but also plant- based diet," Mackay said. "The business was really built for a real need: We were consuming a lot of other plant based meats on the market and thought that there was a gap... particularly in the chicken forum."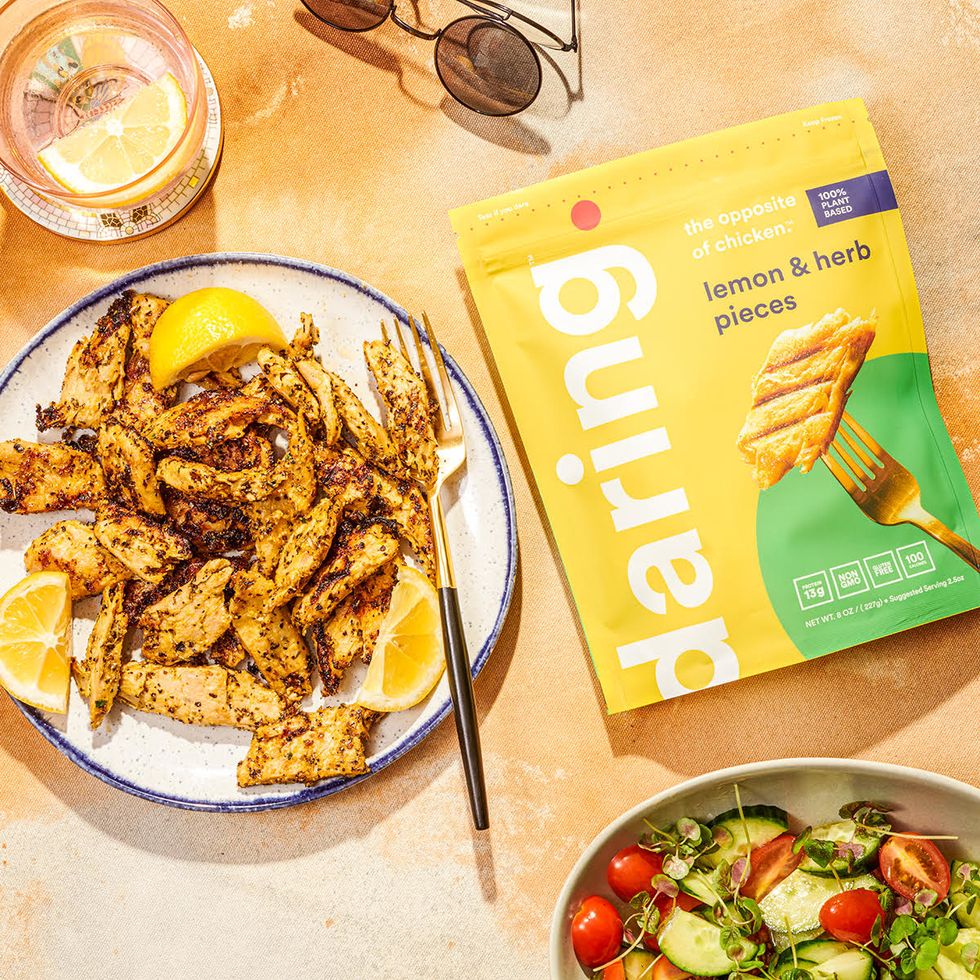 Analysts are projecting the plant-based protein and meat alternative market to grow to $85 billion by 2030, and Daring is looking to compete with their plant-based chicken. Beyond and other imitation meat makers have similar products, but none have broken through.
Late last year, Darling struck a distribution deal with Arizona-based Sprouts Farmers Market. Darling's original, cajun, and lemon-and-herb flavored pieces are now sold in Sprouts, Gelson's, Bristol Farms and Fresh Thyme, but the company still offers them to consumers directly through their website.
The fresh round of funding will help Daring expand their 12-person team as they look to establish outposts on the East and West coasts.
Meanwhile the company will boost its marketing efforts as it readies to sell their breaded chicken-like products in stores on October 1st.
The series A funding is led by Maveron with additional support from GoodFriends, Stray Dog Capital, Palm Tree Crew Investments and private investors Mike Smith and Brian Swette.
Daring hopes to use their products to help educate people on the health benefits of consuming plant-based products and promote alternatives to chicken farming, which has been criticized as cruel.
With the pandemic, they see an opening.
"Without doubt, COVID as a whole has placed an emphasis on the importance of health," said Mackay. "And if you double down on that, what we put in our body in particular animal protein has been questioned. So consumers have looked for alternatives to meat. And of course, steering being available both online and in stores, and groceries, it's actually improved our sell through rate in retail."