Alex Kehr is making an anti-NextDoor, the community site where neighbors moderate each other and swap information from missing pets to petty crimes.
Nextdoor, Kehr argues, is far too "negative" — it's often filled with posts about suspicious dog-walkers and stolen packages. Some critique the platform as a breeding ground for misinformation and fights over local politics.
"Citizen and Nextdoor are so crime and safety-focused that they don't really make you love where you live," says Kehr, the company's founder and CEO. "They make you fear where you live."
In September, Kehr released a beta version of Superlocal for some 3,600 Los Angeles residents. The social app is set up as a cross between Instagram and a sanitized Nextdoor. Members can direct message each other, read articles on the home feed and share their own content on the "neighbors feed." Members can also opt-in for a daily newsletter or, as Kehr puts it, "The Skimm, but for local news."
By December, he says, 60% of beta users were active users. Last week, he launched the platform in 14,000 cities and over 187,000 neighborhoods across the U.S.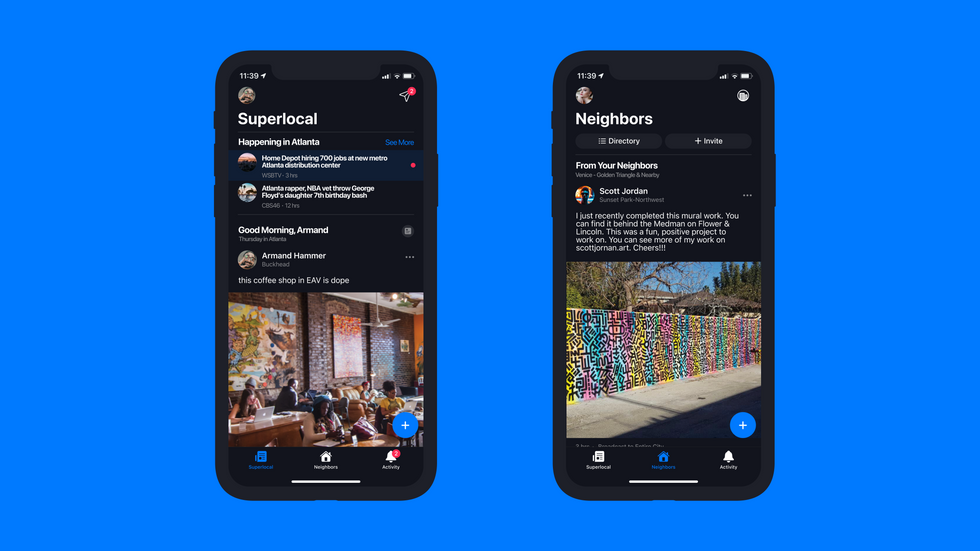 Superlocal aims to be a cross between Instagram and a sanitized Nextdoor.
Curating Local News
Using RSS feeds, the platform compiles trending stories from free publications in each user's city. In L.A., you'll see articles from outlets like LA Eater, LA Magazine and LAist. Think feel-good headlines like "Local Teen Catching Big Waves at Maverick Beach" and photo essays from Valentine's Day. There's also coverage on the pandemic and California's vaccination rollout.
The app links out to each article directly — Kehr's way of contributing to ad revenue — and publications with paywalls don't show on the app. Eventually, Kehr wants to create partnerships with outlets to create content exclusive to Superlocal.
But ultimately what Kehr wants to do is take out derisive debates, the politics and the crime — the very conversations that drive much of social media.
"The problem is that people want crime information," said Karen North, a professor of digital and social media at USC Annenberg. "People want to know if there's a danger of a power outage or a planned protest. They want to plan their lives and know what to expect."
Local news, she said, includes both "the good and the bad."
Kehr admits he can't completely filter out talk about crime and safety content completely. He's not trying to censor users. But, he says, he's built in functions that are meant to guide Superlocal members "in the right direction."
The strategy is akin to what TikTok announced last week to stem misinformation by flagging videos with unsubstantiated content. Users who try sharing those posts will see a prompt reminding them the video is flagged.
Superlocal users who draft posts about crime will see a similar warning note. "Please be very thoughtful about what you post to safety," the alert reads. The app also asks users to list their full names. And to avoid bullying, each user can see who checks out their profile, a feature LinkedIn offers for premium subscribers.
"It potentially replicates walking down the street and making eye contact with people," Kehr says. "Maybe that's a subtle reminder that these are your neighbors, you might actually see them in real life."
'There's Got to Be Other Ways'
The 31 year old has been building a slew of community-focused apps since high school. As a sophomore, he created a website dedicated to posts about missing relatives after Hurricane Katrina. FindKatrina was featured in WIRED and the New York Times.
Then came an app to design and trade WhatsApp stickers. It hit #1 in Brazil's app store in 2019 and, before retention rates dropped, Kehr was raking in $125,000 every month from subscriptions. The app eventually morphed into Pop, a group messaging platform that, to Kehr's surprise, took off among freshmen at UCLA and Syracuse looking for weekend parties. But when demand for group chats dropped at the onset of COVID, Kehr pivoted.
The Santa Monica startup last March raised $1.5 million from a handful of investors that Kehr won't disclose. But, he names General Catalyst, Slow Ventures, M13 and Science Inc., where he is a founder in residence, as backers on his LinkedIn profile. He's planning to go out for another round next month.
"I think NextDoor is dominant, but it's not the clear winner," Kehr says. "They've proven the market, but they're kind of slow moving. They've never had competition. I thought it was a good target."
Founded in 2011, NextDoor has raised over $210 million in funding. The platform is live in 11 countries and 270,000 neighborhoods globally though the company did not respond to an inquiry about its monthly active users.
Kehr points to Pinterest — with a market value of $52 billion and climbing revenue — as one social platform that continues to attract users and make money while being "a pretty positive place."
"You don't really see people yelling at each other about politics," Kehr says. "It's not the same behavior as on Facebook and Twitter. I know controversy is good for retention, but I feel like there's got to be other ways."
Under his bed, Kehr is storing a stack of paper door tags that advertise the app. Next weekend, he'll walk door-to-door in his Venice neighborhood to let people know Superlocal is now live. It's a marketing trick he got from Nextdoor.
Related Articles Around the Web