How would you like to see the news articles that people in your line of work find relevant? Newsology, a news aggregator app based in L.A., is betting that its new spin on news feeds curated around people's professions will intrigue enough users to help it compete with the Silicon Valley giants.
Founder Mark Hasan tells dot.LA that what distinguishes Newsology's AI recommendation engine from competitors like Apple News, Google News, Flipboard and News 360 is that it incorporates the "extra dimension" of a user's industry, title and location. Hasan, who has a background in mechanical engineering and machine learning, says his patent for grouping multiple descriptors about a user gives his app an edge.
"Say you do real estate in California," he says. "Newsology can show you what's popular among real estate professionals in California. Or someone can say, 'I'm in the pharmaceutical industry,' and Newsology's algorithm will show them what's popular with people in that industry."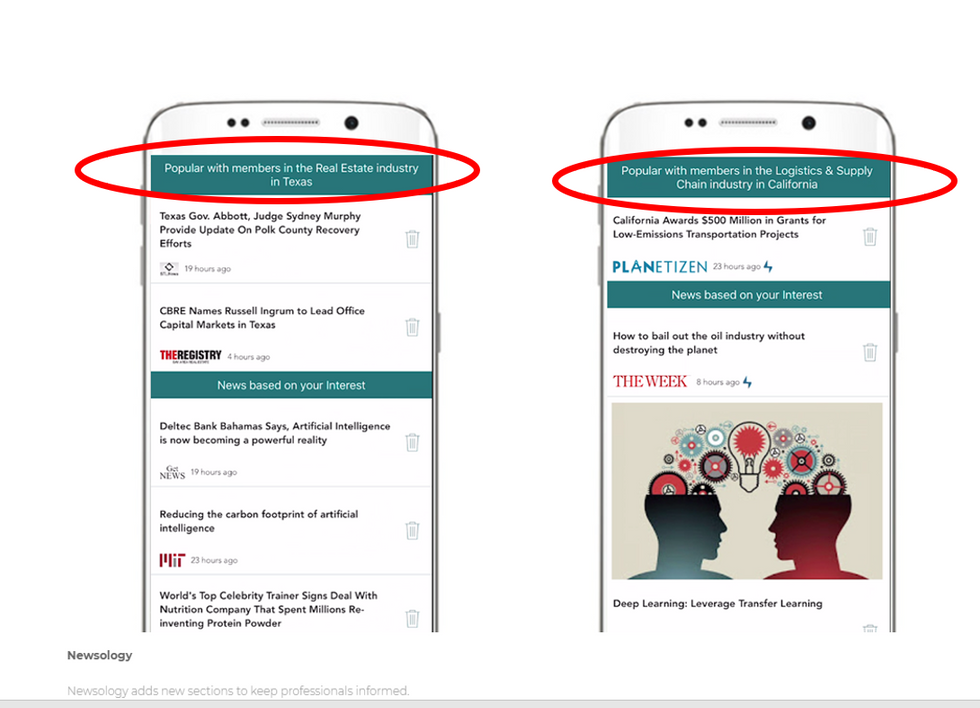 Newsology incorporates users' professions into its AI recommendation algorithms
When Newsology first launched, it captured users' professional information via their LinkedIn profiles. But when LinkedIn disabled that capability in May 2019, Newsology started asking people to voluntarily provide that data. Hasan says about 30% to 50% of users comply.

When they don't, or when the algorithm doesn't have enough data to identify that a given article is popular with a specific profession, users receive recommendations based on which of the 30,000-plus intereststhey add to their profiles.
The model uses natural language processing to classify news articles, then assesses a story's popularity among a given profession by tracking how long users in that profession stay on the page. But Hasan says this method has pitfalls, as it misses the occasions when a user finds an article relevant even if they don't read it – such as when a story has a useful headline. To counteract that, Newsology has added new functionality to allow users to explicitly state when an article is of interest, rather than relying entirely on the algorithm.
Hasan says it's still early days for the app. His team is small – five including him, plus the odd contractor. The company is self-funded – he won't share how much they've invested – but Hasan says they are not looking for outside investment.
Right now the app has approximately 37,000 monthly users, and soon the company will ramp up its marketing.
"Our goal right now is to scale users. We're not even looking at monetization," he says. Hasan notes that it will only make financial sense to do so when Newsology has around 300,000 users. At that point, the plan is to monetize through advertising.

He points to a recent trend of legacy media companies expanding into news aggregation as an encouraging sign, suggesting that this may bring future partnership opportunities. CNN is reportedly working on a news aggregator called NewsCo; in April it acquired Canopy, which makes content-personalization tools, to bolster the effort. News Corp recently launched its own aggregator, Knewz. And scholars in South Korea have documented a trend of legacy news publishers forming joint ventures with search portals.
"In a world where content is being thrown at you in such high volume, it's great that AI and ML...can allow people another medium to see quality, ranked news articles," Hasan says. "We are now at a point with data analytics where we can make that even better."