Labrador Systems
As robotics technologist Mike Dooley saw his aging mother go from using a cane, to a walker, to a wheelchair to move around, he noticed something. "Once you start using that cane or walker, your hands become your extra pair of legs," he told dot.LA. "You're using them to stabilize yourself."
Dooley, who had a hand in developing popular robots like the Roomba vacuum cleaner, co-founded Calabasas-based Labrador Systems in 2017 to help people with mobility issues eat, do household tasks and live independently at home. On Tuesday, the startup announced that it raised an additional $3.1 million in seed funding led by Amazon and iRobot Ventures, bringing its total amount raised to date to $5.5 million. The funding will go toward growing the company's engineering team and accelerating its manufacturing efforts.

Additionally, Labrador introduced two personal robots, the Retriever and the Caddie, that it is unveiling at this week's CES 2022 trade show in Las Vegas. The robots are small, height-adjustable machines that can carry food, laundry and other household items weighing up to 25 pounds. They can also be commanded through an app on a user's smartphone or through voice commands via an Alexa-enabled device.
"A lot of these things that we take for granted—that we think are simple, that we forget that we do—become really challenging," Dooley, who serves as Labrador's CEO, said of his company's mission to make life easier for those in need of household assistance. "They basically become parts of losing your independence."
The startup joins an ever-growing ecosystem of firms developing home technology for aging and disabled populations. Amazon's Alexa division launched an elder care subscription package in December that aims to help families keep track of elder relatives remotely. Kinova, a Canada-based robotics company, offers robotic arm products that help those with mobility issues pick up objects and eat independently.
"Any of these technologies are good even if they're not applicable right now," said Ramin Ramezani, the chief technologist at the UCLA Center for SMART Health. "It's one more step towards having better assisted-care technology. Our world is aging, and we need to come up with better technologies to help people who are aging."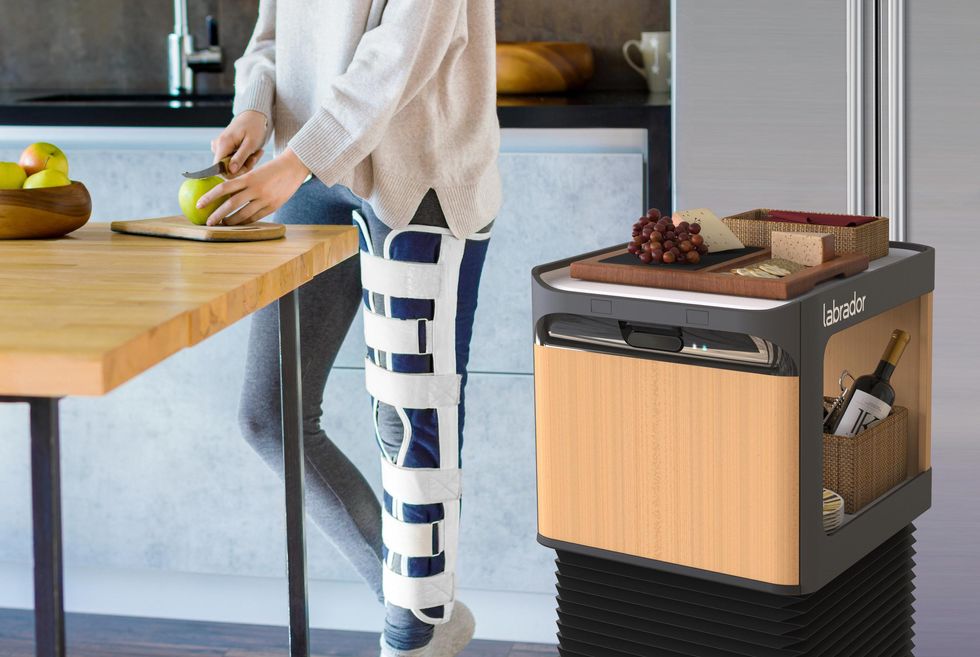 Labroator leverages consumer-facing technology traditionally applied to AR and VR applications to train its robots to map out and navigate a single-level space. Sensors on all four sides of the robots, facing downwards and at eye level, help it maneuver through spaces at least 28 inches wide.
"We have a robot that's basically able to retrieve things in a structured way and bring them to you," Dooley said. "And the whole goal is, if we can bring it within 12 or 18 inches of you, just keeping it within that range is a world of difference."
The company began trialing its technology in peoples' homes in 2021 and is now accepting reservations for its robots, with the goal of reaching full production next year. The price of a Labrador robot starts at a $1,500 flat fee, plus a monthly subscription of $99 a month. The company eventually hopes to leverage insurance buy-in to make the cost of its technology cheaper for consumers.