In an era where everything is digital and promotes endless scrolling, consumer app developer Sean Conrad and data scientist Jesse Berns co-founded Go Disco to encourage people to shut off the screen and live.
The app helps people find unique experiences in their area, curated to their specific interests. Go Disco provides users with suggested activities including rock climbing in Venice or a pop-up art exhibit in Santa Monica.
Pew Research Center estimates 31% of U.S. adults report they go online "almost constantly."
Short for discover, Conrad says Go Disco was created in 2019 to inspire Angelenos "with cool events that you'll actually go do. So we raise your desire to do something offline. And then two, we help you coordinate actually making plans with friends, people you actually want to see, which lowers your barrier to entry and brings your desire closer to reality"
Conrad admits, "Since we founded I have become a father to two kids and I now have this additional emphasis which is not allowing my kids to grow up in a fake world created by Mark Zuckerberg."
With 20 years of tech experience under his belt, Conrad has seen how technology has improved many industries like medicine and transportation, but when applied to our social lives, it becomes a nightmare.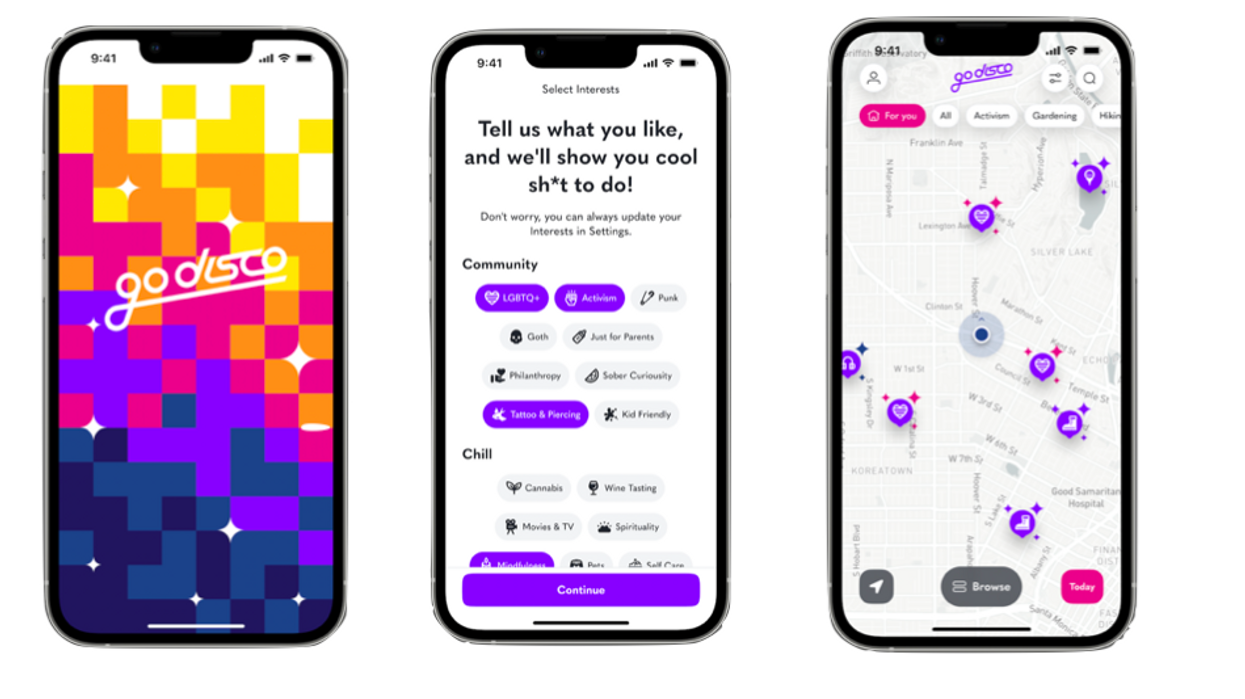 A screenshot of Go Disco's new app
How It Works
After signing up, the user will have to indicate their interests and the technology then filters through thousands of experiences before delivering a personalized feed of enriching events.
Similar to Airbnb experience, Go Disco has a section that users can browse for events and experiences. "We sort of meet people where they are in terms of their tech use," Conrad says. But unique to Go Disco, is their interactive map that displays all events happening in the L.A. area. Experiences on the map that sparkle indicate that those events are happening the day you're looking at it.
The team at Go Disco has two avenues of obtaining information about events; one is their patent pending technology that allows them to scour the internet and pull public events and second is the use of their internal editorial team that gathers unique events like an underground party - not found anywhere else.
If you're a planner, the app will provide information about events happening in L.A. up to a week in advance.
"We know that people tend to look at things either when they're first announced, or when there's about seven days until it happens," Conrad said. "People don't really plan out much beyond the current weekend."
The Los Angeles-based company has raised $8.1 million from a variety of angel investors that will go towards creating the core consumer app, add more features into the new year based on user research, staff our internal editorial team and drive brand awareness.
In 2022, the company plans to expand and roll out to more cities, including New York City, D.C., Miami, San Francisco, Portland and Austin.