About 8% of Apple's tech workers are Latino, a figure that's been stagnant for more than six years. The Cupertino company has grown its presence in Southern California as it attempts to break into Hollywood. Now, it's backing an initiative at California State University Northridge to bring more Latinos into the tech world.
A $50 million center called the Global Hispanic Serving Institution Equity Innovation Hub will be an immersive experience that hopes to attract the state university system's largely Latino students into STEM studies and careers.
The tech sector has long been criticized for failing to recruit and retain Black and Latino workers.
Apple and the state are splitting the cost of the center, which aims to reverse the persistent gaps. It will offer a place where students can be inspired by leaders in the tech industry, provide in-person and virtual information about mentorship opportunities and make connections to STEM employers. It could ultimately serve as a pipeline for Apple. The building is expected to open in 2024.
"We aim to cultivate aspirational capital in STEM that transcends physical and virtual spaces exposing Latinx and other historically underrepresented students to a creative tech mindset to accelerate their understanding of how technology is integrated in all aspects of our lives and essential to the workforce of the future," CSUN President Erika D. Beck said in an emailed statement.
But will it be effective in pulling more Latinos into a world where white and Asian males are over-represented? And particularly in Los Angeles County where Latinos represent nearly half of the population.
Mark Muro, senior fellow for the Metropolitan Policy Program at Brookings Institution, has studied the underrepresentation of Blacks and Latinos in tech and said the CSUN hub has the potential to strengthen the pipeline for Latinos.
"This appears to be a compelling outside-the-box approach that should be lauded and deserves observation to see how it works," Muro said.
But in order to truly be meaningful, those involved should explore different ways to support Latinos in the industry like by providing daycare, better HR practices, different ways to credential that don't only rely on college degrees as well as pay while students are in college and the promise of a job after graduation, he said.
"I think there's a whole lot of work and exploration that the new hub can pursue in developing truly dynamic and diverse approaches," Muro said.
Since the killing of George Floyd and the civil unrest that followed, tech companies from Airbnb to Uber were forced to face their own racial reckoning. Many did this through philanthropic endeavors to promote anti-racist policies and racial equity within and outside their workforces.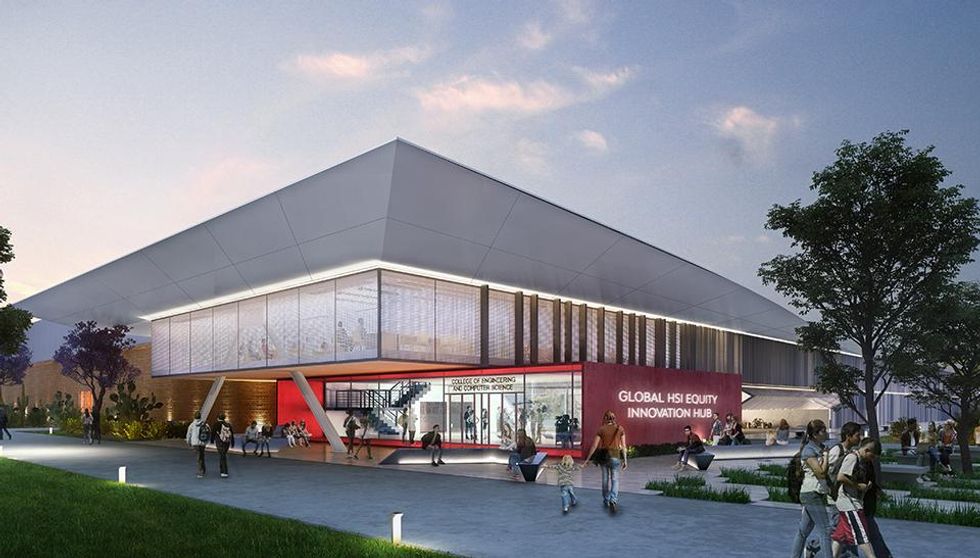 A rendering of the Global Hispanic Serving Institution Equity Innovation Hub to be built at CSUN.
Apple announced it would invest $100 million into a Racial Equity and Justice Initiative. Its $25 million donation to California State University is part of that program.

But as the tech world has been grappling with its lack of diversity, a recent study shows the gap in the STEM workforce for Latino adults has not improved.
An April Pew Research Center report found that while Latinos make up 17% of total employment across all occupations, they represent only 8% of all STEM workers. The Latino share of all STEM workers is up 1 percentage point since 2016, in line with their growth in the overall workforce.
The share of Apple's Latino tech workforce has not improved since 2015.
Apple's Inclusion and Diversity report shows that since 2015, the share of its tech workers who are Latino has remained at 8%. Latino representation in Apple's leadership positions was also 8% in 2020.
CSUN is one of the country's leading universities when it comes to awarding Latino students degrees, the university said. About 54% of its 39,000 students enrolled this fall are Latino.
"We aim to shift the conversation away from what students must do to be successful to what our institutions must do to successfully serve our Latinx and other diverse students," Beck said.
While the center will be housed at CSUN, the university said it will also be open to students from other colleges within the CSU system as well as other schools designated as Hispanic Serving Institutions (HSI), where at least 25% of the undergraduate enrollment is Latino and at least half of all students are low-income. Twenty-one of the system's 23 campuses are designated as a HSI.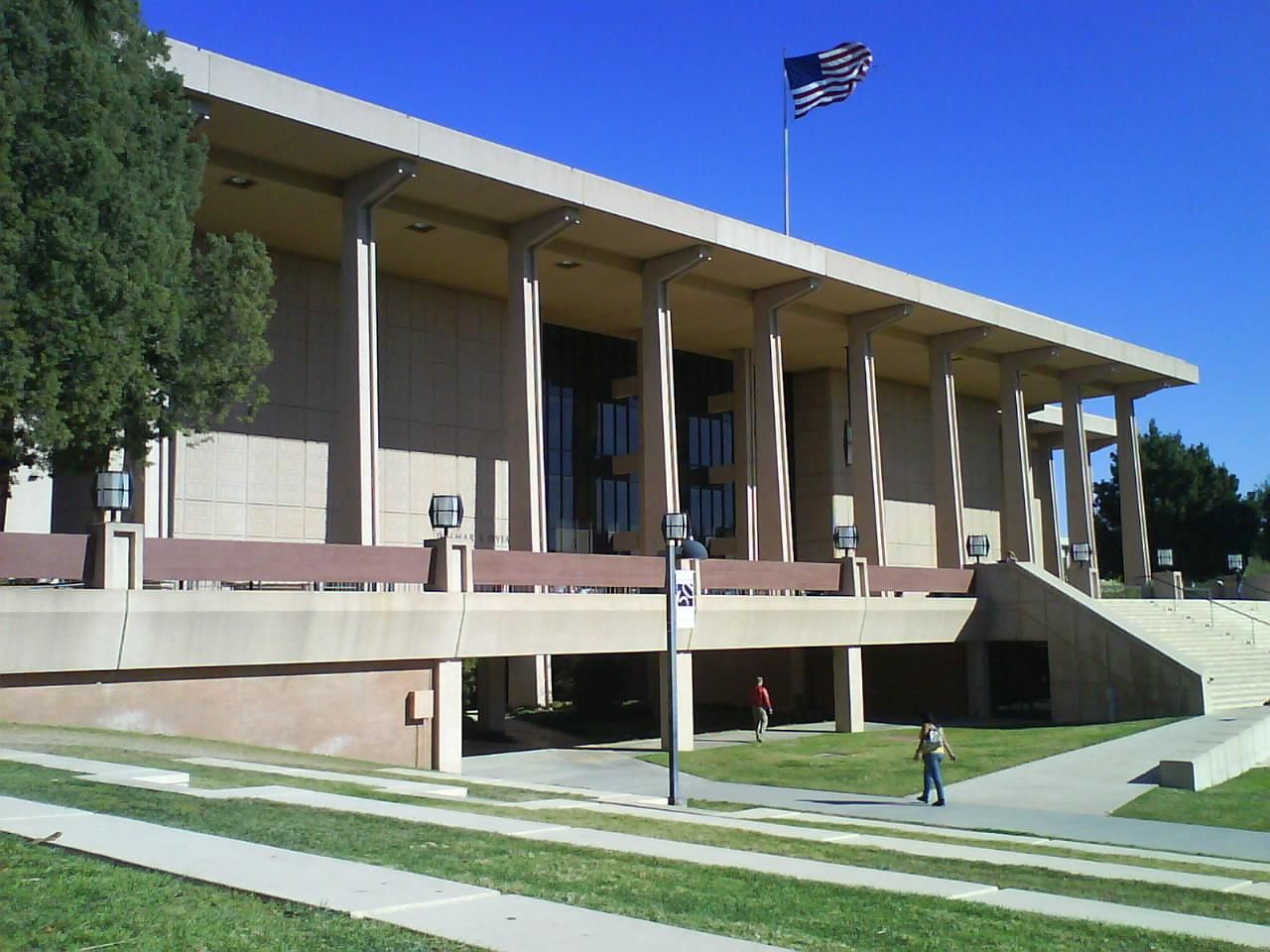 California State University, Northridge's Oviatt Library,
A virtual platform for the center will reach students and other HSIs across the nation.

Students walking through the building can use their mobile phone to scan images of diverse people in the tech field and learn more about the individuals highlighted and the educational pathways that lead to those careers, Beck said.
"This is an exciting opportunity to collaborate with an outstanding partner in Apple and to leverage their cutting-edge and creative technologies with the intellectual capacities of world-class faculty to combine that work to benefit thousands of talented students in California and beyond," said CSU Chancellor Joseph I. Castro in a statement.
Apple will provide its technology, design support and "thought partnership" as the project expands, CSUN said.
"We are focused on advancing enduring change, and our newest grant commitments will further that effort by supporting problem solvers and solution seekers in communities of color nationwide," said Lisa Jackson, Apple's vice president of environment, policy and social initiatives.
Some companies have taken their commitment to increasing diversity in the workforce beyond financial donations to diversity and inclusion initiatives and Apple is among them.
In addition to Apple, Nike, McDonald's and Chipotle Mexican Grill are among the companies who have tied executive bonuses to be partially contingent on measurable progress on gender and racial equity, Fortune reported.
Apple CEO Tim Cook
earned $14.8 million
in compensation in 2020 and the company
reported
$81.4 billion in revenue in the third quarter of 2021, covering the months of April, May, and June.