Image credit: Warner Bros.
El Segundo-based Slingshot Aerospace Inc. and a Hollywood visualization studio known for its design work on films like The Martian," "The Mandalorian" and "Gravity" are working on a next generation space-simulating training tool for the U.S. Space Force.
The tool, which is being built now for PCs, aims to teach airmen concepts like astrodynamics and let them experience how objects move in space. The goal is to make the platform adaptable for augmented reality on mobile phones and virtual reality on headsets in the future.
"The Air Force has pumped millions of dollars into that foundational education (but) in space, that ground school doesn't exist," said Melanie Stricklan, co-founder and chief strategy officer for Slingshot Aerospace. Instead, she said, airmen go through a professional military education "that just skims the surface."
Slingshot Aerospace, which has its second headquarters in Austin, Texas, announced Thursday it received $2 million to develop its Slingshot Orbital Laboratory, an educational platform that is built on top of its existing "air traffic control system" that tracks and helps users manage the burgeoning numbers of objects in space.
The total amount includes a $1 million Small Business Innovation Research (SBIR) phase 2 contract from the U.S. Space Force and $1 million from ATX Venture Partners, an early-stage capital firm based in Austin.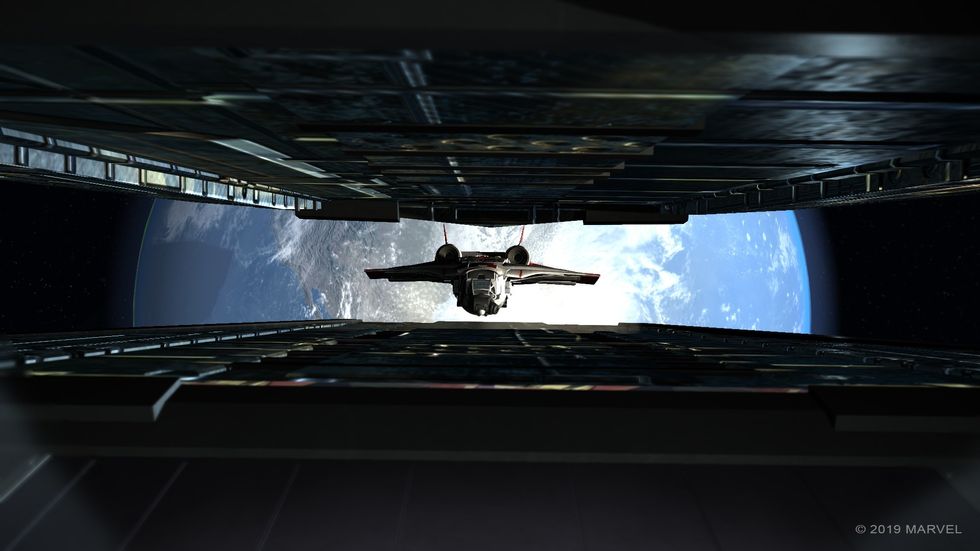 In its motion picture visualization work, The Third Floor builds virtual versions ofenvironments, vehicles and characters to help the filmmakers to block their ideas and shots.Previs by THE THIRD FLOOR fromCaptain Marvel. Image copyright Marvel 2019 and courtesyof The Third Floor
Stricklan, a retired Air Force veteran of two decades, worked at the Space Force's predecessor, the U.S. Space Command. In 2017, she co-founded Slingshot Aerospace. The new Space Force still uses tools built in the 1980s that are heavy, hard to use and involve an "antiquated simulator," Stricklan said.
"They're still using things like a Hula Hoop and a beach ball for those operators and students to start understanding how orbits work around the Earth. This allows them the opportunity to actually use their hands and their own laptops or iPads to manipulate those types of orbits and orbit parameters in order to see how a spacecraft reacts to the physics around the Earth."
Existing simulation tools tend to be incredibly sophisticated and require operators to have a graduate degree. Slingshot said that their educational laboratory would be accessible for those with a GED or above.
Slingshot has teamed up with subcontractor The Third Floor, a Los Angeles-based visualization studio known for creating physics accurate content that has been showcased in the design blueprints and CGI for "The Martian," "The Mandalorian," "Gravity," as well as many of the Star Wars films and all the Marvel films.
In fact, the founders of The Third Floor worked on Star Wars episode three as part of George Lucas' visualization team and started their company in 2004 after the movies ended, said Albert Cheng, the creative director for the immersive department at The Third Floor.
The two companies are in the process of building a functioning prototype and working "hand-in-hand" with the instructors at the Space Force and the U.S. Air Force Academy as well.
The laboratory design is foremost an education tool but in its effort to improve accessibility, the team is designing the laboratory with a slight video game sensibility, including making visually engaging graphics and a very responsive interface, Cheng said.
The Air Force "really wanted the next gen of space operators to be engaged in the learning environment," Cheng said. "What we're trying to teach and what instructors have said is the hardest part is visualizing the spatial relationships of data. These immersive tools are designed to help do that. If you can see orbits and spatial relationships in 3D (for example), that is a great way of helping people see information that is inherently spatial."
U.S. Air Force Col. Max Lantz, a commandant at the National Security Space Institute, said in a statement that "building an immersive environment to drive better comprehension of these foundational theories will be vital to support the Space Force."
The contract ends in early December 2021, and the company hopes to have the end-to-end prototype be completed by then. It will then either move forward with a phase 3 contract for more sustainable work or license the product back to the Space Force as a commercial subscription.
"Either way, we'd like to get out of the high license costs that they currently pay for other technologies and provide this to them at a more reasonable price point," Stricklan said.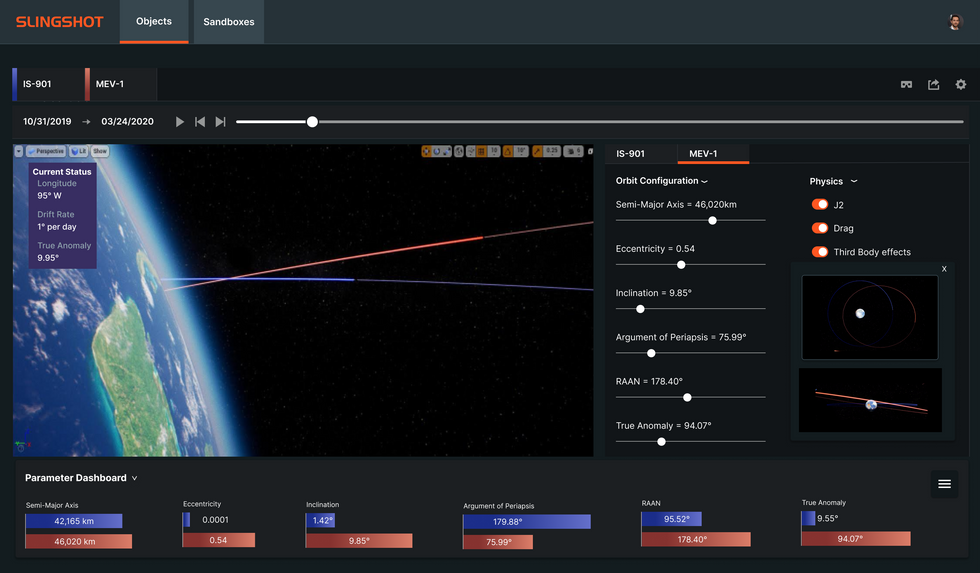 Nominal image of Slingshot Orbital Laboratory provided by Slingshot Aerospace
Space Traffic is Becoming "Contested And Congested"
Space has become increasingly accessible due to the drop in pricing and more access for the commercial sector to launch a satellite with many of the rules and regulations to regulate behavior or mitigate debris, Stricklan said. As a result, "orbits are becoming congested and contested" she said. There are more than 2,000 active satellites in orbit right now and U.S. companies have filed to launch 58,000 new satellites into orbit over the next several years, Stricklan said.
Meanwhile, the U.S. Space Force is gearing up to move from a more space situational awareness role, historically speaking, Stricklan said, to a more "protect and defend" mission. The Department of Defense is passing its space traffic management role eventually over to the U.S. Commerce Department per a White House directive issued in 2018.
Slingshot Aerospace has won more than $6 million in government contracts from the U.S. Air Force since it was founded in 2017, according to public data. That includes a contract for the Space and Missile System Center to help provide details about objects on orbit, including their payloads, when they launch and what the objects have been doing to do predictive analysis.
The underlying Slingshot Orbital data tool characterizes space objects, detects threats and enables decision intelligence, while also identifying inconsistencies among data sources including commercial data sources. It's a platform that brings in both commercial and government sensor data to provide a view of objects in orbit around the Earth. She said the ultimate goal, still a ways away, is to build a live simulation that sits on top of a digital twin, for training purposes.
"With 58,000 objects on orbit, and that's not counting the debris that's already up there and will (be created) through the launch process," Stricklan said. "This is the time for these professionals to learn this domain from the ground up."
___
Do you have a story that needs to be told? My DMs are open on Twitter @latams You can also email me at tami(at)dot.la, or ask for my contact on Signal, for more secure and private communications.