courtesy of KB Home
Out in the desert in Riverside County, 15 miles north of Temecula, a new way of living is under development. It won't be the first Californian community to place an emphasis on sharing, but instead of property or spouses, these neighbors will share something else: electrons.
As part of a $6.65 million grant from the Department of Energy, Los Angeles-based homebuilding company KB Home has announced that it will partner with SunPower, University of California, Irvine (UCI), Schneider Electric and Southern California Edison (SCE) to build a community of more than 200 new homes in Menifee, California each connected to its neighbors in a microgrid that generates and shares electricity. Greg Young, a program manager with Clean Coalition who was not involved in the project, says the community looks "like a great residential case study."

Dan Bridleman the SVP of sustainability and technology at KB Home stipulates however that the idea isn't to create a community that operates independent of the grid. But rather one that works in concert with it. What he means is that the project will work on a net-metering concept, in which homes generate solar power and sell the energy back to the grid in order to offset whatever they consume.
To achieve this goal, every home will come with a 4.9 to 6.3 kilowatt solar panel system and a 13 kWh battery. The entire community shares another, larger 2.3 MWh battery. With an energy-efficient home operating under normal conditions with lots of sun (and without using a ton of air conditioning) the setup should allow owners to offset nearly all of their power needs.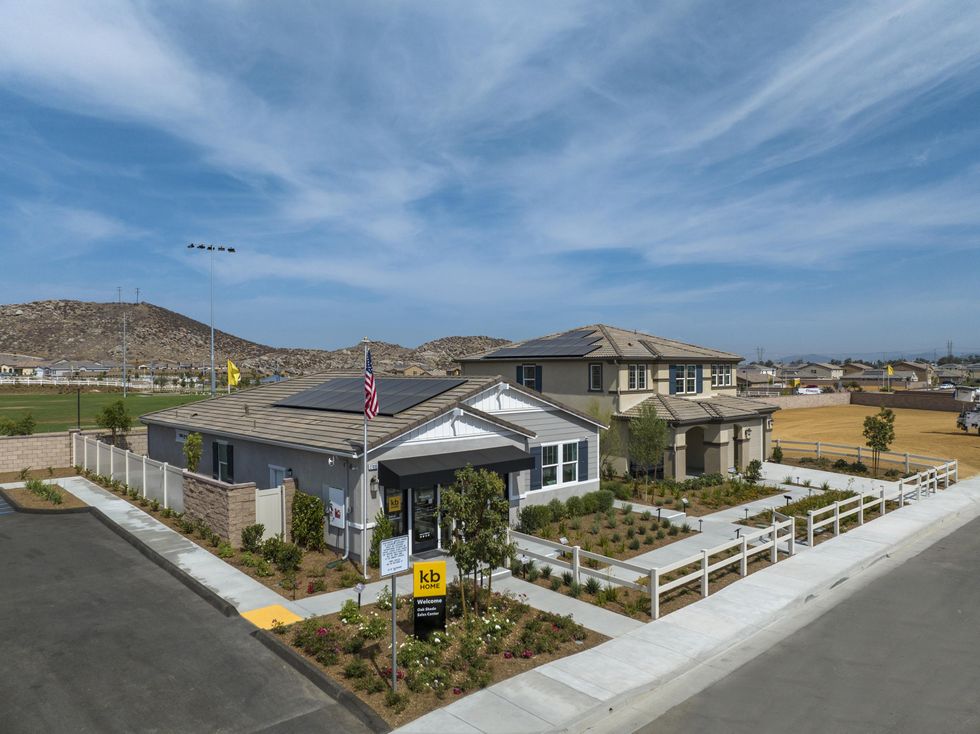 KB Home microgrid house courtesy of KB Home
Smart load panels provided by Schneider Electric act as the brain behind the operation. The panels manage the microgrid at the house and community level, to ensure that electrons get where they need to go as efficiently as possible. For example, if a heat wave causes another energy crisis in Southern California like it did last September, or if high winds force grid operators to shut down equipment to prevent wildfires, the microgrid will be able to keep the lights on in the neighborhood for hours or even days at a time. According to KB Home Regional Vice President of Public Relations and Communications Craig LeMessurier, each home's battery should last 10-15 hours even without additional charging from the solar panels. How long the whole microgrid can survive on its own, however, will be born out through testing once the project goes online.
"Menifee is a location that, if you look at it on the Southern California Edison maps, is in the high wind danger area," says Jacob Atalla, VP, sustainability initiatives at KB Home. The town has faced blackouts in the past as utility companies are forced to shut down equipment to stave off the risk of wildfires.
Ten houses in the community will also be part of a smaller experiment with Kia and receive bi-directional electric vehicle chargers. As the name suggests, this additional infrastructure would not only allow homeowners to charge their vehicles, but also run the microgrid with the vehicles' battery. This is an important distinction since compared to the 13 kWh battery that each house will come equipped with, EV batteries are huge: A Rivian R1S with the extended range clocks in at 135 kWh. Or 10 times bigger than the 13 kWh battery. That extra energy can be used to power the house (or a vasectomy). But it can also be sold back to the grid for money when energy is in demand. More importantly , Bridleman says it adds another layer of flexibility.
"I can pull power from the grid, I can pull power from my car, I can pull power from my battery, I can pull power from my community. It gives you like six or seven different points of failure to keep your lights on," he says.
For now, KB Home is targeting first-time home buyers and attempting to reach price parity with other homes in the region. The company won't say what it costs them to build each house, but it's hoping to sell them in the $490,000-$590,000 range. Having the Department of Energy grant money to subsidize the project, however, makes deciphering their exact margins a bit more challenging. Bridleman says that while costs are "certainly way less" than the sales price, the development should be viewed as a research project. Adding that, "we want to figure out how to do this in the right way, so it can be affordable."