It was a rocky start to the year for Chris Violas, CEO of a growing software startup that services the cannabis industry. Violas got the kind of news that no one really wants to hear: Their payment processor, Stripe, had dumped them.

That meant they couldn't get paid.
"We're not selling weed over here, we're selling software," said Violas, CEO and co-founder of Newport Beach-based BLAZE. "But it's because people keep track of all their weed in our software" that "they wiped their hands."
Stripe did not respond to multiple requests for comment.
As cannabis markets in legalized states continue to mature, troubles with banking and payment processing have impacted growing companies -- even if their workers never even touch the cannabis plant. Companies that exist up and down the supply chain are finding themselves affected, like BLAZE, by the lack of federal decriminalization that makes traditional money-handling institutions wary of finding themselves on the wrong side of federal law.
For Violas, the sudden shift in tone in the fourth quarter, ultimately resulted in BLAZE becoming classified as a "high risk" company by banks and credit card brands. It has to secure a new high-risk merchant account, which means higher fees, to handle payments.
The irony, he told dot.LA, is that BLAZE aims to make compliance easier for those in the cannabis business through its platform that keeps track of their operations. The company, which started in 2016, has 250 clients today and is in use by dispensaries in California, Oregon, Alaska, Michigan, Montana, Colorado, Oklahoma, and Canada, Violas said. BLAZE processes roughly $30 million a month, he said
"You're enforcing all these regulations that continue to get more complex day by day, and we're a tool that's trying to help with this," Violas said. "Our chief compliance officer wrote the regulations for the city of Long Beach. We're trying to help as best as we can, but at the end of the day, we're a venture-backed startup."
The landscape of federal laws and the lack of decriminalization means that companies and professionals in the supply chain of any cannabis-providing entity, can often end up twisting themselves up into pretzel-like forms to try to abide by existing laws.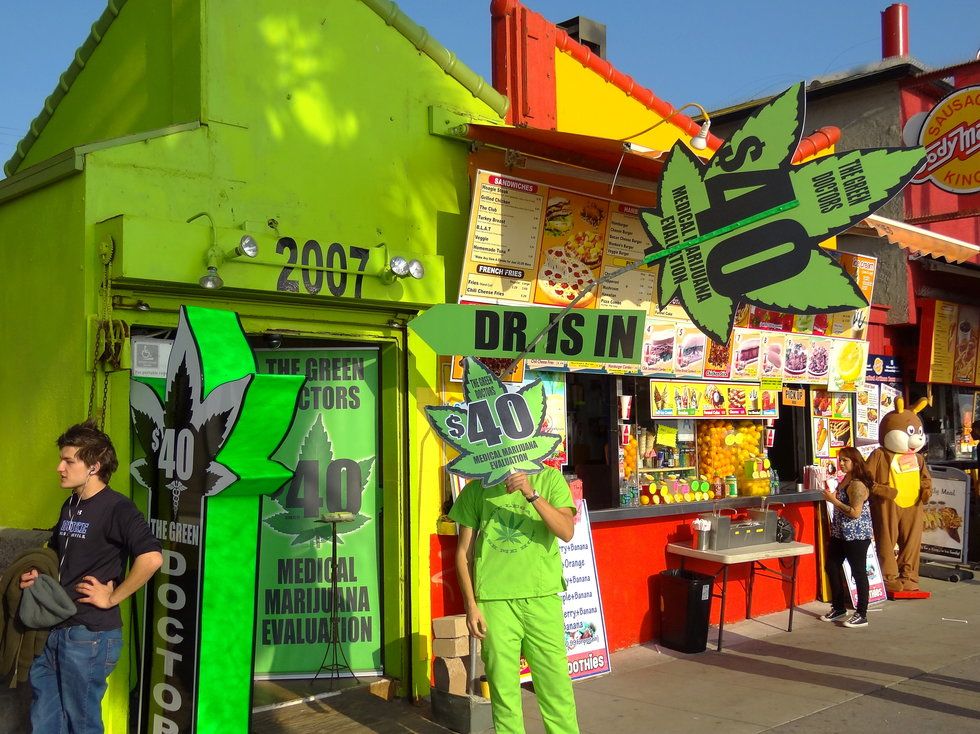 upload.wikimedia.org
Tyler Beuerlein, the chief revenue officer of Hypur Inc., which aims to provide technology for financial institutions to enter and scale within highly regulated industries like cannabis, regularly fields calls from attorneys, accountants, companies who lose their banking relationships because their institutions find out they're related to the cannabis industry.

Among those are daily calls from merchants who say "we lost a credit product, a debit product, a reverse ATM, we got shut down," said Beuerlein, who is also the chairman of the Banking & Financial Services Committee for the National Cannabis Industry Assn. But, "the only thing that's going to affect this from a branded card perspective is federal legality."
Beuerlein can cite the U.S. Treasury's Financial Crimes Enforcement Network (FinCEN), guidance by heart, noting that per 2014 guidance, the only remaining guidance that pertains to this industry, "if an entity derives a dollar of income from the industry they're technically a marijuana related industry."

That means that anybody running any form of branded credit card in their cannabis shop is essentially committing fraud by misrepresenting the nature of their business to gain access to that payment processing infrastructure, Beuerlein said.
Beuerlein said Stripe, which uses the branded card rails for their transactions, made the right call on dropping BLAZE because from a regulatory standpoint "if they participate in an industry that's prohibited...they're potentially risking all of their other business lines."
But Brad Rowe, a public policy lecturer at University of California, Los Angeles, who is an expert on cannabis legalization issues and is currently working with municipalities across California on cannabis compliance issues, said it "just doesn't sound right to me."
While noting that he's not an attorney, he wonders why a company providing financial services to another company that provides software for cannabis businesses is a risk. But perhaps the issue is that the money that's being processed is considered "dirty money."
And that's the root of the problem, it seems.
"Any payment solution, including cities and states receiving taxes, are all money laundering," Rowe said. "Eventually the money has to get cleaned so it's useful somewhere. until federal decriminalization. That's the problem with all of this. Everyone's guilty of money laundering."
Rowe reads the legal guidance slightly differently from Beuerlein, using a two-step rule.
"If you are knowingly providing support for a plant-touching business, that is a federal crime, so you are aiding and abetting," Rowe said. "You can be two steps away. So, if you are running a grow and I'm your attorney, your compliance advisor, I'm aiding and abetting in an operation. If someone is providing taxation services to me while I'm working with you that's two-degrees separated and that's OK."
Banks must fill out Suspicious Activity Reports under federal law with FinCEN and cannabis is illegal under federal law.
The issue is "if any money passes through FinCEN, it's got to go through Washington, D.C. If it's got to go through a federally-touching system they're just not supposed to be dealing with that money," Rowe said. "I can buy cannabis with my ATM card, the reason is when I punch my PIN it is withdrawing money from the local bank. It doesn't touch the Treasury. It's all completely ridiculous."
In BLAZE's case, being shut off from one company in particular caused significant cash problems because the cash that came in one day did not come in the next, said Michael Silton, managing director at Act One Ventures, noting that as a lead investor in BLAZE, Violas reached out to him for counsel after he learned about what happened with Stripe.
"From a financial viewpoint, It impacted their cash flow," Silton said. "These customers signed up and were paying for Stripe, all of a sudden, they had to pay for them a different way."
After all, he said, getting paid is critical for a company's ability to grow. Even so, Silton said that despite the temporary setback, he is "optimistic" about the investment and BLAZE because the founding team is so well versed in the industry.
It's made up of a lawyer who has dealt with regulation around cannabis compliance, Violas who built a dispensary and grew a business, and a grower who understands the challenges of growing and producing cannabis.
"Every industry has regulatory risk," Silton said, "and it's a matter of assessing what that risk is, compared to the opportunities and the investment return."
__
Do you have a story that needs to be told? My DMs are open on Twitter @latams. You can also email me, or ask for my Signal.