Courtesy of Flying Embers
One of the world's largest producers of alcoholic beverages has led a $20 million funding round for Flying Embers, a Ventura-based brewery that is capitalizing on the growing popularity of hard kombucha and hard seltzer.
Chicago-based Beam Suntory, a division of Japanese brewing giant Suntory, spearheaded the Series C raise and was joined by Hermosa Beach-based PowerPlant Partners and Beverly Hills-based Monogram Capital Partners, as well as East Coast venture firms Beechwood Capital and Quadrant Capital.
Flying Embers founder and CEO Bill Moses said in a statement that the funding will be used to continue scaling the brewery's brand nationally. In addition to marketing its drinks—which have names like Wild Berry, Grapefruit Thyme, Lemon Orchard and Pineapple Chili—to consumers through ecommerce channels, Flying Embers currently operates brick-and-mortar taprooms in Los Angeles' Arts District, Santa Barbara and Boston, with more taprooms potentially on the way.
The company has struck on a rapidly growing market for both hard kombucha and hard seltzer, which generally have lower alcohol content than most beers and cocktails but are marketed as having healthier properties and tastier flavors. Hard kombucha and hard seltzer sales volumes in the U.S. grew by 177% and 130%, respectively, in 2020, according to data from beverage industry research firm IWSR Drinks Market Analysis—with Flying Embers ranked among the top-five brands in the hard kombucha category nationally.
The Ventura brewery has piggybacked on that growth by introducing more than 28 new products in 2021 and expanding its national footprint to 42 states and Canada. Its drinks can be found in major supermarket chains including Trader Joe's, Sprouts Farmers Market and Whole Foods.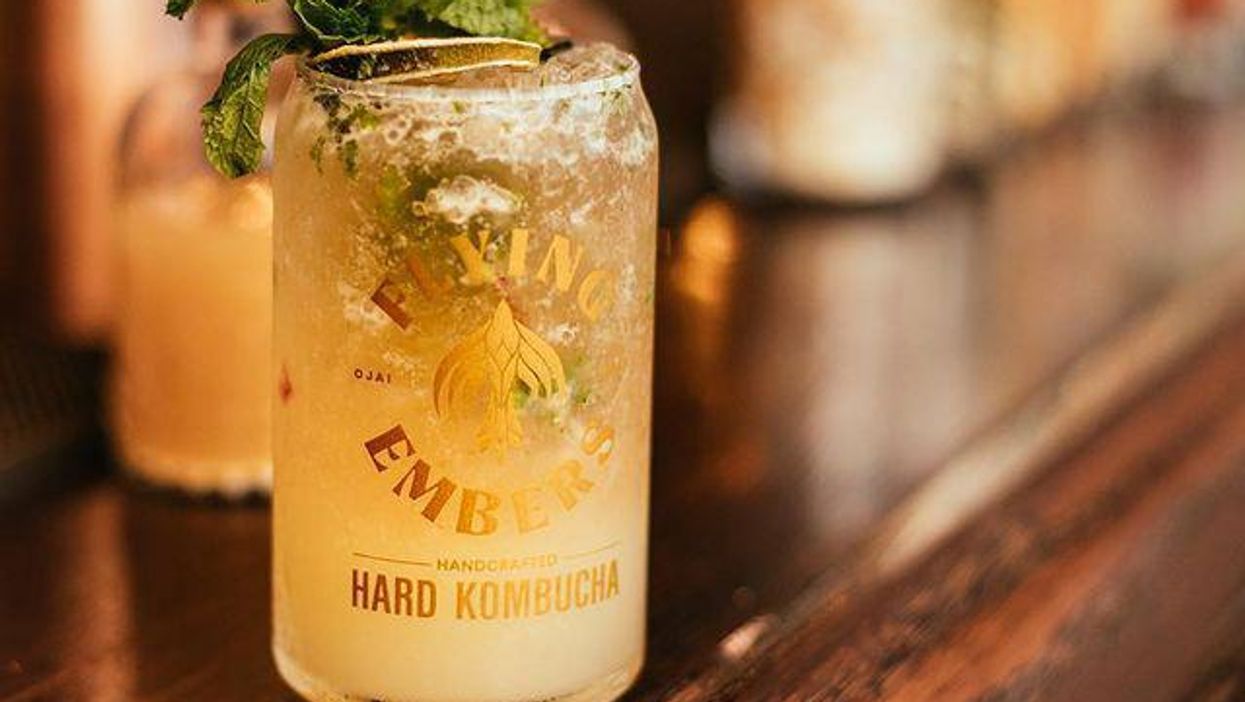 A glass of Flying Embers' hard kombucha.Courtesy of Flying Embers
Moses launched Flying Embers during 2017's devastating Thomas Fire, when flames threatened to destroy his home and innovation lab near Ojai as the company was preparing to go to market. The brand's name is derived from those wildfires, which burned nearly 282,000 acres across Ventura and Santa Barbara counties.
Flying Embers previously raised around $35 million through a Series B round that also involved PowerPlant and Monogram, as well investment vehicles of the Santo Domingo family—the wealthy Colombian family known for its stake in Belgian beverage conglomerate AB InBev.