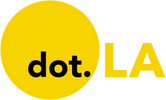 Get in the KNOW  
  on LA Startups & Tech  
X
Last Updated: 1/27
Terms
These Terms of Service ("Terms") apply to your access to and use of the websites, mobile applications and other online products and services (collectively, the "Services") provided by Intersection Media Group, Inc. ("dot.LA" or "we"). By clicking "I Accept" or by using our Services, you agree to these Terms, including the mandatory arbitration provision and class action waiver in Section 15.If you do not agree to these Terms, do not use our Services.
If you have any questions about these Terms or our Services, please contact us at legal@dot.la. For information about how we collect, use, share and otherwise process information about you, please see our Privacy Policy.
Eligibility
You must be at least 13 years of age to use our Services. If you are under 18 years of age (or the age of legal majority where you live), you may use our Services only under the supervision of a parent or legal guardian who agrees to be bound by these Terms. If you are a parent or legal guardian of a user under the age of 18 (or the age of legal majority), you agree to be fully responsible for the acts or omissions of such user in relation to our Services. If you use our Services on behalf of another person or entity, (a) all references to "you" throughout these Terms will include that person or entity, (b) you represent that you are authorized to accept these Terms on that person's or entity's behalf, and (c) in the event you or the person or entity violates these Terms, the person or entity agrees to be responsible to us.
User Accounts and Account Security
You may need to register for an account to access some or all of our Services. If you register for an account, you must provide accurate account information and promptly update this information if it changes. You also must maintain the security of your account and promptly notify us if you discover or suspect that someone has accessed your account without your permission. If you permit others to use your account credentials, you are responsible for the activities of such users that occur in connection with your account. We reserve the right to reclaim usernames, including on behalf of businesses or individuals that hold legal claim, including trademark rights, in those usernames.
User Content
Our Services may allow you and other users to create, post, store and share content, including messages, text, photos, videos, software and other materials (collectively, "User Content"). Except for the license you grant below, you retain all rights in and to your User Content, as between you and dot.LA.


You grant dot.LA a nonexclusive, royalty-free, worldwide, fully paid, and sublicensable license to use, reproduce, modify, adapt, publish, translate, create derivative works from, distribute, publicly perform and display your User Content and any name, username or likeness provided in connection with your User Content in all media formats and channels now known or later developed without compensation to you. When you post or otherwise share User Content on or through our Services, you understand that your User Content and any associated information (such as your username or profile photo) may be visible to others.


You may not create, post, store or share any User Content that violates these Terms or for which you do not have all the rights necessary to grant us the license described above. You represent and warrant that your User Content, and our use of such content as permitted by these Terms, will not violate any rights of or cause injury to any person or entity. Although we have no obligation to screen, edit or monitor User Content, we may delete or remove User Content at any time and for any reason with or without notice.
Prohibited Conduct and Content
You will not violate any applicable law, contract, intellectual property right or other third-party right or commit a tort, and you are solely responsible for your conduct while using our Services. You will not:
Engage in any harassing, threatening, intimidating, predatory or stalking conduct;
Use or attempt to use another user's account without authorization from that user and dot.LA;
Impersonate or post on behalf or any person or entity or otherwise misrepresent your affiliation with a person or entity;
Sell, resell or commercially use our Services;
Copy, reproduce, distribute, publicly perform or publicly display all or portions of our Services, except as expressly permitted by us or our licensors;
Modify our Services, remove any proprietary rights notices or markings, or otherwise make any derivative works based upon our Services;
Use our Services other than for their intended purpose and in any manner that could interfere with, disrupt, negatively affect or inhibit other users from fully enjoying our Services or that could damage, disable, overburden or impair the functioning of our Services in any manner;
Reverse engineer any aspect of our Services or do anything that might discover source code or bypass or circumvent measures employed to prevent or limit access to any part of our Services;
Use any data mining, robots or similar data gathering or extraction methods designed to scrape or extract data from our Services;
Develop or use any applications that interact with our Services without our prior written consent;
Send, distribute or post spam, unsolicited or bulk commercial electronic communications, chain letters, or pyramid schemes;
Bypass or ignore instructions contained in our robots.txt file; or
Use our Services for any illegal or unauthorized purpose, or engage in, encourage or promote any activity that violates these Terms.
You may also post or otherwise share only User Content that is nonconfidential and that you have all necessary rights to disclose. You may not create, post, store or share any User Content that:
Is unlawful, libelous, defamatory, obscene, pornographic, indecent, lewd, suggestive, harassing, threatening, invasive of privacy or publicity rights, abusive, inflammatory or fraudulent;
Would constitute, encourage or provide instructions for a criminal offense, violate the rights of any party or otherwise create liability or violate any local, state, national or international law;
May infringe any patent, trademark, trade secret, copyright or other intellectual or proprietary right of any party;
Contains or depicts any statements, remarks or claims that do not reflect your honest views and experiences;
Impersonates, or misrepresents your affiliation with, any person or entity;
Contains any unsolicited promotions, political campaigning, advertising or solicitations;
Contains any private or personal information of a third party without such third party's consent;
Contains any viruses, corrupted data or other harmful, disruptive or destructive files or content; or
In our sole judgment, is objectionable, restricts or inhibits any other person from using or enjoying our Services, or may expose dot.LA or others to any harm or liability of any type.
1. Enforcement of this Section 4 is solely at dot.LA's discretion, and failure to enforce this section in some instances does not constitute a waiver of our right to enforce it in other instances. In addition, this Section 4 does not create any private right of action on the part of any third party or any reasonable expectation that the Services will not contain any content that is prohibited by such rules.

Ownership; Limited License
The Services, including the text, graphics, images, photographs, videos, illustrations and other content contained therein, are owned by dot.LA or our licensors and are protected under both United States and foreign laws. Except as explicitly stated in these Terms, all rights in and to the Services are reserved by us or our licensors. Subject to your compliance with these Terms, you are hereby granted a limited, nonexclusive, nontransferable, non-sublicensable, revocable license to access and use our Services for your own personal, noncommercial use. Any use of the Services other than as specifically authorized herein, without our prior written permission, is strictly prohibited, will terminate the license granted herein and violate our intellectual property rights.
Trademarks
dot.LA and our logos, our product or service names, our slogans and the look and feel of the Services are trademarks of dot.LA and may not be copied, imitated or used, in whole or in part, without our prior written permission. All other trademarks, registered trademarks, product names and company names or logos mentioned on the Services are the property of their respective owners. Reference to any products, services, processes or other information by trade name, trademark, manufacturer, supplier or otherwise does not constitute or imply endorsement, sponsorship or recommendation by us.
Feedback
You may voluntarily post, submit or otherwise communicate to us any questions, comments, suggestions, ideas, original or creative materials or other information about dot.LA or our Services (collectively, "Feedback"). You understand that we may use such Feedback for any purpose, commercial or otherwise, without acknowledgment or compensation to you, including to develop, copy, publish, or improve the Feedback in dot.LA's sole discretion. You understand that dot.LA may treat Feedback as nonconfidential.
Repeat Infringer Policy; Copyright Complaints
In accordance with the Digital Millennium Copyright Act and other applicable law, we have adopted a policy of terminating, in appropriate circumstances, the accounts of users who repeatedly infringe the intellectual property rights of others. If you believe that anything on our Services infringes any copyright that you own or control, you may notify dot.LA's designated agent as follows:
Designated Agent: DMCA Manager
Address: 212 26th st #317
Santa Monica CA, 90402
E-Mail Address: legal@dot.la

Please see 17 U.S.C. § 512(c)(3) for the requirements of a proper notification. Also, please note that if you knowingly misrepresent that any activity or material on our Services is infringing, you may be liable to dot.LA for certain costs and damages.
Third-Party Content
We may provide information about third-party products, services, activities or events, or we may allow third parties to make their content and information available on or through the Services (collectively, "Third-Party Content"). We provide Third-Party Content as a service to those interested in such content. Your dealings or correspondence with third parties and your use of or interaction with any Third-Party Content are solely between you and the third party. dot.LA does not control or endorse, and makes no representations or warranties regarding, any Third-Party Content, and your access to and use of such Third-Party Content is at your own risk.
Indemnification
To the fullest extent permitted by applicable law, you will indemnify, defend and hold harmless dot.LA and our officers, directors, agents, partners and employees (individually and collectively, the "dot.LA Parties") from and against any losses, liabilities, claims, demands, damages, expenses or costs ("Claims") arising out of or related to (a) your access to or use of the Services; (b) your User Content or Feedback; (c) your violation of these Terms; (d) your violation, misappropriation or infringement of any rights of another (including intellectual property rights or privacy rights); or (e) your conduct in connection with the Services. You agree to promptly notify dot.LA Parties of any third-party Claims, cooperate with dot.LA Parties in defending such Claims and pay all fees, costs and expenses associated with defending such Claims (including attorneys' fees). You also agree that the dot.LA Parties will have control of the defense or settlement, at dot.LA's sole option, of any third-party Claims. This indemnity is in addition to, and not in lieu of, any other indemnities set forth in a written agreement between you and dot.LA or the other dot.LA Parties.
Disclaimers
Your use of our Services is at your sole risk. Except as otherwise provided in a writing by us, our Services and any content therein are provided "as is" and "as available" without warranties of any kind, either express or implied, including implied warranties of merchantability, fitness for a particular purpose, title, and non-infringement. In addition, dot.LA does not represent or warrant that our Services are accurate, complete, reliable, current or error-free. While dot.LA attempts to make your use of our Services and any content therein safe, we cannot and do not represent or warrant that our Services or servers are free of viruses or other harmful components. You assume the entire risk as to the quality and performance of the Services.
Limitation of Liability
To the fullest extent permitted by applicable law, dot.LA and the other dot.LA Parties will not be liable to you under any theory of liability—whether based in contract, tort, negligence, warranty, or otherwise—for any indirect, consequential, incidental, or special damages or lost profits, even if dot.LA or the other dot.LA Parties have been advised of the possibility of such damages.


The total liability of dot.LA and the other dot.LA Parties for any claim arising out of or relating to these Terms or our Services, regardless of the form of the action, is limited to the greater of $100 or the amount paid by you to use our Services.


The limitations set forth in this Section 12 will not limit or exclude liability for the gross negligence, fraud or intentional misconduct of dot.LA or the other dot.LA Parties or for any other matters in which liability cannot be excluded or limited under applicable law. Additionally, some jurisdictions do not allow the exclusion or limitation of incidental or consequential damages, so the above limitations or exclusions may not apply to you.
Release
To the fullest extent permitted by applicable law, you release dot.LA and the other dot.LA Parties from responsibility, liability, claims, demands and/or damages (actual and consequential) of every kind and nature, known and unknown (including claims of negligence), arising out of or related to disputes between users and the acts or omissions of third parties. If you are a consumer who resides in California, you hereby waive your rights under California Civil Code § 1542, which provides: "A general release does not extend to claims which the creditor does not know or suspect to exist in his or her favor at the time of executing the release, which if known by him or her must have materially affected his or her settlement with the debtor."
Transfer and Processing Data
In order for us to provide our Services, you agree that we may process, transfer and store information about you in the United States and other countries, where you may not have the same rights and protections as you do under local law.
Dispute Resolution; Binding Arbitration
Please read the following section carefully because it requires you to arbitrate certain disputes and claims with dot.LA and limits the manner in which you can seek relief from us, unless you opt out of arbitration by following the instructions set forth below. No class or representative actions or arbitrations are allowed under this arbitration provision. In addition, arbitration precludes you from suing in court or having a jury trial.
No Representative Actions. You and dot.LA agree that any dispute arising out of or related to these Terms or our Services is personal to you and dot.LA and that any dispute will be resolved solely through individual action, and will not be brought as a class arbitration, class action or any other type of representative proceeding.
Arbitration of Disputes. Except for small claims disputes in which you or dot.LA seeks to bring an individual action in small claims court located in the county of your billing address or disputes in which you or dot.LA seeks injunctive or other equitable relief for the alleged infringement or misappropriation of intellectual property, you and dot.LA waive your rights to a jury trial and to have any other dispute arising out of or related to these Terms or our Services, including claims related to privacy and data security, (collectively, "Disputes") resolved in court. Instead, for any Dispute that you have against dot.LA you agree to first contact dot.LA and attempt to resolve the claim informally by sending a written notice of your claim ("Notice") to dot.LA by email at legal@dot.la .la or by certified mail addressed to [insert legal department address]. The Notice must (a) include your name, residence address, email address, and telephone number; (b) describe the nature and basis of the Dispute; and (c) set forth the specific relief sought. Our notice to you will be similar in form to that described above. If you and dot.LA cannot reach an agreement to resolve the Dispute within thirty (30) days after such Notice is received, then either party may submit the Dispute to binding arbitration administered by JAMS or, under the limited circumstances set forth above, in court. All Disputes submitted to JAMS will be resolved through confidential, binding arbitration. Arbitration proceedings will be held in Los Angeles County, California unless you are a consumer, in which case you may elect to hold the arbitration in your county of residence. For purposes of this Section 15, a "consumer" means a person using the Services for personal, family or household purposes. You and dot.LA agree that Disputes will be held in accordance with the JAMS Streamlined Arbitration Rules and Procedures ("JAMS Rules"). The most recent version of the JAMS Rules are available on the JAMS website and are hereby incorporated by reference. You either acknowledge and agree that you have read and understand the JAMS Rules or waive your opportunity to read the JAMS Rules and waive any claim that the JAMS Rules are unfair or should not apply for any reason.
You and dot.LA agree that these Terms affect interstate commerce and that the enforceability of this Section 15 will be substantively and procedurally governed by the Federal Arbitration Act, 9 U.S.C. § 1, et seq. (the "FAA"), to the maximum extent permitted by applicable law. As limited by the FAA, these Terms and the JAMS Rules, the arbitrator will have exclusive authority to make all procedural and substantive decisions regarding any Dispute and to grant any remedy that would otherwise be available in court, including the power to determine the question of arbitrability. The arbitrator may conduct only an individual arbitration and may not consolidate more than one individual's claims, preside over any type of class or representative proceeding or preside over any proceeding involving more than one individual.
The arbitration will allow for the discovery or exchange of non-privileged information relevant to the Dispute. The arbitrator, dot.LA, and you will maintain the confidentiality of any arbitration proceedings, judgments and awards, including information gathered, prepared and presented for purposes of the arbitration or related to the Dispute(s) therein. The arbitrator will have the authority to make appropriate rulings to safeguard confidentiality, unless the law provides to the contrary. The duty of confidentiality does not apply to the extent that disclosure is necessary to prepare for or conduct the arbitration hearing on the merits, in connection with a court application for a preliminary remedy or in connection with a judicial challenge to an arbitration award or its enforcement, or to the extent that disclosure is otherwise required by law or judicial decision.


You and dot.LA agree that for any arbitration you initiate, you will pay the filing fee (up to a maximum of $250 if you are a consumer), and dot.LA will pay the remaining JAMS fees and costs. For any arbitration initiated by dot.LA, dot.LA will pay all JAMS fees and costs. You and dot.LA agree that the state or federal courts of the State of California and the United States sitting in Los Angeles County, California have exclusive jurisdiction over any appeals and the enforcement of an arbitration award.
Any Dispute must be filed within one year after the relevant claim arose; otherwise, the Dispute is permanently barred, which means that you and dot.LA will not have the right to assert the claim.
You have the right to opt out of binding arbitration within 30 days of the date you first accepted the terms of this Section 15 by emailing dot.LA at legal@dot.la. In order to be effective, the opt-out notice must include your full name and address and clearly indicate your intent to opt out of binding arbitration. By opting out of binding arbitration, you are agreeing to resolve Disputes in accordance with Section 16.
If any portion of this Section 15 is found to be unenforceable or unlawful for any reason, (a) the unenforceable or unlawful provision shall be severed from these Terms; (b) severance of the unenforceable or unlawful provision shall have no impact whatsoever on the remainder of this Section 15 or the parties' ability to compel arbitration of any remaining claims on an individual basis pursuant to this Section 15; and (c) to the extent that any claims must therefore proceed on a class, collective, consolidated, or representative basis, such claims must be litigated in a civil court of competent jurisdiction and not in arbitration, and the parties agree that litigation of those claims shall be stayed pending the outcome of any individual claims in arbitration. Further, if any part of this Section 15 is found to prohibit an individual claim seeking public injunctive relief, that provision will have no effect to the extent such relief is allowed to be sought out of arbitration, and the remainder of this Section 15 will be enforceable.
Governing Law and Venue
Any dispute arising from these Terms and your use of the Services will be governed by and construed and enforced in accordance with the laws of California, except to the extent preempted by U.S. federal law, without regard to conflict of law rules or principles (whether of California or any other jurisdiction) that would cause the application of the laws of any other jurisdiction. Any dispute between the parties that is not subject to arbitration or cannot be heard in small claims court will be resolved in the state or federal courts of California and the United States, respectively, sitting in Los Angeles County, California.
Modifying and Terminating our Services
We reserve the right to modify our Services or to suspend or stop providing all or portions of our Services at any time. You also have the right to stop using our Services at any time. We are not responsible for any loss or harm related to your inability to access or use our Services.
Amendments
We may make changes to these Terms from time to time. If we make changes, we will provide you with notice of such changes, such as by sending an email, providing a notice through our Services or updating the date at the top of these Terms. Unless we say otherwise in our notice, the amended Terms will be effective immediately, and your continued use of our Services after we provide such notice will confirm your acceptance of the changes. If you do not agree to the amended Terms, you must stop using our Services.
Severability
If any provision or part of a provision of these Terms is unlawful, void or unenforceable, that provision or part of the provision is deemed severable from these Terms and does not affect the validity and enforceability of any remaining provisions.
Miscellaneous
The failure of dot.LA to exercise or enforce any right or provision of these Terms will not operate as a waiver of such right or provision. These Terms reflect the entire agreement between the parties relating to the subject matter hereof and supersede all prior agreements, representations, statements and understandings of the parties. The section titles in these Terms are for convenience only and have no legal or contractual effect. Use of the word "including" will be interpreted to mean "including without limitation." Except as otherwise provided herein, these Terms are intended solely for the benefit of the parties and are not intended to confer third-party beneficiary rights upon any other person or entity. You agree that communications and transactions between us may be conducted electronically.


Under California Civil Code Section 1789.3, California consumers are entitled to the following specific consumer rights notice: The Complaint Assistance Unit of the Division of Consumer Services of the California Department of Consumer Affairs may be contacted in writing at 1625 N. Market Blvd., Suite N-112, Sacramento, California 95834, or by telephone at 1 (800) 952-5210.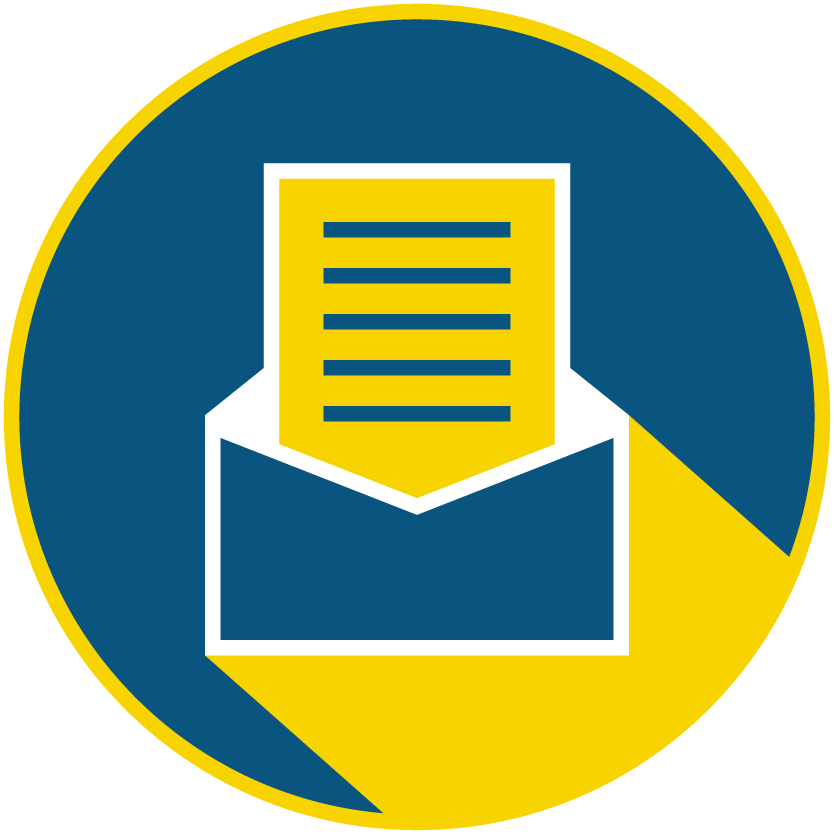 Subscribe to our newsletter to catch every headline.
David Shultz
David Shultz reports on clean technology and electric vehicles, among other industries, for dot.LA. His writing has appeared in The Atlantic, Outside, Nautilus and many other publications.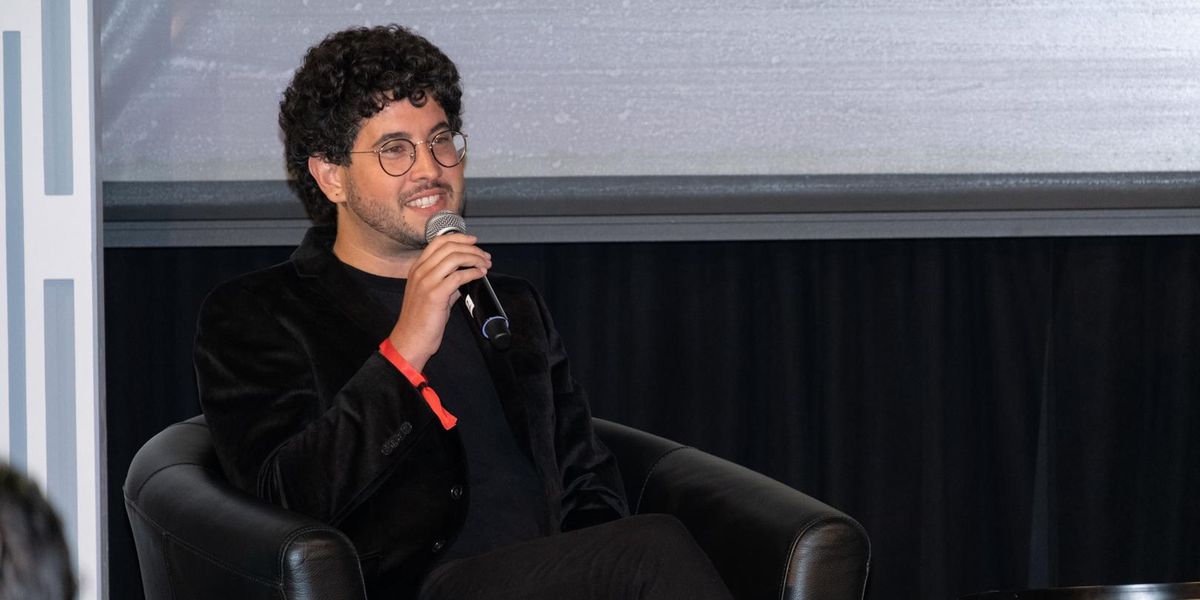 Image by David Ruano
For true Angelenos, Canter's Deli should need no introduction. The 92-year old restaurant seated in the central Los Angeles remains a staple of the community and a piece of the city's identity. In a conversation with dot.LA CEO Sam Adams, founder of Nextbite, Alex Canter, explained how he's bringing his family's iconic restaurant into the modern age.
Nextbite is a virtual restaurant platform that helps restaurants connect with delivery apps like Uber Eats or DoorDash and provides opportunities for existing kitchens to drive new business by operating as ghost kitchens for delivery-only brands. If a steakhouse or a fine dining establishment has a slow day or downtime, they now have the option to fulfill online orders for delivery-only brands, expanding their sales and business–often by upwards of 30%, said Canter.
A venture that was initially a tough sell for the 4th generation Canter.
"I used to hear a lot, 'If it's not broke don't fix it,' but that drove me nuts," he said. But like with so many other things, COVID changed the landscape and made the value of his business proposal readily apparent. "2020 was a devastating year for the restaurant industry. All of a sudden every single restaurant was scrambling to implement an omni-channel delivery service," Canter told Adams on the mainstage at the Petersen Museum in Los Angeles. "In March of 2020 we signed up more restaurants than in the previous year combined."
Spurred by the pandemic, Nextbite's growth accelerated rapidly and Canter brought in investors from Softbank in a deal worth $120 million. The company expanded into collaborations with celebrities, including a "stoner brand" with Whiz Khalifa called "Packed Bowls" that caters to the predilections of cannabis aficionados and college kids. Think tater tots, PB&J, and mac and cheese topped with chicken nuggets.
Celebrities starting restaurants, however, is not a new trend. But as Canter pointed out, with the business moving to the ghost kitchen model, creating a new brand from scratch has never been easier or come with lower risk. And as celebrities had to cancel tours and events, the new revenue stream from such ventures became increasingly attractive.
"Open up DoorDash tonight, scroll through, find something that looks interesting and exciting," Canter said. "It might not have a physical location, but that doesn't really matter in today's virtual world."
From Your Site Articles
Related Articles Around the Web
David Shultz
David Shultz reports on clean technology and electric vehicles, among other industries, for dot.LA. His writing has appeared in The Atlantic, Outside, Nautilus and many other publications.
Ilana Gordon
Ilana Gordon is an entertainment, culture, and tech writer originally from Connecticut. She currently lives in Los Angeles.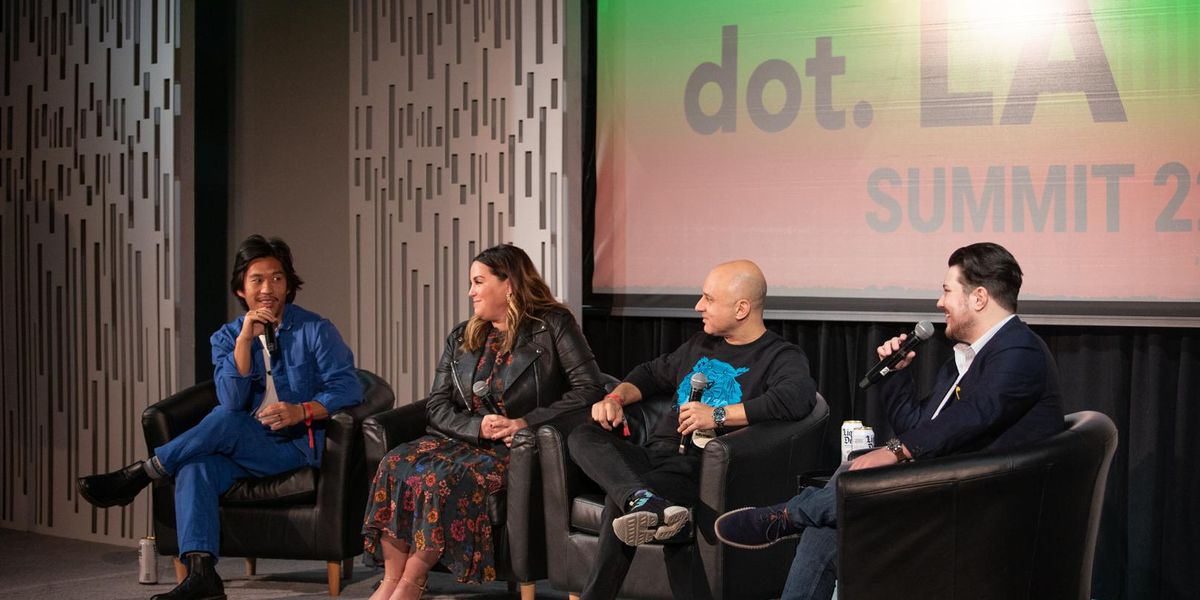 Photo by David Ruano/ dot.LA
What's in a name? Shakespeare didn't hold much stock in the power of monikers, but the speakers at Friday's "Building the Metaverse" panel disagreed. And if you ask them, the metaverse is a prime example.
Their argument goes that before Facebook changed its name to Meta, no one was giving the metaverse serious thought. But the day after, "everyone all of a sudden had a metaverse initiative," said Sly Lee, co-founder and CEO of Emerge, a startup building a platform for touch within the metaverse.
Lee admitted that "Facebook has enabled some bad things." But every big change in history needs a steelman, Lee explained; a strawman with a strong argument who is willing to back it fully.
So, suffice it to say, names do matter. And so do semantics: Lee admitted he's grateful for Zuckerberg's contributions (but qualifies that he "didn't say love.")
Today's panel, which also included Josh Neuman (co-founder/CEO of MELON, a metaverse game development studio) and Tricia Biggio (CEO of Invisible Universe, an internet-first studio targeting animation) is focused on digital identifiers: names for sure, but also avatars. Moderated by dot.LA reporter Samson Amore, the panelists discussed the future of what navigating the web and socializing online might look like.
With brands rushing into the space and consumers becoming savvier than ever, the key to optimizing initiatives designed for the metaverse, Biggio explained, is to try to be as native to consumer behavior as possible. As an example, she cited a recent partnership between her company, Invisible Universe, and the recently retired Serena Williams.
"The story of Invisible was that we saw Serena had gotten her little girl her first baby doll…this doll kind of took on a life of her own," explained Biggio. Invisible Universe saw an opportunity to transform the doll — which Serena's social following had embraced — into a character that could live on platforms like TikTok and Instagram. Their work has since paved the way for a book called "The Adventures of Qai Qai," a television series that is currently in development, and "a few other things."
"We're very lucky to partner with Serena at the very genesis of the company," Biggio continued. "I'd love to say she put down the tennis racket so she could focus on building Qai Qai with me," Biggio joked."
Ultimately, the panelists agreed that the quest to build the metaverse into a digital space that is understandable and appealing to consumers — most of whom are still entirely confused by the concept — is going to require an investment in community building.
But is this a space where people want to go and be with their friends? The people who will spend the most time in the metaverse are presumably Gen Z and Gen Alpha, and these younger generations, Neuman said, don't distinguish "between their experiences in real life and the digital world."
Call it whatever you want, but understand that the metaverse is coming for all of us — and hopefully, soon we'll understand what that means.
Ilana Gordon
Ilana Gordon is an entertainment, culture, and tech writer originally from Connecticut. She currently lives in Los Angeles.
David Shultz
David Shultz reports on clean technology and electric vehicles, among other industries, for dot.LA. His writing has appeared in The Atlantic, Outside, Nautilus and many other publications.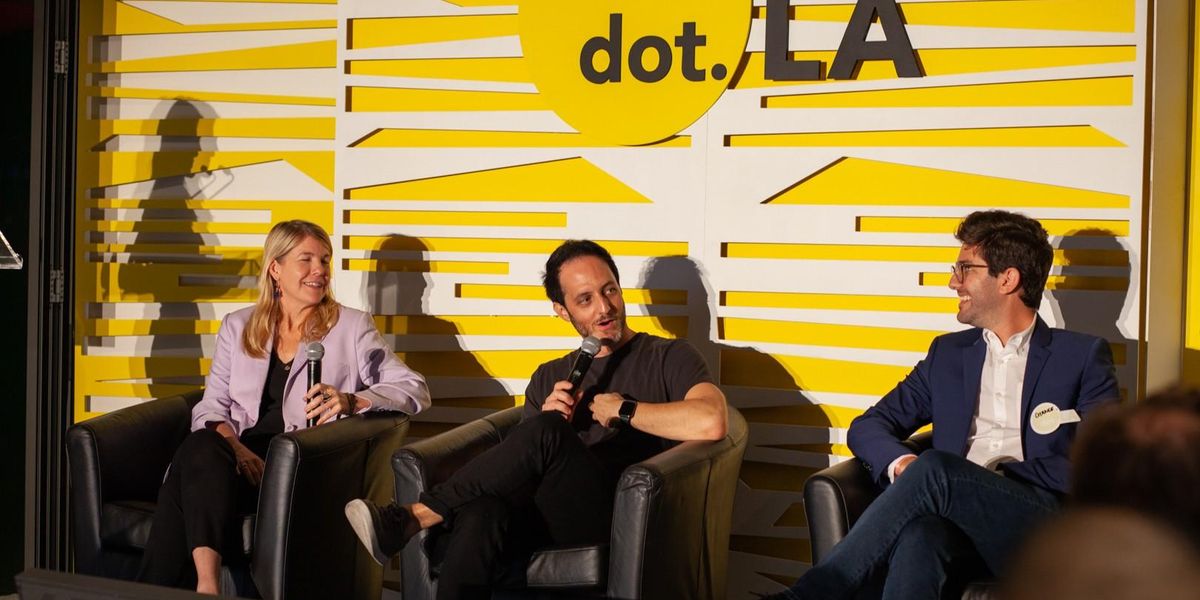 Image by David Ruano
The first night of the 2022 dot.LA summit concluded on Thursday with a pitch contest featuring three carefully selected L.A.-based startups, the founders vied for a prize package from WeWork, Fenwick & West and Evolution.

The pitches—screened in pre-recorded segments between the night's fireside conversations—were judged by three L.A. business experts: M13 Partner Anna Barber, Fenwick & West Associate Chance Goldberg and Evolution's Managing Director and Co-founder Matt Auron
The three finalists included Shirin Laor-Raz Salemnia, founder of Whiz Girls Academy, a female-focused tech lifestyle brand that hosts hackathons and sells merchandise designed to inspire interest in STEM education; Marco Paschina, the founder of Akenta Health, a digital platform aimed at making healthcare more accessible for Latinos; and Antony Tran, the founder of Foundry Six, an augmented reality gaming company trying to bridge the gap between digital fantasy and the real world.
The judges grilled each founder on a host of topics: from headwinds in the healthcare industry to business model specifics to whether or not it's possible to get hardcore fantasy RPG players out of their gaming chair and into the real world.
Salemnia was up first. She explained her vision for a her lifestyle brand serve a function far beyond simply being cool and making money. Whiz Girl's main focus it to make STEM topics exciting to girls ages 8-13. Through a combination of secret agent-themed hackathons and a line of slick merchandise, Whiz Girls plans to leverage Salemnia's prior experience at Mattel to make tech attractive to a new generation of girls. The company plans to operate through a sponsorship model and has already inked deals with big names like Adidas and the L.A. Sparks.
"We want to be a household brand," said Salemnia.
Akenta followed suit, fielding questions about how Akenta planned to navigate an environment as complex as the United States healthcare system and how the company would be different from other telehealth ventures. It's a lofty goal aimed at serving a real need: If the platform is successful, it could expand healthcare access for one of America's fastest growing demographics, providing tangible benefits to 63 million Latino Americans. The basic concept is that the digital service would connect Latinos with bilingual doctors and allow patients to take advantage of telehealth appointments, renew prescriptions and view lab work. And because it's employers that pay to use the platform, the service comes at no cost to the patient.
"The big problem is that Latinos are extremely under served," said Paschina during his pitch. "We want to help those people that cannot afford to pay those out of pocket costs. If you don't trust your doctor, you don't want to get the care."
Finally it was Tran's turn to take center stage. Foundry Six is trying to build an augmented reality gaming experience quite unlike anything that's come before it. Positioned as a fantasy role playing game, many aspects of the game felt familiar: a leveling system, gear and loot and a host of mythical enemies. But all of this is taking place against the backdrop of the real world. A magic shield might be hidden on an actual mountain top; Chuthulu might spawn in a pond down the street. You'll actually have to leave your house to find quests and rewards. If done right, the game should blur the lines between gameplay and reality.
"That's the space we want to play. We think that's going to be a lot more magical," said Tran.

With pitches pitched, Barber, Goldberg, and Auron then left the stage to deliberate. Unseasonably warm Los Angeles air circulated amidst the crowd gathered atop the Petersen Automotive Museum's penthouse patio. Hors d'oeuvres sweated on table tops. A drum rolled, metaphorically.
When the judges returned to the stage, Barber announced that it would be Akenta that would take this year's prize. Paschina returned to the stage to accept his trophy and pose for photos.
Well deserved. Congratulations to all our entrants and good luck.
Related Articles Around the Web
David Shultz
David Shultz reports on clean technology and electric vehicles, among other industries, for dot.LA. His writing has appeared in The Atlantic, Outside, Nautilus and many other publications.