Pirated streaming subscription services, a billion-dollar industry with large profit margins, have been on the rise for the last two years.
They give users access to premium cable and sports content, still-in-theater films, DVD content, Amazon, Netflix and more, for $10 to $15 a month.
Why it matters: The convenience comes at a steep cost to the U.S. economy, roughly $29B, including an impact to jobs. The Motion Pictures Association says combating such illicit streaming is their "highest priority."
So long, Napster and Limewire. The next generation of illegal streaming is a growing, billion-dollar industry with big profit margins and its own pirate ecosystem, according to a new report.
The report jointly released this month by the nonprofit Digital Citizens Alliance and NAGRA, a digital TV technology provider, found that such pirated streaming subscription services often mimic the look of legal content providers and are being used by an estimated nine million subscribers in the U.S.
It works like this: Users download an app, click on a link to a media player, or access an already bundled device, for a monthly fee of $10 to $15, gaining access to thousands of channels on-demand videos. They include many movies still showing in theaters, full seasons of TV series and a cornucopia of content from the big streamers.
Customers may not even be aware that their subscription service is fueled by pirated content — though that's debatable. The convenience comes at a hefty cost for those whose jobs depend on the creative industry. A 2019 study estimated that global online piracy has cost the U.S. economy $29.2 billion in lost revenue annually.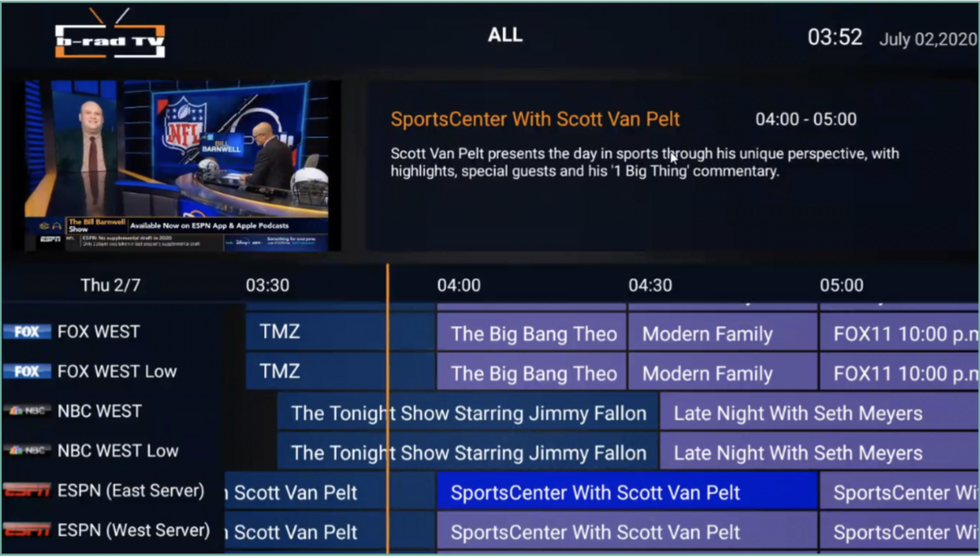 An illustration from the report released this month by the nonprofit Digital Citizens Alliance and NAGRA shows a typical pirate streaming service.
"If it's too good to be true, it's too good to be true," said Jan van Voorn, the executive vice president and chief of global content protection for the Motion Picture Assn. "How would it be possible to get all the sports channels, all the cable channels, all the DVD content, Amazon, Netflix, plus what's in theaters? It's something fishy that can't be correct and would never be correct."

Van Voorn said the Motion Pictures Assn. has seen a rise in these new types of pirated subscription services in the last two years. The association has helped create the Alliance for Creativity and Entertaining (ACE) with major creative content companies to combat the challenge of online priracy. ACE has pushed forward with civil and criminal actions, visits to storefronts and takedown actions around the world.
"We have all these services on the radar," van Voorn said. "This is ACE's highest priority and we're addressing it with all the resources we have."
Pirated subscriptions can be purchased through 3,500 storefront websites, on social media pages or online marketplaces like eBay. For the pirates targeting the U.S. market, it's a lucrative business, generating $1 billion in annual revenues in the U.S. with profit margins ranging between 56% to 85%.
The marketplace demand has also led to an ecosystem that includes wholesalers and retailers, who rely on legitimate players like hosting services, payment processors and social media to operate.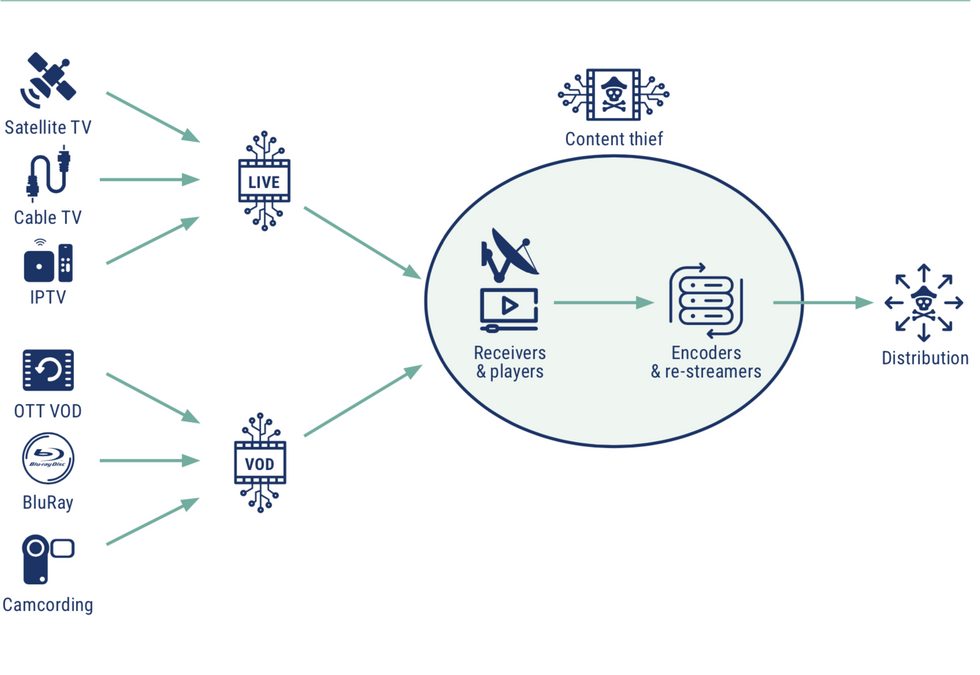 The Digital Citizens Alliance/ NAGRA report illustrates the ecosystem pirate services leverage to get their content to (sometimes unsuspecting) subscribers.
These "pirates" also make money by teaming up with hackers who install malware within their free apps. That enables the hackers to steal subscribers' personal and financial data, use their computers to mine cryptocurrency or possibly also harness their systems to create a botnet for cyberattacks, the report found.

NAGRA also discovered that subscribers' internet connections can be turned over to others for illegal activities like accessing child pornography. The illegal streaming subscriptions can also let customers skirt a U.S. ban to watch the channel Al-Manar, a "specially designated global terrorist entity."
"When it comes to piracy, the scope of the risk to consumers, small businesses and others is in direct proportion to the size of the industry, which is why we need to stop the reach and depth of this ecosystem before it grows even bigger," said Digital Citizens Alliance Executive Director Tom Galvin. "It's time to take this billion-dollar black market seriously."
___
Do you have a story that needs to be told? My DMs are open on Twitter
@latams
. You can also email me at tami(at)dot.la, or ask for my contact on Signal, for more secure and private communications.