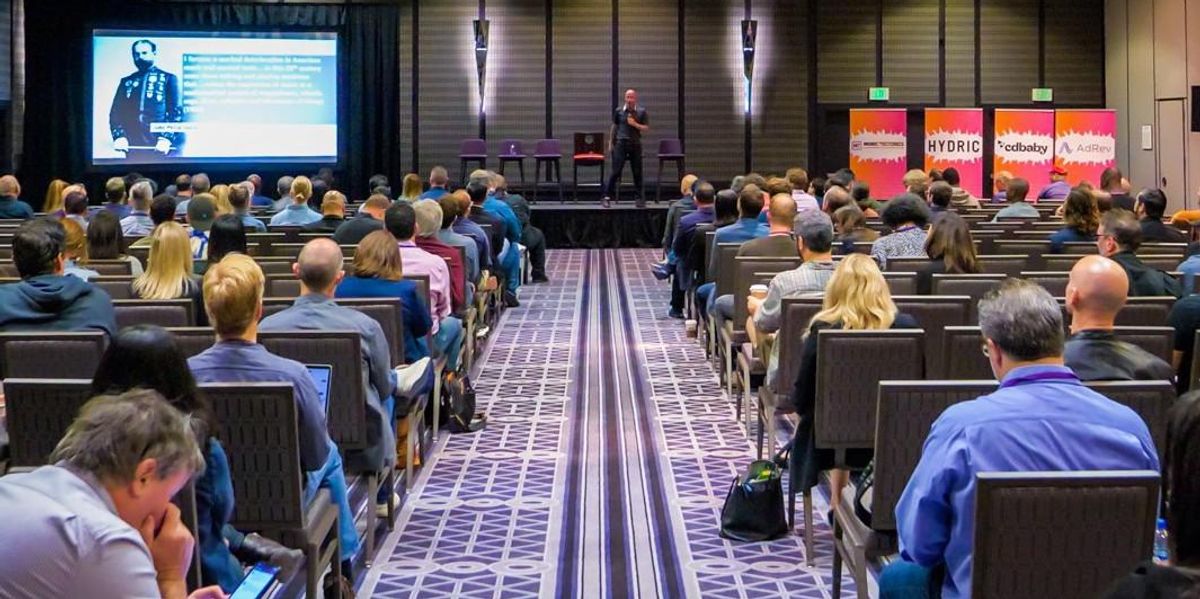 Photo courtesy of Music Tectonics
This is the web version of dot.LA's daily newsletter. Sign up to get the latest news on Southern California's tech, startup and venture capital scene.
The organizers of music tech conference Music Tectonics have made the best of some bad luck since launching the event in Los Angeles three years ago.

In 2019, a brush fire forced them to relocate the inaugural conference from the Skirball Cultural Center to a hotel in Downtown L.A. just 24 hours before it was due to start, Music Tectonics founder and director Dmitri Vietze told me. Then the pandemic struck in 2020, turning the in-person event into an online gathering. Last year's event, meanwhile, was a balancing act between virtual and in-person meetups as the COVID crisis continued.
---
Despite these calamities, Music Tectonics has continued to grow; the 2021 edition tripled the roughly 400 attendees who showed up at the first conference in 2019, with the event luring participants from the likes of Spotify, TikTok and Universal Music Group. Organizers tried to take advantage of the remote experience through Chatroulette-style networking rooms, and even let attendees interact with each other as avatars in a nod to the much-hyped metaverse.
"Instead of trying to create a facsimile of an in-person event, we leveraged the technology we could find to do things that you wouldn't do in person but made it even that more valuable for that moment in time," Vietze said.
All of that said, "it's time to come back in person," according to Vietze. Music Tectonics will return with an entirely in-person conference Oct. 25-27 at several venues in Santa Monica. It's part of a resurgent L.A. tech conference scene that has included the return of the Upfront Summit and new events like NFT LA—though other gatherings, like the E3 gaming expo, remain on ice.
"Overall, it seems like the American appetite is for adapting to the situation rather than putting a pause on everything," Vietze said. "People want to be together; they just want to be there in a safe place." (Music Tectonics is reserving the right to require proof of vaccination or a negative COVID test from its attendees, according to its website).
The conference is the brainchild of Rock Paper Scissors, an Indiana-based PR firm that wanted to capitalize on L.A.'s emergence as a music tech hub. The area is home to major labels like Warner Music Group and Universal Music Group, as well as social media giants like Snap and TikTok that have gained influence over the music industry. Spotify and YouTube also have an L.A. presence, and that's all before even touching on the growing music tech startup scene here.
"Technology overall seemed to be converging [in L.A.] in a way that wasn't really happening in as many other places," Vietze said. And yet, the region lacked something like a networking conference to bring this "emerging central force of music" together, he added. "It just seemed like a great place to do it."
The pandemic (and California's wildfire season) may have thrown in some unwanted obstacles, but COVID-19 has also turbocharged some of the tech trends that will surely be top of mind at Music Tectonics. L.A.-based startups, in particular, have helped artists adjust to the disruption of concerts through virtual reality shows and performances livestreamed on smartphones.
"We really are going to see more creativity emerge in live performance that's not going to look the same as it did before," Vietze said. — Christian Hetrick