I am not a drone pilot or any kind of pilot. I don't even own a drone. But I was intrigued by the prospect of flying one without leaving the house.
I recently gave one a whirl from some 60 miles and a county away — easily maintaining my social distance from the relative comfort of my Los Angeles living room couch.
The flight was a small sampling of the universal remote technology that Los Angeles-based vRotors has created for robotic devices. Their technology has inspired the Israel Aerospace Industries North America to work with the company to automate the landing process for their next Moon mission.
It's also been used by drone racers from around the globe who use it to compete. The company's gaming-reminiscent flight platform allows for both fine-tuned and large pan movements using a mouse, touchpad or keyboard.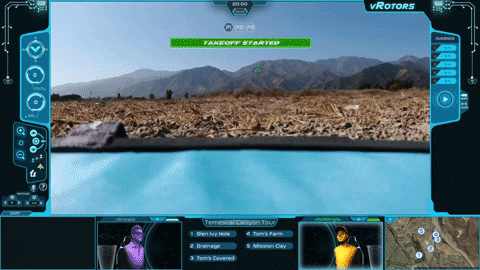 Courtesy of vRotors
Before takeoff, I saw through my cockpit "window" some blue and what looked like large, very dry-looking pieces of yellow plant life. As I rose up higher, I realized I had seen the takeoff pad and dusty, dry grass, a natural California vegetation this time of year.

I wasn't sure what to expect, and it took a moment or two to get the hang of things. One of the controls lets you move up and down, while another rapidly shifts you left and right. The learning curve isn't steep, even on the fly, and the experience was more fun than I have had nearly all year, in a giddy gaming-meets-real-life-during-a-pandemic sort of way.
The platform provides nearly zero perceivable lag on the user's end. The system froze up multiple times for me as I tried to get it going, but that could have been due to my MacBook's lack of processing power. In fairness, I did have about at least 60 tabs open across two browsers.
To minimize lag time for drone pilots — an issue that has been problematic for similar services — the company overlays the virtual experience on top of the real-time one. When I pushed up on my mouse pad, I immediately felt as if the drone was beginning to take off as I approached a couple golfers out in the morning sun.
For roughly 20 minutes I flew the DJI Mavic 2 Zoom drone over a 5-acre area around the not-particularly-scenic dried brush of Temescal Canyon in Corona, Calif., including the nearby Glen Ivy golf course hole No. 4 and a drainage culvert. I also gazed down over the day-tripping family spot and farmer's market, Tom's Farm, and Mission Clay Products, a pipe manufacturer where dozens of clay pipes baked outside. Oh, and I also flew by vRotors co-founder and CEO Neil Malhotra's white Honda. The last one was probably the highlight of my trip.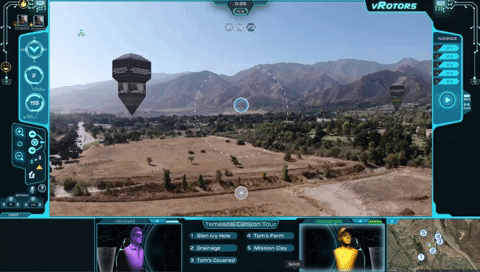 Courtesy of vRotors
I soared above these sights at a top speed of 32 mph, from about 300 feet down to a very stalker-y feeling 50 feet to say hello to Malhotra, who waved out of the backseat of his window while wearing a VR headset to provide me this demo.

Outside of his car door was the small blue takeoff and landing pad, where the drone had started its day. Nearby were Malhotra's shoes, which he took off to keep his car clean from the nearby brush. vRotors puts virtual boundaries in place to prevent amateur pilots from smacking into the ground.
Of course, flying a drone isn't a big deal these days. I mean, anyone with a few thousand bucks can give one a whirl. In 2019, there were 1.1 million units of small hobbyists drones registered in the U.S., according to the Federal Aviation Administration. There were about 412,000 commercial drone registrations during that same time. Companies like DroneBase have found success in providing commercial pilots with jobs doing safety or insurance inspections at a time when inspectors may not want (or be able) to go out and do inspections themselves.
Drone companies, including DroneBase, have reported a surge of increased interest in their technology to conduct remote work during the pandemic. And businesses as well as cities have examined how to use remote technologies like robots and drones to minimize risk to workers over the long term.
The vRotors remote platform is available for anyone to test out right now during the company's free open "beta" period, before it moves to a paid subscription structure, Malhotra told me. He noted that "any drone operator can provide access to any user anywhere in the world" and friends can come along for the ride.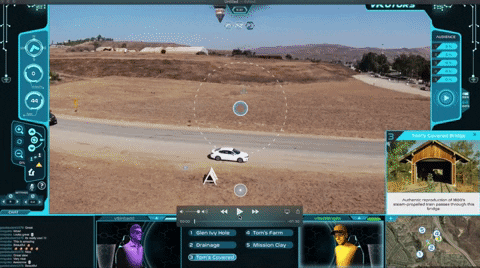 Courtesy of vRotors
I'm not sure I'll personally fly again, but that's mostly because I don't own a drone or know someone with a drone who will let me borrow it for a joy flight. Still, it's unique in that the platform truly makes it feel like you're a pilot sitting inside a tiny drone. I couldn't help smiling — a rare enough experience these days — at the thrill.

Though you're not exactly zipping about hundreds feet up in the air. Much like in an airplane, at higher altitudes I felt like I was moving far slower than when moving at the same speed at lower altitudes. But, for me at home, time passed in a flash. At the end of 20 minutes, I passed the controls over to my co-pilot, Malhotra, for landing, and hopped out of the drone's command center — returning back to my couch in both body and mind once more.
___
Do you have a story that needs to be told? My DMs are open on Twitter @latams. You can also email me at tami(at)dot.la, or ask for my contact on Signal, for more secure and private communications.
From Your Site Articles
Related Articles Around the Web