When now-former SpaceX Dragon mission director Erin Beck became pregnant with her first child roughly four years ago, the company's "generous" benefits were just not enough.
She wanted to be home full time with her daughter and arrange her work life flexibly so she could raise her, but with the loss of income from leaving her day job she couldn't afford to.
That's how the Wana Family Network was born in 2017. Beck, who's founder and CEO of the Los Angeles-based public benefit corporation, looked to the parent-helping-parent, cooperative kind of childcare she was raised on as a kid. But she couldn't find any such app.
So she decided to build one. And it had been growing rapidly, by about 500 families a month without any advertising, prior to COVID-19. The network, where parents can use points to trade for help with childcare duties, is home to 25,000 families worldwide and has offered essential services workers a free way to get childcare during the pandemic.
By the end of 2019, Wana Family Network was able to expand through acquisitions with some of the largest players in the cooperative childcare space, including their flagship product Komae out of Ohio, founded by Amy Husted and Audrey Wallace, and Sitster in London, founded by Laura Farnsworth. They also hired the team of a fourth company, L.A.-based Helpkin, founded by Shar Ghoudsifar, that is no longer in business.
"This brain trust has allowed us to iterate so much faster than any single one of our companies could do before," Beck said.
But the timing has also been a little tough.
It's perhaps an irony that the company Beck created is predicated on parents that have to leave home for work. COVID-19 has changed all of that. With the vast majority of families at home amid the pandemic, usage of childcare services dropped in April by 80% to 90%. The network has had to work hard to be creative and stay afloat as non-essential workplaces closed their doors in March. Wana Family began by offering essential workers the ability to get free childcare.
"It's been slow, and this is across the board, for any childcare companies that we have seen," Beck said
With the phased reopening of some businesses in California, it's unclear how the network's usage might change, as traditional childcare centers have been hit even harder by the closures. Beck said the company is now offering free childcare to all parents and has seen an uptick in families joining, up from 10% to 50% of the activity they would have seen pre-COVID. But that hasn't yet translated to an uptick in usage.
"What this tells us is that parents are getting prepared and examining their options so they will be ready as their city reopens and they return to work or more normal daily life," Beck said. "We're here and ready!"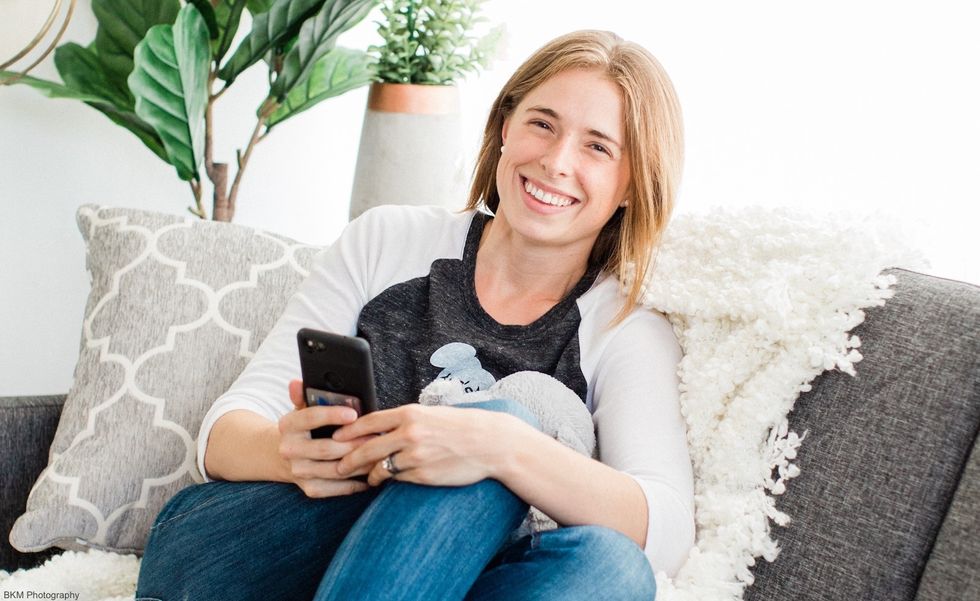 Wana Family Network founder Erin BeckBKM Photography
Beck said that a babysitting co-op has turned out to be an excellent closed system for babysitting in the time of COVID, where you often have coworkers trading care with other coworkers.

"You're limiting the (viral) exposure into or out of that organization by having those coworkers trading time," Beck said.
It's also a way for kids to socialize with the kids of other parents with perhaps similar exposure risks.
Wana Family forgoes the traditional 9-to-5 office with nearly the entire team of nine or so staff working part-time and some keeping other jobs on the side. The arrangement is an homage to the company's roots — to cater to the flexibility parents need by allowing them to choose the number of hours appropriate for them and decide what the best skills they have to offer are. The idea is for Wana Family to have an employee's " top 10% at the top 10% of their time."
How it works
Generally speaking, the network functions through a point system. Parents trade their time babysitting for points, rather than dollars. Those points can be used to "purchase" time for someone to babysit their own kids. If a family doesn't babysit for other families, they will ultimately run out of points and to continue participating in the platform they can buy more.
The company charges $5 a point, which equates to roughly $5 for an hour of babysitting, way below the typical childcare rate that's between $15 and $30 an hour. During the pandemic, parents using the app have not been charged any points.
For parents who are worried about in-person babysitting, they can arrange for "virtual babysitting" via Komae's platform.
"Maybe you're doing charades with your friend's child on their iPad when their mom needs to take a phone call or just wants to take a shower, but just doesn't want to leave their three-year-old unsupervised," said Gabrielle D'Addario, a parent of a 4-year-old preschool boy, Charlie, and 6-year-old kindergarten girl, Gracie.
D'Addario, who's director of the Silicon Beach Parents Group in Playa Vista, Calif., set up a group of parents on the app last month who could communicate together and share "virtual babysitting" via the app. The app can also be used to create virtual playdates for kids.
"Everybody's in the same boat right now, just having your kids home 24/7 it's so hard, especially work from home parents," said D'Addario, who's a creative director for a media company. "Like, oh my God, my kids want my attention all the time. I used to send them over to a friend's house to do a playdate, but now you can't do that."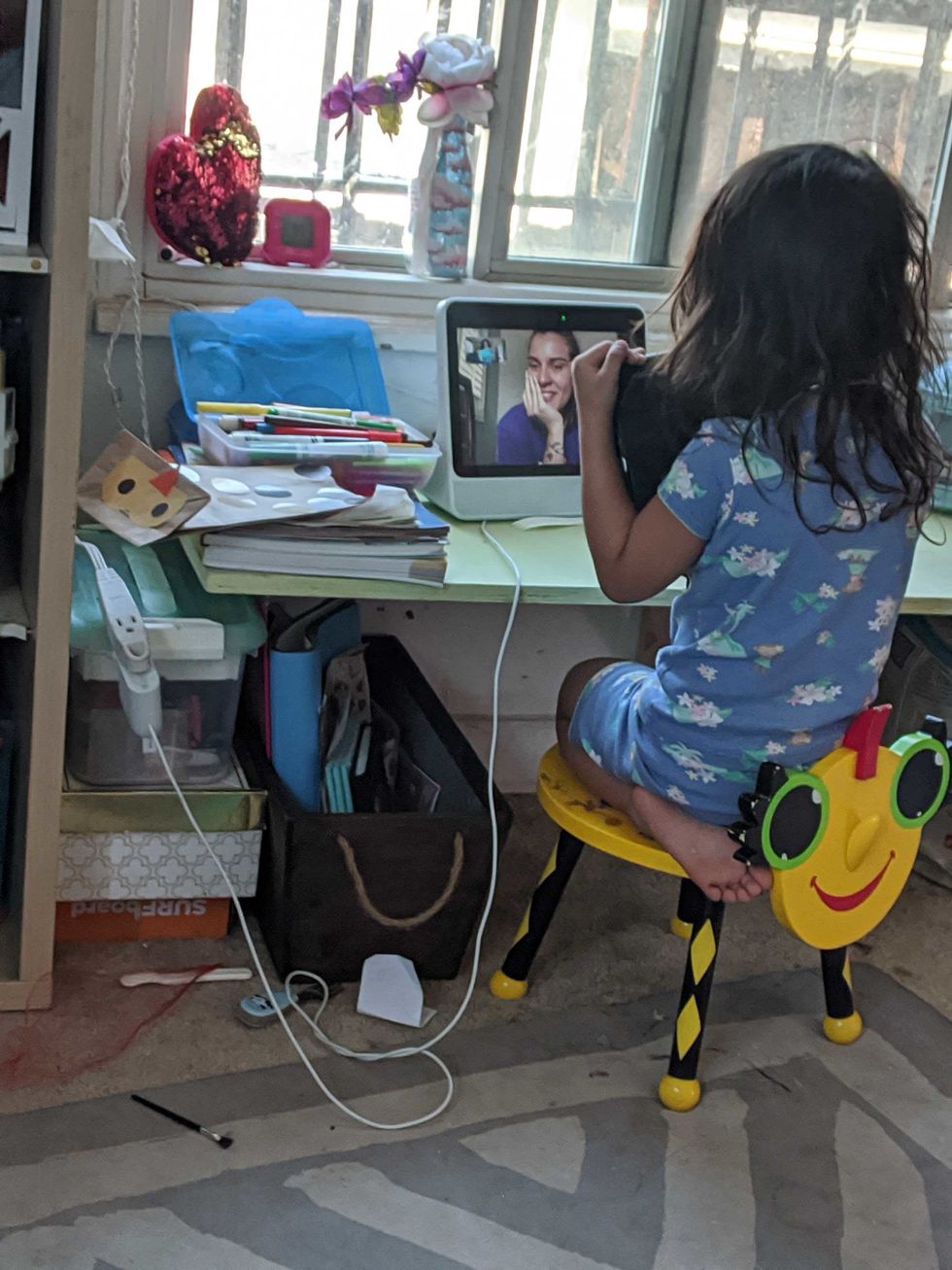 Beck's child during a virtual playdate
Wana Family Network has also developed new brand partnerships with parent and women-owned small companies with special gifts that can be purchased using points that parents have earned, for those who have an abundance of them to spare. Some examples include a white noise maker for young children as well as a stuffed "pillow pet" that can be home for a kid's pajamas and guard their bed by day while teaching them to clean up. Those brand partners are ultimately going to be charged a marketing fee for getting the word out about their items.
The company had planned to hold off on introducing a marketing fee, but the pandemic severely disrupted its intended revenue streams. So, Wana Family has sped up the timeline for introducing such fees on the brand marketing side, Beck said.
Wana Family received a check from the Paycheck Protection Program on Monday. They have not yet heard back regarding the Small Business Administration's Economic Injury Disaster Loan.
Meanwhile, Beck and other founders in the famtech world, including Tot Squad, Mahmee, HopSkipDrive, Special X, Robyn, Needed, WRK/360, UrbanSitter, Winnie, Motherly, Milk Stork and others, have been leaning on each other for support and to trade survival tips like how to get PPP funding approved.
Wana Family and a handful of other such companies have also created a special single-source resource for parents in California who need help with childcare during the pandemic. The group has been working with USC and UCLA chapters of the larger MN COVIDsitters, which matches medical personnel with student volunteers for childcare support.

__
Do you have a story that needs to be told? My DMs are open on Twitter @latams. You can also email me at tami(at)dot.la, or ask for my Signal.