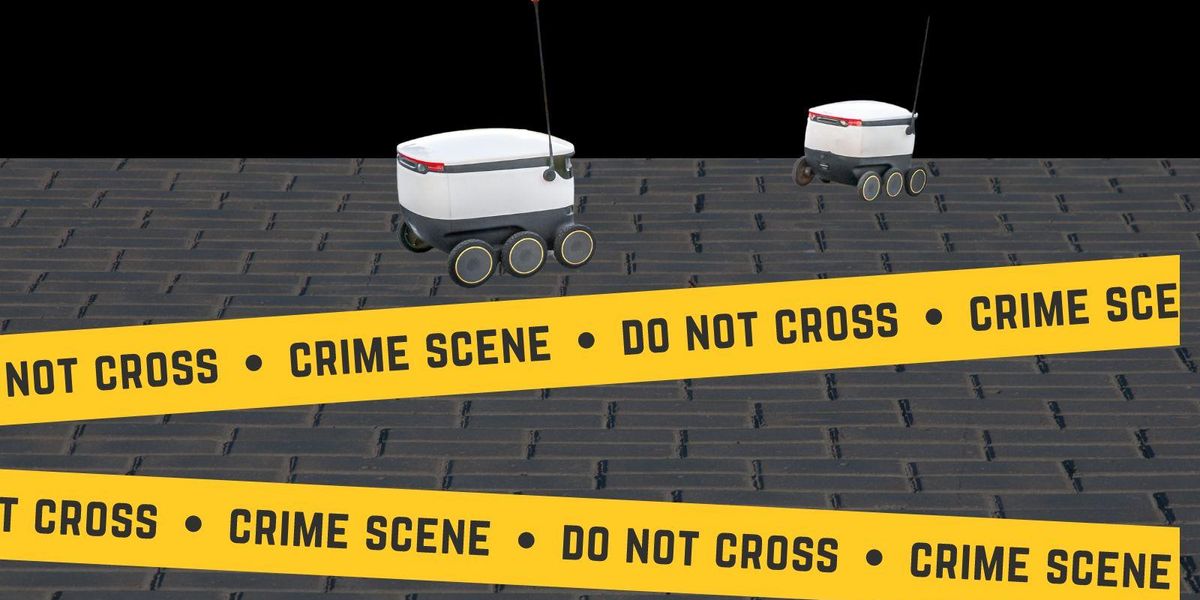 Image courtesy of Andria Moore
This is the web version of dot.LA's weekly round-up newsletter. Sign up to get the latest news on Southern California's tech, startup and venture capital scene.
The Twitter account @FilmThePoliceLA typically goes viral when posting embarrassing or confrontational clips featuring the LAPD. But this week, a different kind of viral video surfaced from the public watchdog group, showing a food delivery robot recklessly crossing the street in the middle of a roped-off police crime scene. The incident naturally raised all the usual questions about automation, the various ways that it's helping and/or intruding upon our lives (depending on your perspective), highlighting the gap between enthusiasm about the idea of everyday robots and the practical reality of making them work properly.
As it turns out, the delivery bot in question—produced and operated by Uber spinoff Serve Robotics—was not acting on its own during the incident in question, but was under the control of a human operator. Serve's fleet of delivery bots are at what's called "level 4 autonomy," which means they're capable of piloting themselves under optimal conditions. Nonetheless, the company requires a human operator to supervise and assist any time the robot encounters an intersection or an obstacle that it can't quickly pass by.
So when the delivery bot–which was on its way back home after dropping off food near Hollywood High School–came to the street corner in question, it behaved properly, and came to a full stop. A bystander then lifted the caution tape for the robot, and the human operator made the choice to proceed across the intersection and into an active crime scene. Still not great, but not the robot's fault! Johnny 5 is innocent!
Obviously, there are technological advancements that could solve for this kind of scenario. For example, law enforcement could coordinate with delivery bot operators to ensure that they had accurate real-time information about police activity in their area. As well, the delivery bot software could be upgraded to better recognize telltale signs of law enforcement activity and simply avoid those areas altogether.
With so much momentum behind the robot food delivery sector, such public embarrassments are only a minor setback, if that. Pizza Hut Canada also recently signed on to test Serve's sidewalk delivery robots as part of a two-week pilot program in Vancouver. Autonomous tech company Nuro this week teamed with Uber Eats on a new partnership which will find the company's driverless delivery vehicles operating on a limited scale in Houston, Texas, and Mountain View, California, before hopefully making a wider Bay Area debut. As of this week, guests at Hong Kong's Dorsett Wanchai Hotel are now served coffee and snacks by Rice, a little white droid who somewhat resembles Pixar's "WALL-E."
Automakers, big tech companies and even some city planners are working daily toward this version of the future, in which digital grids of every city and town will guide our vehicles, gadgets and robot friends around us, ensuring they're always there when we need them, but never in the way. This technology is so difficult to launch and maintain because it relies on multiple stakeholders. It's not enough just for the robot designers to build the ideal software; it has to interact and understand a constantly-changing and extraordinarily complex physical world that includes vast levels of human infrastructure.
Still, the "Jetsons" future many are envisioning – in which automated servants essentially follow us around and bring us whatever we require in any given moment – is probably still a good way off. There's a lot of enthusiasm about what this technology could one day achieve, but even 2022's greatest success stories are still within a limited set of parameters. Many assumed we'd reach the theoretical next step beyond Level 4 autonomy – Level 5 – around 2020, but this dream, which includes vehicles essentially able to steer themselves through complex traffic situations, remains frustratingly unrealized.
Starship operates a fleet of delivery robots across the U.K., U.S. and Europe that, collectively, has made over 2 million deliveries to date. And because the robots are powered by machine learning algorithms, they get smarter about making deliveries and dealing with common urban obstacles all the time. Even so, Starship's bots are used for what's known as the "last mile" of the delivery process – the trip from a local business to the buyer's home. ("Last mile" is just a term. This journey is sometimes up to a few miles in length.) Automating delivery on any kind of larger scale presents a whole host of new organizational and logistical challenges, most of which are still under manual control.
With so many billions of dollars pouring into this sector, and tests coming to so many cities, some groups and activists are also questioning if an automated future is even something we'd want, that actually improves the experience of living in cities. Research ordered by the John S. and James L. Knight Foundation surveyed pilot test programs of Kiwibot sidewalk delivery robots in Pittsburgh, Miami-Dade County, Detroit and San Jose. But unlike most studies, the Knight Foundation didn't just look at how successful the technology worked, but at the overall urban experience that it created and the socio-economic changes that such robots could bring about if they were widely deployed.
They found that autonomous delivery worked pretty well in controlled environments for casual or inessential items, but argued that the technology was not ready to be handed crucial tasks like delivering meals or medications to people who can't easily get around for themselves. But just like in the crime scene viral video, the study found that the most significant drawbacks to automation were usually not the robots themselves, but intrinsic to the infrastructure of our cities.
In Detroit, delivery bots had a hard time, for example, getting across wide streets before the light would once again turn red. But Knight executive Lilian Coral, one of the researchers behind the study, pointed out that this would be a problem for a lot of humans, too, and Detroit should probably just allow more time for pedestrians to cross the street. — Lon Harris