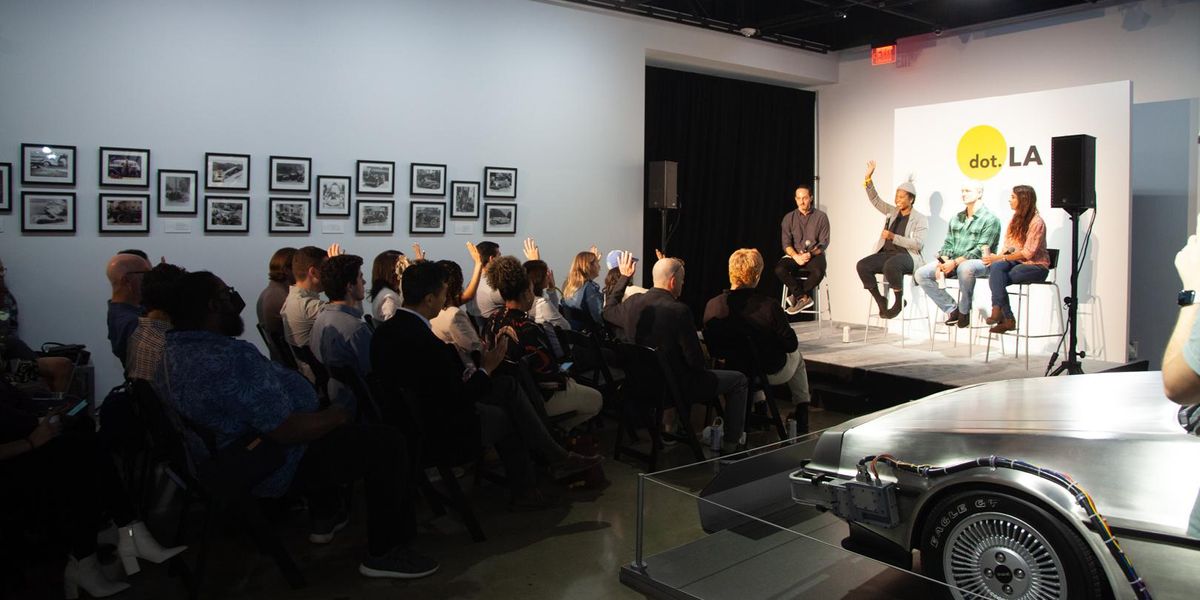 Image by David Ruano
This is the web version of dot.LA's weekly round-up newsletter. Sign up to get the latest news on Southern California's tech, startup and venture capital scene.
The 3rd annual Dot.LA Summit went down on Thursday and Friday at Los Angeles' Petersen Automotive Museum. (It's the home of the Batmobile, Ecto-1, and the real Mercedes from Netflix's "Red Notice"!) Founders, investors, developers, creators, writers and more came together to discuss the latest tech trends and moves sure to impact the people of Los Angeles over the coming months and years, not to mention just enjoying a rare interpersonal gathering after months of Zoom meetings and Slack chats.
---
Here are some highlights from the event's big keynotes, panels and sessions.
Nextbite founder Alex Canter discussed his virtual restaurant platform in conversation with dot.LA CEO Sam Adams. Nextbite helps restaurants connect with delivery apps like Uber Eats and DoorDash, and also helps them transition into part-time "ghost kitchens" for delivery-only brands. According to Canter, the program can expand a business by up to 30%. (Canter is certainly no neophyte in the food service space. He's among the heirs to L.A.'s iconic 92-year-old delicatessen, Canter's.)
CNBC Senior Media & Tech Correspondent Julia Boorstin also stopped by the Petersen and passionately encouraged venture capital firms to take more chances on women founders. The author of the new book "When Women Lead: What They Achieve, Why They Succeed, and How We Can Learn From Them," Boorstin has spent 20 years interviewing female founders, and wants to shift our focus from "what men have done wrong" to "what women are doing right." The data backs up her ideas; according to one First Round Capital study Boorstin cited, women-founded businesses outperform those founded by men by as much as 63%. Moderator (and dot.LA co-founder) Spencer Rascoff agreed, saying "I think those of us that care about diversity in tech have overly focused on the altruistic reasons about why we should care about this topic and under-focused on the business benefits of diversifying."
Former L.A. Dodgers right fielder Shawn Green talked about his journey from pro ball to entrepreneur. Along with Activision Blizzard vet Daniel Kirschner, Green is the co-founder of Greenfly, a Santa Monica-based startup that hosts a cloud-based media file sharing platform, used by a range of clients from sports teams to retailers. A lifelong technology enthusiast, Green knew immediately upon retiring from baseball that he wanted to get into the industry, and he dabbled in a few other startups before settling on Greenfly, which allows users to create native content within the app while also sharing files via social media. Its clients include sports clubs like the Dodgers and the San Jose Sharks along with consumer brands, including massage gun retailer Hyperice.
How has Los Angeles' tech ecosystem expanded over the last several years? That was the big question during a keynote conversation between BAM Ventures co-founder and Managing Director Brian Lee and dot.LA's 2021 "Enterpreneur of the Year" Alex Israel, the co-founder and CEO of mobility commerce platform Metropolis Technologies. Lee noted that, when he first entered the startup world, there were only three funds based in all of L.A..
"Our very first meeting with a venture capitalist here in Los Angeles was the day that the NASDAQ crashed," Lee recalled, "and I remember [the VC] sat us down, and he says, 'The internet is over'." Fortunately, that turned out to not be the case.
At the "Building the Metaverse" panel, the group largely agreed that the key step to getting people excited about this technology is making it more accessible and understandable, which means more community building. While younger internet-native members of Gen Z and Gen Alpha don't distinguish as clearly between real life and digital experiences, older consumers do; the challenge lies in breaking down these barriers. There was less certainly, however, when it came to the topic of Mark Zuckerberg's contribution to the sector. Emerge CEO and co-founder Sly Lee is grateful to Zuck for bringing more attention to the metaverse – particularly by changing his company's name from Facebook to Meta – but added the proviso "Facebook has enabled some bad things."
Akenta Health, a telehealth service aiming to connect users with bilingual doctors and generally make healthcare services more accessible for Latinos, won first place in Thursday's Pitch Contest. Founder Marco Paschina's pitch laid out all of the platform's many benefits for users, making the process for setting appointments, renewing prescriptions and even viewing lab work simpler and more intuitive. (The platform is funded by employers, so it's available at no cost for patients.) As Paschina explained, not only are Latinos under-served in the U.S. healthcare system, but cultural and language barriers can often complicate the patient-doctor relationship. He hopes to solve this problem for some of the nation's 63 million Latino Americans. Other competitors included the tech lifestyle brand Whiz Girls Academy, which aims to inspire interest in STEM education, and the augmented reality gaming company Foundry Six. — Lon Harris