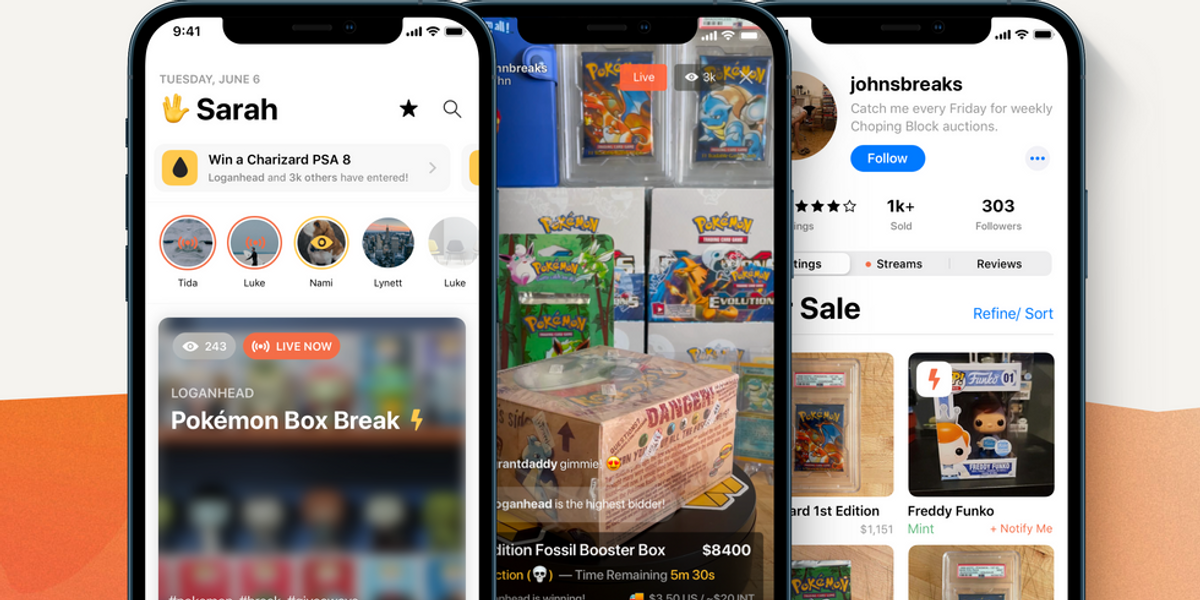 Whatnot Joins the Livestream Shopping Craze with $20M Boost
This is the web version of dot.LA's daily newsletter. Sign up to get the latest news on Southern California's tech, startup and venture capital scene.
Livestream shopping is gaining momentum, and Marina del Rey-based app Whatnot, which has become popular among the collector community, has expanded from Funko Pop toys and trading cards into other categories, including sneakers, rare toys, vintage clothing and luxury items.
Today, the company announced it raised a $260 million Series D funding round co-led by London-based DST Global and San Francisco-based CapitalG. Other investors participating in the round included BOND and returning investors Andreessen Horowitz (a16z) and YC Continuity.
---
The capital will be used to expand the platforms live and social ecommerce functions, as well as launch new categories of products. Currently, WhatNot is the fastest-growing independent marketplace in the U.S., according to the company.
A 2020 study by Coresight Research estimates that the livestream shopping market will be worth $35 billion in sales by 2024.
Last month, I finally downloaded the app to see what the craze was all about. It was like a modern-day twist on QVC. The app has a whole host of categories from thrifted items, kid's clothing and plush toys, to LEGO sets. The number of new categories I see on the app grows each day. Some of the biggest categories that drive Whatnot's sales include Pokemon cards, comic books and valuable sports trading cards.
Whatnot gamifies the online shopping experience of impulse buying and collecting with its live-bidding feature. "We thought there just wasn't a great home for collectors to buy and sell and interact as a community," CEO and co-founder of Whatnot Grant Lafontaine said. "So we launched with the idea that we will continue to layer on other collector categories."
The startup has built a community around collectible enthusiasts, providing those without the time or ability to go to a store, a livestream shopping platform where they can purchase niche and unique items that would otherwise be difficult to find.
There is a gambling element as well: many streams focus on sellers who buy cards or collectibles in bulk, for the purpose of "live rips" or "blind boxes" where the winning bid gets to choose their prize from distinguished packs or packages.
Sometimes the rips pay off big—- a participant who spends $15 can walk off with thousands of dollars should they hit the right special rare—but more often users will pay a premium for the fleeting excitement that today might be their lucky day and watching people cheer your name in the comments.
"Social commerce in the U.S. and a lot of the Western world is behind in comparison to Asia," Lafontaine told dot.LA. "The pandemic definitely helped pull some of that forward, but it seems really clear that social commerce is going to be a dominant form of buying over the next five to 10 years."
By combining the functions of eBay and Twitch, Whatnot is climbing the ranks and is proving to be a big player in this space.
Its rivals include local app Popshop Live, another online shopping platform in the livestream space. Los Angeles-based Talkshoplive, another app that hosts celebrities to livestream their memoirs or latest albums, inked a deal with Spero Ventures, a venture firm backed by eBay's founder.
Unlike its competitors, Whatnot doesn't limit its sellers to shop owners or influencers. It also lists items beyond clothing, makeup and celebrity merchandise. Whatnot still requires that prospective sellers get their approval before they can stream, Lafontaine said the company is investing in discovery to ensure new sellers can be found and continue to build on their businesses on the app.
The startup is less than three years old and has already raised nearly half a billion dollars in funding. Clearly, they are doing something right and investors are taking notice. - Decerry Donato