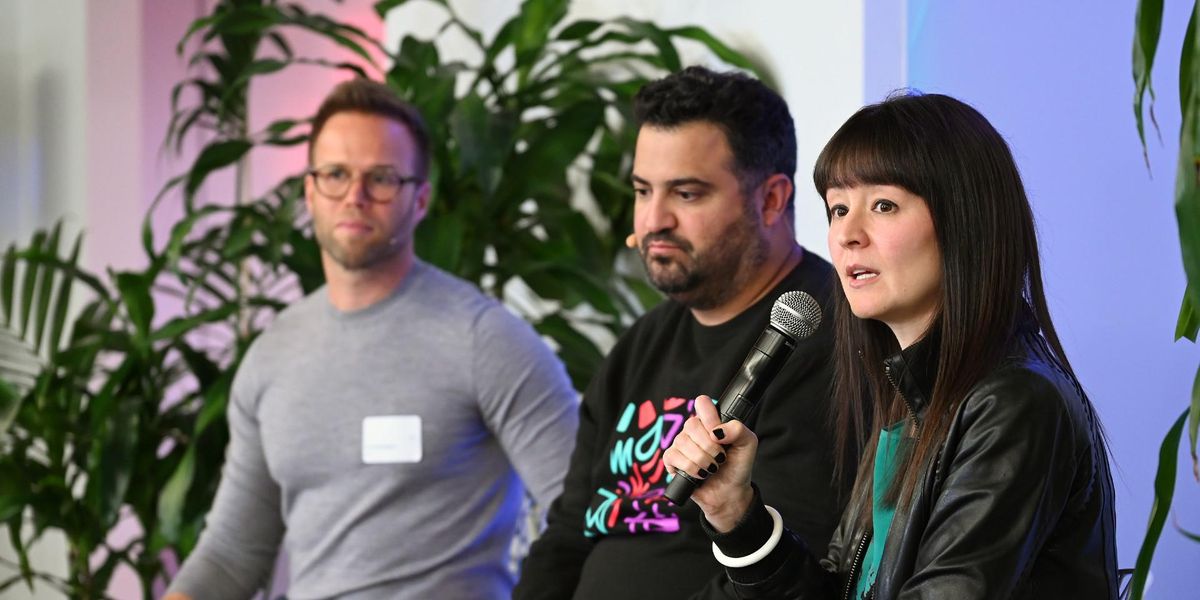 Photo by Bob Riha, Jr./M13
This is the web version of dot.LA's daily newsletter. Sign up to get the latest news on Southern California's tech, startup and venture capital scene.
Venture capital firm M13 celebrated its new, supersized fund on Thursday night by gathering fellow VCs, limited partners, founders and reporters for a fireside chat on the future of crypto and the creator economy.
---
Held at TikTok predecessor Musical.ly's former Santa Monica headquarters (which M13 now calls home), the talk featured Cameo CEO Steven Galanis, Lightning Labs CEO Elizabeth Stark and M13 co-founder Courtney Reum. As a teaser for the event indicated, the conversation revolved around "new paradigms" that could "unshackle creators from antiquated monetization models."
The creator economy consists of tens of millions of independent content creators, the majority of whom do their work part time, per research from San Francisco-based VC firm SignalFire. Yet most influencers, streamers and the like rely on just a handful of platforms to reach the majority of their fans: essentially, YouTube, Instagram, Twitch and TikTok. As the whims of these companies ebb and flow, livelihoods and online communities often hang in the balance.
The power dynamics at play have sparked plenty of other "Web 2.0" services that help creators monetize their work, such as Patreon and OnlyFans. But blockchain evangelists argue that the rise of a decentralized web, dubbed Web3, will push the envelope further, empowering creators to be more creative and independent. (M13 is among the believers, with co-founder and partner Carter Reum telling dot.LA this week that "every company that we invest in… has to be thinking about Web3 and the underpinnings of Web3.")
"Today, people are highly reliant on centralized platforms," said Stark, whose blockchain firm runs the Lightning Network, a secondary layer built atop Bitcoin's blockchain that helps speed up transactions. "It's early; to have truly decentralized technologies, it actually takes time."
For creators, Web3 would mean "the ability to earn money where you don't have the issue of borders, the issues of foreign exchange fees," Stark added. "There's also technology in the works to enable things like sending stablecoins. Today, it's Bitcoin—but in the future it will be other assets and dollars over Lightning, and this opens up the possibilities for people around the world to earn… and find other ways to make a living."
Galanis echoed that sentiment, noting that "these technologies are in their infancy" and that eventually Web3 "will be bigger than the internet" as we know it today. The Cameo co-founder then spun an analogy comparing the broader opportunities presented by Web3 to the colonization of North America.
"I actually think it's like 1493 right now," Galanis said. "Columbus has just come back from the New World, and he's going to the King of Spain and the Queen of Spain, Ferdinand and Isabella. He's like, 'There's a whole world over there—there's literally gold coming out of rivers.' And then the king of France hears about it, the king of England hears about it… Right now, we're in this age where everybody's building boats, everybody's trying to go to this New World, everybody's trying to figure it out—but you know most of the boats aren't going to make it."
"There's going to be mutanies on some boats, somebody's gonna hit an iceberg, somebody else is gonna end up going the wrong way," Galanis added. "But somebody's gonna end up on, like, Manhattan, in a digital world—and they're gonna pull a bunch of beads out of their pocket and they're going to make the best real estate transaction of all time." — Harri Weber