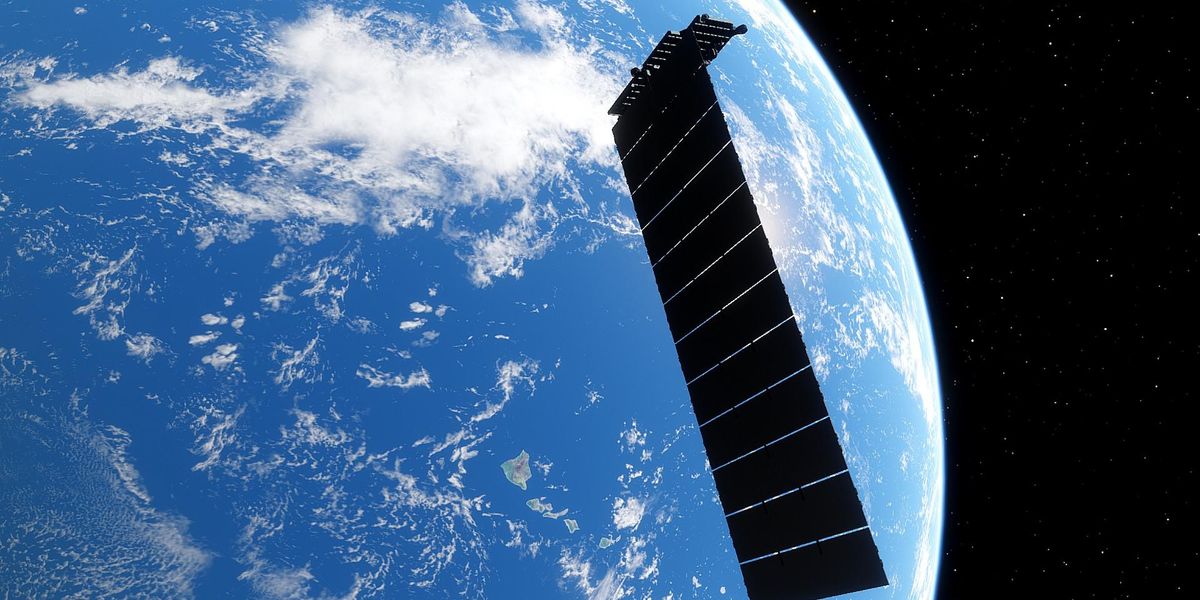 Elon Musk's Starlink satellites in orbit.
This is the web version of dot.LA's daily newsletter. Sign up to get the latest news on Southern California's tech, startup and venture capital scene.
Good afternoon. Allow me to tear you away from news about the leaked GTA VI build to discuss the thorn in every traveler's side: in-flight Wi-Fi.
Getting reliable internet access thousands of feet in the air has always been an issue. If, like me, you're an anxious traveler, you're probably accustomed to frantically loading up on Bob Ross reruns or whatever other calming content your apps can muster with laggy airport Wi-Fi speeds at the gate. In the air, it's a toss-up if the service will even work – us rubes who've been conned into paying the $10 to connect on the plane have learned the hard way the signal is often barely functional.
---
Since in-flight Wi-Fi was introduced in 2008 by Delta and American Airlines, people have been complaining about it.
The bedrock of the system was at first ground-based Wi-Fi – transmitting signals between terrestrial towers and aircraft. Obviously, there are geographical limits to how well that works (towers in the ocean are a no-go). It also was unbearably slow because ground-based towers are prone to interference from other aircraft signals, and it takes time to transmit the Wi Fi signal from one tower to the next.
The counter to this is satellite-based networks. Satellites can orbit the planet roughly every 90-120 minutes and provide a much faster and more stable signal.
Satellite Wi-Fi isn't perfect though; it requires dense constellations of satellites to supply broadband and lag can still occur when transferring service from one small satellite to the next. Concerns about dark skies or space junk aside, small satellites sometimes don't have enough bandwidth to meet demand.
The satellite inflight Wi-Fi market is currently dominated by two big players: Carlsbad-based Viasat, which has been working on satellite internet service for planes since at least 2001, and Intelsat, which bought Gogo two years ago for a cool $400 million. Viasat's main customers are Delta, JetBlue and Richard Branson's Virgin Atlantic, while Gogo services United Airlines, Delta and Alaska Airlines.
There's also Westwood-based Boingo Wireless. One component of its business is operating networks at airports across the U.S., including LAX, Phoenix and Chicago.
There's a potential fourth player waiting for an opportunity to tackle this industry. SpaceX CEO Elon Musk is ramping up his Starlink internet service and looking to become airlines' go-to provider for satellite-powered Wi-Fi for air travel.
Last week, SpaceX welcomed journalists onto a JSX Aviation Co. regional flight from Burbank to San Jose and proved that Starlink can deliver up to 100 megabits per second in the air.
That's not insanely fast; my Spectrum home Wi-Fi regularly tests at over 400 mbps, but it's definitely well ahead of most in-flight speeds. To further test the internet's capability Starlink ran multiple devices to simulate a 30-passenger plane, although only 12 people were actually on board.
Starlink's bandwidth capacity could be a concern if it wants to keep up with its more well-established competitors. Sure, the signal might not always be the clearest, but Viasat has proved it can hit 2.2 mbps on American Airlines flights with 100 passengers on a regular basis. It also remains to be seen if Starlink can handle the needs of a wide body aircraft seating over 300 people.
Starlink is now active on all 7 continents, Musk said this week—yes, that includes Antarctica. The network of over 2,000 satellites continues to grow and Musk's goal is 12,000.
Viasat has gone head-to-head with Starlink: it tried to block the Federal Communications Commission's approval for more Starlink satellites at low altitude last spring, but lost the appeal in court.
Viasat spokesman Scott Goryl told dot.LA via email the company is gearing up to launch a new constellation called ViaSat-3, which it estimates will be in service by the fourth quarter of 2023 and can help ease increasing demand for satellite Wi-Fi.
"Competition has always been fierce in this industry, and we expect it to continue; it's good for the industry, innovation, and the end user," Goryl said. "Demand for mobile services is rapidly expanding and we expect the number of industry participants to continue growing as well."
Goryl added, "performance at scale is critical and is certainly a key factor to consider when assessing the overall service."Starlink will soon face a vital test of its capabilities, which could be an indicator either way if it's ready to take on the big dogs. Hawaiian Airlines announced in April it will be the first major airline to add Starlink's in-flight Wi-Fi to several aircraft including its Boeing B787-9 Dreamliner fleet — wide-body jets that can fit 296 passengers. Starlink installation will begin next year, so Musk's team has time to tune up their tech and make a stellar first impression—or fail miserably. We'll just have to wait and see. - Samson Amore