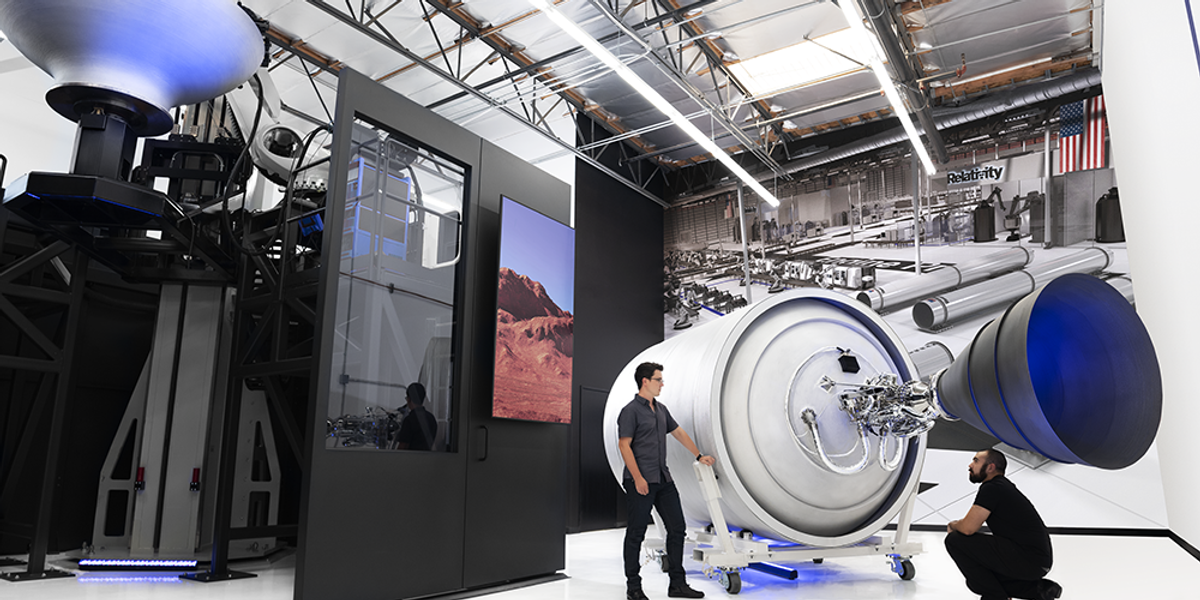 Courtesy Relativity Space
This is the web version of dot.LA's daily newsletter. Sign up to get the latest news on Southern California's tech, startup and venture capital scene.
Rocket manufacturer Relativity Space just got closer to 3D-printing rockets on Mars.

This week the Long Beach-based startup released a progress report on its proprietary rocket-printing technology, the Stargate metal 3D printers, and announced that it has developed a 4th generation Stargate printer that will be used to make its largest rocket yet: the Terran R craft.
---
Relativity aims to launch the Terran R – a 216-foot-tall rocket with seven 3D-printed engines that can carry huge payloads up to 44,000 pounds – by 2024. That's an ambitious deadline to be sure. But if the company's scaling up its 3D-printing manufacturing capability, it could very well be on the way to making that deadline.
Relativity's first 3D-printed rocket, the Terran 1, is set to fly its inaugural test flight from a Florida launchpad "in several weeks." This is a key first test of how viable a 3D-printed rocket is, and also could attract crucial new clients.
Even though the rocket hasn't been built yet, a number of customers are already signed up to launch on the upcoming Terran R. Relativity said it has secured five launch contracts worth a combined $1.2 billion. One of those customers is satellite maker OneWeb, which aims to launch by 2025.
Another upcoming Terran R launch could see El Segundo-based Impulse Space beat Elon Musk's SpaceX to Mars. Impulse plans to send an entry capsule, lander and rover to Mars on Relativity's new rocket. While neither firm would specify a specific launch date, they said earlier this year that the launch window could open as soon as 2024. The companies are giving each other some runway, though; the exclusive agreement doesn't expire until 2029.
Relativity said its new Stargate printer can print orbital rockets much more efficiently than its predecessors and noted it is capable of printing a rocket with 100x fewer parts "in a matter of months." Most of the work will be done at Relativity's Long Beach HQ.
"Large-scale products that are designed to fly will inevitably be 3D printed," Relativity CEO Tim Ellis said in a statement Monday. "What would take traditional aerospace and space manufacturers years to develop and build, will be reduced down to months..."
Looking to challenge Musk's quest to occupy Mars by 2050, Ellis aims to take his company's rocket-making tech beyond Earth. Ellis told Bloomberg back in 2017 that Relativity's "long-term mission is to print the first rocket on Mars."
Building rockets isn't cheap, even if 95% of the process is done through 3D-printing. Relativity's raised roughly $1.3 billion since its 2015 launch, most recently a $650 million Series E round last June that valued the company at $3.5 billion.
Some of that money is headed towards further developing Relativity's complex at NASA's Stennis Space Center in Mississippi. Relativity announced last week it will build new infrastructure to support testing of the Terran R, a 153-acre project. NASA said Relativity has already conducted over 2,000 hot fire tests at the site so far.
While it'll definitely be at least several years before we see Relativity's latest 3D-printed craft soar to the stars, the first test of its tech will come in a month or so when we see the Terran 1 launch. As ArsTechnica noted, no privately-funded rocket firm has made it to orbit on its first test launch, so making that happen would be a big achievement. – Samson Amore
(Disclosure: dot.LA co-founder Spencer Rascoff is an investor in Relativity Space.)
Clarification: This story has been updated to reflect how much of the manufacturing of a Relativity Space rocket is automated.