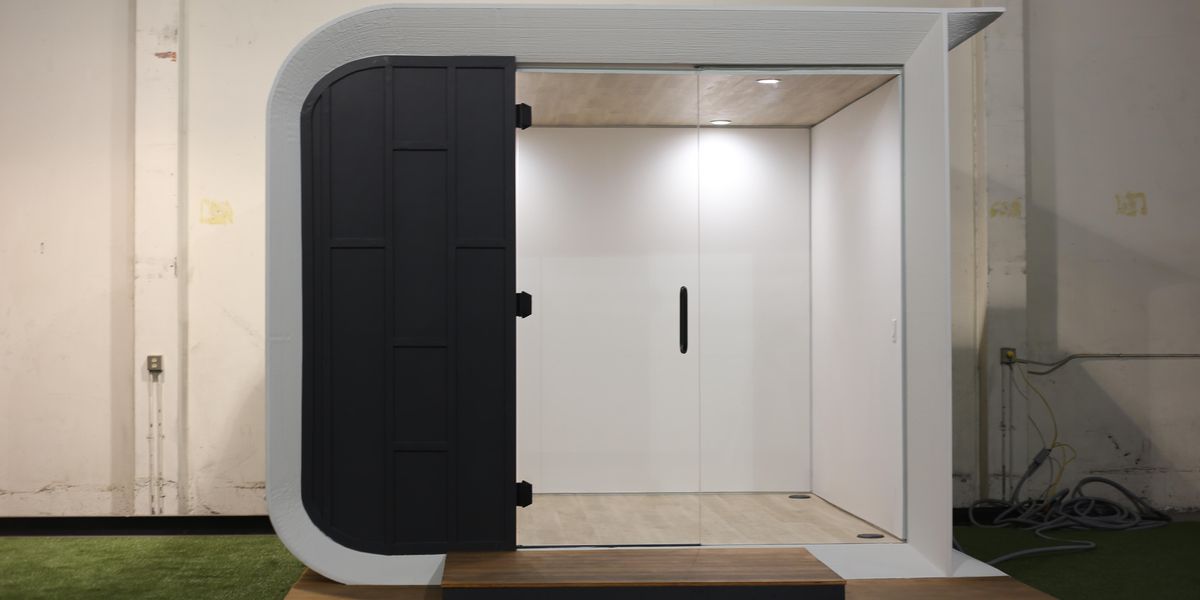 Photo by Decerry Donato
This is the web version of dot.LA's daily newsletter. Sign up to get the latest news on Southern California's tech, startup and venture capital scene.
A panel on tech and the housing crisis is not the first place I expect to hear a "Curb Your Enthusiasm" reference, but it comes up almost immediately.

Laurent Grill, a partner at JLL Spark, a venture fund for a large commercial real estate company, is in the middle of hyping up the benefits of using of mass timber in multi-story building projects, when Aaron Darling, a Civil Rights and housing attorney, brings up the Larry David classic line: "Do you respect wood?"
---
It's a sign of how bad the housing crisis is in L.A. that 450 people RSVP for an event that usually attracts 30. The event's host, Work in Progress, regularly holds "interdisciplinary small group convos focused on current affairs, problem solving, tech, and the future," but this panel is supersized for Tech Week, and sponsored by the likes of Google, Pacaso, Orrick, Open Water and House of Ventures. The recent Adam Neumann news is on everyone's mind, but given that two of the three panelists work for Fortune 500 companies, their answers skew diplomatic.
People line up for breakfast burritos and coffee inside the Venice home's open concept kitchen, before spending the morning discussing what a modern city could someday look like. Today's topics include ADUs (slam dunks for homeowners looking to increase property value or bring in an additional income stream), using rent to build credit (a great opportunity for innovation) and the true source of the housing crisis ("local government getting in the way").
"We do have the potential to live in denser, more affordable cities," says Darling. "But that starts with creating more units and that, at the end of the day, is a political fight."
3D Printing Showcase
3D printing is another approach to scaling housing currently piquing industry interest. As soon as I walk into the Culver City warehouse for the showcase, I understand why.
On display is one of Azure Printed Homes' custom 3D printed ADUs, and it is impressive. The unit's pedestal is made from recycled materials, and according to Azure, the self-supporting structure can be printed in less than 24 hours.
VCs pop the tabs of their soda cans as they grab seats and prepare to listen to Azure co-founder Ross Maguire, and his co-panelists, the founders from Mighty Buildings and Apis Cor. All three speakers agree there needs to be more industry awareness around the materials and assembly process, but they remain confident in printing's potential to revolutionize construction.
"We're maximizing efficiency by only using the materials we need, which is the beauty of 3D printing," says Maguire.
Time To Ride: Micromobility Happy Hour + CAKE Ride
There are a number of distractions between the front door of Marina Del Rey's The Motoring Club and the building's exit. There's a Gran Turismo real driving simulator (occupied), platters of snacks, three different models of CAKE bikes on display, and an entire room devoted to classic cars.
But on Thursday evening, The Motoring Club's parking lot is the place to be as Tech Week guests stand in line to demo one of CAKE's three different models of electric motorcycles. The company started in Sweden with a focus on off-roading, but has since transitioned in reimagining motorcycles "from the ground up."
Ashish Bhusal, a field specialist at the company, tells me this event—co-sponsored with Micromobility Industries—is something of a coming-out party. CAKE plans to open a showroom across the street from The Motoring Club in a few months, and thought Tech Week would be an ideal opportunity to introduce themselves because "a lot of people don't know about these bikes."
The bikes average around 150 pounds, and 3.5 hours of charging wins you approximately 50 miles of range. Bhusal thinks they're the perfect entry-level motorcycle because they're "very similar to riding a bicycle. There's no gears, no clutch, so the barrier to entry is very low."
VR/AR Professionals & Creators Economy - Connect
I'm at a rental space in Santa Monica hoping to see the future of augmented and virtual reality. Unfortunately, the future is presented on a flat screen, so it's a little hard to visualize. It isn't hard to imagine, however, how the tech described during the VR/AR Professionals & Creators Economy event will change the ways in which we create and consume content.
Tonight's panel is presented by DeoVR and VR Story Lab. Before it starts, I chat with Jon Stock, founder and CEO of Acme Labs. His company builds full metaverse experiences, and he takes me through one recent example of a project he created for Comic Con: a location-based AR experience that helped move people from the convention center to a physical art gallery where they had an installation. There was an NFT scavenger hunt along the way. I'm jealous and inspired at the same time, which honestly is the best way to describe the entirety of my L.A. Tech Week experience. — Ilana Gordon