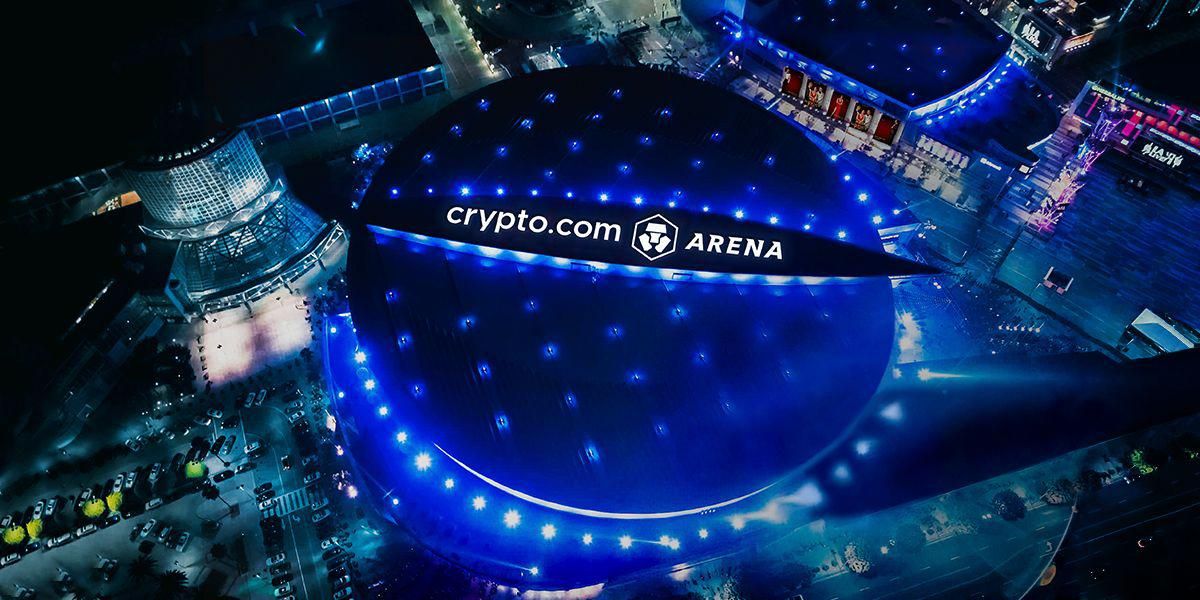 Courtesy Crypto.com
This is the web version of dot.LA's daily newsletter. Sign up to get the latest news on Southern California's tech, startup and venture capital scene.
The impending winter seems to have Crypto.com shivering.
Los Angeles remains mostly immune to the seasons – We're talking about a "crypto winter," the term that's come to represent the massive downturn in the cryptocurrency industry that's erased $2 trillion in value since its peak last November.
---
Although month-over-month trading volumes were up 16% last month, there's no clear sign of stability to be found and some crypto exchanges are still feeling the chill. That's especially true for Crypto.com, the company that paid $700 million to reskin the Staples Center (sorry, no amount of money will make this Angeleno stop calling the stadium by the name it had for over two decades) and much of Downtown Los Angeles' L.A. Live district.
Crypto.com saw a huge initial burst of momentum after the arena deal last December, and its marketing afterwards was bombastic to say the least. It courted stars like LeBron James and Matt Damon to do a series of ads themed around the tagline "fortune favors the brave," encouraging people to take on financial risk in the hope of a moonshot payout. After the Staples Center deal was announced, Crypto.com's CRO coin jumped 25%. But it appears to be losing momentum – in the last month, CRO is down nearly 10%.
Once a strong competitor to other crypto exchanges like FTX, Coinbase or Binance, Crypto.com today does not rank in the top 10 – it's currently ranked No. 18 by exchange analysts. Crypto.com's most recent daily trading volume was roughly a modest $207 million – compare that to Binance, which had a global 24-hour trading volume of over $10 billion, or FTX, which topped a $1 billion trading volume today.
The digital graveyard of crypto coins and exchanges gone seemingly grows by the day. A quick glance at Deadcoins.com will show you over 1,700 crypto currencies that have failed. Now both supporters and haters of Crypto.com are wondering if the platform will meet its demise and put, uh, the crypt in crypto.

In June, Crypto.com started laying people off, and cut about 40% of its workforce. By August, dot.LA was already questioning the viability of long-term crypto sports deals, and others continued to wonder if Crypto.com's big marketing bets would work. The exchange poured money into sponsorship deals it thought could be lucrative, including new L.A. women's soccer club Angel City FC, but it later defaulted. Lawyers for the soccer team told AdAge last week Crypto.com reneged on the deal after refusing to pay.
Crypto.com also became a sponsor of Twitch's esports league, but AdAge reported it decided to end the deal.
Crypto.com pushed back on reports it was walking back sponsorship deals.
On Monday Crypto.com spokesperson Al D'Agostino told dot.LA via email, "reports of any sort of pull back on our partnerships are completely inaccurate, and we have submitted requests for corrections to the story referenced. We have a strong balance sheet and will continue to invest in our industry-leading products, engineering, and brand partnerships.
One big event Crypto.com is set to sponsor is the 2022 FIFA World Cup in Qatar. AdAge speculated this might not go as planned, noting a former employee told the magazine that Crypto.com downsized the count of hospitality packages it was planning to offer. The company also reportedly dismantled an entire marketing team of 10 people within four months of hiring them; a sign it's probably over-invested in marketing efforts that literally haven't paid off.
All this could point to—if not a downturn in Crypto.com's operations—at least a restructuring. The company appears to be less dedicated to pushing new products, like its Visa cards or rewards for staking crypto.
The Crypto.com arena naming rights deal is a 20-year contract, so it's entirely possible the company could fall to tatters long before that marquee is taken down. Or perhaps they'll look to sell out their stake in the arena to another firm looking to make a splash in L.A., and cut their losses. It's too early for anyone to predict exactly what might happen – and who knows, maybe in three months we'll see a drastic turnaround in the market and I'll be eating my words as crypto executives do a joyous May dance to celebrate the arrival of a market thaw. But for now, if Crypto.com continues on the trajectory it's been headed on, it runs the risk of losing valuable ground to crypto exchanges with way more customers. – Samson Amore