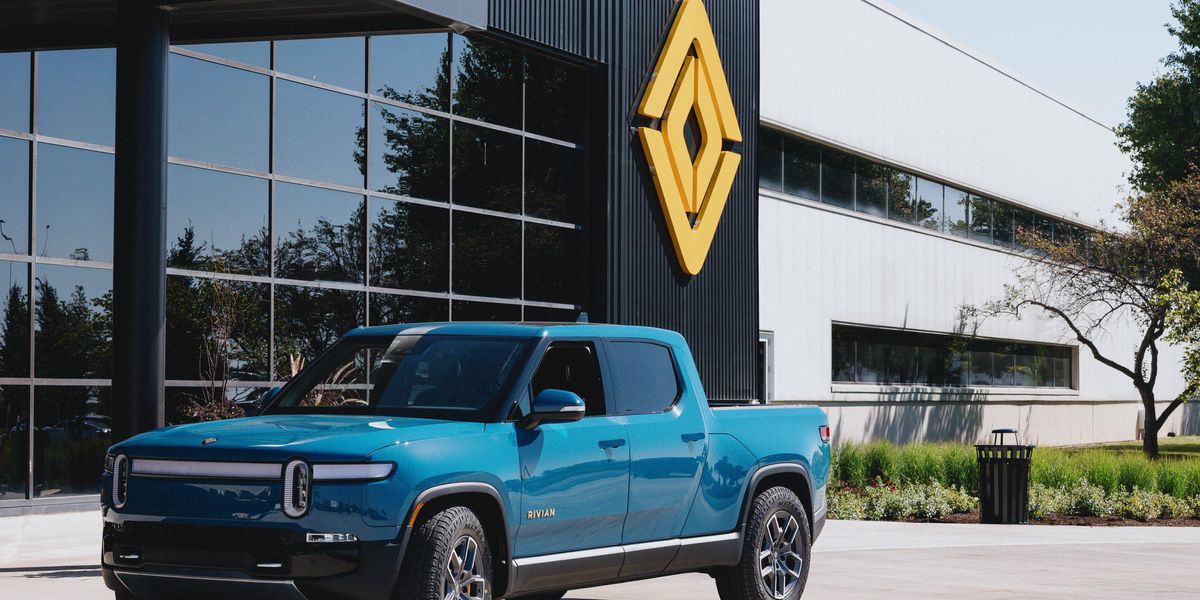 Courtesy of Rivian
This is the web version of dot.LA's daily newsletter. Sign up to get the latest news on Southern California's tech, startup and venture capital scene.
In an hour-long interview at the 2022 Redburn CEO conference, Rivian CEO RJ Scaringe gave an unusually detailed look into the company's year in review and its plans through 2026. The interview was conducted by Redburn Head of Automotive Research Charlie Coldicott, and contained quite a few nuggets of information, many of which will be familiar to readers who've been paying close attention to the company's earnings calls over the past few months.
---
The big takeaways are that Rivian is continuing to see improvements in its supply chain woes, which plagued the company for much of 2022 and that demand remains strong. An interesting fact highlighting just how complex building an EV is these days: Each Rivian model is built from around 2,000 unique parts sourced from 400 different manufacturers.
"We're limited by the slowest part, so to speak," said Scaringe. "You can't build a vehicle with 99% of the parts; you need all of them."
To that end, Scaringe also mentioned a 5-day period this past quarter where the company had to halt production due to a lack of computer chip availability. But he also insisted that headaches like this are becoming less common and the supply chains really are clearing up with the snags getting easier to spot.
On Vehicle Pricing
With the EV company continuing to hemorrhage money to the tune of close to $3 billion across Q2 and Q3 this year, Coldicott asked Scaringe if he felt there was room to experiment with pricing on existing models to help alleviate some of the company's revenue issues and manage the backlog. Scaringe seemed open to the idea and acknowledged that, compared to some competitors, the R1T pickup and R1S SUV do appear to be underpriced. Whether that will mean future price hikes for the EVs remains to be seen, but with dual motor variants coming to market soon at lower price points, the original quad motor configurations may become a more luxury-oriented option and carry a price point to match.
Again, this is speculation, but you can watch the interview for yourself and read the tea leaves. Rivian shares jumped 10% today, but the Nasdaq is also up nearly 4% on news that the Fed will reduce its interest rate hikes, making it a little tougher to delineate how much the Rivian bump can be attributed to the interview.
On the Cost of Lithium
Coldicott also asked about battery raw materials, which Scaringe called "one of the least-covered and talked about challenges we're going to see, not just for Rivian, but for the industry." While these supply constraints won't be news for careful readers of dot.LA, the cost of lithium is $70 per kilogram or more at the moment, which marks a dramatic increase from even just a year or two ago. What's more is that Scaringe doesn't see that changing in the near term.
"Lithium pricing will stay high. We'll see the same for nickel," he said.
On Rivian Batteries
On the subject of batteries, the CEO also said that the plan is to develop a portfolio of sourcing options.
The company will continue to work with industry giants like Samsung, but will also begin to develop in-house capacity to build cells. Scaling, he said, will require multiple approaches to the problem. In terms of chemistry, Scaringe said that he expects lithium-nickel formulations to remain the dominant option for the company's highest performance batteries. When you need maximum range or peak power, the chemistry still reigns supreme. But for the delivery vans and other commercial applications or base model cars, Scaringe sees real opportunity for lithium iron phosphate, which is cheaper, easier to source, and boasts better longevity across many thousands of cycles.
On Rivian's Tech
Rivian's tech stack, and its decision to keep much of it in-house, was also a topic of discussion. Rather than outsource to a company like Google, Scaringe said that choosing to keep closer control over the software should allow the company to create "very rapid and very holistic feature growth." He pointed to things like cameras, accelerometers and radar as targets for building new features that could radically change the driving experience and even pave the way for level 3 or 4 autonomous driving down the road.
All of the lessons learned from the R1S, R1T, and the delivery vans will be vital for the company's second vehicle platform, the R2, which is expected to be cheaper and easier to manufacture at a scale that eventually turns the company's balance sheet black.
Scaringe affirmed yet again that the vehicle should enter production starting in 2026. With more than $13 billion in cash as of September 30th this year, Rivian should have plenty of money to weather the storm until then.
Attracting new customers to the EV space will continue to be essential for the company and the industry at large, but Scaringe did share that roughly 90% of Rivian buyers were first time EV owners, suggesting that the tech is proving palatable at least in small numbers to customers who can afford the hefty price tag. The R2 has always been positioned as the real proving ground for the company and, by extension, Southern California's EV scene.
We'll have to wait to see how it shakes out, but dot.LA will have your news while you wait. — David Shultz