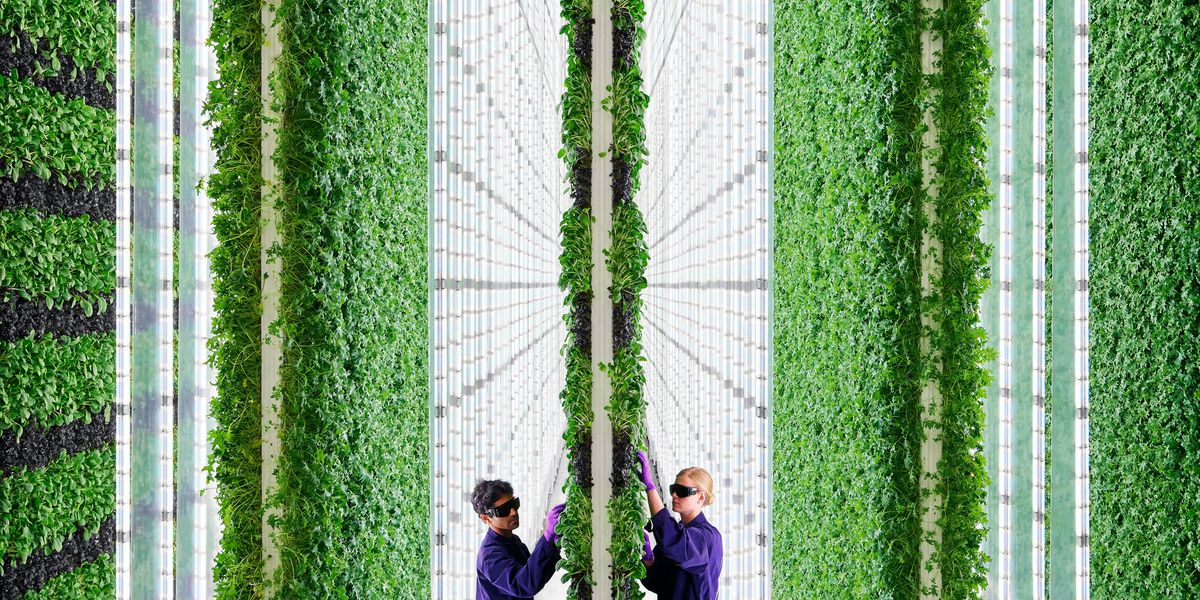 Plenty Unlimited Inc. in Compton
This is the web version of dot.LA's daily newsletter. Sign up to get the latest news on Southern California's tech, startup and venture capital scene.
Indoor farmers Plenty Unlimited Inc. announced a new partnership this week with the specialty grocer Bristol Farms, and will begin selling its pesticide-free leafy greens at locations throughout the retailer's 14 Southern California locations.
---
Initially, this produce – which includes baby arugula, baby kale, lettuce and "mizuna mix" (a blend of baby bok choy and Japanese mustard greens) – will come from Plenty's indoor farm in South San Francisco, but eventually the SoCal Bristol Farms locations will be served by the company's new 95,000-square-foot Compton farm and campus. The facility was initially scheduled to open in late 2021 but has yet to actually open its doors. Nonetheless, hiring has begun for 50 growers, technicians and other staffers, and the Bristol Farms deal indicates that executives have confidence the farm will be able to ship food shortly.
Plenty's indoor farming technology boasts a number of advantages over conventional farms. The facility can reliably operate year-round and isn't dependent on the vagaries of the weather and pest control to produce a healthy harvest. Its indoor growing system takes up far less actual acreage than an actual field of lettuce would in the Heartland. Perhaps even more crucially, it's a more efficient growing system than a conventional factory farm, yielding up to 350 times more produce per acre while preserving vital natural resources. Plenty's Compton facility will use less than 5% of the water required for conventional agriculture, while taking up less than 1% of the physical space.
There are limitations to vertical farm technology as well. It doesn't work for all kinds of produce, and so far seems to function best with leafy greens, herbs and berries. California, with its heavy reliance on crops including grapes, almonds, oranges and walnuts – which demand resources that vertical farms simply can't supply as effectively – will require additional long-term solutions to see a significant environmental impact. Still, with climate change and droughts an ever-increasing concern, and California mired in its "fourth dry year" in a row, every little bit helps.
Once it's up and running, the Compton farm will also supply leafy greens and Driscoll's-branded strawberries to 431 Albertsons-owned grocery stores – which includes the Safeway, Vons, and Pavillions brands. The company chose Compton after considering more than 180 different potential farm locations, both because of the area's rich history with agriculture and the fact that so much of South Los Angeles remains a "food desert" with relatively poor access to fresh, healthy produce. The company also plans to open a 120-acre farm – its largest to date – near Richmond, Virginia, by late 2023 or early 2024.
Plenty – which is also headquartered in the Bay Area – has raised around $941 million to date over seven rounds. The most recent, a Series E round that closed in January 2022, was the largest to date for the company, and was led by One Madison Group and JS Capital. Walmart, one of the nation's top grocery chains, also took part in the round, and some Walmart executives joined Plenty's board of directors, indicating the strong hopes for Plenty's tech within the industry.
In addition to its Compton farm, Plenty has used these funds to strength its relationships with grocers, to reinforce its core strategy of selling produce directly from farms to retail partners. In a statement, Walmart referred to vertically farmed produce as a "new market-leading product category."
Plenty's certainly not alone in filling out this new category. The term "vertical farm" was coined by Columbia University professor Dickson Despommier back in 1999, but over the last five to seven years, it's gone from a largely theoretical idea to a daily reality. In 2020, Whole Foods unveiled a collaboration with a Brooklyn New York-based urban vertical farm, while New York and Florida Publix locations offer select produce from local hydroponic growers. Iceland's Vaxa Technology uses a carbon-neutral geothermal-powered process to grow a particularly nutritious form of microalgae known as "spirulina." (They say it has a nutritional profile rivaling beef, but it certainly seems less tasty.) Earlier this month, a group of 20 vertical farming companies met in Brussels and signed the first-ever Vertical Farming Manifesto, setting a number of new standards for the nascent industry. Plenty, naturally, took part in the discussions. -Lon Harris