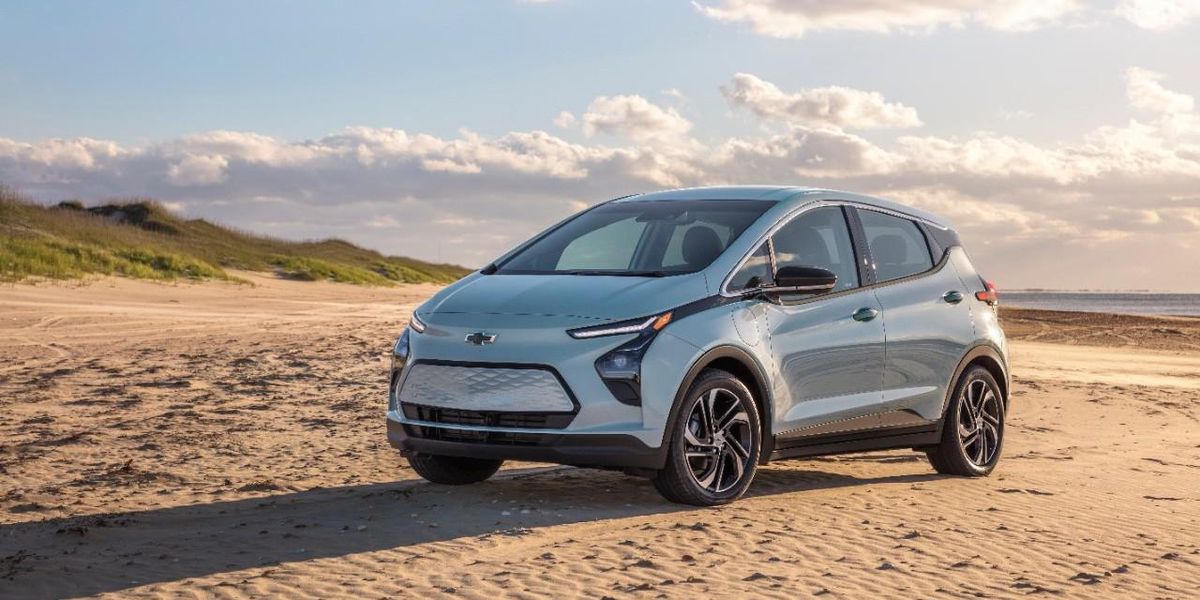 Chevy Bolt Recall Comes As Mainstream EVs Enter the Spotlight
This is the web version of dot.LA's daily newsletter. Sign up to get the latest news on Southern California's tech, startup and venture capital scene.
I write a lot about electric vehicles here at dot.LA, and if you've been following along, you may have noticed that I've been pretty critical of how much they cost. So you can imagine that my ears pricked up when I heard about someone who leveraged grants and rebates to actually get paid for driving a Chevy Bolt.
---
Greg Young works at Clean Coalition in Santa Barbara as a program manager focused on microgrids. Disclosure: He's a friend I know from around town. He spends all day monitoring the local power grid in real time from an app that shows stats about how much of the electricity is renewable, the cost, the peak usage, etc. Greg shuts off the power to his apartment during peak energy hours to save money on the electric bill. This is, in other words, exactly the type of dude who would figure out how to get paid to drive an EV.

So I called him up to find out if this was true or just gossip. Turns out, the rumors are true, and he actually gave a webinar on the process. You can (and should) listen to the whole thing, if you're interested, but I've got the breakdown of the economics right here. Not everyone will be able to repeat these steps, because some of the grants are tied to your income (Greg was a student when he applied), but the world–especially in California–is absolutely swimming with similar grants. You just have to spend time and energy finding and applying to them.
Here's one way to do it: First, don't actually buy the car.
Lease it, and try to get a one-time lease payment. This is critical. You can negotiate; different dealers will offer different prices. Greg was able to shop around until he found a dealer outside Sacramento that offered him $8,800 for a three year lease on a 2020 Chevy Bolt LT.

Then apply as many rebates as you can. In Greg's case, he qualified for a $5,000 Clean Vehicle Assistance Program grant, which is available to California residents making less than $51,520 annually. That rebate was applied when he paid for the lease, bringing the bill down to $3,800.
But Greg was not done. He went home and applied to the Clean Vehicle Rebate Project, which at the time, refunded users $4,500 for Chevy Bolts. Sadly, that rebate looks to have dropped to $2,000 since Greg hatched his scheme. It's still a nice chunk of change. He says it took a few months to receive the money.
For those doing the math at home, these two rebates put Greg at positive $620.
Yes, it's only a lease, but he basically got a free car for three years and cash in hand. Oh yeah, and he also got $1,000 worth of free charging through the same Clean Vehicle Assistance Program grant, thanks to a partnership program with EVGo and ChargePoint.
What's the purpose of this story? Aside from being funny, it highlights how much funding has been allocated to the EV transition in California, but how challenging accessing it can be. Figuring out how to finesse this took serious research and legwork. Also, the lag time in how the Clean Vehicle Rebate Project is paid out meant he had to have cash on hand to actually lease the car up front. Not everyone has that kind of money laying around.
It would be great to see dealers start advertising these rebates. It's probably a headache to fill out all the paperwork and jump through all the eligibility hoops, but how easy would it be to sell one-time leases if the customer pays zero dollars?
The money is there, but we have a long way to go to get it into the hands of people who need it. — David Shultz

--
The sponsor of today's newsletter is Fenwick, one of the world's top law firms focused on technology and life sciences, including leading games, digital media, entertainment, blockchain and NFT practices. Attorneys in Fenwick's Santa Monica office and nationwide represent more than 1,000 greater Los Angeles-based startups, established companies and venture capital investors in corporate, IP, litigation, regulatory and tax matters.