Photo by David Shultz
This is the web version of dot.LA's daily newsletter. Sign up to get the latest news on Southern California's tech, startup and venture capital scene.
The Wednesday newsletter this week is a story. For that, I apologize; I am not a best-selling author. But the story is instructive and wholly true.

University of California, Santa Barbara, May 12—Atop a lawn of yellowed grass and beneath a blinding afternoon sun sits what you might be tempted to call a car. But the three-wheeled vehicle is technically classified as an "autocycle"; its missing rear wheel might be the last thing you notice. Like an F1 car, its two front wheels sit outside the body at the end of struts. The body is cetacean in both shape and color—streamlined, blue, gray and black. A suite of diamond-shaped photovoltaic cells tessellate across the hood, the dash, and the roof. The cumulative effect is reminiscent of a dolphin in an argyle sweater riding backwards on a tricycle.
---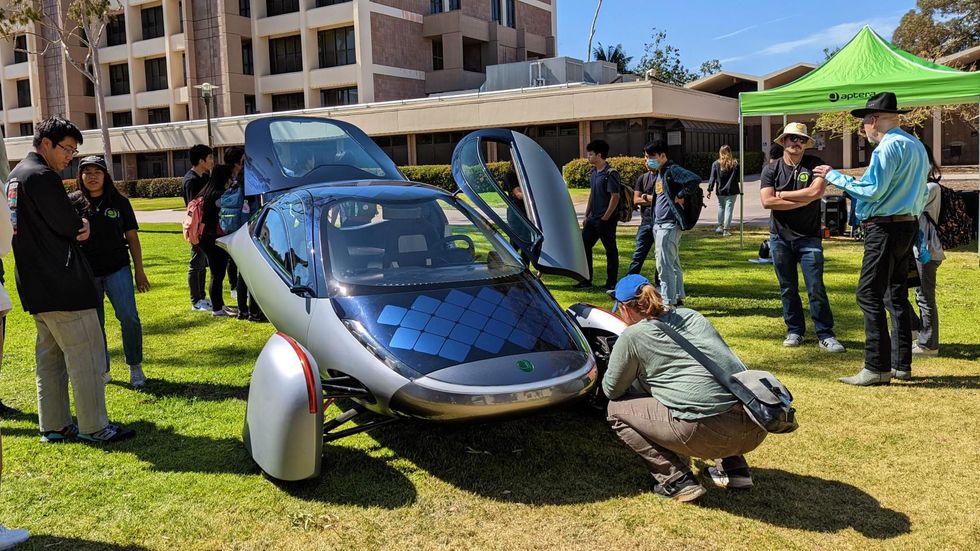 A front view of Aptera's solar-powered "autocycle."Photo by David Shultz
The vehicle is a prototype from a Southern California company called Aptera, which has been touring college campuses showing off its technology. The idea is to make a truly solar-powered car—or autocycle, rather. In pursuit of that goal, Aptera has done everything it possibly can to make the vehicle more efficient: removing that missing rear wheel makes the car more aerodynamic and reduces friction, while the entire shape has been optimized to be as streamlined and lightweight as humanly possible. (It only seats two passengers.) Aptera claims that the entire car experiences as much drag as your hand does when you stick it out the window on the highway. The company claims a drag coefficient of 0.13; most vehicles on the road today hover between 0.3 and 0.5, for comparison. Aptera's current prototypes weigh between 1,800 and 2,200 pounds; a 2022 Toyota Camry, by contrast, weighs 3,310 pounds.

Depending on the specific model, the battery ranges from 25-to-100 kilowatt-hours, which Aptera says can provide the car with anywhere from 250 to 1,000 miles of range on a single charge. In ideal conditions, the solar panels can recharge up to 40 miles per day. One-thousand miles of range is roughly triple what the top battery-powered electric vehicles on the market can offer today. And as long as you're driving less than 40 miles per day, on average, you may never even need to plug the car in—assuming you live someplace sunny enough. The technology is frankly inspiring—the kind of thing you want to work, and which could make a real difference in carbon emissions if it were to catch on.
The UCSB students mingling around the car, however, seem mixed in their opinions. "I don't know if my nine-foot surfboard would fit," one muses. (To be fair, a nine-foot surfboard doesn't fit in my Prius either, but you can't put anything on the roof of the Aptera without covering up the solar panels and destroying the sensitive aerodynamics). Annie Lovell, a second-year graduate student at the Bren School of Environmental Science & Management, is not a fan of its aesthetics. "I would rather go vintage than futuristic," she says.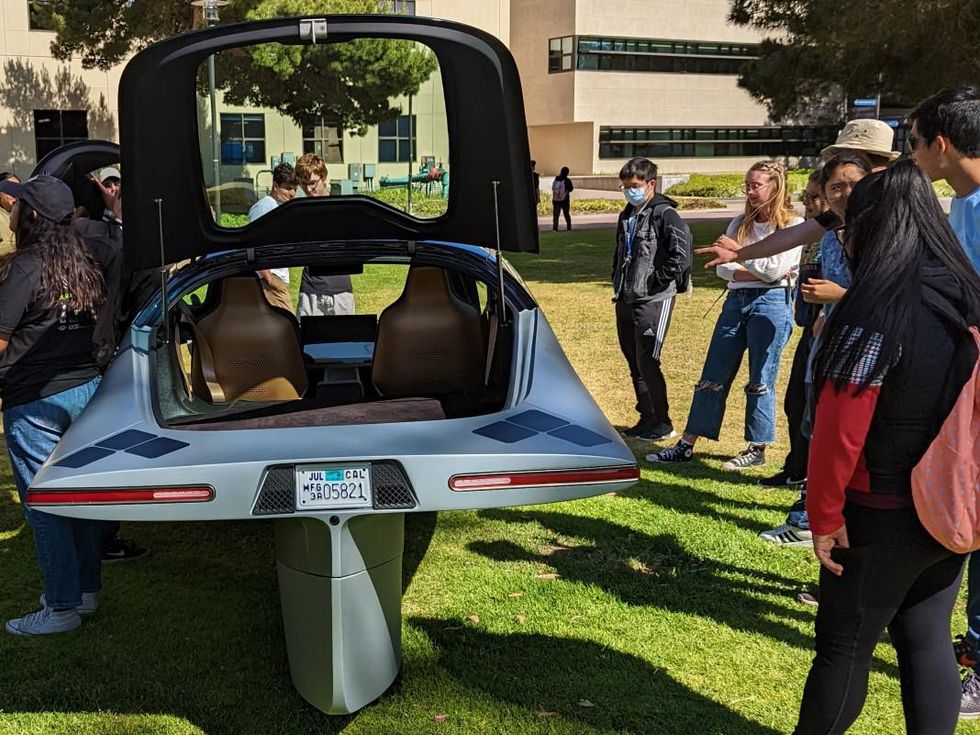 A back view of Aptera's solar-powered "autocycle."Photo by David Shultz
That night, Lovell went home and began to regret her choice of words. I know that because, by pure coincidence, I ran into her in a coffee shop the next day, where she asked if I could change her quote. She maintained that it would be hard to imagine herself buying a car like Aptera's, but said she was "excited for the potential for new technologies in the auto industry to replace our gas-guzzling cars" as well.
I think that's a perfect metaphor for how I feel about this car, too. Godspeed, Aptera—I wish you the best, truly. But if a grad student in an environmental science program in Southern California can't imagine themselves buying the car, it's pretty difficult to picture the technology catching on in Tulsa or Houston or Jacksonville. Adding 40 miles of range per day from the sun is nice, but a Level 3 charging station adds that much power in two minutes. A thousand miles of range is awesome, but are the tradeoffs—no back seats, no roof rack, no hitch—worth it to the average car buyer? While Aptera maintains that it plans on adding airbags and standard safety features to the car, as of now, the vehicle will only be required to meet the safety standards for an autocycle (which are only slightly higher than those of a motorcycle). Crash-testing is slated for this summer.
Aptera says it's already secured 20,000 pre-orders for the car and hopes to begin delivering vehicles as early as the end of this year. After production scales up, the company aims to sell around 100,000 vehicles annually for at least the first couple of years. Depending on the battery configuration, prices will range from $25,900 to $50,700. — David Shultz